Instant Pot Ham is very easy to make, incredibly tender and delicious, glazed with brown sugar, honey, and pineapple sauce. It is the perfect dinner recipe for Easter, Thanksgiving, or Christmas, saving you oven space and ensuring that you serve a juicy ham.
When it comes to the holiday dinner menu, this instant pot recipe is on top of our list. We also love to make instant pot turkey breast, as it turns out so good in the pressure cooker. Make sure to check our collection of Instant Pot Thanksgiving recipes to see how you can make main dishes, side dishes and even holiday desserts.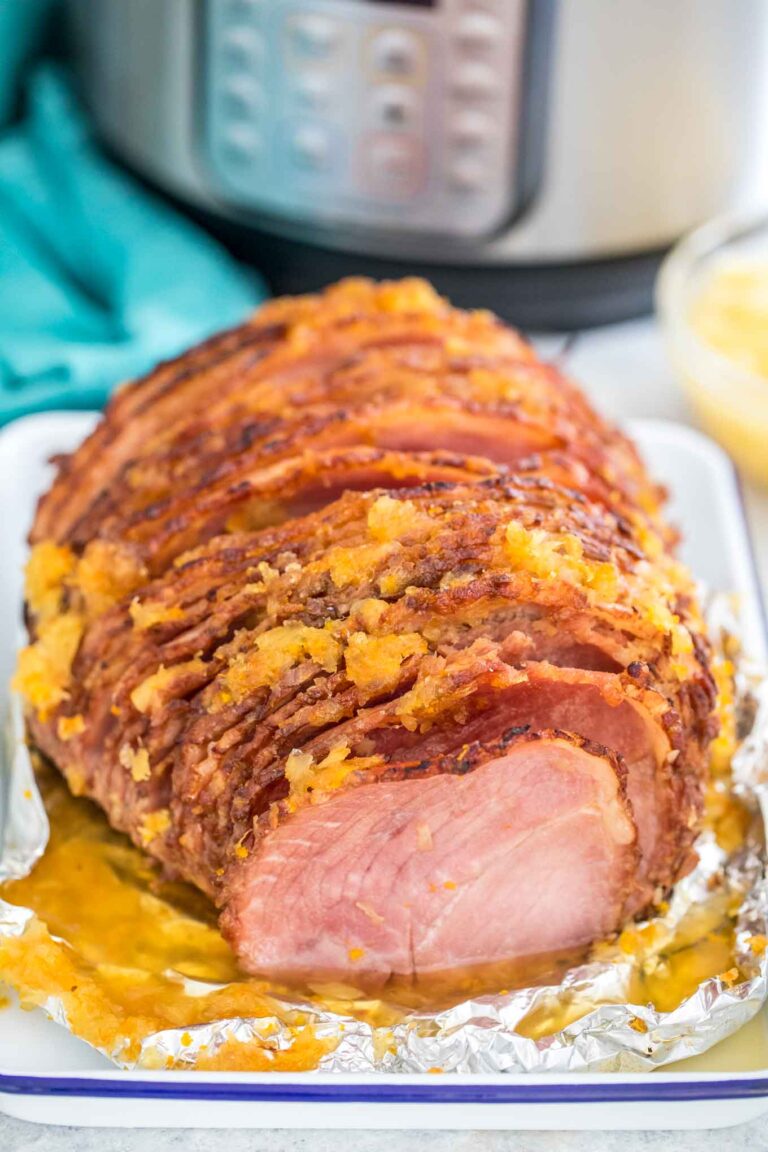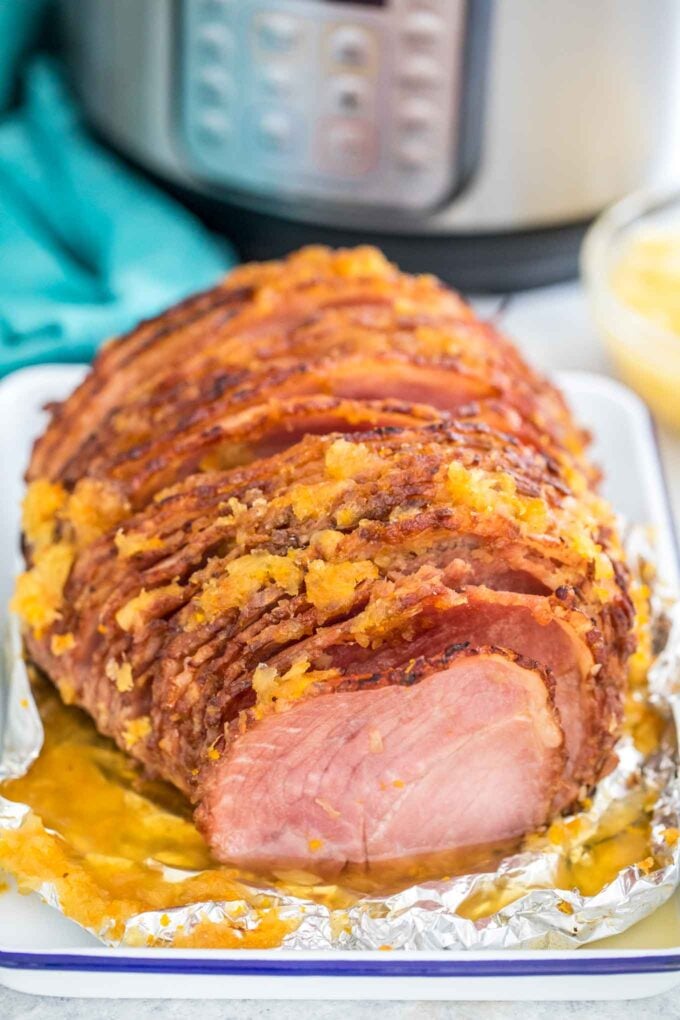 Instant Pot Honey Brown Sugar Ham is probably one of the best recipes you can make in the electric pressure cooker that the entire family will love. The meat turns out super juicy, tender, and very flavorful after only minutes of cook time.
This will quickly become one of your favorite recipes to make for the holiday table. It requires a few simple ingredients and very little time to prepare. With the help of the instant pot pressure cooker, you no longer need to wait for hours for the ham to be perfectly cooked. It does everything in only 5 minutes!
We love to glaze it with brown sugar and honey, and then top it with crushed pineapple. It gives the meat a nice sweet and savory flavor, with a subtle zesty tone from the citrus. In addition, by pressure cooking it, you are guaranteed to end with moist and flavorful meat, so no more dry ham!
This is the best way to cook a delicious ham quickly! I really like this methos since I can have other side dishes in the oven. In addition, I can keep the meat warm in the pressure cooker and broil it right before serving.
Ingredients needed:
Type of ham: For this recipe, you can use a spiral ham, semi-boneless ham, whole ham, or half ham, depending on the size. Make sure it fits in the electric pressure cooker.
Sweetener: Honey and brown sugar. Another option is to use maple syrup and molasses.
Fruits: Also, for the brown sugar glaze on top of the ham we use pineapple, orange zest, and orange juice.
How do you make Instant Pot Ham?
Although this might not be your first instinct when it comes to how to cook the ham, pressure cooking is actually one of the best ways of making it. First, the meat is cooked under closed pressure in the pot. This way it cooks perfectly under a steamy environment, which makes it moist and evenly cooked without drying out.
Second, this instant pot ham recipe ham is ready in only 5 minutes, plus additional 10 minutes for natural pressure release. This is very convenient as you can have a holiday meal in a fraction of the time. This is especially convenient to make on special occasions when you have many dishes to cook.
Prep: First, start by adding water and a trivet to the bottom of the instant pot. Also, make a nest/boat out of foil for the meat.
Glaze: In a large bowl mix together the glaze ingredients. After that, add about 2/3 of it on top and between the ham slices. Next, place the meat onto the trivet and pour the remaining glaze on top of the meat.
Pressure cook: Afterward, close the lid and seal the valve, select the pressure cook time based on the weight of the meat.
Natural pressure release: Once the cooking time has been completed do a 10-minute natural release.
Quick pressure release: After that, open the valve and do a quick release for the remaining pressure.
Broil: While this step is optional, if you prefer a crispier top, transfer the meat onto a baking sheet and broil it for a few minutes.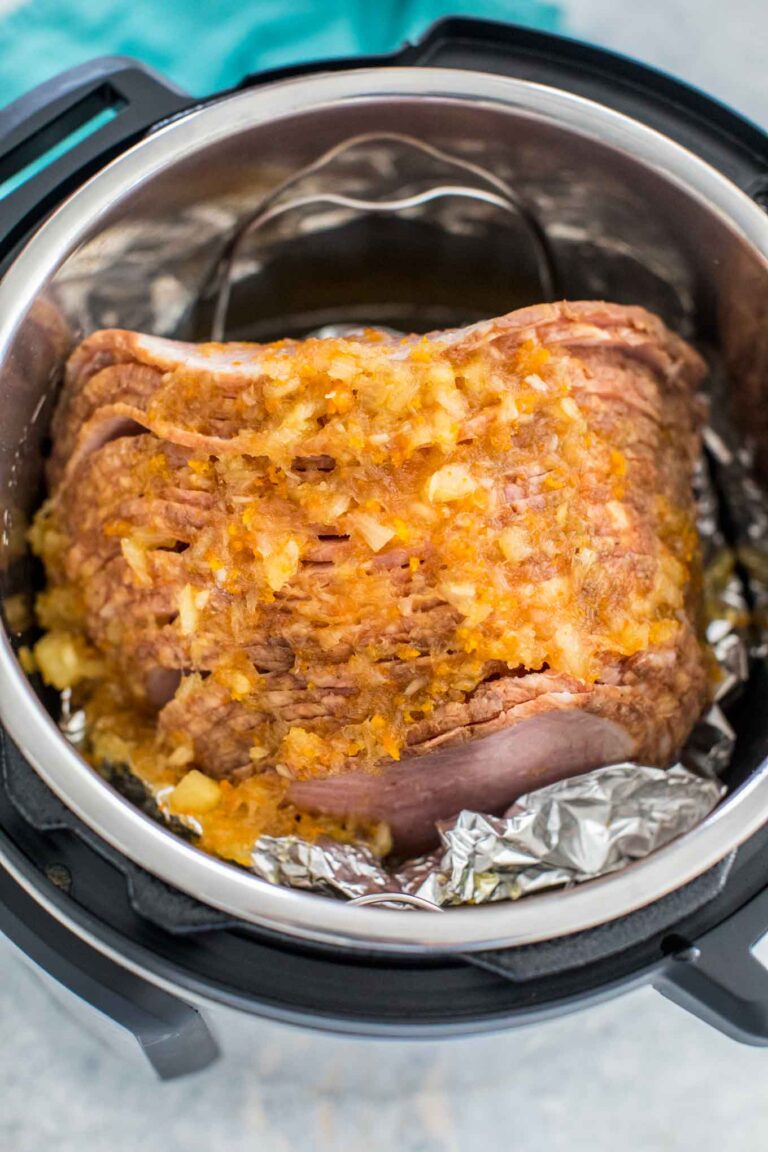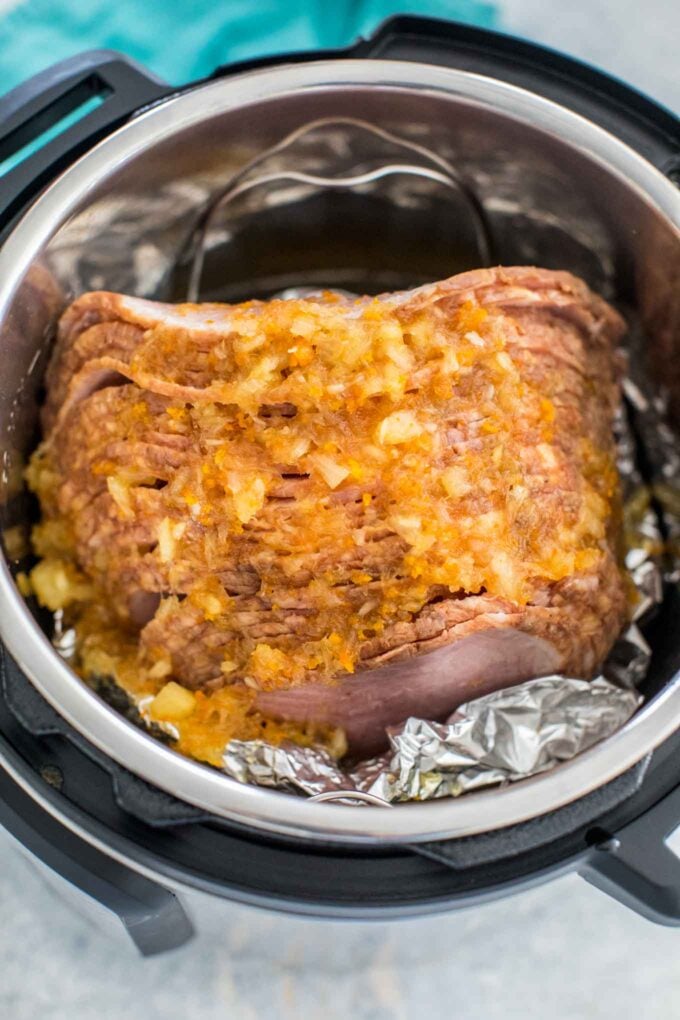 Recipe Variations
Extra flavors: The delicious honey glaze makes a very flavorful ham, however, you can enhance the flavors by stirring in some smoked paprika, chili powder, and liquid smoke.
Honey-dijon: Another option is to add some honey mustard or dijon mustard to the sweet honey glaze.
Other fruit: While this recipe is great with pineapple pieces, you can also try it with peaches, apricots, or even maraschino cherries.
Salty flavors: Alternatively, use more salty and savory flavors, like garlic powder, onion powder, sea salt, soy sauce, Worcestershire sauce.
Dipping Sauce: Another good option is to use an Asian dipping sauce as the glaze. We recommend orange sauce, teriyaki sauce, or sweet and sour sauce.
Crockpot version: Want to make it in the Slow Cooker? Then, try my Slow Cooker Brown Sugar Ham.
Stovetop version: To make it in the oven, try my Oven Roasted Honey Butter Ham.
Frequesntly Asked Questions
How long to cook ham in the Instant Pot?
For this recipe, we use spiraled sliced ham and boneless which is already precooked. Therefore, all we do is glaze it with honey, brown sugar, and pineapple, and basically warm it up under pressure. This way, the ingredients mix nicely with the meat and also make it juicy and tender.
As a general rule, you want to cook the ham for about 2 minutes per pound on high pressure. We use a 6 QT Pressure Cooker, and about 4-4lb pound ham. However, if you want to cook a bigger piece for your main course, we recommend getting the 8QT pot.
Below is a suggested timetable based on the ham weight:
3-pound – 4 minutes
4 pound – 5 minutes
6-pound – 6-7 minutes
7 pound – 8-10 minutes
8 pound – 10-12 minutes
If you want to use bone-in ham, then add 3 minutes to each category above. So, for a 6-pound cut, the pressure cooking time would be about 10 minutes.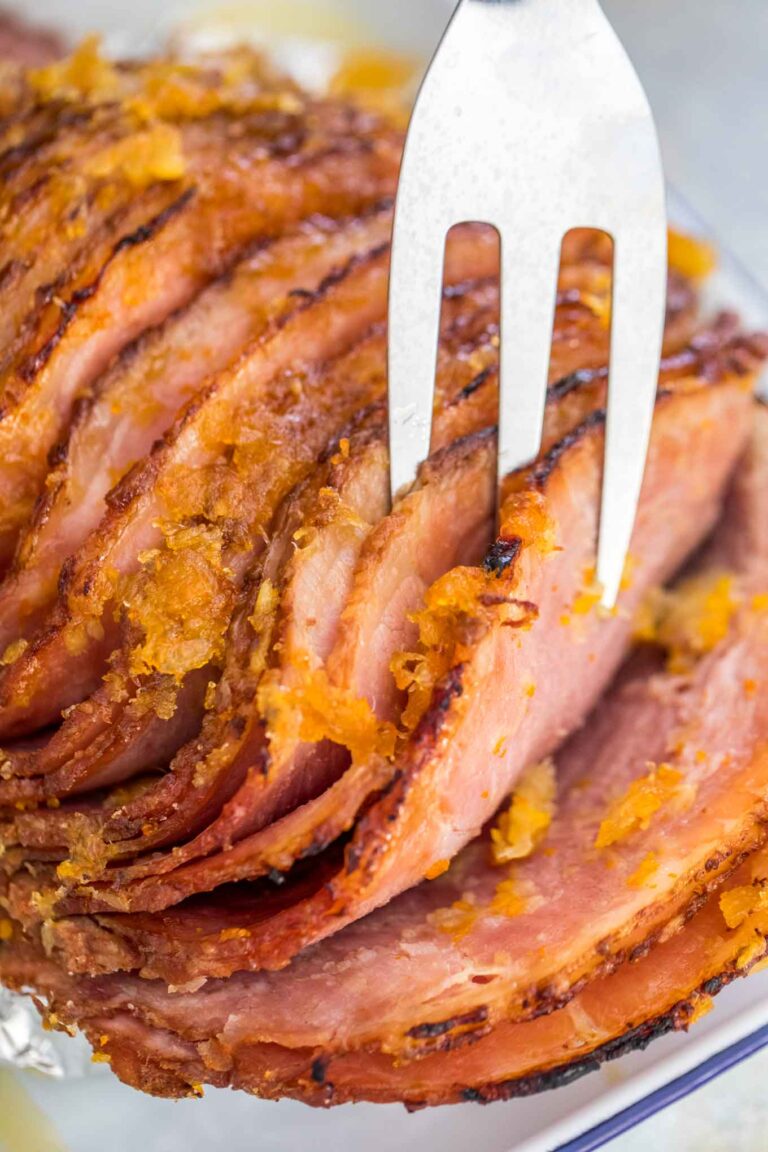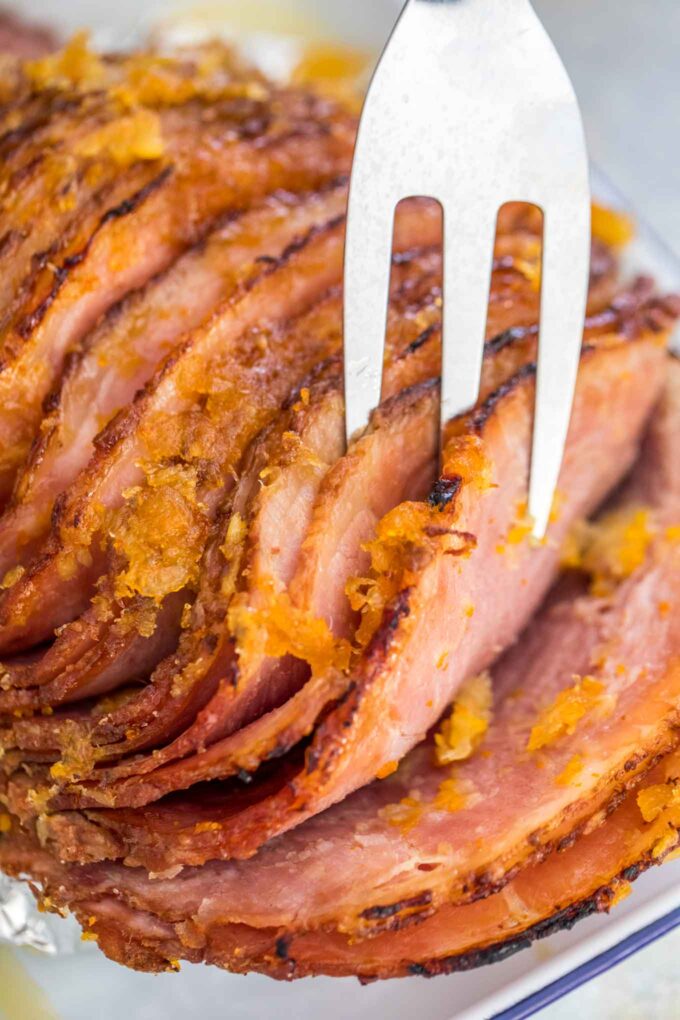 How to serve it:
Since this is such a popular holiday dish, we recommend serving it with other classic side dishes like:
What to do with leftover ham?
If you end up with leftovers, there are so many options to deliciously use them.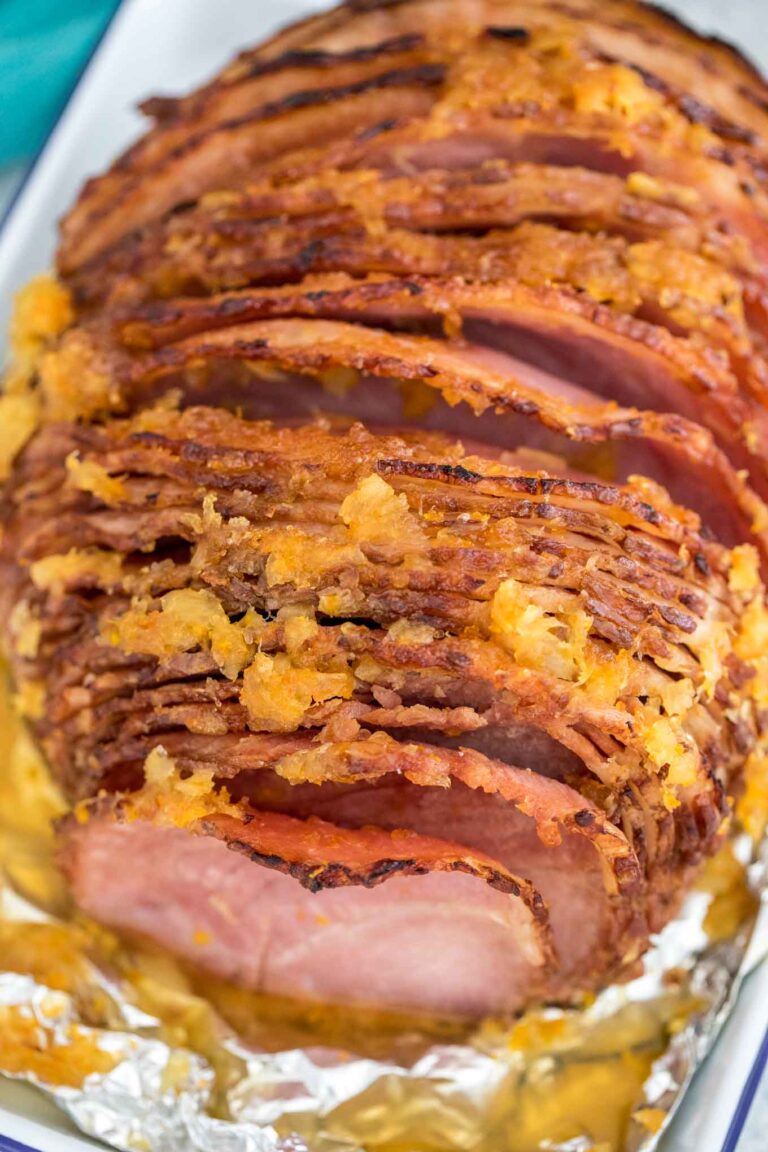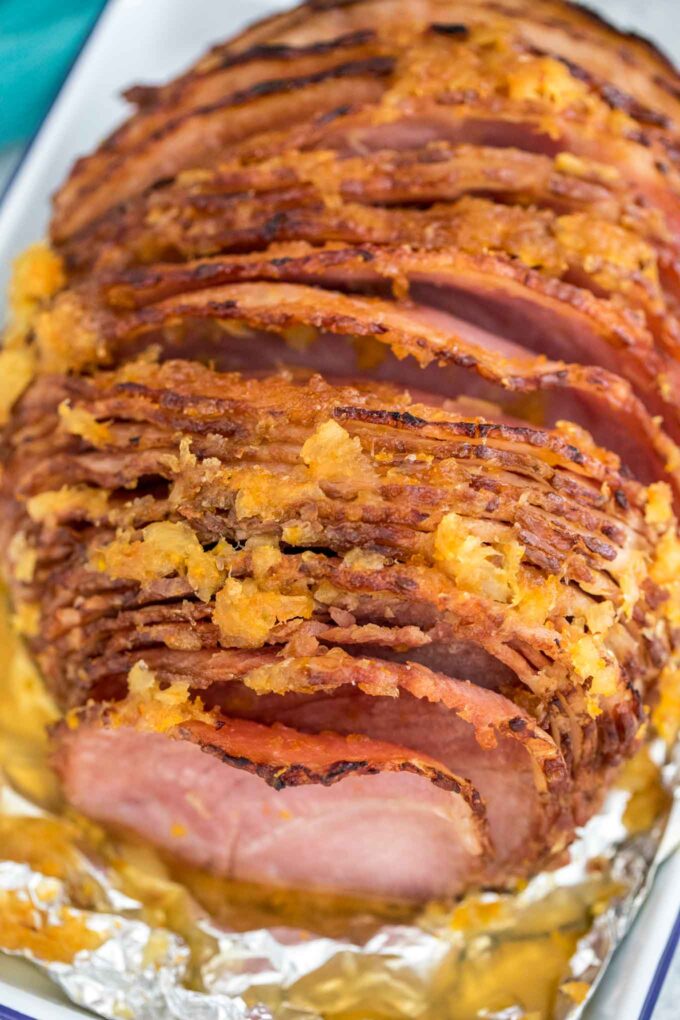 How to store leftovers:
Refrigerate: First, let any pressure cooker ham recipe leftovers fully cool to room temperature. After that, either wrap them in plastic wrap or place them in an airtight container and store them in the fridge for 4-5 days.
Freeze: Another option is to freeze the leftovers. Wrap them in plastic wrap and in foil or add them to freezer bags and then squeeze out the excess air. This way, the meat will be properly sealed in a vacuum, and will not absorb any odor from the freezer. Next, freeze for up to 3 months.
Thaw: Finally, when ready to serve, plan in advance and thaw the leftovers in the fridge overnight. Make sure to reheat well before serving to kill any bacteria.
Reheat: Jus pop the meat in the microwave or in the oven for a few minutes. As an alternative, pressure cook it for a few more minutes.
Cooking tips:
We love to glaze the meat with pineapple juice as it gives that holiday flavor that is perfect for Easter dinner, Christmas, or Thanksgiving.
However, if you are not a pineapple fan, replace it with oranges, or even apple cider.
This recipe is for 4-pound ham. For a larger cut, use more glaze, if needed double the glaze ingredients.
Similarly, honey can be replaced with maple syrup.
If you don't want to use aluminum foil, replace it with parchment paper. It will also seal the juices and work well, but do NOT use it under the broil.
Like I have mentioned above, the broiling is optional, but it definitely adds a nice texture.
Equally important is to use the right cut of meat and to follow the cooking timetable.
Also, if the meat is not fully cooked, pressure cook it again for a few more minutes.
The internal temperature of the ham should reach a minimum of 145 degrees F after cooking.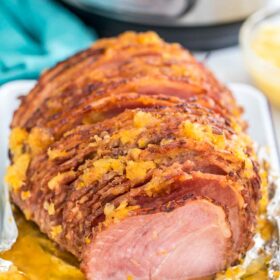 Instant Pot Ham
Instant Pot Ham is very easy to make, incredibly tender and delicious, glazed with brown sugar, honey, and pineapple sauce.
Save
Share
Print
Pin
Rate
Ingredients
4.5-5

lbs

spiral ham

(boneless)

1 1/2

cups

water
Glaze:
1/2

cup

dark brown sugar

(packed)

1/2

cup

honey

1

cup

crushed pineapple

zest of 1 orange

juice of 1 orange
For Broiling (optional):
1/4

cup

honey

2

tablespoons

dark brown sugar

(packed)
Instructions
Add water to the Instant Pot.

Place a trivet with handles inside the pot.

Create a small boat out of foil, and place the ham in it.

In a small bowl mix all the glaze ingredients. Use about 2/3 to brush and add between the ham slices.

Transfer the ham to the Instant Pot and pour the remaining glaze on top.

Close and lock the lid and cook on High Pressure for 5 minutes (see blog post for cooking time based on ham lbs), followed by 10 minutes Natural Pressure Release.
For Broiling (optional):
Open once the cooking is done, transfer the ham to a baking pan, still inside the foil.

Top with the remaining honey and brown sugar and broil for about 5 minutes, just until crispy.

Remove from oven and serve hot.
Nutrition
Calories:
548
kcal
|
Carbohydrates:
35
g
|
Protein:
37
g
|
Fat:
28
g
|
Saturated Fat:
10
g
|
Cholesterol:
105
mg
|
Sodium:
2025
mg
|
Potassium:
568
mg
|
Fiber:
0
g
|
Sugar:
34
g
|
Vitamin A:
25
IU
|
Vitamin C:
4.5
mg
|
Calcium:
31
mg
|
Iron:
1.8
mg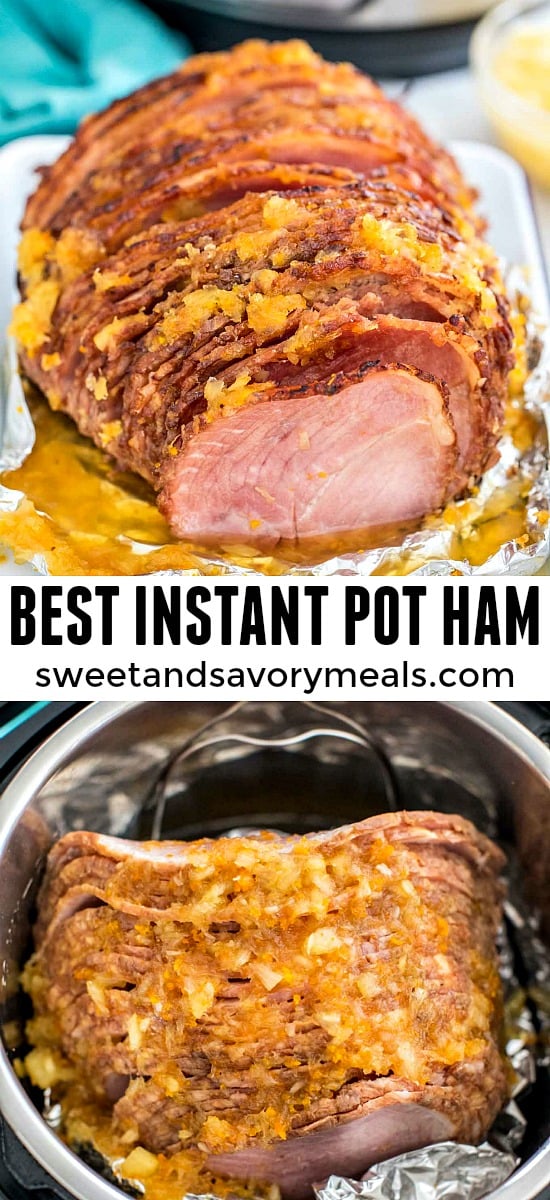 More recipes you might love