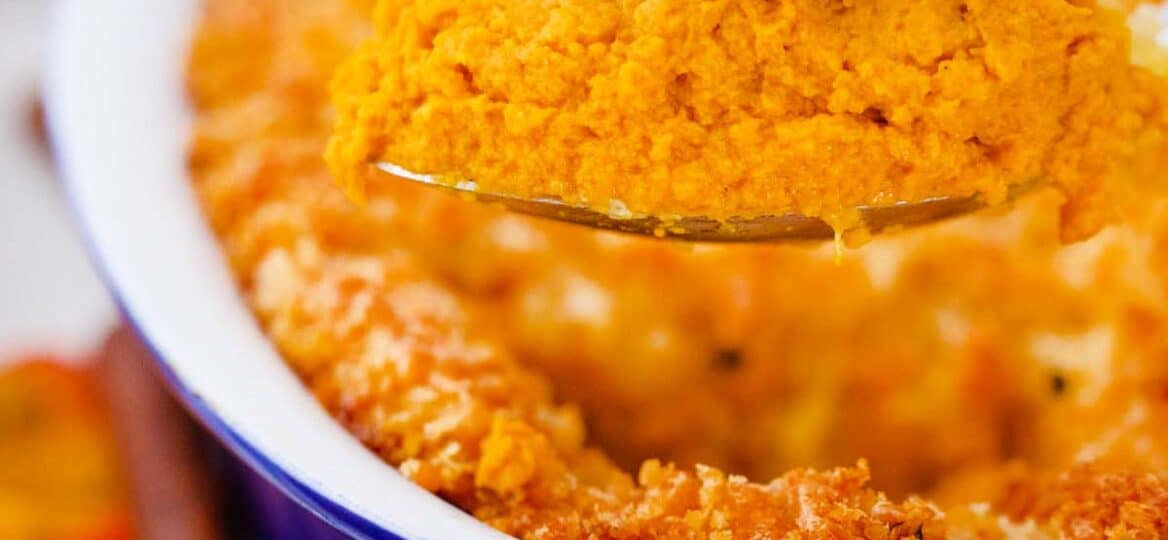 Cheesy Pumpkin Gratin Recipe
Pumpkin Gratin is a savory dish that will look great on your holiday table, creamy, smooth, and with lots of cheese and fall flavors. If you enjoy pumpkin but want something different this year, this is one of those recipes that everyone loves. This delicious dish is great any time of the year and you can find canned pumpkin puree at the grocery store year-round. No matter when you make it, you will love it.
Any dish that is topped with breadcrumbs and cheese and butter before heating and broiling is considered to be gratin. Au gratin is the same thing, just referring to it differently. You can make anything this way from meats to sweets. It is the cheese and breadcrumbs that differentiate gratin potatoes from scalloped.
Pumpkin is a great source of fiber and vitamin C. You also get 10% of your daily potassium to help control your blood pressure. Pumpkin is naturally low in fat and sugar, has fewer calories than many other vegetables, and has a lot of nutrients. And all you need are a few ingredients to make this delicious holiday cuisine.
Ingredients needed:
Each ingredient has its importance in this pumpkin gratin. Before you decide to leave out or substitute anything, be sure to read our description, recipe alternatives, and tips. When ready, scroll down to our recipe card for the measurements and directions.
Pumpkin puree: Canned pumpkin is fine, or you can make your own. Just make sure you do not use pumpkin pie filling.
Heavy whipping cream: The heavy cream will give you the creamiest pumpkin dish.
Large eggs: Let eggs come to room temperature and beat them before using.
Unsalted butter: You need melted butter for the ingredients and for greasing the casserole dish.
Finely shredded gruyere cheese: This cheese is slightly salty but sweet, but the flavor varies with age. The younger it is the sweeter it is.
Brown sugar: You can use light or dark brown sugar, whatever you like.
Panko: These Japanese-style breadcrumbs are light and airy, perfect for this recipe.
Chopped fresh sage: Used in the final topping, freshly chopped sage will give you the best flavor.
Ground nutmeg: The warm and slightly sweet flavor comes from the nutmeg tree. It is perfect for this fall recipe.
Ground cinnamon: Another of the warm fall spices, ground cinnamon blends perfectly with nutmeg in many fall recipes.
Kosher salt: You can use any salt. We use kosher salt because it does not have any extra minerals, anti-caking or clumping agents, or iodine.
Black pepper: Freshly ground black pepper is best for the most flavor.
How to make pumpkin gratin from scratch?
Preheat oven: First, preheat the oven to 350 degrees F and put one rack six inches from the heat and the other in the middle. Also, grease an eight-inch baking dish with butter.
Mix it up: In the meantime, combine cream, pumpkin puree, sugar, eggs, nutmeg, cinnamon, salt, and pepper in a large bowl. Pour the cream and pumpkin mixture into your prepared baking dish.
Bake the pumpkin: Now, stir the fresh sage with the melted butter, cheese, and panko in a small bowl. Sprinkle it on top of the pumpkin mixture and cook on the middle rack of your preheated oven for 26 to 28 minutes. The center should be slightly jiggly.
Broil until nicely browned: Then, move the dish to the upper rack and turn the oven to broil for about two minutes until the panko is golden brown.
Cool and serve: Finally, remove the pan and let it cool slightly on a wire rack for about five minutes before serving.
Recipe variations:
No pumpkin: Instead of pumpkin, you could also use butternut squash for a different flavor.
More spices: Feel free to add other herbs and spices like fresh thyme leaves, allspice, ginger, and mace.
No cream: If you do not have heavy whipping cream, you can substitute it with sour cream, half and half, or plain Greek yogurt.
Different cheese: You can use romano or parmesan cheese instead of gruyere.
Spicy gratin: For those who love spicy food, add a pinch of red pepper flakes.
No sugar: Leave out the brown sugar if you want less sugar. Or you can use honey instead.
Breadcrumbs: Any kind of breadcrumbs will work with this recipe.
How to serve:
This easy gratin can be a main dish or side and will look great on your Thanksgiving table this year. We have a bunch of great serving ideas here or you can share your own in the comments section at the bottom of the page.
Sprinkle on some crushed pecans or walnuts for a crunchy topping.
Spoon some fresh whipped cream on top for a sweeter dish. Our easy recipe for whipped cream makes the most deliciously rich and creamy topping.
Served with turkey and stuffing, this could be your vegetable side dish for your holiday meal or any meal.
Pair with a fresh salad for a light lunch or snack. Try our amazing arugula salad with strawberries, avocados, and tomatoes.
Another delicious way to serve this gratin is in a casserole instead of potatoes.
Top your pumpkin gratin with cranberry sauce. We have a tasty and tangy cranberry sauce you can try.
For dessert, you can serve it with a scoop of vanilla ice cream.
Frequently asked questions
How do you make pumpkin puree?
First, slice a whole pumpkin in half. Remove the seeds and bake at 400 degrees F for 35 to 45 minutes, depending on the size of the pumpkin. The flesh should be tender and soft. Then, remove it and let it cool completely before removing the skin. Now, cut the pumpkin flesh into thin slices and puree in a food processor. Season with salt, nutmeg, ginger, cinnamon, and brown sugar.
How do I make this dish more savory?
Some people are used to pumpkin having more savory flavors. You can certainly make it less sweet with onion and garlic. Add one garlic clove, peeled and minced, one red onion very thinly sliced, and a few tablespoons of butter to a small saucepan. Bring to a boil over medium heat, take it off the heat, and add the cheese, panko, and sage. Use it as the directions state in step three above.
Can I make this ahead of time?
Although it tastes best eaten right away, if you are not ready to serve immediately, you can make it ahead and keep it in the fridge for several days. Just make sure you keep it in an airtight container. For longer storage, you can freeze up to three months in a freezer-safe dish.
Why is my gratin watery?
Canned pumpkin puree has less moisture than fresh pumpkin. So, you may have too much moisture from using fresh pumpkin puree. To prevent this from happening, strain your puree overnight to remove some of the moisture. Or you can cook it over low heat for about 15 minutes, stirring constantly, to concentrate the pumpkin.
More pumpkin recipes to try:
How to store leftovers:
Store: You can store your leftover pumpkin gratin for three or four days in your refrigerator. Just make sure it is cooled to room temperature and put it in an airtight container.
Freeze: To freeze, pack your leftovers in a freezer-safe dish or a freezer bag and they will stay fresh for up to three months.
Thaw: If frozen, thaw overnight in the fridge before serving.
Reheat: Place thawed gratin in a microwave and heat for one to two minutes, depending on how much you are reheating.
Recipe tips:
Use a food processor to combine cream and other ingredients for easier mixing.
Do not forget to season with salt and pepper as needed.
For a more delicate flavor, try finding a cheese pumpkin for this gratin dish.
If you use salted butter, leave out the salt from your ingredients or it may be too salty.
The pumpkin mixture tends to separate and become watery if it sits too long. If this happens, just drain out the excess moisture and stir it.

Gruyere can be hard to find. You may have to go to a specialty store, or you can order it online.

Are you looking for more holiday recipes? We have ideas for all the holidays on our food blog.
Cheesy Pumpkin Gratin
Ingredients
1

15-oz. can pumpkin puree

2

large eggs

beaten

1 1/2

cup

heavy whipping cream

3/4

teaspoon

kosher salt

2

tablespoons

brown sugar

1/2

teaspoon

black pepper

1

teaspoon

ground cinnamon

1/4

teaspoon

ground nutmeg

1

cup

Panko bread crumbs)

1 1/4

cups

Gruyere cheese

finely shredded

1

tablespoon

unsalted butter

melted, plus more for greasing baking dish

1

teaspoon

chopped fresh sage

optional
Instructions
Preheat oven to 350 degrees F. Place the oven rack in the middle of the oven.

Grease an 8-inch baking dish with butter and set it aside.

In a large bowl, stir together pumpkin puree, eggs, whipping cream, sugar, salt, pepper, cinnamon, and nutmeg until combined. Pour mixture into prepared baking dish.

In another bowl, stir together Panko, cheese, melted butter, and sage; sprinkle the mixture on top of the pumpkin layer.

Bake on the middle rack in the preheated oven, until the pumpkin mixture is almost set, 25-30 minutes.

Before removing the pan from the oven, move the pan to an upper, closer to the heat source, and broil until the panko mixture is golden brown, 1 to 2 minutes.

Remove from the oven, let cool slightly, and serve.