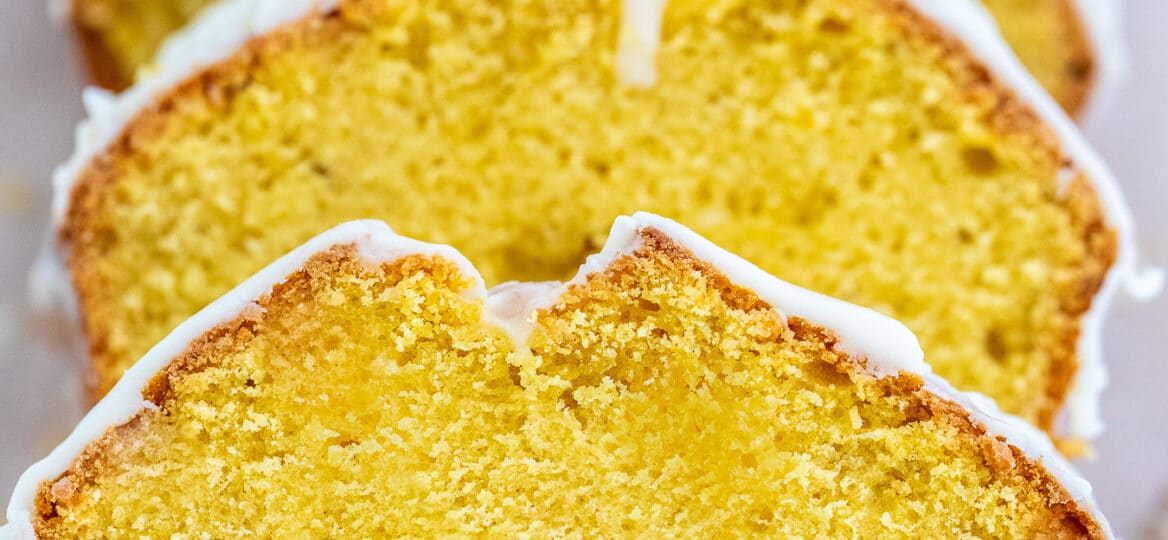 Pumpkin Pound Cake [Video]
Pumpkin Pound Cake is sweet, buttery, and full of pumpkin pie flavor. Topped with a hefty amount of white chocolate whipped ganache that makes it the perfect fall treat. Give it a try, and you will see why this is one of the best pumpkin desserts you can bake!
It's officially pumpkin season, and I can post recipes without getting the stinky eye from people who can't say goodbye to summer! Other reader's favorite pumpkin seasonal cakes are Pumpkin Poke Cake, Instant Pot Pumpkin Cheesecake, and Pumpkin Pie Creme Brulee.
Pumpkin Pound Cake
Pumpkin Pound Cake with White Chocolate Ganache is such a seasonal treat. Finally, canned pumpkins hit the shelves in grocery stores, and I fully packed my cart. Also, the pureed pumpkin makes it dense soft, and very aromatic. The light orange color is extremely cute!
The pumpkin spice makes this butter dessert irresistible and perfect for the holidays. With a sweet, dense, and buttery texture, each bite melts into your mouth with deliciousness.
Well, I couldn't resist and topped mine with some white chocolate whipped ganache and it just made it a thousand times better. We know that chocolate makes everything better, don't we? But I must say that white chocolate and pumpkin were meant to be served together, the flavors just work so well together, and complement each other nicely.
Enjoy a slice for breakfast with a pumpkin spice latte this season. If you are one of those people who appreciate a good pumpkin flavor you must make it as soon as possible.
Ingredients needed:
Butter
Cream cheese
All-purpose flour
Baking powder
Pumpkin spice
Pureed pumpkin
Sugar
Eggs
How to make the best pumpkin pound cake?
Preheat the oven: Start by preheating the oven to 350 degrees F.
Make the batter: Mix all the batter ingredients in a bowl using an electric mixter. Mix on low until combined.
Bake: Next, pour the batter into the prepared pan and bake for 1 hour to 1 hour and 15 minutes.
Let it rest: Once baked, cool the pound cake in the pan for 30 minutes before transferring it onto a wire rack to cool completely.
Make the white chocolate whipped ganache: Make the ganache topping, and cover it evenly over the cake.
Serve: Enjoy it fresh!
What is pumpkin puree vs. canned pumpkin?
Canned pumpkin is just cooked pureed pumpkin. Canned pumpkin or pumpkin pie filling is flavored with spices like cinnamon, clove, allspice, and ginger, and is also sweetened.
Can I use fresh pumpkin instead of canned?
Yes! Making pumpkin puree from fresh pumpkins is easy, and you can substitute the canned pumpkin for fresh pureed pumpkins. To Make Pumpkin Puree from scratch follow the bellow method:
First, preheat the oven to 325 degrees F (165 degrees C).
Then, cut the pumpkin in half and remove seeds and pulp. Cover each half with foil.
Next, bake in the preheated oven, foil side up, 1 hour, or until tender.
Lastly, with a fork, scrape pumpkin meat from shell halves and puree in a blender.
Strain to remove any remaining stringy pieces. Store in the freezer in freezer-safe bags.
How to freeze pumpkin pound cake?
Pumpkin pound cake can be easily frozen. Cool the pound cake completely. Then, fully wrap it in plastic wrap tightly. Next, wrap it in aluminum foil or place it in freezer bags. Freeze for up to 3 months. Defrost before slicing.
More pumpkin recipes to try:
Recipe Tips:
When baking, if the loaf is brown on top and the edges after about 45 minutes, but is still undone, cover it with an aluminum foil before continuing the baking to prevent it from burning.
Feel free to add mix-ins to the cake, like chocolate chips, chopped nuts, or raisins to the batter for added texture and flavor
This pound cake can be served with the glaze as well, or you can make a simple icing with powdered sugar and milk.
Make sure you let the pound cake fully cool before topping it with the glaze.
You can make the same recipe just using sweet potato puree.
Pumpkin Pound Cake
Ingredients
Pumpkin Pound Cake:
1

stick butter

room temperature, plus more for greasing the pan

4

oz

cream cheese

room temperature

3

cups

all-purpose flour

1/2

teaspoon

baking powder

1/2

teaspoon

salt

1

teaspoon

pumpkin spice

12

oz

pumpkin puree

3

cups

sugar

5

large eggs

room temperature
White Chocolate Whipped Ganache:
1/2

pound

white chocolate

chopped

1/2

cup

heavy cream

1

tablespoons

unsalted butter

1

cups

powdered sugar
Instructions
Preheat oven to 350 degrees F. Grease a 10-inch or 9-inch loaf pan with butter and set aside.

In a medium bowl mix together flour, baking powder, salt, pumpkin spice and set aside.

In the bowl of an electric mixer, fitted with the wire whisk attachment, cream together butter, cream cheese and sugar on medium speed until fluffy. Add the eggs one a time, beating well after each addition. With the motor running on low, add the flour mixture followed by the pumpkin puree. Mix on low until combined.

Pour the batter into the prepared pan and bake for 1 hour to 1 hour and 15 minutes. Check for doneness by inserting a toothpick into the cake, it should come out clean.

Once baked, cool the pound cake in the pan for 30 minutes before transferring onto a wire rack to cool completely.

White Chocolate Whipped Ganache:

In a medium bowl set over a medium saucepan of simmering water, melt the white chocolate. Remove from the heat and set aside. Discard the water from the sauce pan, add the heavy cream and butter to the saucepan and heat until the butter is melted and small bubbles appear around the edges.

Whisk the hot cream mixture into the white chocolate. Lumps will start to appear, don't be afraid, continue to quickly mix until the mixtures combine and the lumps disappear. Set the bowl in a cool place for at least 1 hour.

Once the ganache has cooled down, using a hand mixer or an electric mixer whisk in the powdered sugar. Once you did this, cool the mixture for a few minutes only and cover the cake with it.

Keep ganache leftovers in the fridge. The ganache can be kept in an airtight container for up to two weeks. Before using, place in on the counter for two hours, since it will harden in the fridge