Pumpkin Pound Cake Recipe
This post may contain affiliate links. Please read my disclosure policy.
A delicious, dense and sweet pumpkin pound cake that is topped with a hefty amount of white chocolate whipped ganache is the perfect fall treat.
It's officially pumpkin season, and I can post recipes without getting the stinky eye from people who can't say goodbye to summer! I am so excited to share this pumpkin pound cake with you as it honestly blew my mind at how good it is!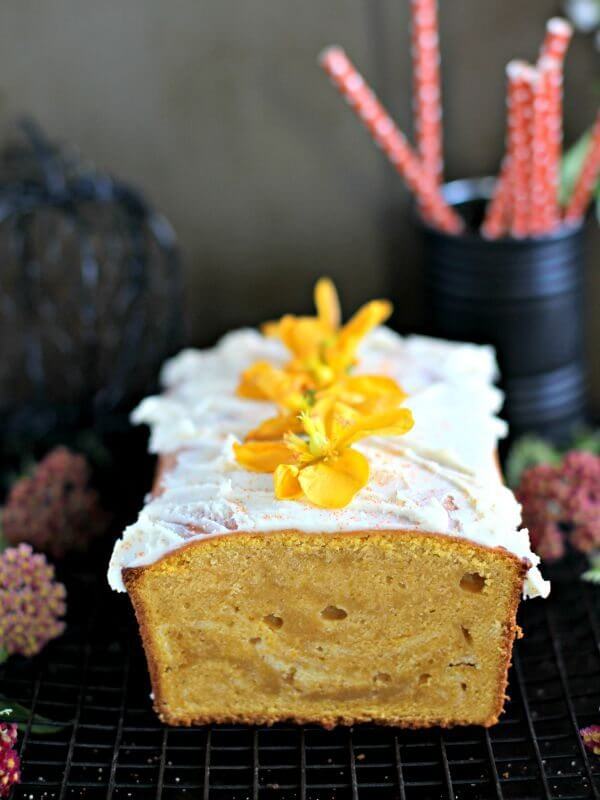 Finally canned pumpkin hit the shelves at my grocery store, and I just made a happy dance when I saw it, and packed my cart full. This pumpkin pound cake is full of pumpkin flavor, also the pureed pumpkin makes it dense and soft and very aromatic. The light orange color is extremely cute!

I am not the biggest fan of pumpkin spice, and my husband either so I kept the spice level on the low in this pumpkin pound cake, but if you like it, you can definitely add more. As you can see the texture of this cake looks crazy amazing, and honestly it is, soft dense, a little sticky, buttery, sweet and with lots of pumpkin flavor that I just love.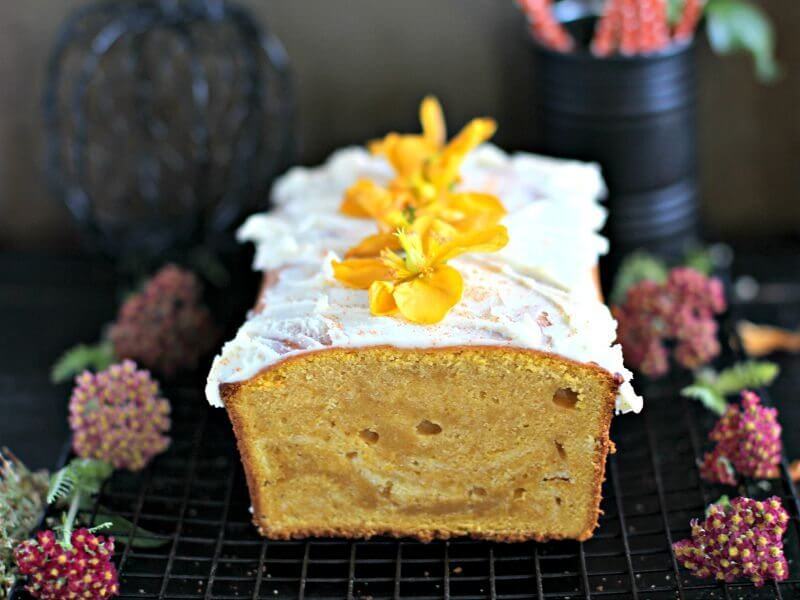 Well, I couldn't resist and topped mine with some white chocolate whipped ganache and it just made it a thousand times better, we know that chocolate makes everything better, don't we? But I must say that white chocolate and pumpkin pound cake were meant to be served together, the flavors just work too well together, and complement each other nicely.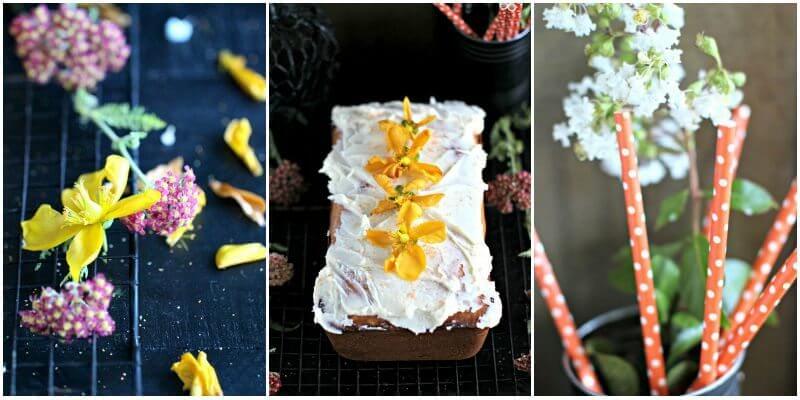 Did I mention that we got a Nespresso Machine? Yes we did, and it makes my life so much easier and so much tastier. I am not a coffee lover, but I appreciate and actually love a good latte, and now I can enjoy it in the comfort of my home after pressing one magic button on the machine. No more crazy Starbucks lines, no more spelling wrong my name on the cup!
I have been enjoying a slice of this pumpkin pound cake for breakfast with a vanilla latte for the past few days, and OMG my mornings felt so much better! Honestly, this is one of the best pound cakes I have ever had, and if you are one of those people who appreciates a good pumpkin flavor you must make it for yourself. But if you turn your nose at pumpkin and would touch only a dessert made with chocolate, I got you covered too, check my triple chocolate pound cake, that one is the bomb!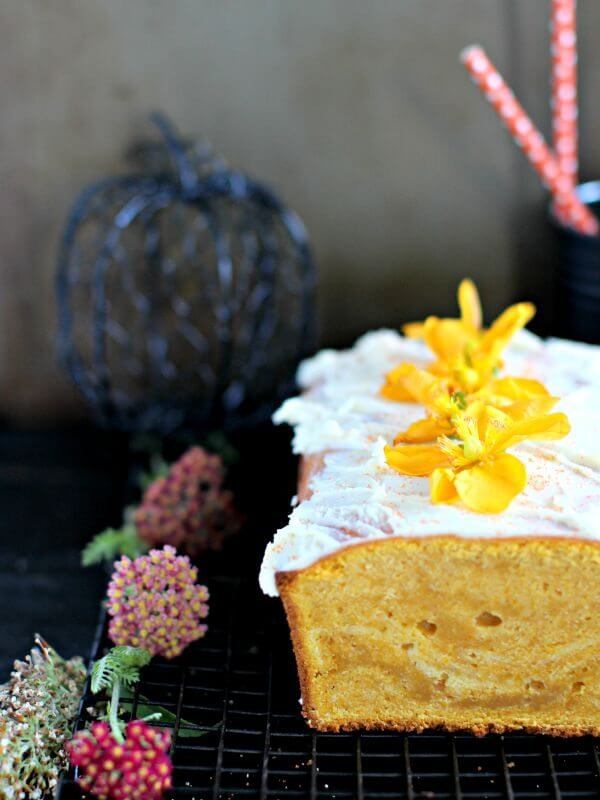 There is one last slice left, standing alone on the counter, and I keep praying that I get to it before my husband does! What a good wife, no? 🙂
Do yourself a flavor, and brighten up the upcoming cold fall days with this delicious pumpkin pound cake topped with that sweet white chocolate whipped ganache!

Pumpkin Pound Cake
A delicious, dense and sweet pumping pound cake that is topped with a hefty amount of white chocolate whipped ganache is the perfect fall treat.
Author:
Katalina Kastravet
Ingredients
Pumpkin Pound Cake:
1 stick butter, room temperature, plus more for greasing the pan
4 oz cream cheese, room temperature
3 cups all-purpose flour
½ teaspoon baking powder
½ teaspoon salt
½ teaspoon pumpkin spice
12 oz pureed pumpkin
3 cups sugar
5 large eggs, room temperature
White Chocolate Whipped Ganache:
½ pound white chocolate, chopped
½ cup heavy cream
1 tablespoons unsalted butter
1 cups powdered sugar
Instructions
Preheat the oven to 350 degrees F. Grease a 10-inch loaf pan with butter.
In a medium bowl mix together flour, baking powder, salt, pumpkin spice and set aside.
In the bowl of an electric mixer, fitted with the wire attachment, cream together butter, cream cheese and sugar on medium speed until fluffy. Add the eggs one a time, beating well after each addition. With the motor running on low, add the flour mixture followed by the pumpkin puree. Mix on low until combined.
Pour the batter into the prepared pan and bake for 1 hour 15 minutes. Check for doneness by inserting a toothpick into the cake, it should come out clean.
Once baked, cool the pound cake in the pan for 30 minutes before transferring onto a wire rack to cool completely.
White Chocolate Whipped Ganache:
In a medium bowl set over a medium saucepan of simmering water, melt the white chocolate. Remove from the heat and set aside. Discard the water from the sauce pan, add the heavy cream and butter to the saucepan and heat until the butter is melted and small bubbles appear around the edges. Whisk the hot cream mixture into the white chocolate. Lumps will start to appear, don't be afraid, continue to quickly mix until the mixtures combine and the lumps dissapear. Set the bowl in a cool place for at least 1 hour.
Once the ganache has cooled down, using a hand mixer or an electric mixer whisk in the powdered sugar. Once you did this, cool the mixture for a few minutes only and cover the cake with it.
Keep ganache leftovers in the fridge. The ganache can't be kept in an airtight container for up to two weeks. Before using, place in on the counter for two hours, since it will harden in the fridge.
Peas and Peonies, LLC. owns the copyright on all images and text and does not allow for its original recipes and pictures to be reproduced anywhere other than at this site unless authorization is given. If you enjoyed the recipe and would like to publish it on your own site, please re-write it in your own words, and link back to my site and recipe page. Copying and/or pasting full recipes to social media or personal blogs is strictly prohibited. Sharing this recipe is very much appreciated and encouraged. Read my disclosure and privacy policy. This post may contain affiliate links.