The Ultimate Pumpkin Cheesecake Bars [VIDEO]
Pumpkin Cheesecake Bars are luxuriously creamy and rich, with lots of pumpkin flavor. Topped with a hefty amount of homemade cinnamon whipped cream.
After I made the Instant Pot Pumpkin Cheesecake, I got so many requests to make an oven-baked version, that I got to work asap and make this layered Pumpkin Cheesecake recipe. For more pumpkin flavor, check my Pumpkin Fudge and the most amazing Pumpkin Bread stuffed with cream cheese. If you want to go all-in, make this Pecan Pie Pumpkin Cheesecake, it's guaranteed to impress.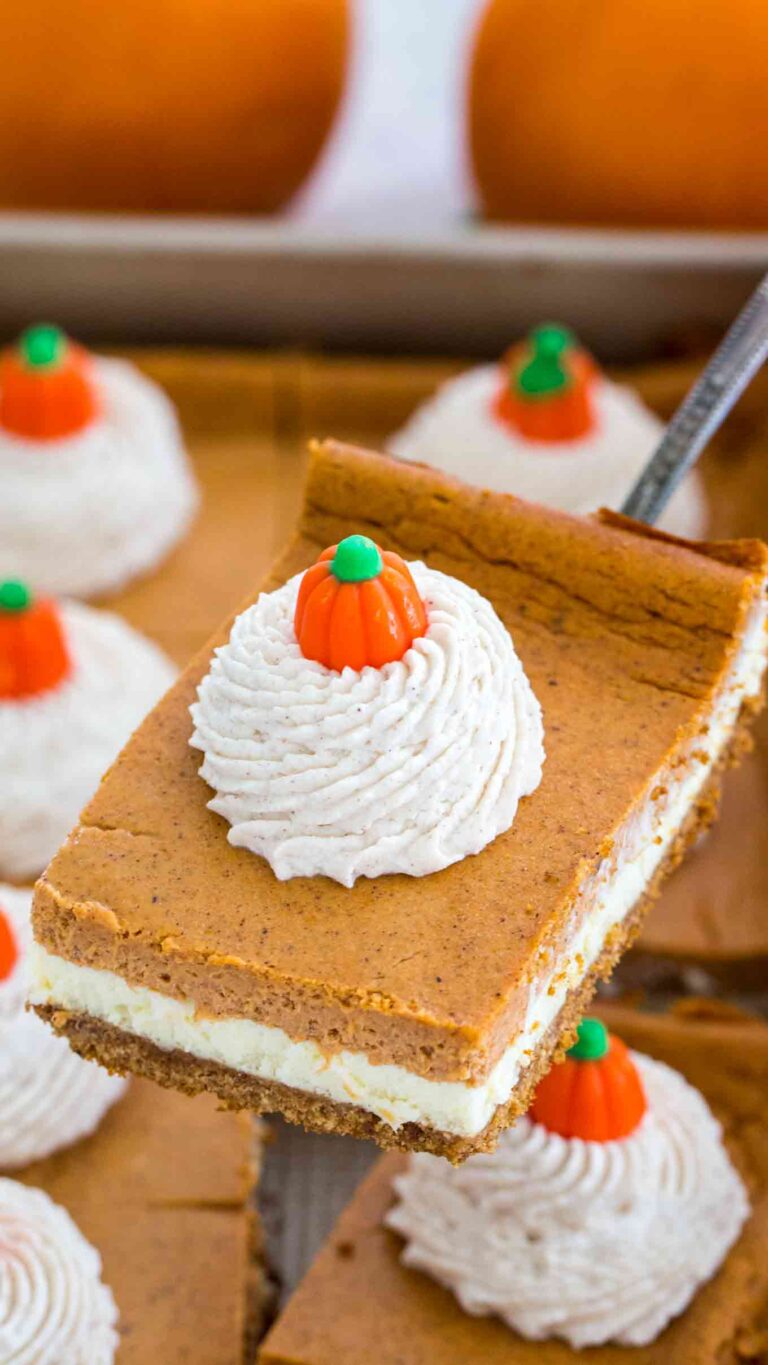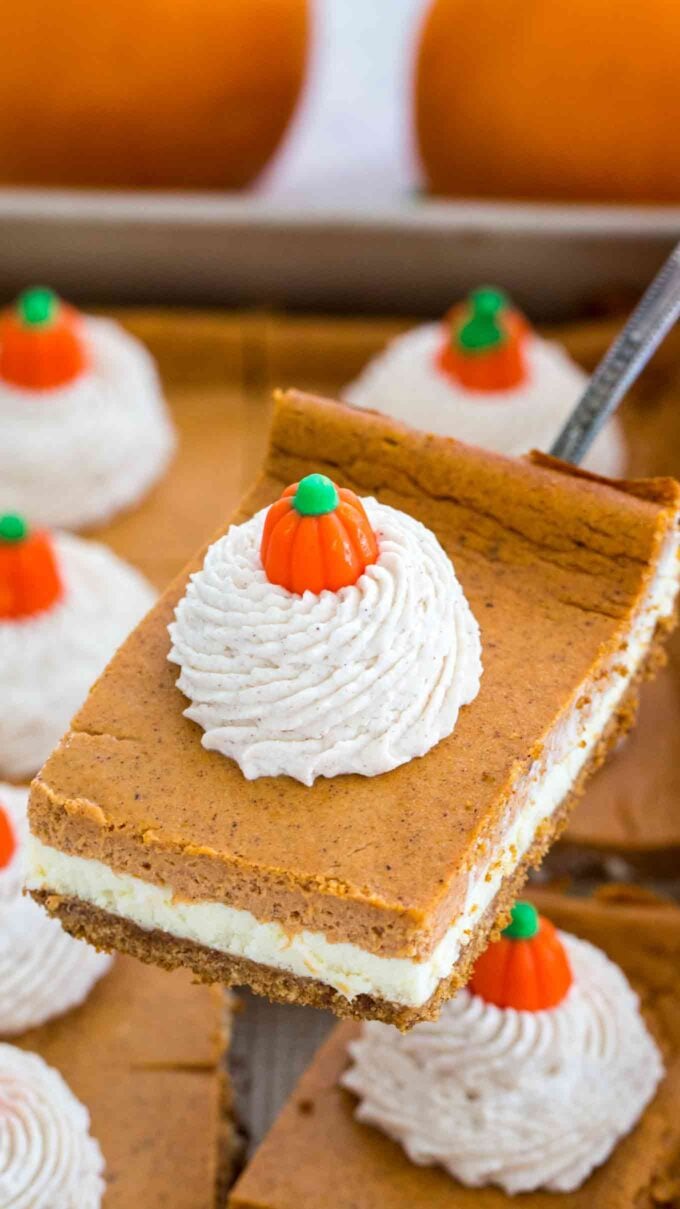 Pumpkin Cheesecake Bars Recipe
Pumpkin Cheesecake Bars are my latest favorite fall dessert. They are irresistible, made of two layers: one is a classic vanilla cheesecake, and the second, is a very flavorful pumpkin cheesecake. This cheesecake basically combines the best of two worlds, and the vanilla cheesecake balances the pumpkin flavor in the most perfect way.
The cheesecake bars are topped with homemade cinnamon whipped cream, that is lighter in texture and works well with the fall flavors in this dessert. These easy and tasty Pumpkin Cheesecake Bars are a nice change from the classic Pumpkin Pie if you are looking for something more special to try this fall season.
You can also make this recipe in a large springform pan. You can skip the vanilla layer and mix the pumpkin puree into all the cheesecake batter, for a classic pumpkin cheesecake.
What do you need to make Pumpkin Cheesecake Bars?
For the graham crackers crust you will need:
Graham crackers crumbs

Brown sugar

Spices: Ground cinnamon, g

round nutmeg, and g

round cloves

Butter
For the cheesecake layers you will need:
Cream cheese

Sugar and

cornstarch

Eggs

Heavy cream and sour cream

Vanilla extract

Pumpkin puree

Spices: Ground cinnamon, g

round nutmeg, and g

round cloves, pumpkin spice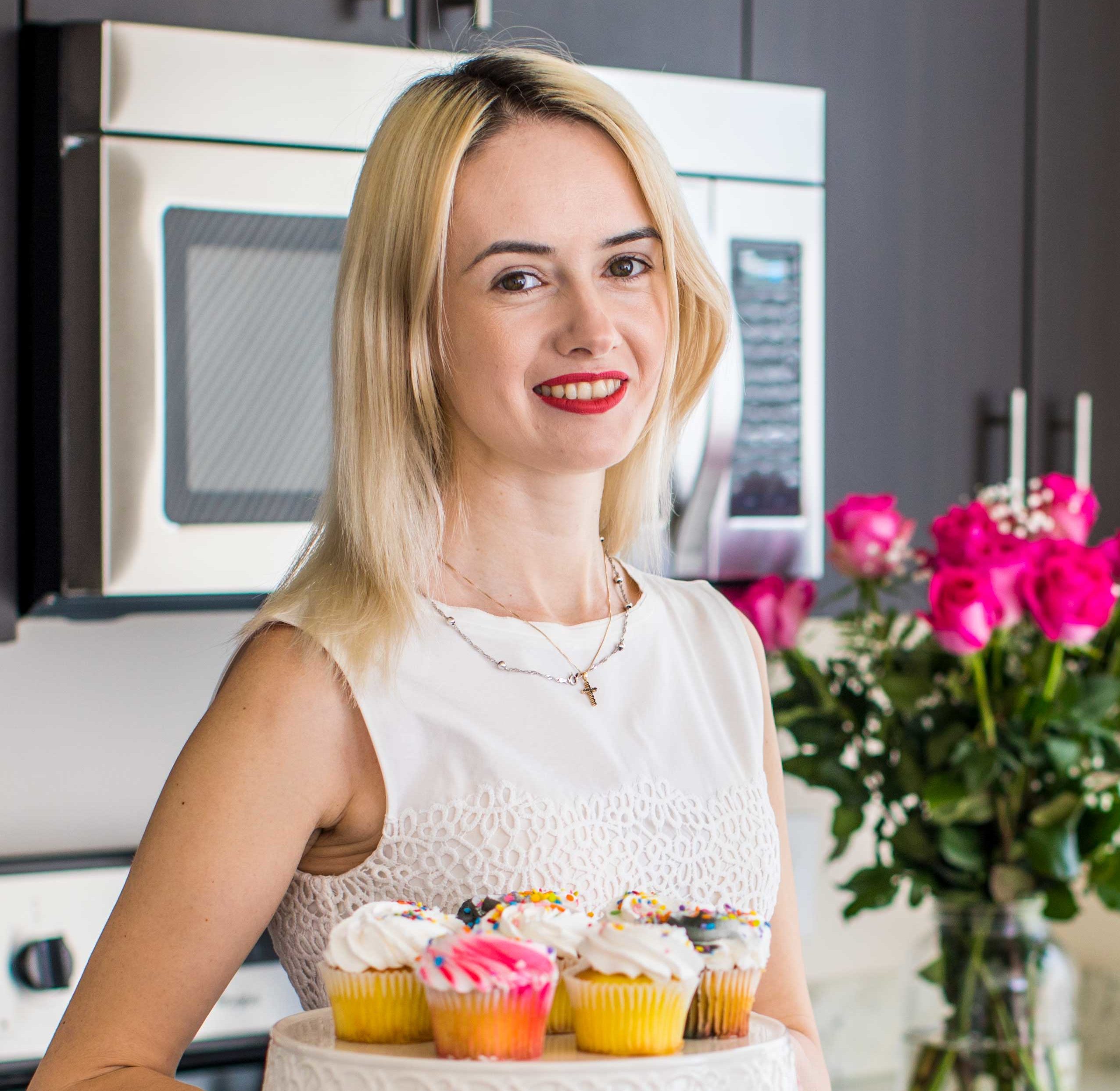 Follow us on Pinterest for more delicious recipes!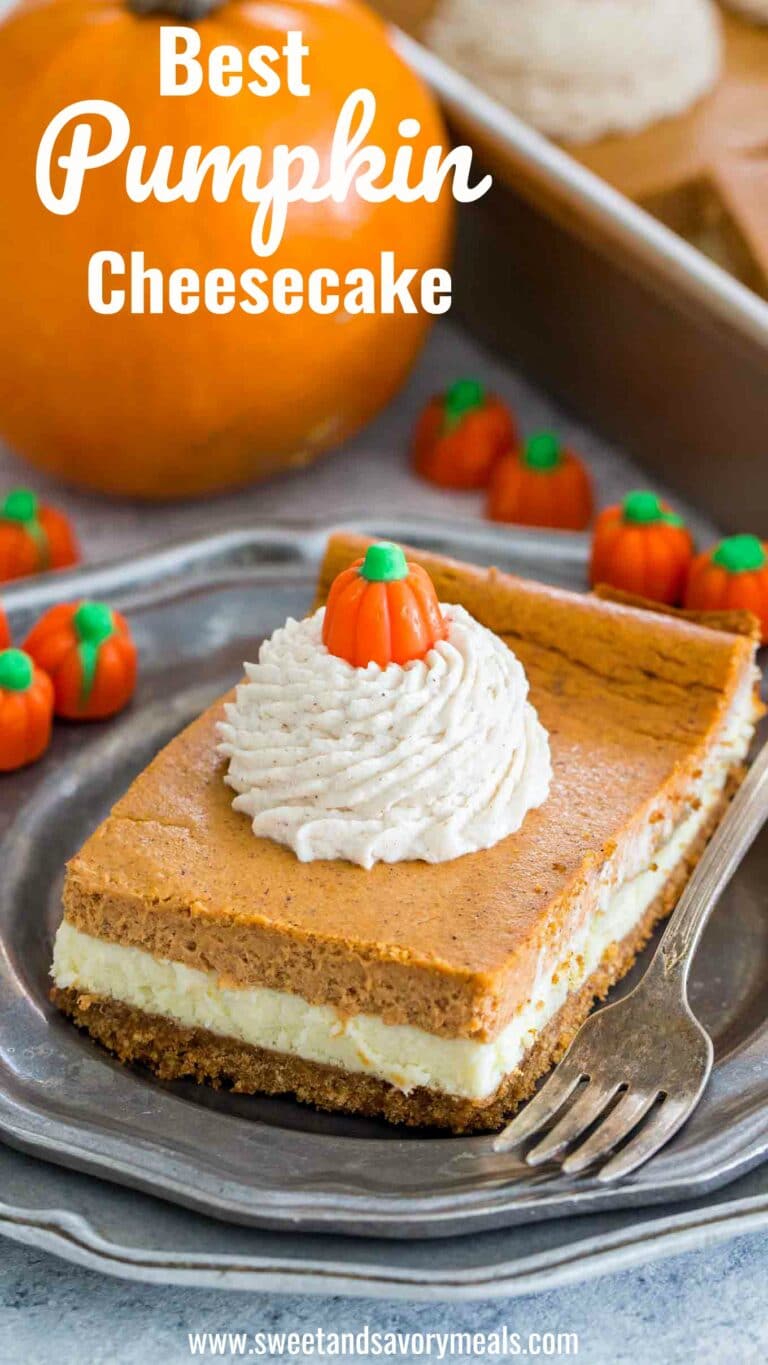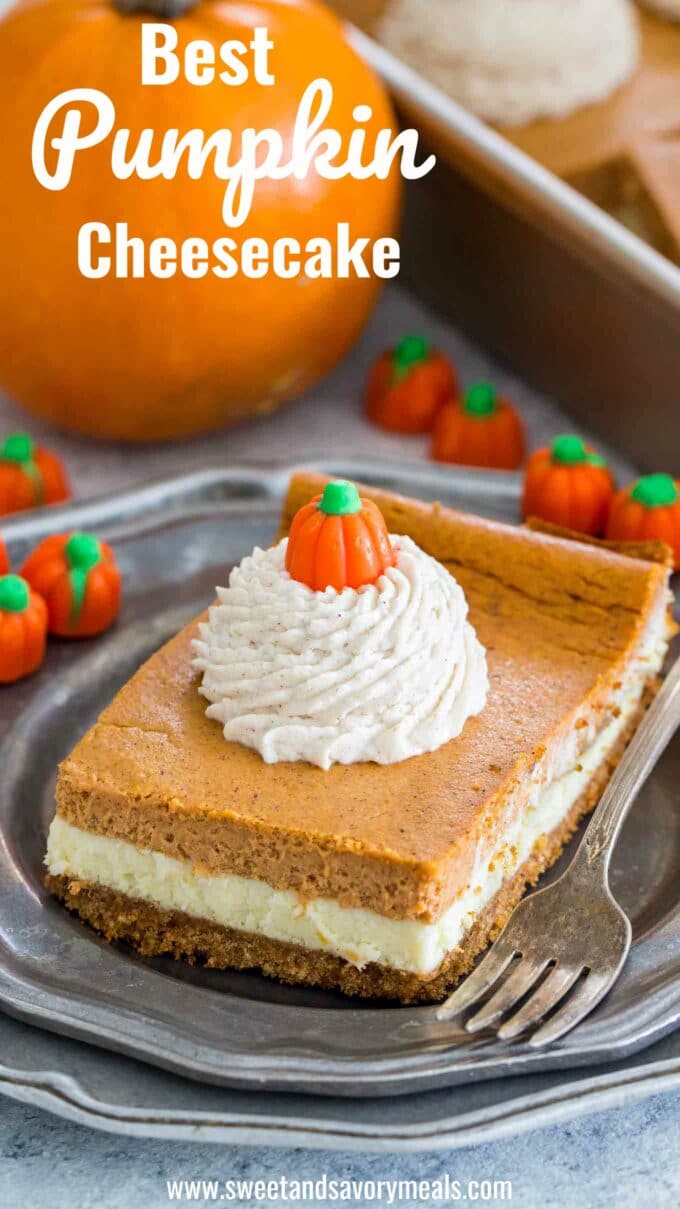 How to Make a gluten-free cheesecake crust?
Use almond meal instead of graham crackers.
A combination of quick oats and nuts works as well
Use gluten-free crushed cookies or gluten-free graham cracker crumbs
How to prevent cheesecake cracks:
Making sure that all the ingredients are at room temperature and well combined after mixed.
Adding flour or/and cornstarch to the batter.
Avoid opening the door oven while baking the cheesecake.
Watch the cheesecake closely to avoid over-baking it. When the sides are puffed and the center of the cheesecake is just slightly wobbly, the cheesecake is done.
Cooling the cheesecake in the oven, with the door slightly cracked is also very important, as the sudden change in temperature can cause cracks.
Bake the cheesecake in a water bath, its one of the most successful techniques to avoid cracks on your cheesecake.
How to fix cheesecake cracks:
You will need: 1) a small offset spatula or spoon 2) hot water 3) a kitchen towel.
Let the cheesecake completely cool and refrigerate for at least 6 hours or per recipe instructions. The cheesecake needs to be cold to be able to fix the cracks.
Use the spatula dipped into hot water (or you can use your fingers or a spoon) to gently push and press down in the area of the crack and spread to fill it in until the top is smooth.
Clean the spatula with the towel as needed.
Once finished, clean the offset spatula with the kitchen towel again, and dip it again into warm water and smooth the top of the cheesecake.
You can add a thin layer of sour cream topping if the cracks are small.
You can add a layer of whipped cream topping.
How to bake a cheesecake in a water bath:
Wrap the outside of the springform pan in a double layer of foil, covering the bottom and sides of the pan, you need to cover the sides only from outside. This will prevent the cheesecake from water leaking in. If using a baking pan, there is no need to do this.
Set the prepared pan in a large roasting pan that is deep enough to add water to it. Pour HOT water into the roasting pan, about halfway up the sides of the cheesecake pan.
Transfer to a pre-heated oven and bake, until the center jiggles slightly like Jell-O, and the sides are puffed and a light golden brown. The residual heat will cook the center of the cheesecake. If the cheesecake doesn't wobble a bit in the center, it means it has been over-baked, and most likely will crack.
Cool the cheesecake in the oven with the door slightly cracked for one hour.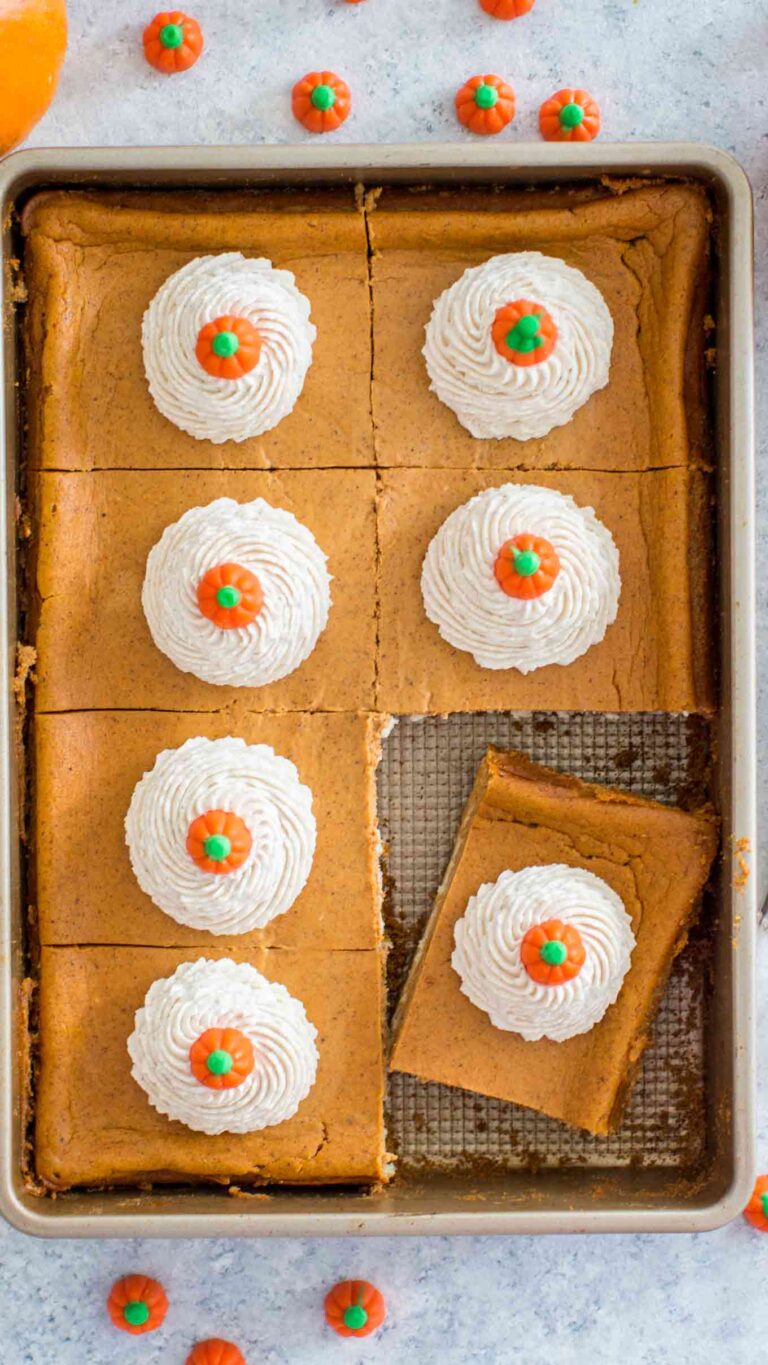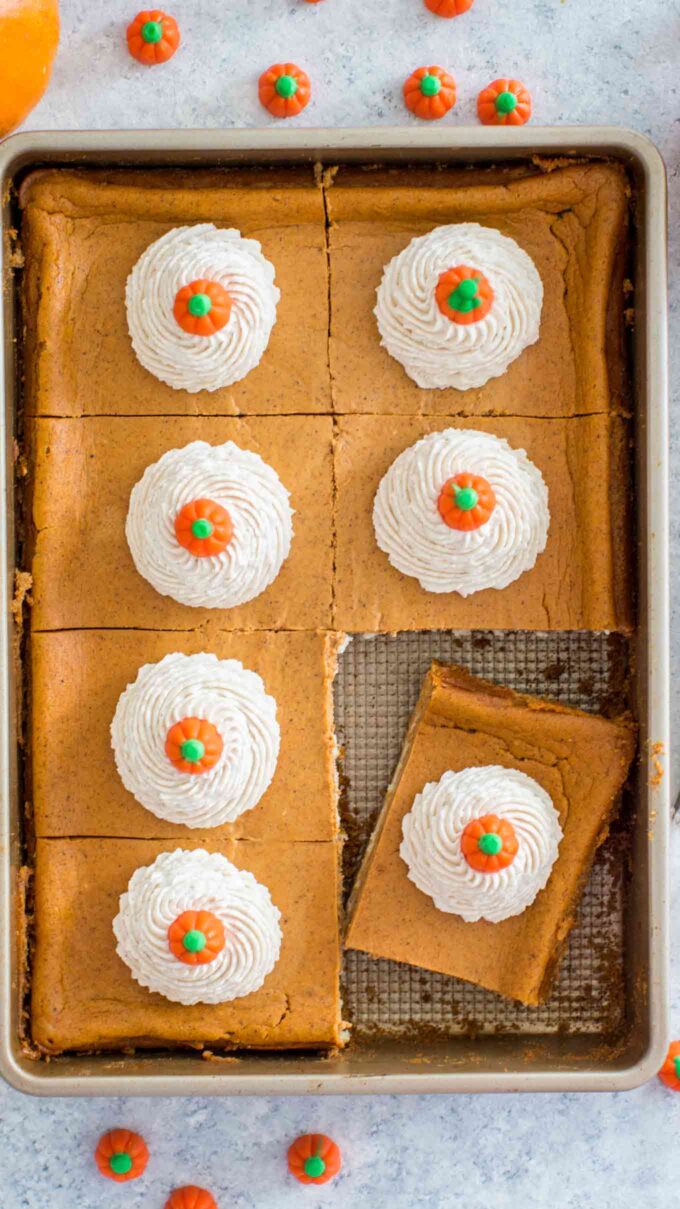 How to slice the Pumpkin Cheesecake Bars:
Run a long, sharp thin-bladed slicing knife under hot tap water or dip it into a glass of hot water prior to slicing the cheesecake.
Wipe the knife clean and run it under hot water before making another cut.
An easy, mess-free way to cut even slices is to use cheese wire or unflavored dental floss. This method can be easily used on cheesecakes baked in a springform pan. Clean the bits that stuck to the wire/floss before every cut.
More delicious Thanksgiving recipes:
Can you freeze Pumpkin Cheesecake Bars?
You can freeze the cheesecake BEFORE you top it with whipped cream.
Make sure the cheesecake has fully cooled and also was refrigerated for at least 6 hours.
Wrap cheesecake bars tightly with aluminum foil or plastic freezer wrap, or place in a heavy-duty freezer bag.
Properly stored, it will maintain the best quality for about 2 to 3 months.
Tips for the perfect Pumpkin Cheesecake Bars
You should use very soft cream cheese. If you want, you can microwave it around 30 seconds – this way it will soften really quickly.
Remember that bars should be fully chilled before you slice them.
You can store these bars up to 3 days, however, keep in mind that whipped cream should be added right before serving.
Save Recipe
The Ultimate Pumpkin Cheesecake Bars
Author: Catalina Castravet
Serves: 10 servings
Prep time:

30

minutes
Cook time:

1

hour
Total time:

1

hr

30

mins
Ingredients
Crust:
Cheesecake Batter:
Pumpkin Layer:
Cinnamon Whipped Cream:
Instructions
Cheesecake Crust:
Cheesecake Batter:
Pumpkin Layer:
Bake:
Chill:
Cinnamon Whipped Cream:
Nutrition information
Calories: 471 Carbohydrates: 77 Protein: 7 Fat: 16 Saturated Fat: 8 Cholesterol: 99 Sodium: 238 Potassium: 291 Fiber: 2 Sugar: 58 Vitamin A: 7164 Vitamin C: 2 Calcium: 156 Iron: 2
Save Recipe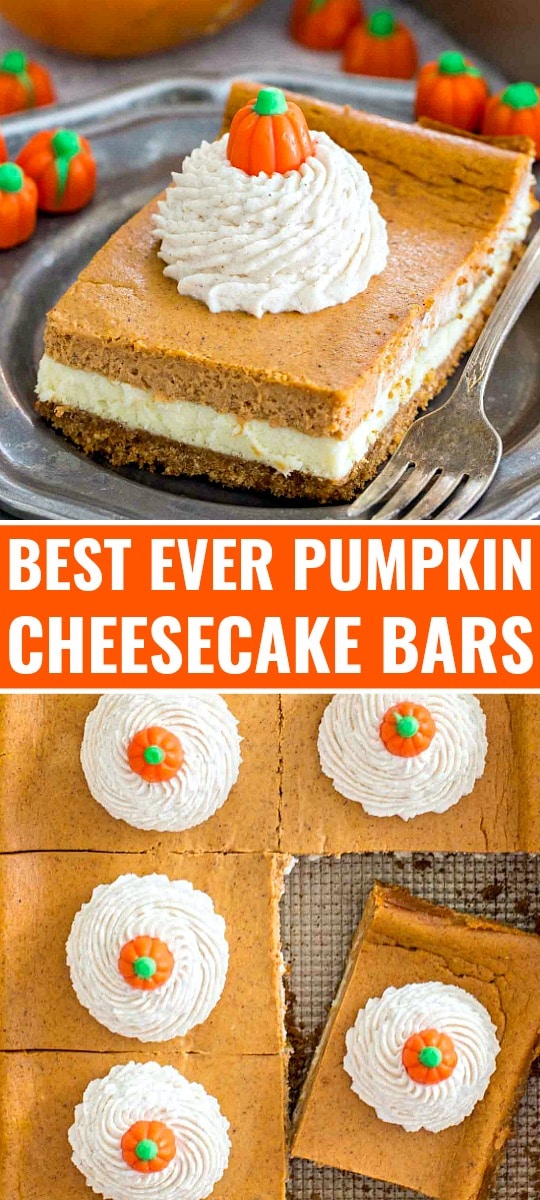 More recipes you might love