Instant Pot Scalloped Potatoes
Instant Pot Scalloped Potatoes are cheesy, creamy, and made in a fraction of the time. This is a perfect side dish to have for Easter, Thanksgiving, or a larger gathering!
We love Instant Pot dishes, and this side dish is a favorite of ours. You can serve it with corned beef, slow cooker garlic brown sugar, or slow cooker brown ham.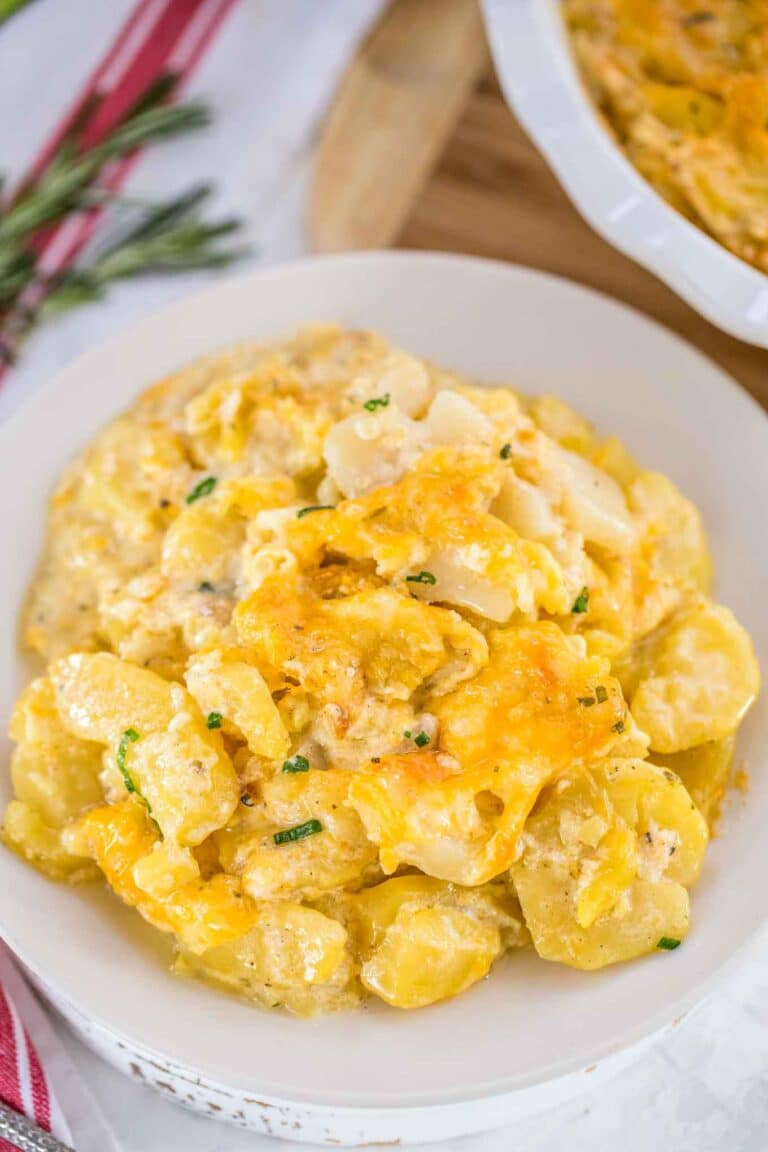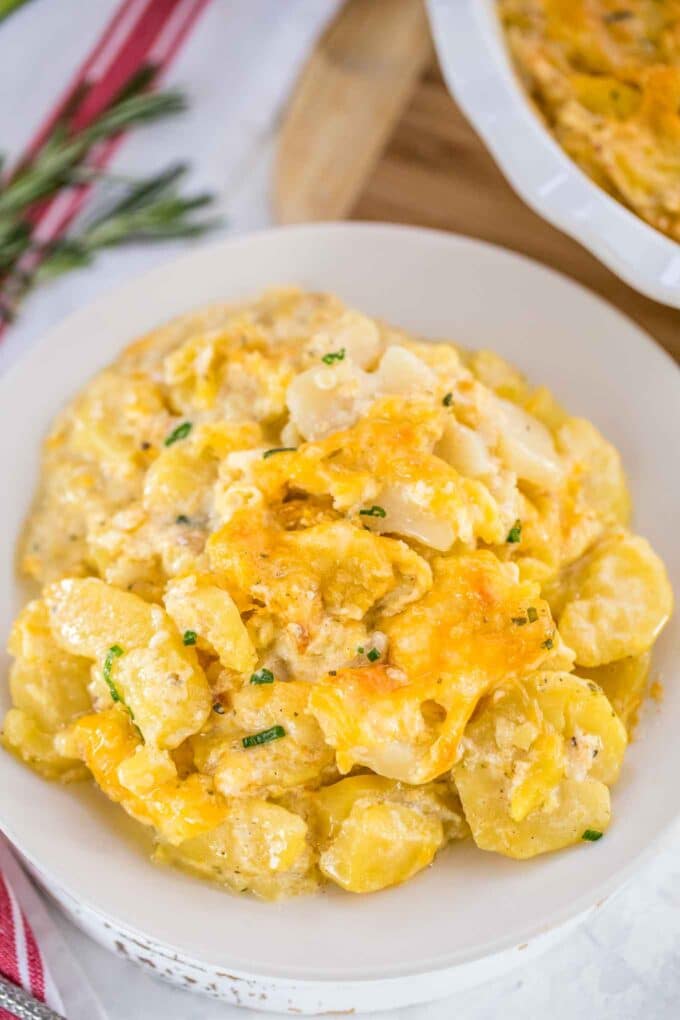 Easy Instant Pot Scalloped Potatoes
Instant Pot Scalloped Potatoes are super flavorful and delicious. It is a quicker and easier version of any scalloped potatoes that we have ever previously made. The pressure cooker does its job the best in this recipe. You will end up with soft potatoes that still hold their sliced form, which is cheesy and delicious. They have the right texture that you would expect from a high-end restaurant.
This dish could also be made in the slow cooker. However, from our previous experience, the recipe ends up with gummy mashed potatoes. Therefore, we always end up using the pressure cooker because it results in the best-scalloped potatoes.
This recipe cooks faster in the pressure cooker and all it needs is just a few minutes under the broiler for the perfect finish. It's a quick flavorful side dish for your next holiday dinner!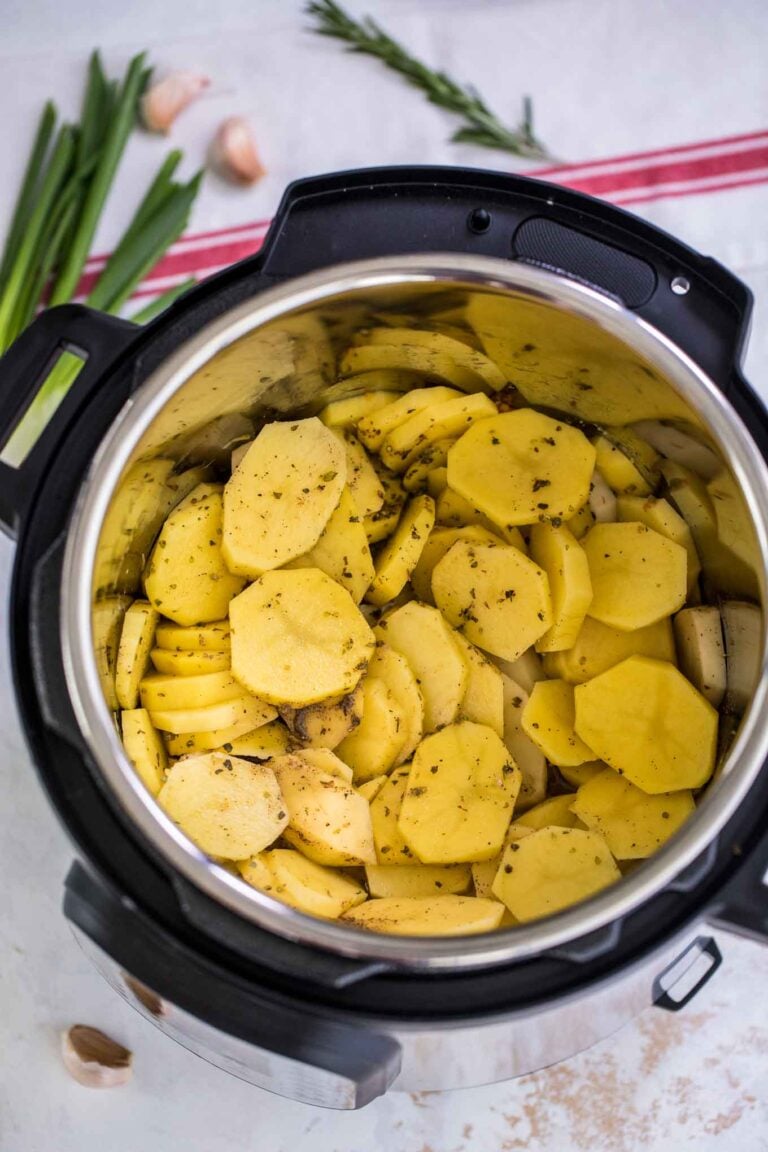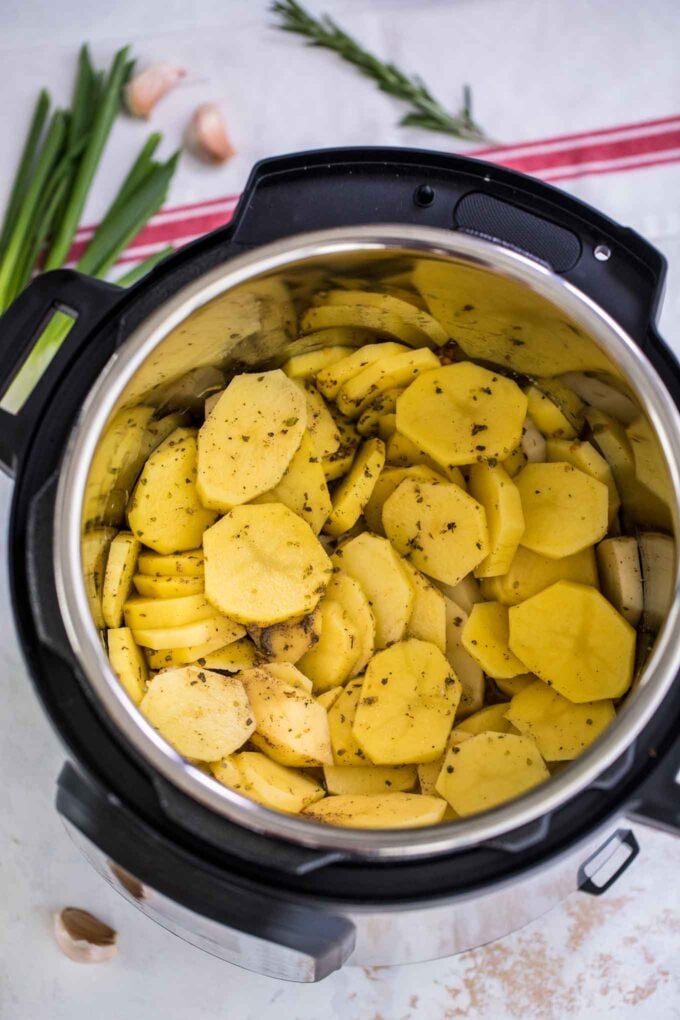 How to make the best Instant Pot Scalloped Potatoes?
The most work in this recipe is simply preparing the potatoes. Be sure to wash and peel them prior to slicing. An important aspect here is how thin you cut the potatoes. We love them cut in the neighborhood of 1/4 inch. This is the ultimate thickness for them to retain their sliced form through the cooking process, and not get mushy. Also, they end up just soft enough to melt in your mouth.
Once you have the potatoes cut and ready, the rest is super simple. All you need is to cook them with a cup of vegetable broth, and some seasoning for a few minutes in the Instant Pot.
When done, drain the potatoes and arrange in a baking dish and alter them with shredded cheese layers.
Then, add the remaining ingredients to the pressure cooker and set to "Saute" and stir until the sauce is smooth.
Pour the sauce over the potatoes, and top with more shredded cheese and broil.
How to make Scalloped Potatoes in the oven?
We have made this recipe in the oven as well and is similarly creamy and flavorful. The oven version can be found in this link.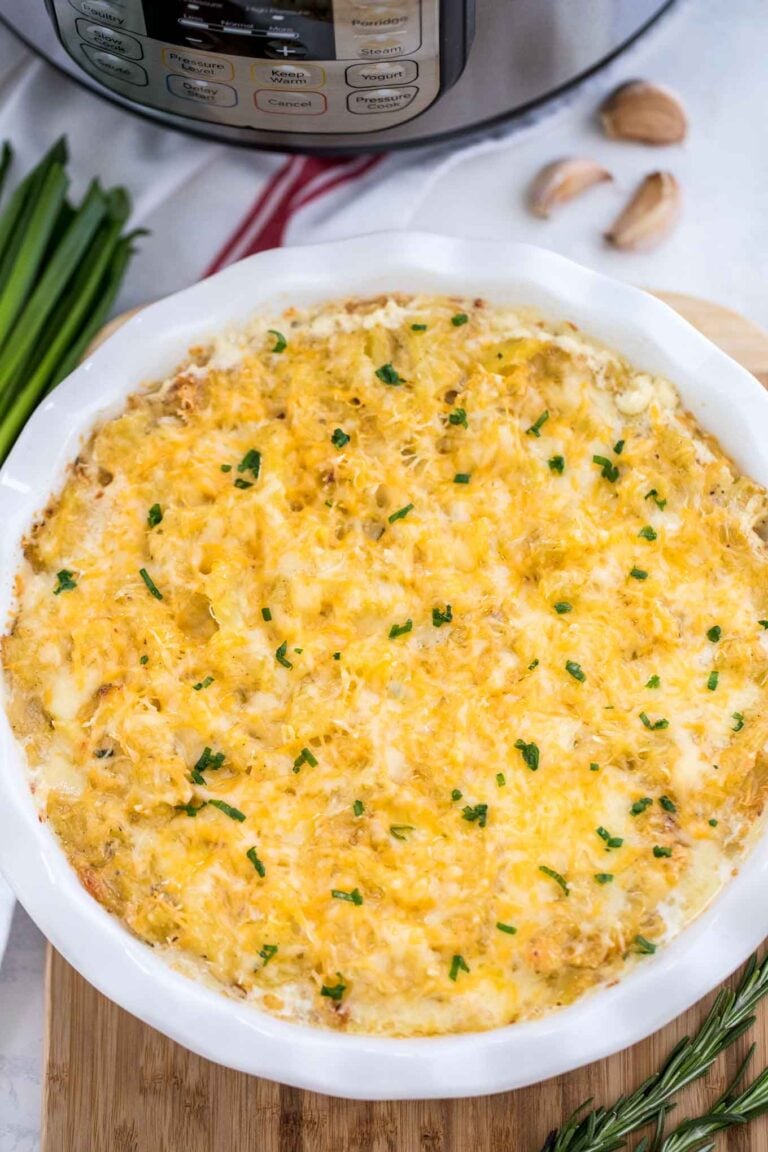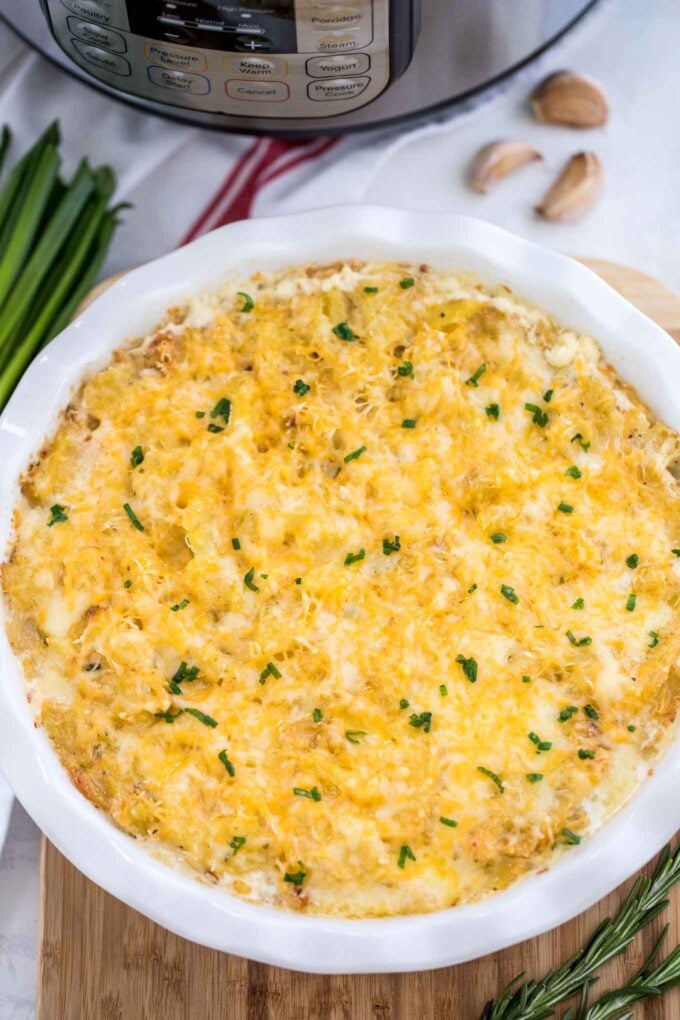 What type of potatoes is best for this recipe?
We tend to like starchy potatoes for this dish because they work best here. They make it creamy when cooking. Our favorite choice is Russet and Yukon, but we prefer Yukon most of the time. They add the right flavor and have a soft and perfect texture when cooked.
Can you FREEZE Instant Pot SCALLOPED POTATOES?
Yes, this dish can be easily frozen and enjoyed at a later date.
First, let them completely cool after cooking.
Then, cover with aluminum foil and plastic wrap or freeze in airtight containers, and freezer for up to 3 months.
When ready to serve, remove the dish from the freezer and place in the fridge to thaw overnight.
The next day, reheat in the microwave or oven at 350 degrees F for about 10-15 minutes.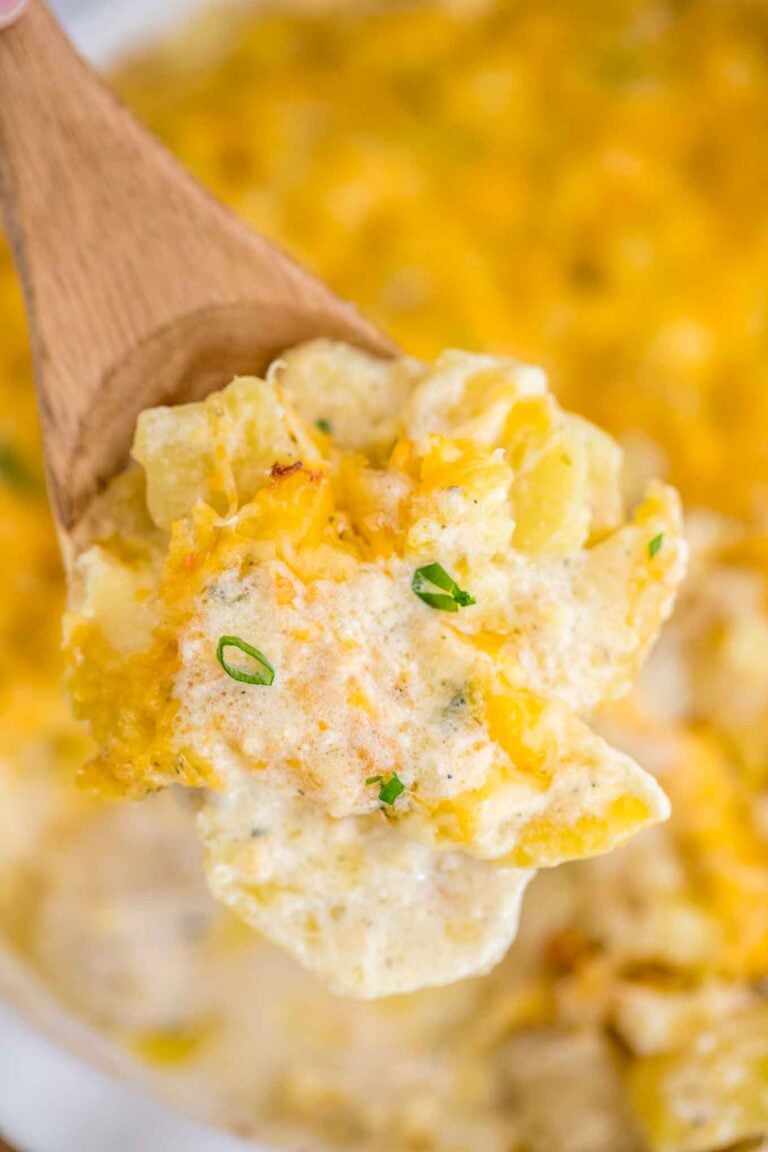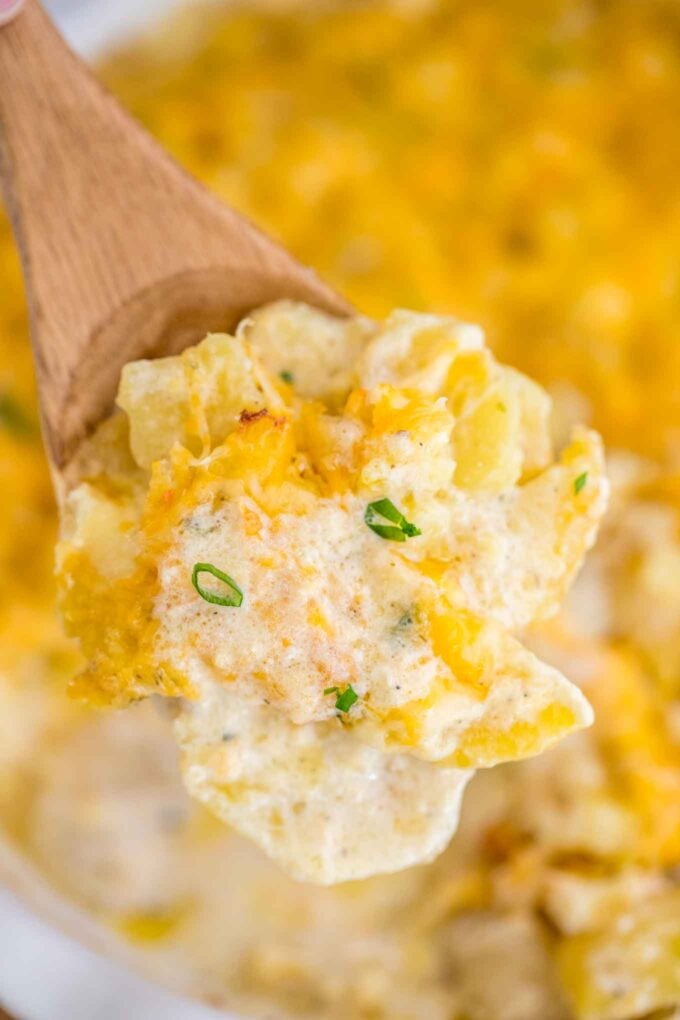 Expert Tips:
We use a 6-Qt Instant Pot, and we love it!
To evenly cut the potatoes, we recommend using mandoline. It does a nice job of cutting them evenly, which results in uniform cooking. However, if you don't have it, worries, a sharp knife, and a steady hand can also do the trick.
For best texture, we recommend cutting them in the neighborhood of 1/4 inch to 1/3 inch.
If you want to prep these a day ahead of time, we suggest preparing them up until the point of broiling them, and cover the dish and refrigerate. Then, before serving, heat your oven to 350 and bake for about 15 minutes. After, turn it on broil for about 5 minutes, till nice and bubbly brown.
For a larger portion, you can double the size. Keep the cooking time the same and just double the ingredients.
Also, you can use your favorite cheeses. We like to go with extra sharp cheddar, but this is totally optional.
Similarly, for the topping, you can use a buttery parm and panko mix.
For extra flavor, sprinkle each layer of potatoes with diced or shredded ham.
When you broil the scalloped potatoes, keep an eye on them so they don't get burnt.
Leftovers can be enjoyed for breakfast with deviled eggs, sliced sausage on the side.
Let the potatoes cool slightly before digging in. This will allow the creamy sauce to thicken and the cheese to get perfectly absorbed.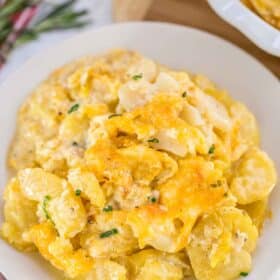 The Best Instant Pot Scalloped Potatoes
Instant Pot Scalloped Potatoes are cheesy, creamy and made in a fraction of the time. This is a perfect side dish to have for Easter, Thanksgiving, or larger gathering!
Save
Share
Print
Pin
Rate
Ingredients
3

pounds

white potatoes

(peeled and sliced into 1/4 inch rondelles)

1

cup

chicken broth

(or veggie broth for a vegetarian version)

1/2

teaspoon

salt

1/2

teaspoon

ground black pepper

1/2

teaspoon

oregano

1

teaspoon

garlic powder

4

cloves

garlic

(minced)

1

cup

heavy cream

2

cups

yellow cheddar cheese

(shredded and divided)
Instructions
Add sliced potatoes to the Instant Pot.

Add broth, salt, pepper, oregano, and garlic powder, stir to combine.

Close the lid, point valve to sealed and cook on High Pressure for 1 minute, followed by a 3 mins NPR and after that release manually the remaining pressure.

Preheat oven to 375 degrees F.

Gently transfer the potatoes from the IP to a pie baking dish and set aside.

Turn the Saute mode on, and add the garlic to the leftover liquid in the pot. Stir and cook for 30 seconds.

Add cream and let it slightly simmer. Turn off IP and add 1 cup of shredded cheese, stir until fully melted and smooth.

Pour the cheese sauce over the potatoes, toss to distribute and sprinkle on top the remaining 1 cup of shredded cheese.

Bake for 15 minutes, or until the mixture is bubbly. Broil for a few minutes to brown the top.
Nutrition
Calories:
318
kcal
|
Carbohydrates:
31
g
|
Protein:
16
g
|
Fat:
14
g
|
Saturated Fat:
8
g
|
Cholesterol:
43
mg
|
Sodium:
611
mg
|
Potassium:
1064
mg
|
Fiber:
5
g
|
Sugar:
2
g
|
Vitamin A:
445
IU
|
Vitamin C:
28.6
mg
|
Calcium:
391
mg
|
Iron:
7.7
mg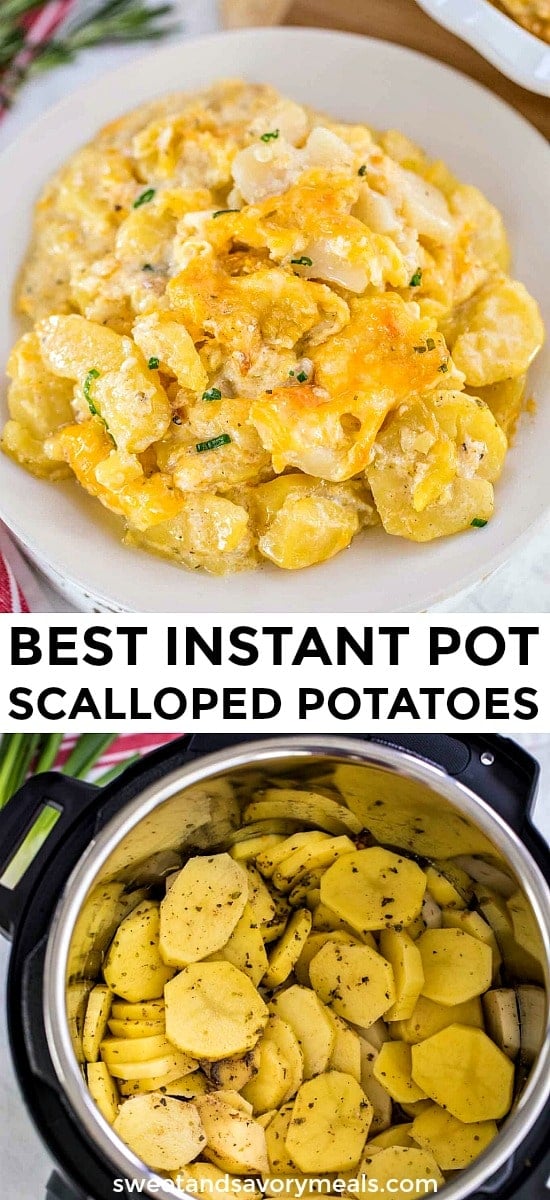 More recipes you might love