Instant Pot Candied Sweet Potatoes
Last updated on November 11th, 2021 at 04:52 pm
Instant Pot Candied Sweet Potatoes are cooked with brown sugar, maple syrup, warm spices, and served with toasted marshmallows. With such a delicious combination this may end up being one of your favorite holiday recipes.
If you would rather have softer potatoes, try our Instant Pot Mashed Sweet Potatoes recipe with heavy cream, butter, and cinnamon. Your family and friends will love this Loaded Sweet Potato Casserole with crunchy pecans and vanilla. Similarly, our Sweet Potato Souffle is also a decadent side dish topped with cinnamon sugar pecans.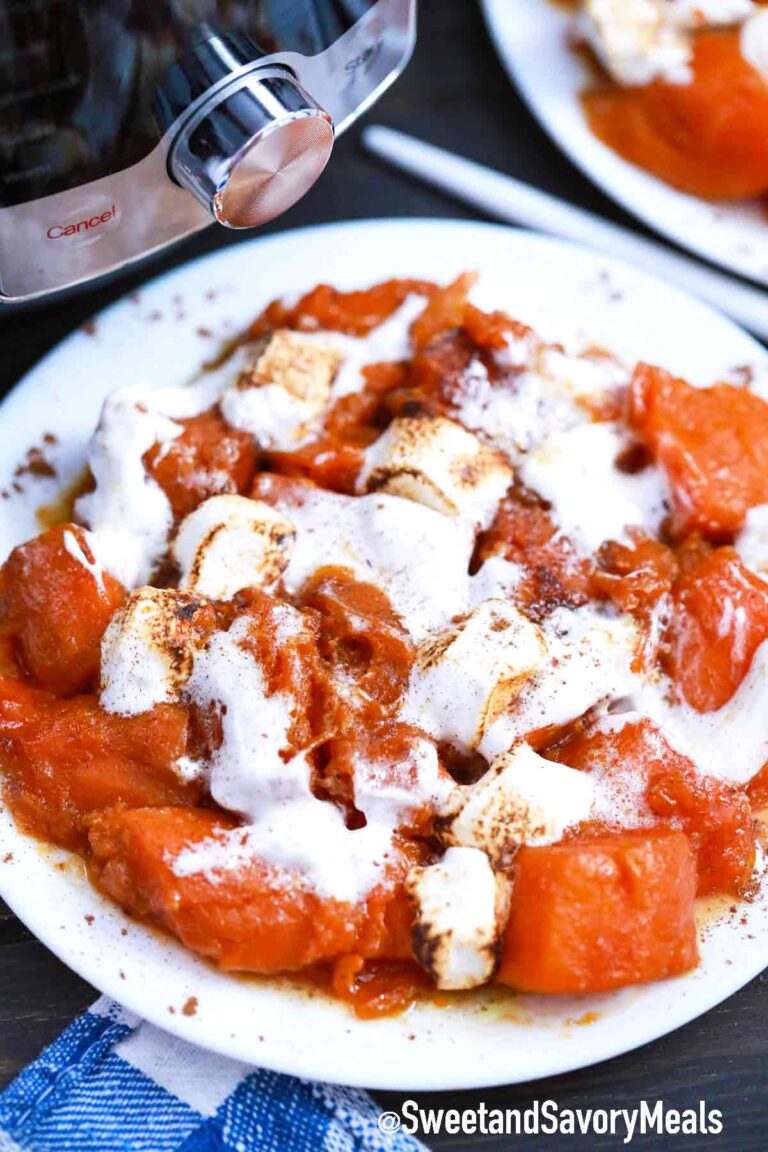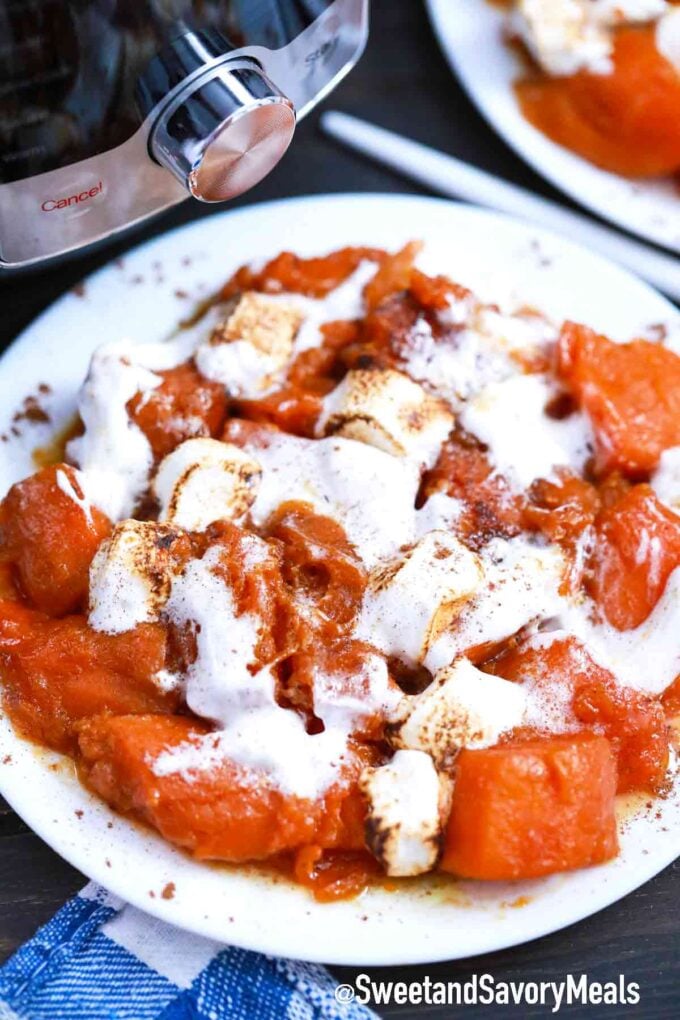 This is a traditional recipe you often see around the holiday season. In fact, this delicious recipe is perfect any time of the year for a succulent side dish or dessert.
Weight watchers may want to use sugar-free syrup or sugar substitute and light butter to knock off some calories and sugar. It is a delicious option that does not make you feel guilty after you eat it.
The best part about instant pot recipes is that they only take a fraction of the time. They are done so quickly; you can hang out with the family all day without worrying about getting it all on your holiday table on time.
Either way, this dish will be one of the best instant pot holiday side dish recipes you have ever tried. It is so good, that you can even serve it as a dessert with a dollop of vanilla or pumpkin ice cream.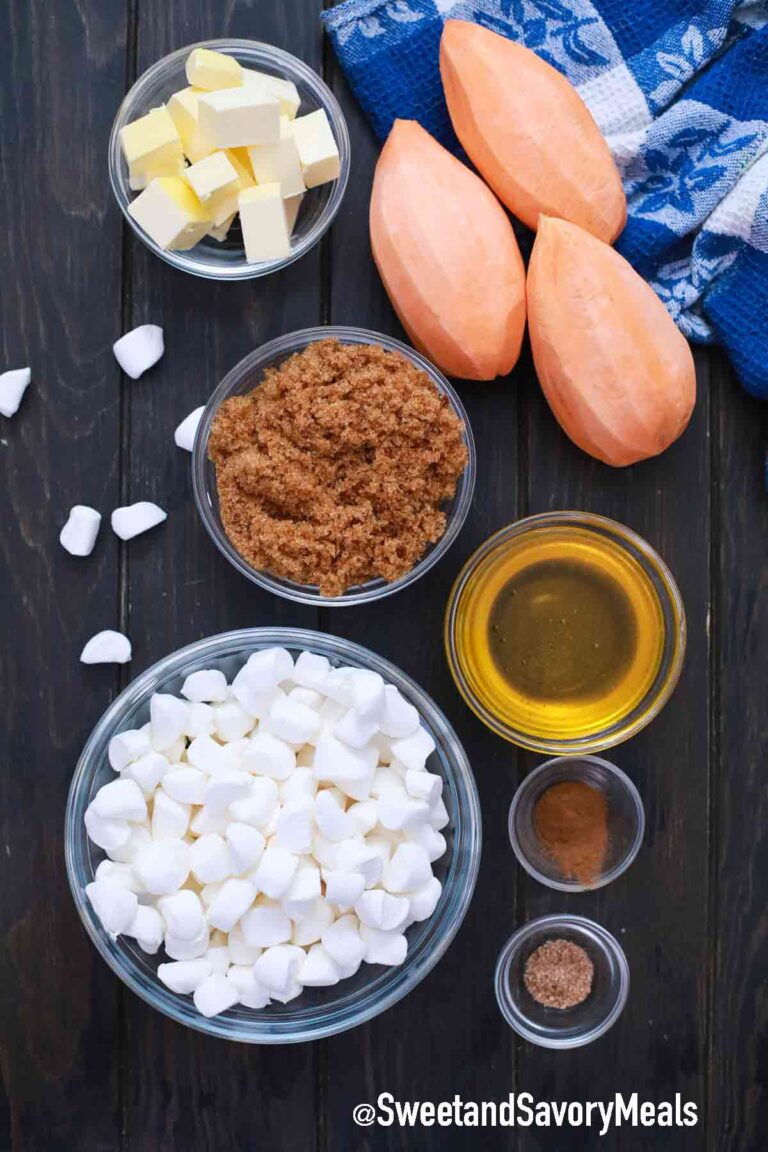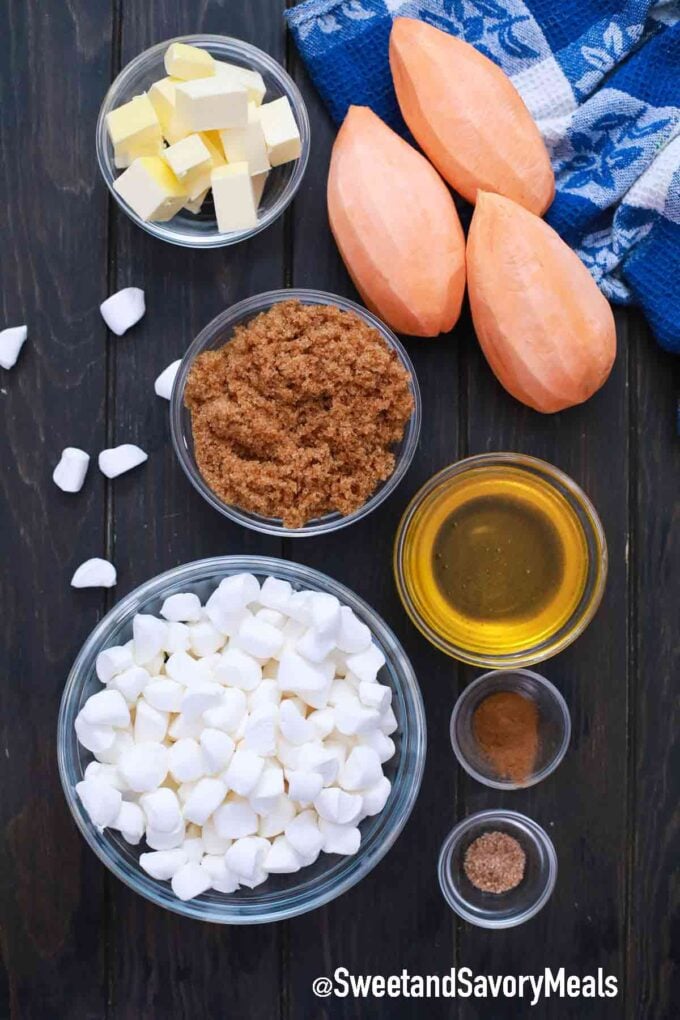 Ingredients needed:
The detailed instructions for our sweet potato recipe can be found on our recipe card below, but these are the main ingredients:
Fresh sweet potatoes: Peeled and cut into chunks.
Unsalted butter: A whole stick, at room temperature.
Brown sugar: Light or dark are both fine for this recipe.
Maple syrup: Store-bought or homemade.
Mini marshmallows: You can also use regular marshmallows if that is all you have.
Spices: We used nutmeg and cinnamon.
How do you make instant pot candied sweet potatoes?
Prepare potatoes: First, rinse, peel, and cut the potatoes into chunks.
Soak: Then, soak the chunks in a bowl of cool water to prevent them from browning.
Make the syrup mix: Meanwhile, melt the butter and mix in the spices and syrup in a small pot. Or you can select saute on the instant pot and use that.

Drain: Next, drain the potatoes and put them in the steamer basket of the instant pot, and add the syrup on top.

Cook: After, close the pot and seal the lid, making sure the vent is at the closed setting for high pressure cooking.

Set: Immediately, press the steam button and set the pot for a cook time of five minutes at normal temperature.

Vent: Once the timer goes off, set pressure valve to vent using the quick release method.

Add marshmallows: Finally, after the steam is all gone, open the pot and add the marshmallows and put the lid back on but do not lock it.

Done: After five minutes, check to see if the marshmallows have melted. If not, close the lid for another few minutes.

Serve: Lastly, serve the potatoes from the pot or a serving dish with toasted marshmallows and a sprinkle of cinnamon on top.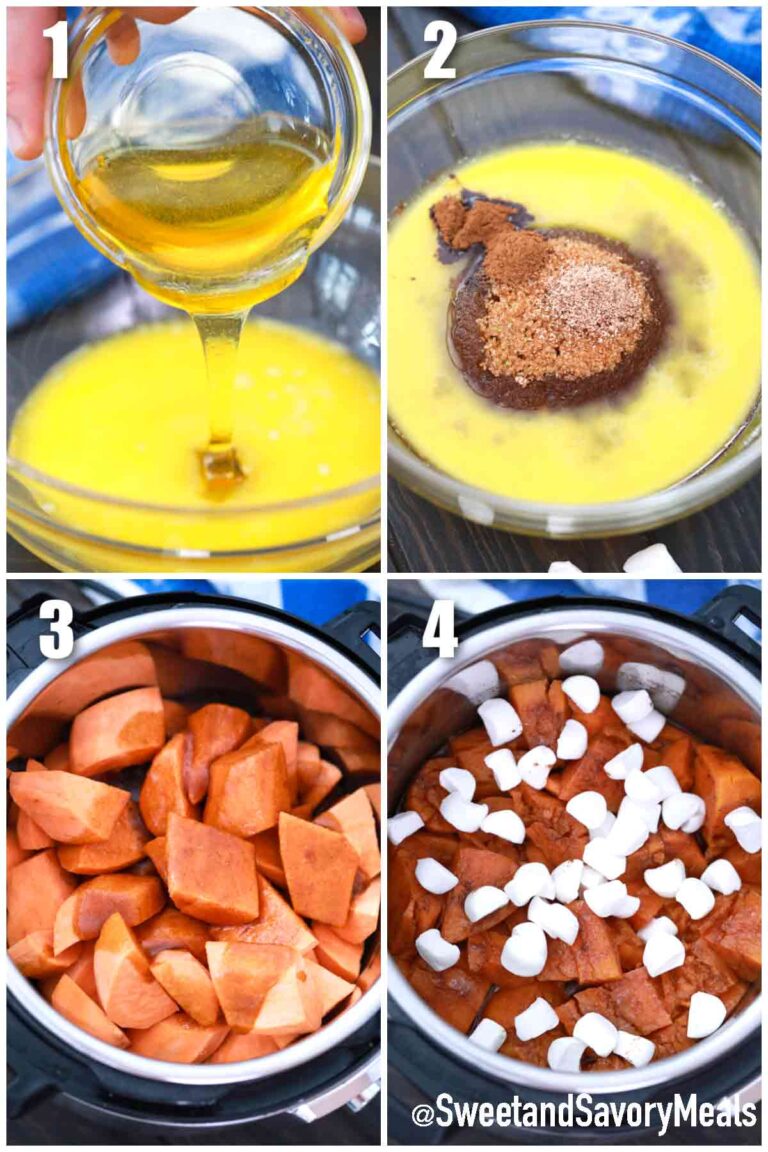 Recipe variations:
Add nuts: For a crunchy topping, sprinkle a cup of pecans or walnuts on top.
Juice it up: Add a half cup water and orange juice for a tangy twist.
Syrup: If you do not have any maple syrup, use corn syrup, honey, or white sugar instead.

Vegan: Make this vegan by using vegan butter or olive oil. Also, make sure to get vegan marshmallows for serving.
Sweeter: Alternatively, add more brown sugar or molasses to make this dish even sweeter.

Citrus: These are delicious if you add a splash of orange juice while cooking and also some orange zest.
How to serve:
This is one of those easy recipes that you can just set and forget similar to when you use a slow cooker, only faster. It is a nice side dish for your holiday meal or for any time of year. Serve with toasted marshmallows and cinnamon or try one of these serving ideas:
Sprinkle some coconut on top for a new twist on this traditional recipe.

Instead, add a dollop of homemade whipped cream right on top of the marshmallows.
For a more festive look, add some rainbow sprinkles or candy glitter.

Try a spoonful of this golden syrup mixed in with these potatoes for even more sweetness.
Make it chocolatey by squeezing some chocolate syrup on top or adding some chocolate chips to the topping.

This side dish goes great with a candy cane chocolate martini.
Alternatively, try it with a mug of our homemade hot chocolate or peanut butter hot chocolate.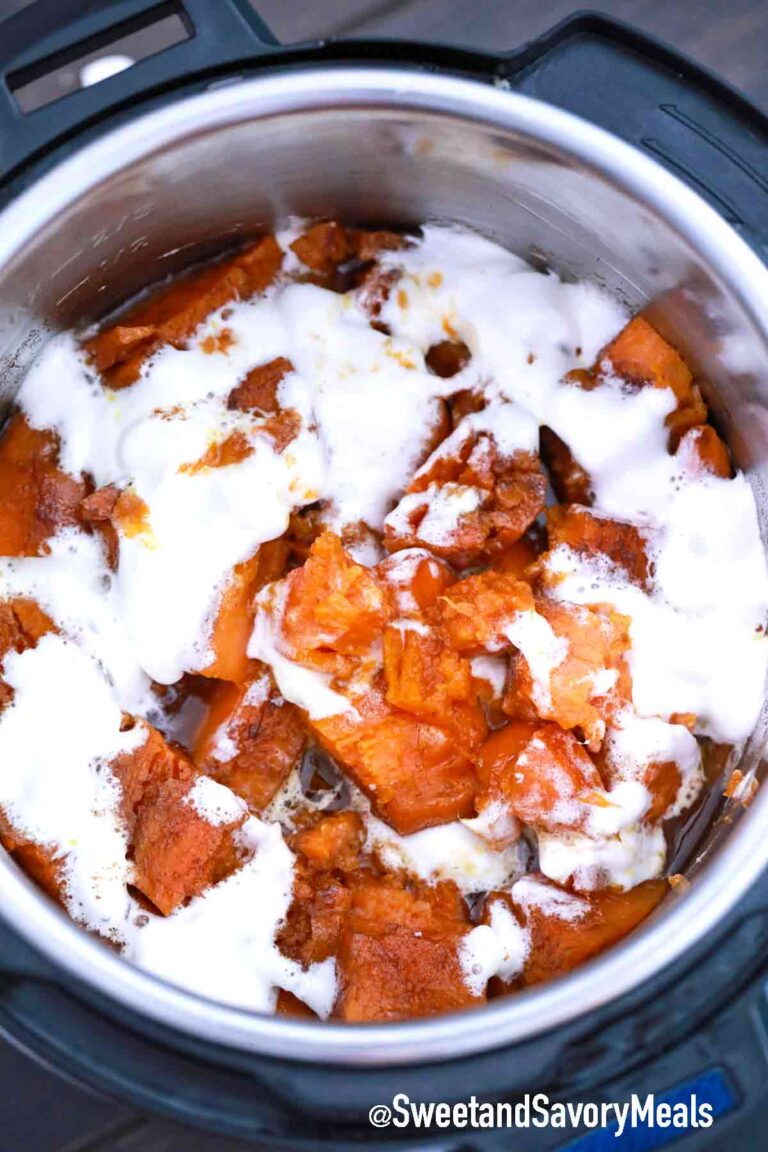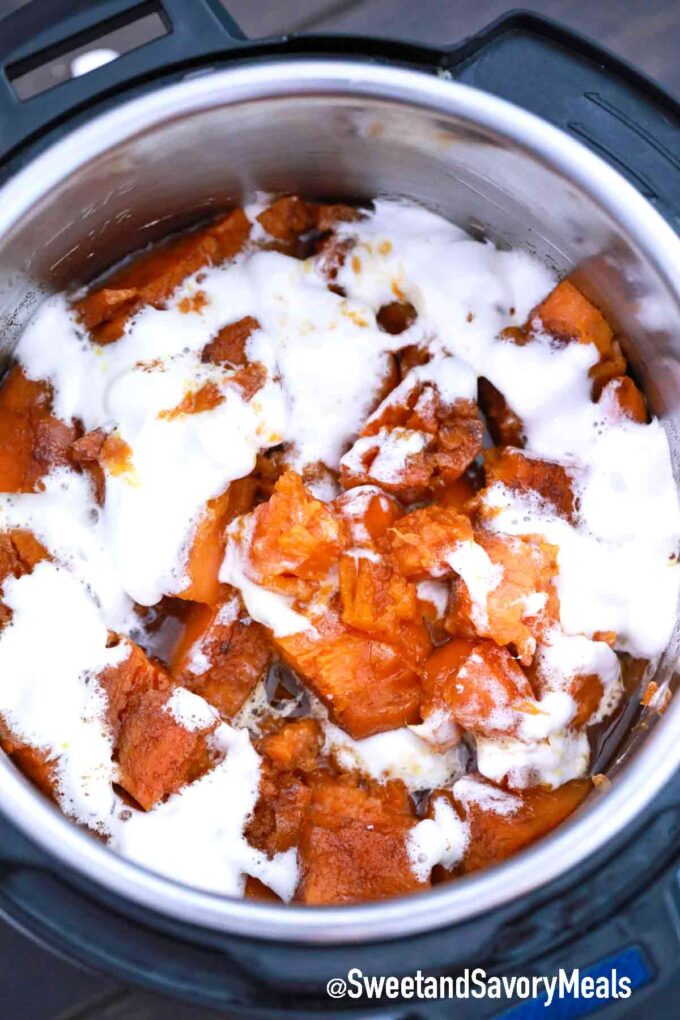 Frequently Asked Questions
What is the difference between sweet potatoes and yams?
Those smooth-skinned potatoes with nice, sweet orange flesh are sweet potatoes. Fresh yams look like a dry potato with skin that looks and feels like bark. It is not as sweet or tender as a sweet potato. When you go to the store, the ones you buy are usually sweet potatoes because yams are not as common.
Sweet potatoes may have orange, purple, or white flesh and the skin may be purple, red, tan, or pink. They are a better source of your daily value of protein, beta-carotene, vitamin A, calcium, and iron than yams. However, yams have more fiber, vitamin C, vitamin E, and vitamin B6.
Is Yuca the same as a yam?
A yuca is the root of the cassava plant, also known as Manihot esculenta. It is found in Asia and South America and has a nutty flavor.
Also, it has a thick skin that is like bark, which you have to remove before cooking. It is also known as arrowroot, manioc, or cassava.
Why are my candied yams runny?
If your candied yams are runny, try adding a bit of cornstarch mixed into a cup of water and let it sit for a while. Or you can try all-purpose flour or tapioca to make them thicken up.
Whatever you add, make sure you taste them again afterward to see if you need to add more seasoning.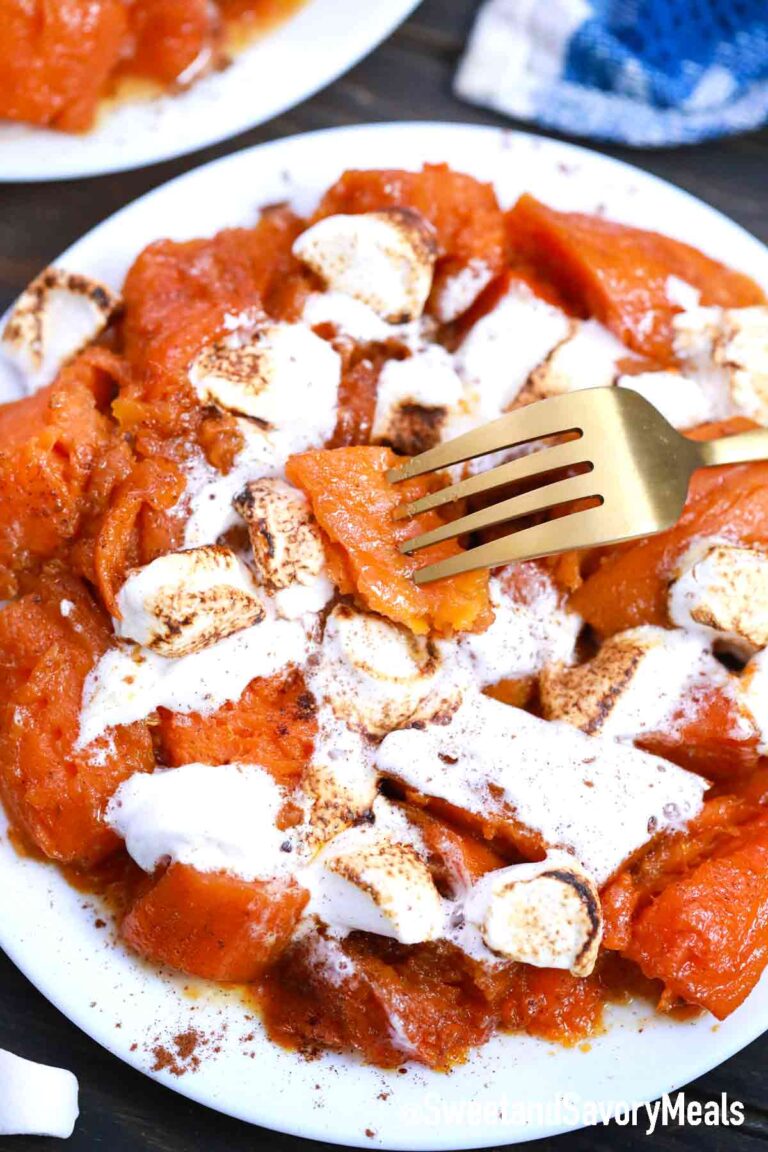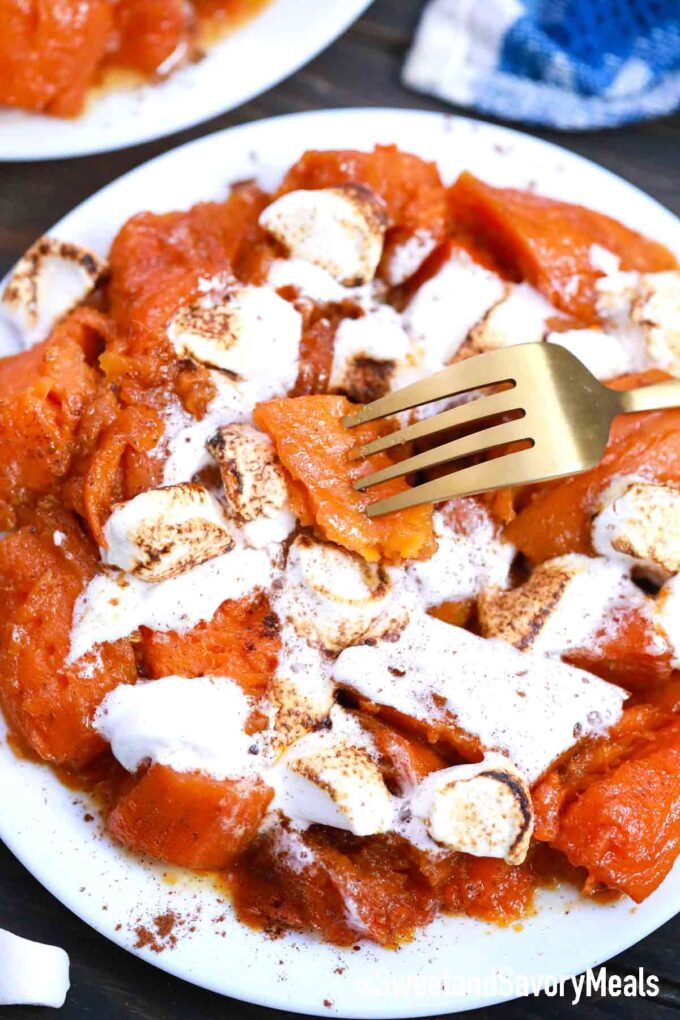 How to store leftovers:
Store: Refrigerate any Pressure Cooker Candied Sweet Potatoes leftovers after they cool to room temperature. In an airtight container, these will be good for about five days.
Freeze: In the same container, you can freeze them for up to three months. Add some lemon or lime juice to prevent discoloration.
Thaw: Be sure to let the potatoes thaw in the fridge overnight before serving.

Reheat: Place potatoes in a casserole dish in the oven for 15 minutes at 350 degrees F. You can add a little bit of milk or cream to make it creamier.
More side dishes:
Cooking tips:
Of the many varieties, the potatoes with orange flesh are best for this recipe.

If you use pecans, toast them first to add a deliciously sweet flavor.
For best results, serve your instant pot candied sweet potatoes right away.
Natural pressure release is when you wait for the valve to float without doing anything to move it. If you open the pressure to release the steam, this is called a quick release.
You can use canned sweet potatoes if that is all you have, but they may get mushy.
We used a 6-quart instant pot for this recipe, but you can use whatever size you have. However, you may have to change the cooking time accordingly.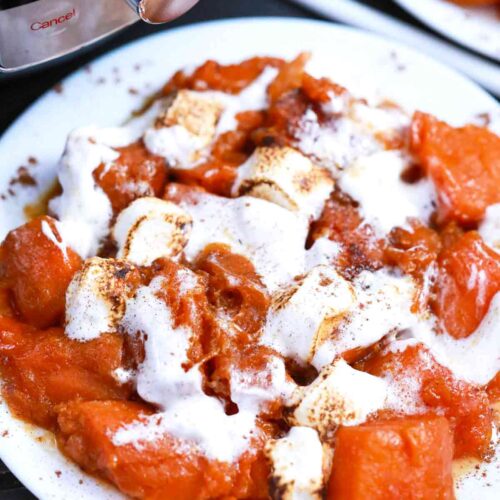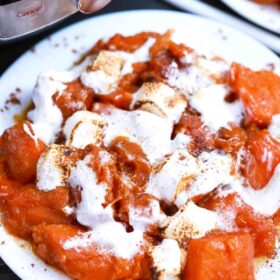 Instant Pot Candied Sweet Potatoes
Instant Pot Candied Sweet Potatoes are cooked with brown sugar, maple syrup, warm spices, and served with toasted marshmallows.
Save
Share
Print
Pin
Rate
Ingredients
4

pounds

sweet potatoes

(peeled and cut into thick chunks)

1

stick unsalted butter

1 1/2

cups

brown sugar

1

cup

maple syrup

1

teaspoon

ground cinnamon

1/4

teaspoon

freshly grated nutmeg

3

cups

mini marshmallows
Instructions
Wash, peel and cut the sweet potatoes into thick chunks.

Soak in a bowl of cool water for 5-10 minutes.

In the meantime, add the butter to a microwave-safe bowl and melt.

Next, stir in the brown sugar, corn syrup, cinnamon, and nutmeg into the melted butter.

Drain the sweet potatoes and add them to the inner pot. Pour the syrup on top of them.

Close the lid and the venting seal.

Using the steam button set the temperature to normal. Adjust the time to pressure cook for 5 minutes.

Once finished cooking, immediately open the vent steam using the quick release method.

Once all the steam has been released, carefully open the Instant Pot.

Sprinkle the mini marshmallows on top of the cooked candied sweet potatoes. Place the lid back so they melt from the residual heat for about 5-7 minutes.

Serve immediately and sprinkle a few more mini marshmallows on top, use a torch to melt/broil them.

Sprinkle a bit with cinnamon and serve.
Nutrition
Calories:
595
kcal
|
Carbohydrates:
172
g
|
Protein:
5
g
|
Fat:
1
g
|
Saturated Fat:
1
g
|
Polyunsaturated Fat:
1
g
|
Monounsaturated Fat:
1
g
|
Trans Fat:
1
g
|
Cholesterol:
1
mg
|
Sodium:
207
mg
|
Potassium:
1216
mg
|
Fiber:
9
g
|
Sugar:
113
g
|
Vitamin A:
42906
IU
|
Vitamin C:
7
mg
|
Calcium:
199
mg
|
Iron:
2
mg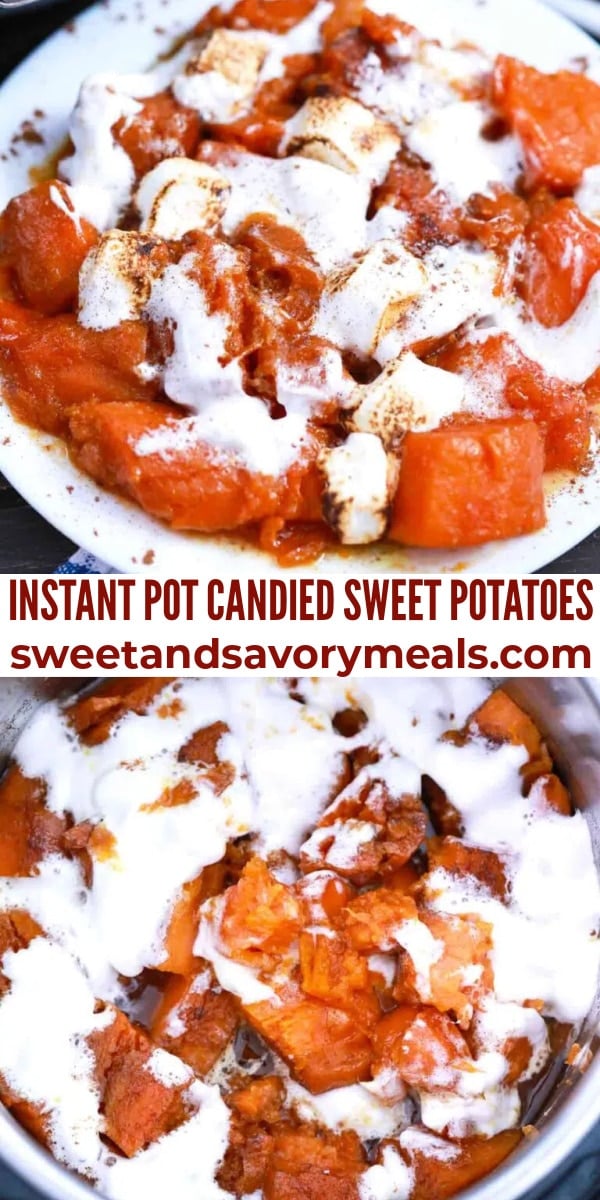 More recipes you might love