Candy Cane Chocolate Martini
This post may contain affiliate links. Please read my disclosure policy.
My talented and creative friend is guest positing today on Peas and Peonies, and sharing with you the most decadent holiday Candy Cane Chocolate Martini cocktail. You go Jacqui!
Hello, I'm Jacqui from DishingDelish.com! I'm a fun-loving gluten free cook who's passionate about sharing easy homemade recipes. During the day I work as a full-time food scientist in New York City, but at night I'm a chef, food photographer, and writer.  I hope you stop by and visit me at Dishing Delish, where you'll find recipes of all kinds that I know you're going to love! I'm so happy my friend Katalina has been nice enough to let me come over here today. I love browsing through Peas and Peonies (especially the gorgeous photography!), and can't wait to share with you one of my all-time favorite cocktail recipes today, the Candy Cane Chocolate Martini. Thank you, Katalina!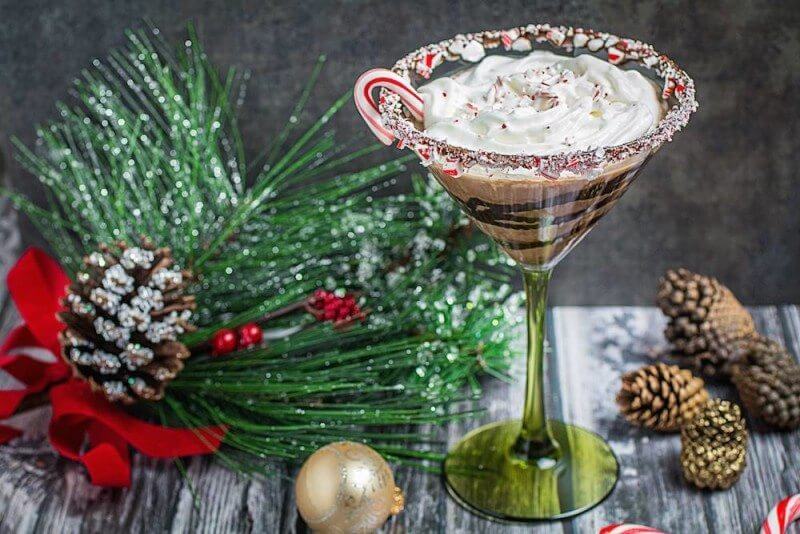 Here it is, one of my all-time favorite cocktails: The Chocolate Martini. Maybe it's the New York in me that just enjoys the classic feel of the martini glass. Maybe it's my uncontrollable need to tell any bartender I order from that my drinks need to be "shaken, not stirred". Or, it could be that this particular martini happens to be full of chocolate.
I'm pretty sure it's the chocolate.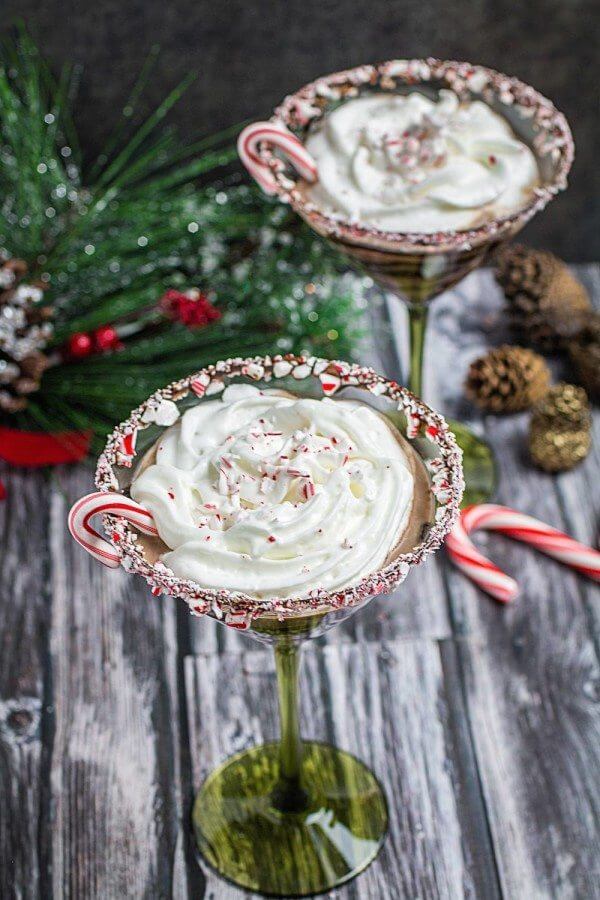 This is not just any martini. This one is the king of all martinis. It's full of all of my favorite things in the world, in one tiny glass: Chocolate, cocktails, and Christmas. Have you ever tasted peppermint hot chocolate? Well, this is kind of like the adult version, but a little bit colder.

MY LATEST VIDEOS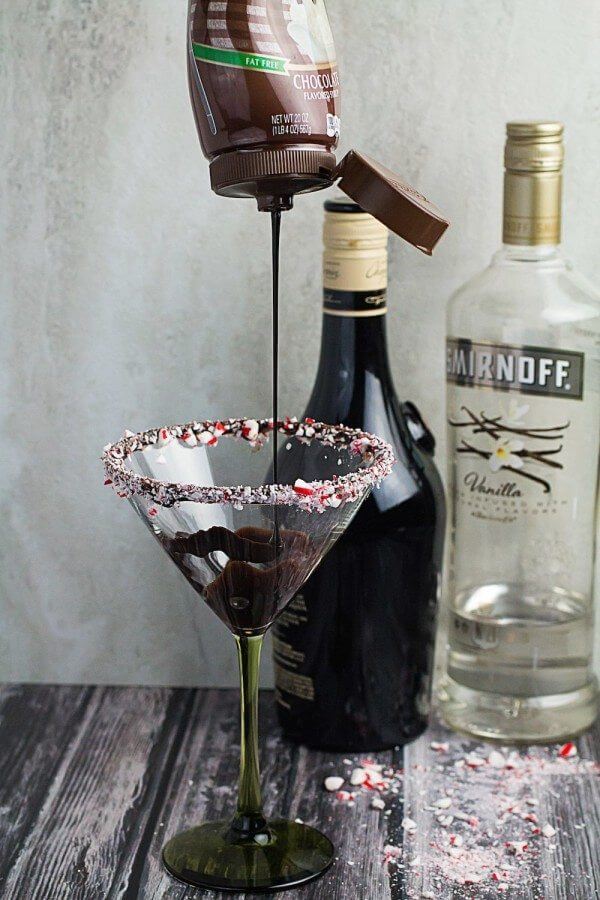 This cocktail just wouldn't live up to its name, Candy Cane Chocolate Martini, without the enticing hint of peppermint in it. For this, I've added just a splash of Crème de Menthe. Stay with me on this one, because I know you're going to love it.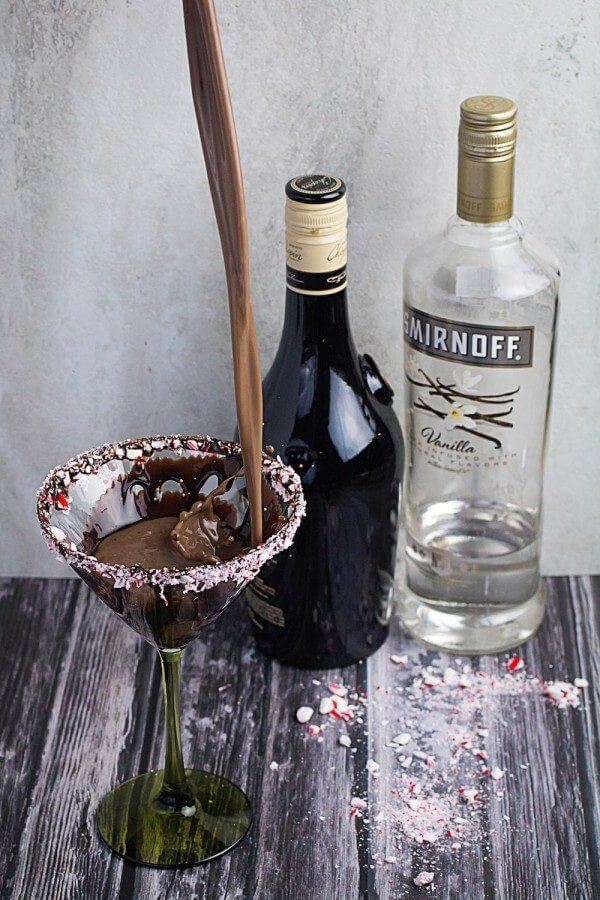 As for the chocolate, don't worry, I've got you covered on three counts. First, there's light cream with chocolate syrup. It's our base for this drink. Then, I add a few good ounces of chocolate liqueur. You can use whatever your favorite brand is. Just to top it off and make it good and chocolate-y, I poured in a few ounces of crème de cacao. Then balance it all off with some vanilla vodka.
If this chocolate martini is not chocolate enough for you, then I don't know what is.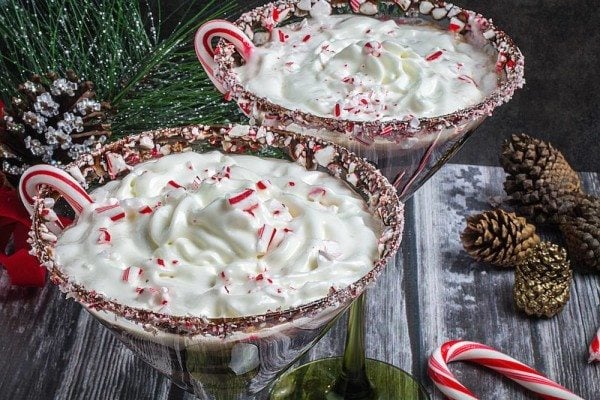 Jacqui is a New York-based author, food stylist, food photographer, and recipe developer. For more great recipes like this, visit her at DishingDelish.com, a food blog that focuses on easy gluten free recipes for the home cook.  She also loves to connect on Facebook and Twitter!

Candy Cane Chocolate Martini
Sweet, simple, and sinfully indulgent, Peppermint Chocolate Martini puts a festive spin on this classic cocktail.
Author:
Katalina Kastravet
Ingredients
4 oz Light Cream
2 tbsp Chocolate Syrup + 4 tbsp Extra for rim of glass & decorating
3 oz Chocolate Liqueur
3 oz Crème de Cacao
1 oz Vanilla Vodka
½ oz crème de menthe
4 Candy Canes
4-5 ice cubes
Instructions
In a shaker (or stirring in a glass), add chocolate liqueur, crème de cacao, vanilla vodka, crème de menthe, and ice. Shake (or stir) a few times to mix together.
Add cream and 2 tbsp chocolate syrup. Shake a few more times to combine all ingredients.
Place candy canes in a plastic bag and crush (I used the bottom of the liquor bottle very carefully, and over a towel, to crush these). Spread candy cane pieces onto a plate.
Pour 1 tbsp. of chocolate syrup onto a plate and dip rim of glasses into chocolate. Then dip rim of glass into candy cane pieces.
Use remaining 2 tbsp chocolate syrup to drizzle decoratively into glass.
Pour chocolate martini into glass and enjoy!
Peas and Peonies, LLC. owns the copyright on all images and text and does not allow for its original recipes and pictures to be reproduced anywhere other than at this site unless authorization is given. If you enjoyed the recipe and would like to publish it on your own site, please re-write it in your own words, and link back to my site and recipe page. Copying and/or pasting full recipes to social media or personal blogs is strictly prohibited. Sharing this recipe is very much appreciated and encouraged. Read my disclosure and privacy policy. This post may contain affiliate links.