Candy Cane Chocolate Martini
Candy Cane Chocolate Martini is easy to make, tastes delicious, and looks stunning. It's the perfect drink to have during winter holidays!
This Martini is perfect for holiday season. I love making fund and easy cocktails like my other popular once: Boozy Apple Iced Team or Fruit Mojitos Four Ways.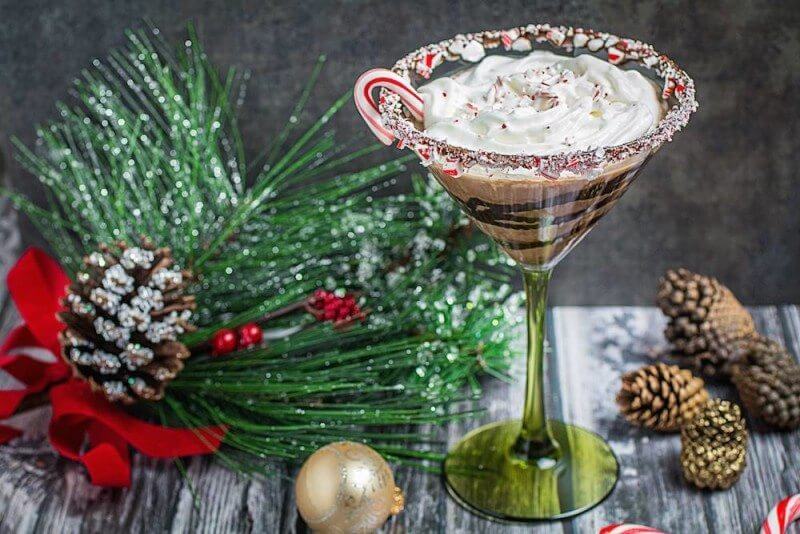 Candy Cane Chocolate Martini
The Candy Cane Chocolate Martini is loaded with chocolate. It is the perfect cocktail that will go so well with your Christmas meal. This cocktail is so bright and full, with delicious notes of candy cane, vanilla and chocolate. A combination of vodka adds a boozy touch, that just works so well with the other flavors. I love a drink that is easy to make, and this Martini is just perfect. It looks festive, and served in individual glasses with some candy cane on the side. It just screams holiday all over it.
This is not just any martini. This one is the king of all martinis. It's full of all of my favorite things in the world, in one tiny glass: Chocolate, cocktails, and Christmas. Have you ever tasted peppermint hot chocolate? Well, this is kind of like the adult version, but a little bit colder. This cocktail just wouldn't live up to its name, Candy Cane Chocolate Martini, without the enticing hint of peppermint in it. For this, I've added just a splash of Crème de Menthe. Stay with me on this one, because I know you're going to love it.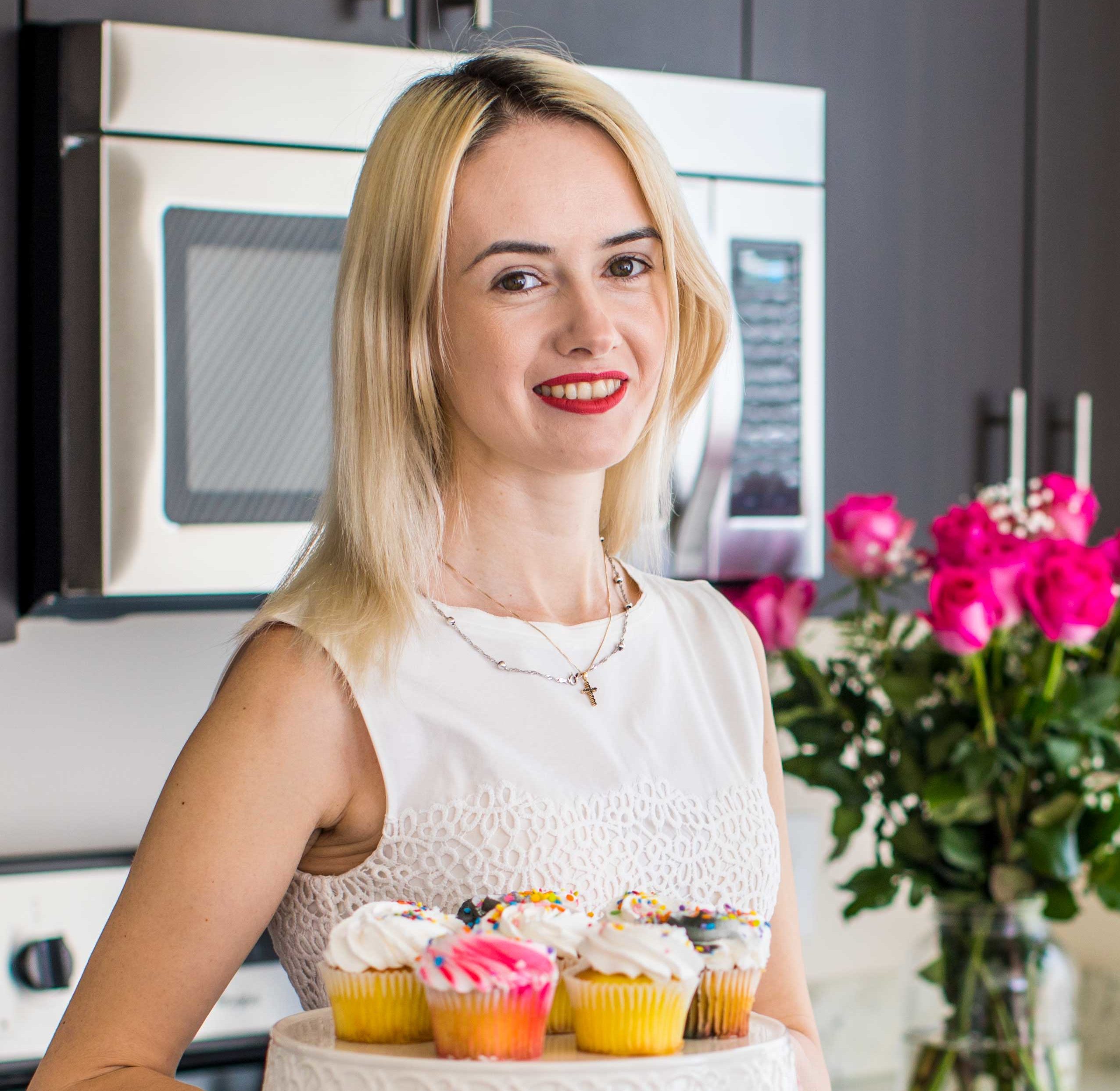 Follow us on Pinterest for more delicious recipes!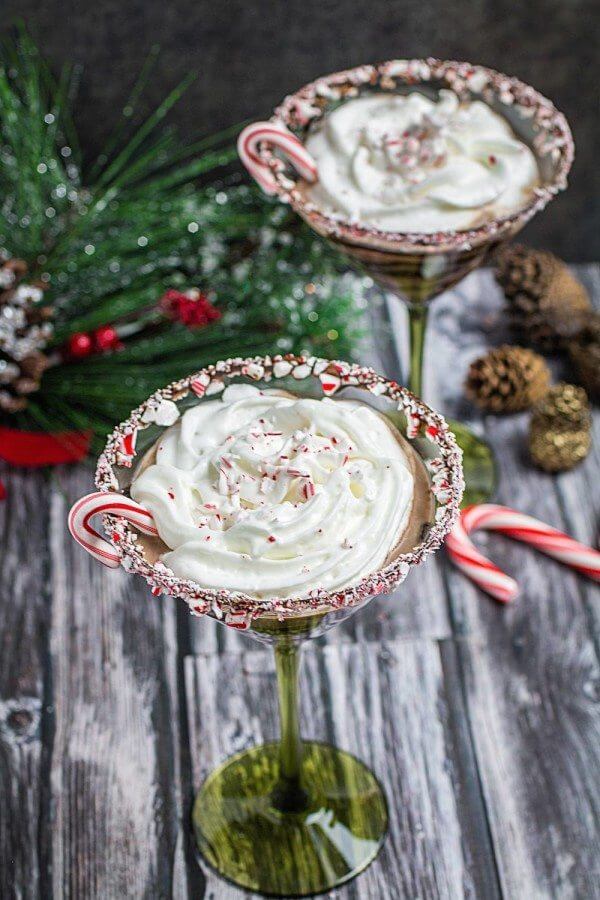 As for the chocolate, don't worry, I've got you covered on three counts. First, there's light cream with chocolate syrup. It's our base for this drink. Then, I added a few good ounces of chocolate liqueur. You can use whatever your favorite brand is. Just to top it off and make it good and chocolate-y, I poured in a few ounces of crème de cacao. Then balance it all off with some vanilla vodka.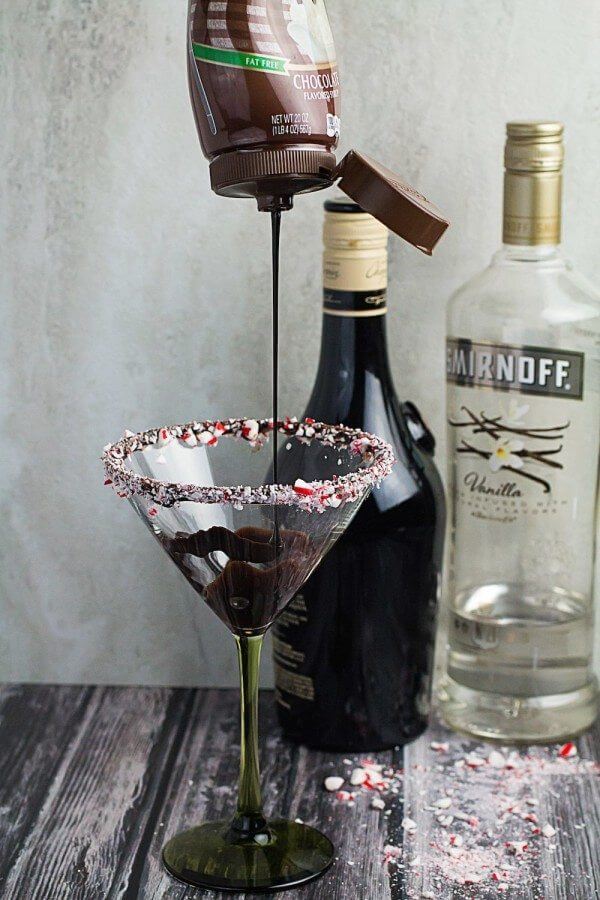 Why You'll Love This Candy Cane Chocolate Martini:
Firstly, it's rich in chocolate and candy cane flavor, making it a perfect Christmas drink.
Also, perfect for other special occasions like St. Patrick's day.
In addition, can be made with any other flavor and fruits.
You can also substitute chocolate with caramel if you feel so.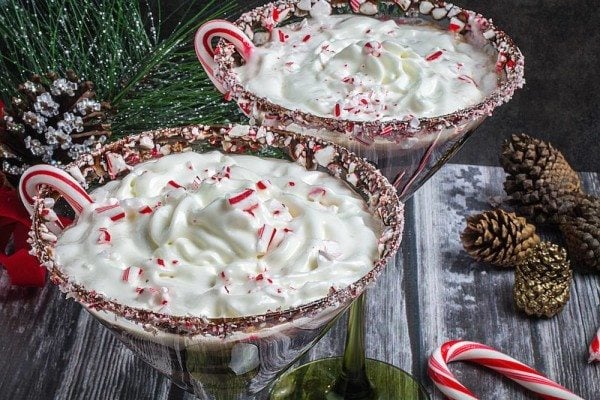 HERE ARE A FEW MORE EASY COCKTAIL RECIPES FOR YOU:
Save Recipe
Candy Cane Chocolate Martini
Author: Catalina Castravet
Serves: 4 servings
Prep time:

10

minutes
Total time:

10

mins
Ingredients
4 oz Light Cream
2 tbsp Chocolate Syrup (+ 4 tbsp Extra for rim of glass & decorating)
3 oz Chocolate Liqueur
3 oz Crème de Cacao
1 oz Vanilla Vodka
1/2 oz Crème de menthe
4 Candy Canes
4-5 ice cubes
Instructions
In a shaker (or stirring in a glass), add chocolate liqueur, crème de cacao, vanilla vodka, crème de menthe, and ice. Shake (or stir) a few times to mix together.
Add cream and 2 tbsp chocolate syrup. Shake a few more times to combine all ingredients.
Place candy canes in a plastic bag and crush (I used the bottom of the liquor bottle very carefully, and over a towel, to crush these). Spread candy cane pieces onto a plate.
Pour 1 tbsp. of chocolate syrup onto a plate and dip rim of glasses into chocolate. Then dip rim of glass into candy cane pieces.
Use remaining 2 tbsp chocolate syrup to drizzle decoratively into glass.
Pour chocolate martini into glass and enjoy!
Calories: 278 Carbohydrates: 39 Protein: 1 Fat: 8 Saturated Fat: 5 Cholesterol: 31 Sodium: 24 Potassium: 71 Fiber: 0 Sugar: 27 Vitamin A: 285 Calcium: 22 Iron: 0.4
Save Recipe
More recipes you might love