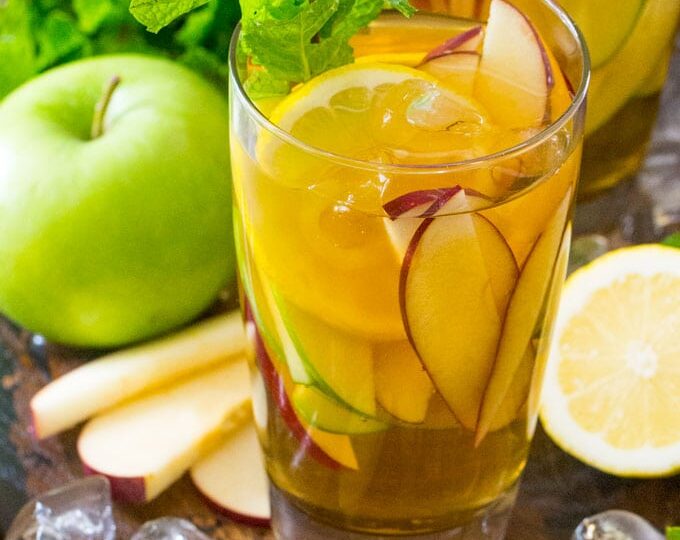 Boozy Apple Iced Tea is the best way to combine a little booze with your favorite fall flavors. Bright and refreshing, this is the perfect fall cocktail.
This recipe is super fun and easy to make. If you are looking for a non-alcoholic beverage, you can also rotate it with my healthy Spinach Smoothy.
Boozy Apple Iced Tea
Boozy Apple Iced Tea is the perfect cocktail that will go so well with your Thanksgiving meal. This cocktail is so bright and refreshing, with delicious notes of sweet honey, apple spice tea, fresh mint, and seasonal apples. A combination of gin, vodka, and the bourbon adds a boozy touch, that just works so well with the other flavors.
I love a drink that is easy to make, this Boozy Apple Iced Tea is perfect, as you don't have to mix individual cocktails. You make a huge pitcher, store it in the fridge and pour it over ice-filled glasses when ready to serve.
Here are a few more easy cocktail recipes for you, that will make entertaining a breeze:
Why You'll Love This Boozy Apple Iced Tea:
Firstly, it's refreshing and sweet and it will save you some money if you make your own.
Perfect for hot summer days and brunch parties.
Also, it's loaded with delicious and flavorful fruits.
Kids and grownups love it. For kids, just skip the booze.
In addition, can be made with any tea flavor and fruits
Is Boozy Apple Iced Tea served hot or cold?
As the name describes it's served cold. However, during cold seasons of the year, a hot boozy apple drink can be served warm. Just skip the ice in that case. It will warm your soul. During hot months of the year, a cold apple iced tea is served, and it will refresh and re-energize your body.
Check this video for Fruit Mojitos Four Ways: