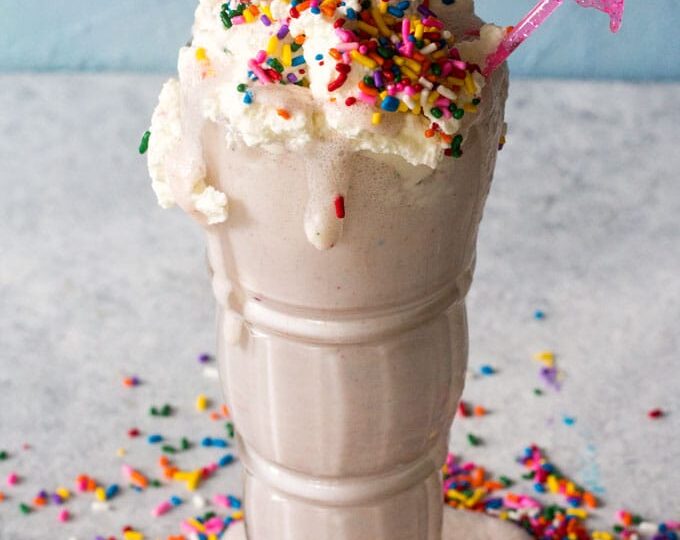 Vodka Cake Batter Shake is how adults have their birthday cake these days. Creamy, refreshing, with lots of sprinkles and just the right amount of booze.
Vodka Cake Batter Shake
This Vodka Cake Batter Shake is the grown-up way to enjoy your favorite cake flavor. A new twist on an old classic, this refreshing shake is festive and tasty with vodka mixed in! This is the perfect summer shake made with just 5 ingredients. I have partnered with Kinky Vodka who were very kind to sponsor this post so I can bring you this colorful and delicious Vodka Cake Batter Shake.
In addition, I am such a huge fan of sprinkles, I literally used to eat them with a spoon. Similarly, I live for color, taste and beautiful food! I guess you can tell that from my blog, right? This new take on a classic shake will get your taste buds dancing in awe. Sip it by the pool, who needs a slice of cake, when you can drink your cake?
Possible Mix Ins for the perfect Vodka Cake Batter Shake:
You can use your favorite ice cream flavor. but use vanilla or cake batter ice cream if possible.
Other great options are strawberry ice cream.
Also, I like using Funfetti Cake Mix, but white cake or yellow cake mix will work too.
This shake can be made with a non diary milk like coconut, soy or almond milk.
I like adding extra sprinkles into the shake to give it a pastel color.
The shake can be made with alcohol or without it.
In addition, I love using Kinky Vodka in this recipe.
If you would prefer to use heat treated flour, read here how to do it.
Looking for more colorful summer treats? Check these out: