Easy Corn Casserole (Video)
This post may contain affiliate links. Please read my disclosure policy.
Corn Casserole requires only 7 ingredients, is fluffy, rich, creamy, and the perfect side dish for all your holiday meals! When it comes to best side dishes for Thanksgiving or Christmas, nothing beats this delicious Corn Casserole recipe.
We enjoy making comfort and easy side dishes, and this Corn Casserole is on top of the list. It can be served with various dishes, but we recommend mixing it up with some Corned Beef, Barbecue Pork Ribs, or Meatloaf.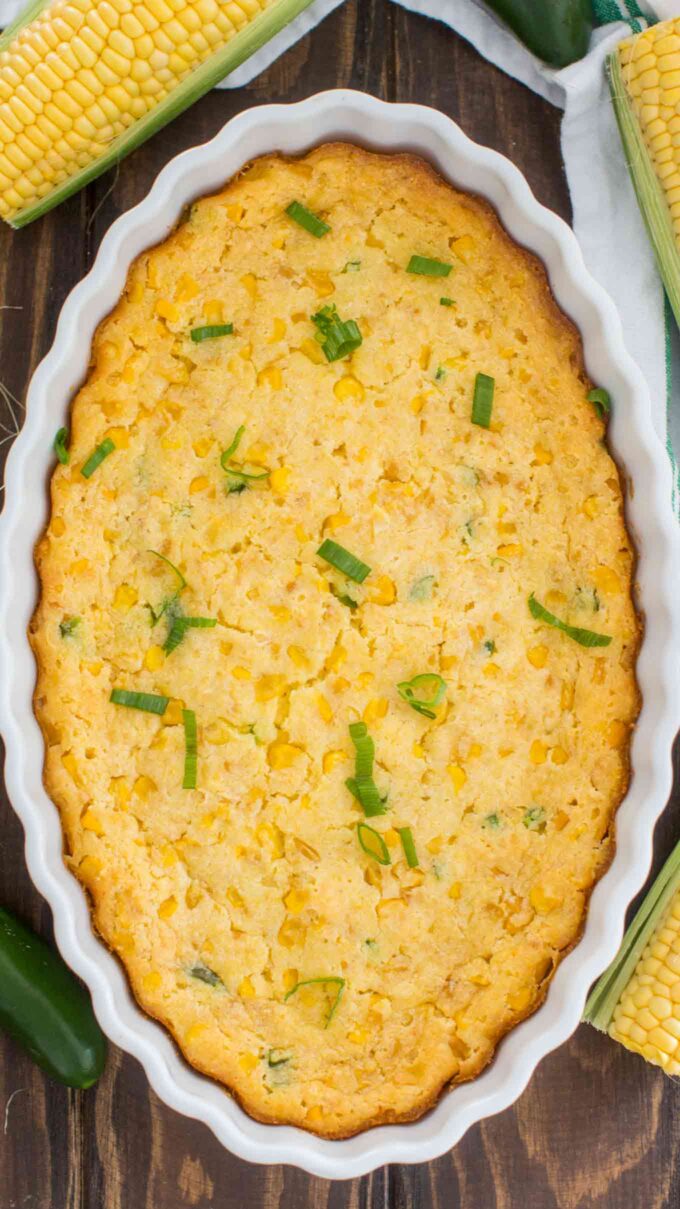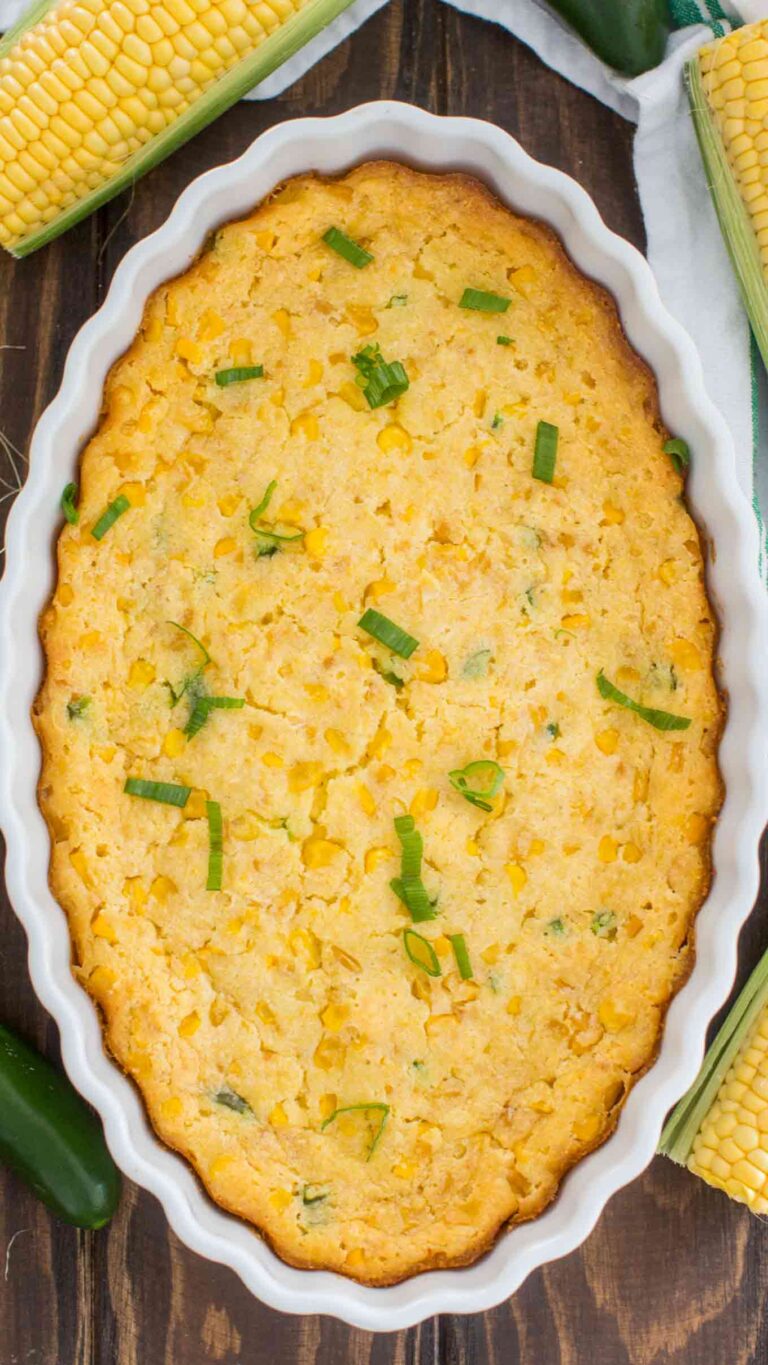 Corn Casserole
Corn Casserole is always the first dish in mind when it comes to holiday season courses. It is always on our dinner table during this time of the year, and the recipe is nothing short of amazing. It has the perfect texture and balance – a little sweet, yet rich and creamy. Also, it can be served as is, or alongside the main course. Usually, we make it as a side dish for our Thanksgiving and Christmas dinner, and despite all of the delicious food we have for the holiday meal, this Corn Casserole is always a favorite!
This recipe also calls for creamed corn, which can also be made at home. However, for simplicity reasons, we used store-bought version of it, and it works well. But if you prefer to give it a try, feel free to use our homemade version of creamed corn. Another great benefit of this corn casserole, is that you can prepare it a day ahead, and refrigerate it. Next day, simply put in the oven for about 50 minutes and happily enjoy it!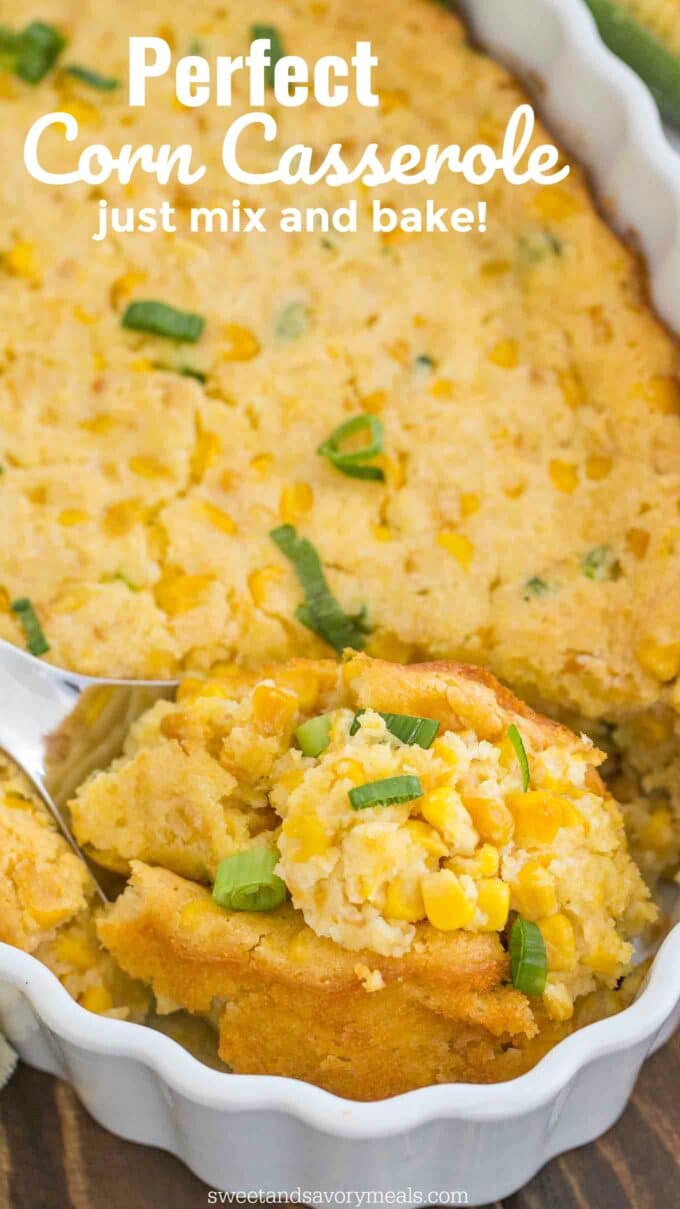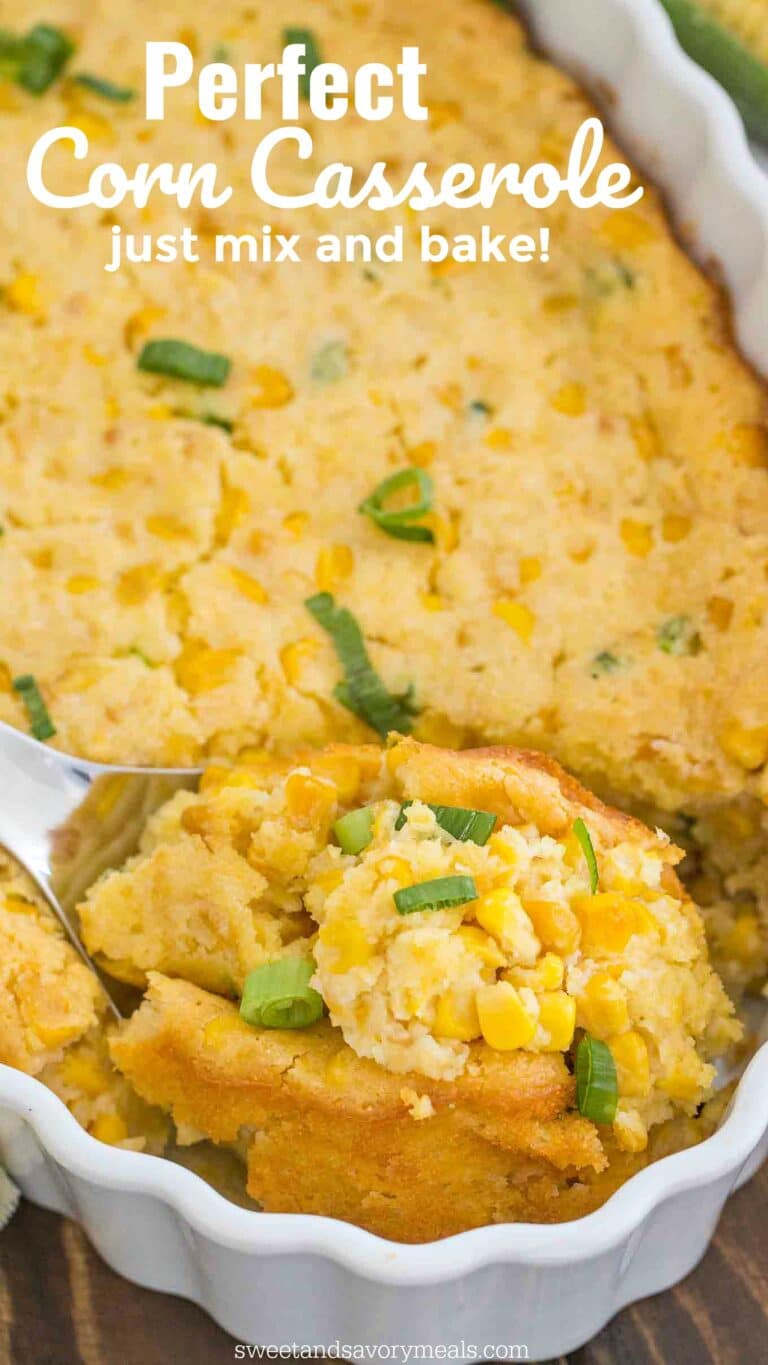 WHAT IS CORN CASSEROLE?
Corn Casserole is traditionally served at Thanksgiving and Christmas dinners. It is made of corn, Jiffy corn muffin mix, butter, sour cream, and eggs. It resembles a little bit the corn bread, but is creamier, puffier and richer, with almost a custard like texture. The Corn Casserole is usually served as a side dish.
WHAT ELSE CAN YOU ADD TO CORN CASSEROLE?
This recipe is versatile and can be adjusted with with your favorite ingredients. For a sweeter casserole, add 1/4 cup white sugar. Similarly, for a cheesier casserole, add 2 cups of shredded cheddar cheese (one cup gets mixed in, one is sprinkled on top).
WHAT KIND OF CORN IS USED FOR CORN CASSEROLE?
Traditionally, the baked corn casserole asks for creamed corn and sweet corn, or whole kernel corn.
WHAT CAN I SUBSTITUTE FOR CREAMED CORN?
You can use half and half or milk. For a diary free version, you can use soy milk or canned coconut milk for a creamier texture.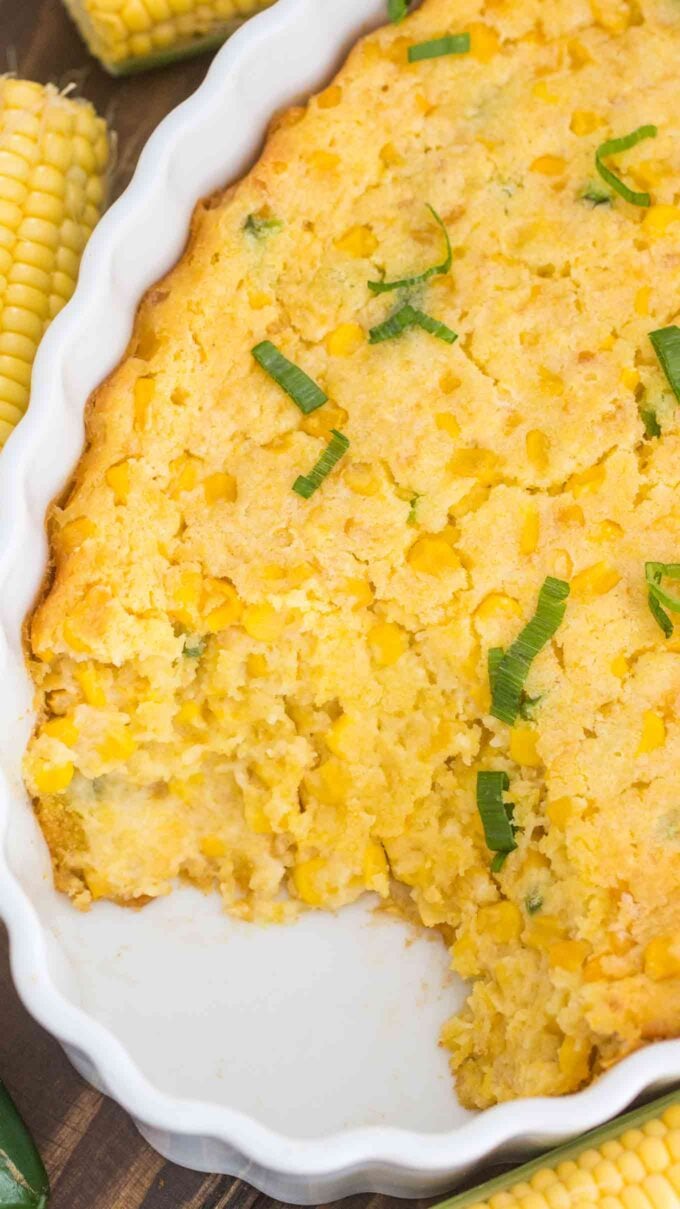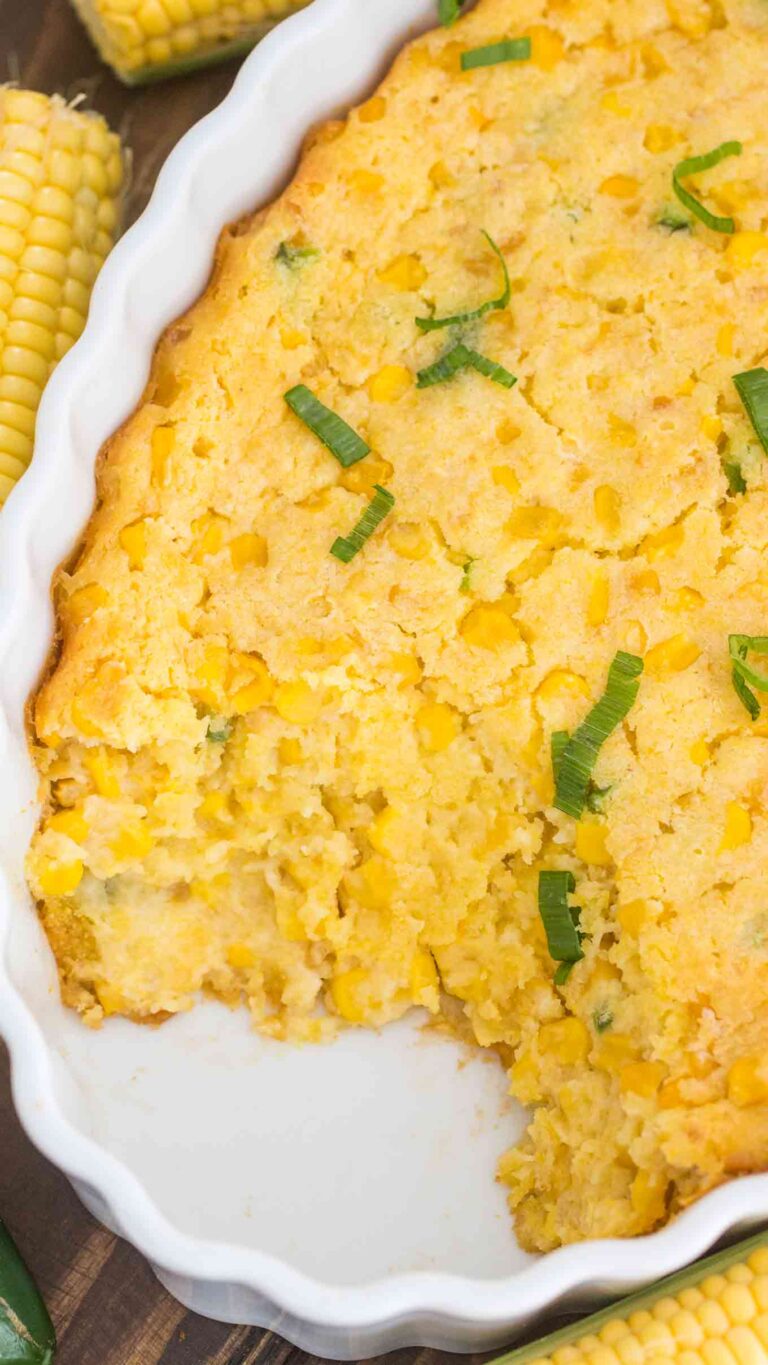 HOW DO YOU MAKE JIFFY CORN MUFFIN MIX COPYCAT?
If you don't have access to get Jiffy corn muffin mix, or would rather make your own, you can use the below recipe.
2/3

cup all-purpose flour

1/2

cup yellow cornmeal

1/3 

cup white sugar

1

tablespoon baking powder

1⁄2 

teaspoon salt

2 tablespoons vegetable oil
In a large bowl, combine flour, cornmeal, sugar, baking powder and salt, mix well.
Add the vegetable oil and mix until the dry mixture is smooth and with no lumps.
Use this to replace the Jiffy corn muffin mix in this recipe.
CAN YOU MAKE CORN CASSEROLE AHEAD OF TIME?
This casserole can be prepare up to one day in advance, then cover tightly with plastic wrap, and put in the refrigerator up to 24 hours before baking. When ready to bake, put in the oven at 350 F for about 50 minutes.
HOW TO FREEZE CORN CASSEROLE?
First, let corn casserole come to room temperature after cooking.
Then, cover in airtight containers or heavy-duty freezer bags.
Freeze for up to 3 months.
CAN YOU REHEAT CORN CASSEROLE?
Although is best to eat it fresh and warm right out of the oven, you can definitely reheat leftovers in the microwave (2-3 minutes), or oven (350 F for about 10 minutes or until warm).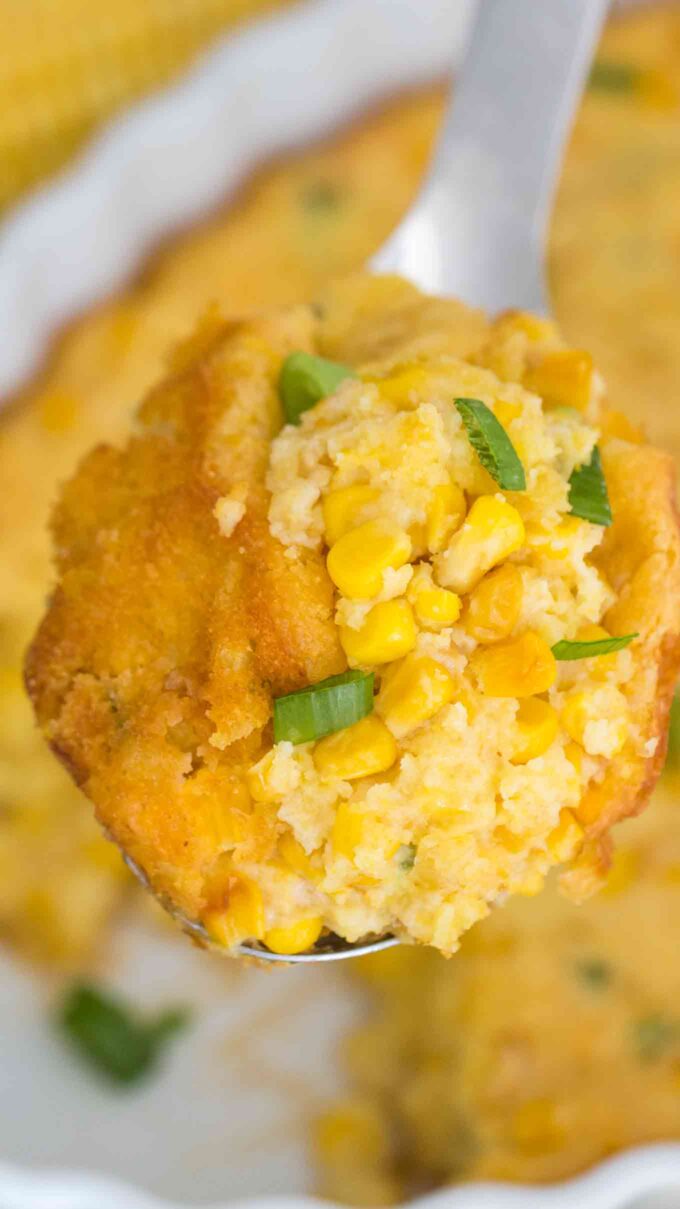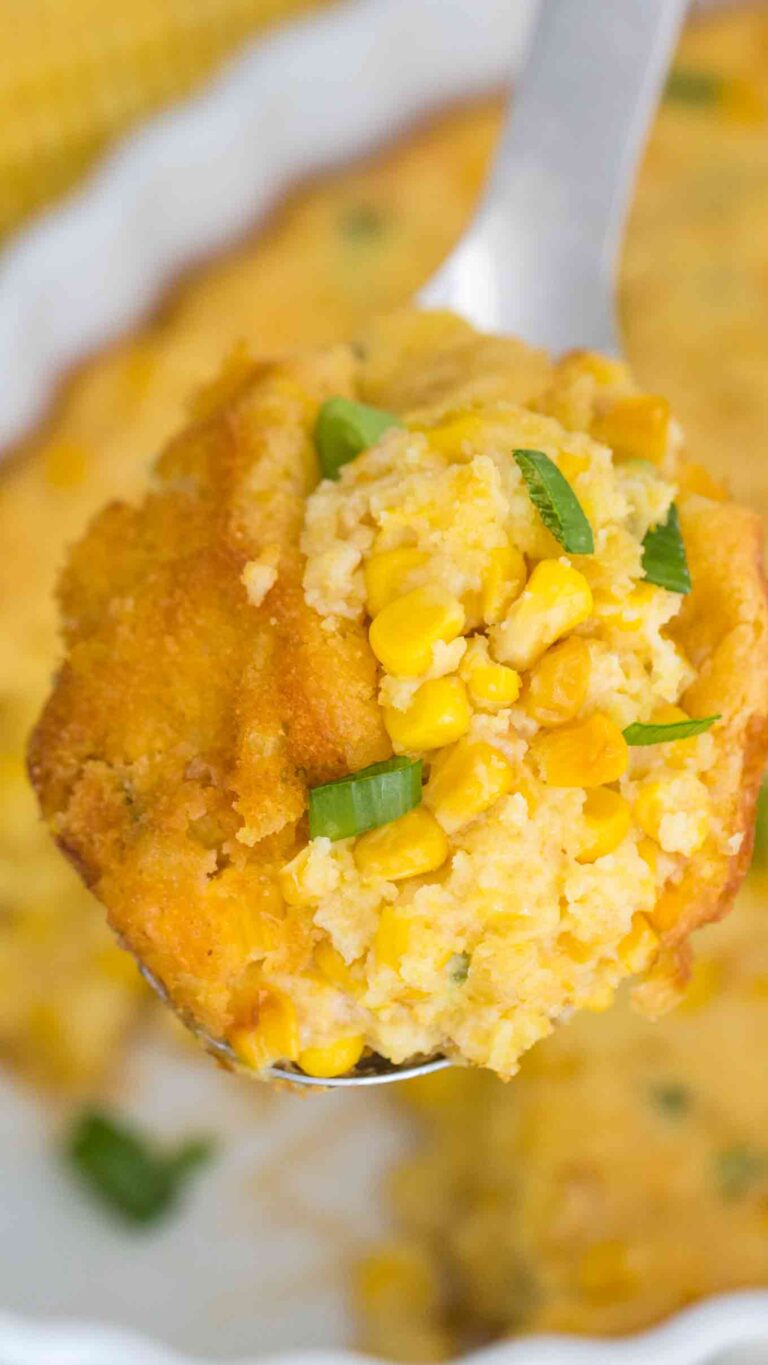 MORE CORN RECIPES:
TIPS FOR MAKING CORN CASSEROLE
If you don't want to use sour cream, you can substitute by using half and half to help lighten up the recipe. Similarly, you can use light sour cream or plain yogurt to cut on calories.
For larger portion, double the ingredients and use a 9X13 pan.
You can garnish with some bacon or green onion on top.
Tools used to make this Corn Casserole:
Perfect Corn Casserole Recipe Video: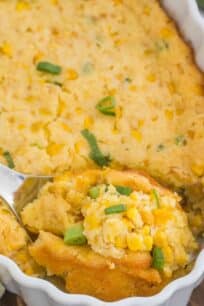 Corn Casserole
Corn Casserole requires only 7 ingredients, is fluffy, rich, creamy, and the perfect side dish for all your holiday meals!
Ingredients
2

cans (15 1/4oz each)

whole kernel corn

drained

1

can (14 3/4oz)

cream-style corn

1

package (8.5 oz)

Jiffy corn muffin mix

see blog post for how to make your own

1

cup

sour cream

or plain yogurt

1

large egg

beaten

1

stick (1/2 cup)

unsalted butter

melted

1

jalapeño

seeded and finely diced, optional
Instructions
Preheat oven to 350 degrees F. Set up an oven rack into the middle of the oven.

Lightly grease with butter or with cooking spray a 12.25x2.5 baking dish, or a baking dish that would hold at least 7 cups of batter.

In a large bowl, stir and combine all the ingredients until well incorporated. Transfer the batter to the prepared baking dish and level the top with a spatula.

Bake for 45-50 minutes. The casserole is done when the edges are golden brown, the center is settled and it looks puffy, light and overall done. A toothpick inserted into the center of the casserole should come one clean or with just a few crumbs attached, but no raw batter.

Serve warm garnished with chopped fresh green onion or diced chives.
Calories: 367, Fat: 19g, Saturated Fat: 10g, Cholesterol: 61mg, Sodium: 655mg, Potassium: 260mg, Carbohydrates: 42g, Fiber: 2g, Sugar: 8g, Protein: 6g, Vitamin A: 11.5%, Vitamin C: 7.6%, Calcium: 6.7%, Iron: 6.8%
Made this Recipe?
Show me what you made on Instagram and tag me at @sweetnsavorymeals or hashtag it #sweetandsavorymeals.
Peas and Peonies, LLC. owns the copyright on all images and text and does not allow for its original recipes and pictures to be reproduced anywhere other than at this site unless authorization is given. If you enjoyed the recipe and would like to publish it on your own site, please re-write it in your own words, and link back to my site and recipe page. Copying and/or pasting full recipes to social media or personal blogs is strictly prohibited. Sharing this recipe is very much appreciated and encouraged. Read my disclosure and privacy policy. This post may contain affiliate links.