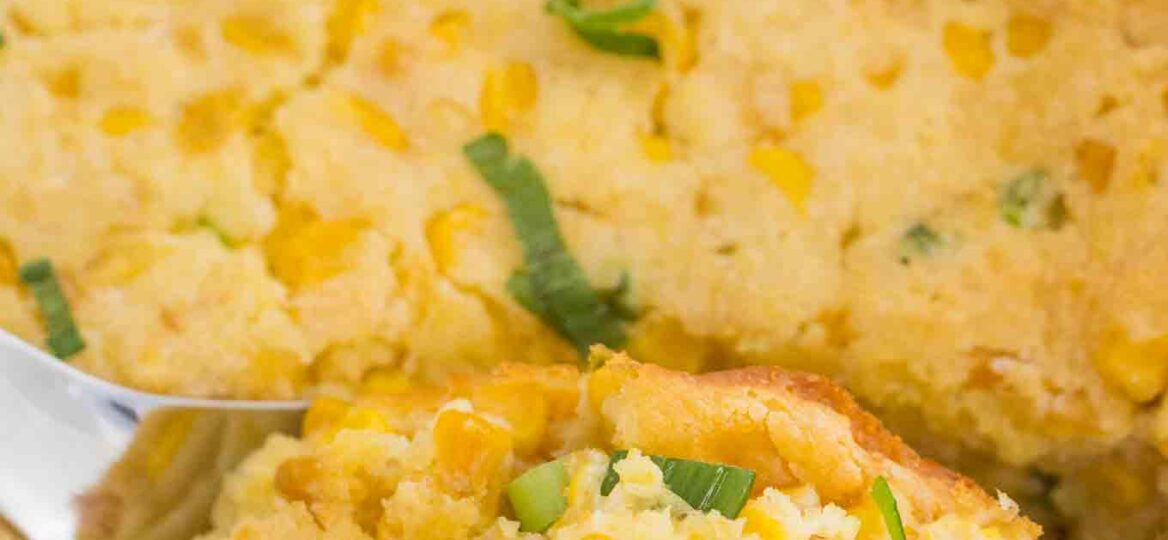 Easy Corn Casserole Recipe [Video]
Corn Casserole is made with only 7 ingredients and is super fluffy, rich, and creamy. This is the perfect side dish for all your holiday meals!
When it comes to Thanksgiving dishes, this is our favorite recipe to have on the holiday table along with Green Bean Casserole and Sweet Potato Casserole.
This Easy Corn Casserole is hands down our favorite side dish for holiday dinners. It is also known as creamed corn casserole or spoon bread casserole. But no matter how you call it, this is a pure classic and comforting food that is moist, creamy, perfectly sweet, and buttery.
Since I can remember, this dish was always on our Thanksgiving menu. It has the perfect texture and balance – a little sweet, yet rich and creamy. Also, it can be served as is, or alongside the roasted turkey or ham.
Usually, we make it as a side dish for our Thanksgiving and Christmas dinner, and despite all of the delicious food we have for the holiday meal, this creamy casserole is always a favorite!
This recipe also calls for creamed corn, which can also be made at home. However, for simplicity reasons, we used a store-bought version of it, and it works well. But if you prefer to give it a try, feel free to use our homemade version of creamed corn.
Another great benefit of this recipe is that you can prepare it a day ahead, and refrigerate it. The next day, simply put it in the oven for about 50 minutes and happily enjoy it!
Ingredients Needed:
This is an easy recipe that requires simple ingredients. You will need the following:
Whole corn kernel
Cream-style corn
Jiffy Corn muffin mix or Jiffy cornbread mix
Sour cream
Egg
Unsalted butter
Jalapeno (optional)
How to make Corn Casserole with Jiffy Mix?
Preheat the oven: First, preheat the oven to 350 degrees F.
Oil a baking dish: Meanwhile, use some cooking spray to grease the casserole dish.
Combine the ingredients: In a large bowl, combine all the ingredients along with melted butter, until well combined.
Bake: Next, transfer the mixture to the greased casserole dish. Then, pop it in the oven and bake uncovered at 350 degrees F for 45 minutes, until golden brown.
Serve: Enjoy it warm with your favorite meal.
Possible Mix-in additions:
This is a very versatile side dish and can be easily adjustable. Some great additions are:
Cheese: Feel free to add 2 cups of shredded cheddar cheese or Monterey jack to it. Just top the casserole with cheese during the last 10 minutes of baking, so it melts on top.
Cream cheese: Another great alternative would be adding cream cheeses into the mixture.
Veggies: Such as red peppers, green onions, green chiles.
Bacon bits
Brown sugar: This is already a sweet dish. However, feel free to tweak it even more and add 1/4 cup of brown sugar or white sugar.
Fresh herbs: Also, add some fresh herbs such as basil, kale, spinach.
Crock Pot Method:
Alternatively, you can make it in the slow cooker or crockpot. Here are the steps:
In a large bowl, combine all the ingredients except cheddar cheese.
Then, add the mixture to the greased crockpot.
Cook on HIGH for 2-3 hours, or LOW for 4-6 Hours.
During the last 20 minutes of cooking, add the shredded cheese on top, and continue cooking.
Serve warm.
Also, keep in mind that every crockpot is different. Therefore, the cooking time might differ from brand to brand. So, I recommend watching casserole closely. If you double the recipe it may take longer to cook.
What is corn casserole?
It is a popular side dish that is traditionally served at Thanksgiving, Christmas, and Easter dinners. Most of the time, it is made of corn, Jiffy corn muffin mix, butter, sour cream, and eggs.
It also resembles a little bit the cornbread, but is creamier, puffier, and richer, with almost a custard-like texture.
What can I substitute for creamed corn?
You can add half and half or milk, for a creamier texture.
For a dairy-free version, simply use soy milk or canned coconut milk for a creamier texture.
How do you make Jiffy muffin mix copycat?
If you don't have access to get Jiffy corn muffin mix, or would rather make your own, you can use the below recipe.
2/3

cup all-purpose flour

1/2

cup yellow cornmeal

1/3

cup white sugar

1

tablespoon baking powder

1⁄2

teaspoon salt

2 tablespoons vegetable oil
In a medium bowl, combine flour, cornmeal, sugar, baking powder, and salt, mix well.
Add the vegetable oil and mix until the dry mixture is smooth and with no lumps.
Use this to replace the Jiffy corn muffin mix in this recipe.
Can you make it ahead of time?
This casserole can be prepared up to one day in advance, then cover tightly with plastic wrap, and put in the refrigerator up to 24 hours before baking. When ready to bake, put in the oven at 350 F for about 50 minutes.
How to double it?
We often double this recipe and bake it in a larger pan. Depending on your oven, this may take an additional 10-15 minutes to bake, so plan accordingly.
Also, you will have to double the ingredients proportionally and use 4 cans of corn instead of 2.
What to serve with this great side dish?
For Thanksgiving dinner, serve it with:
How to store it?
Refrigerate leftovers in an airtight container for up to 3 days.
How to freeze sweet corn casserole?
First, let the dish come to room temperature after cooking.
Then, cover in airtight containers or heavy-duty freezer bags.
Freeze for up to 3 months.
How to reheat it?
Although is best to eat it fresh and warm right out of the oven, you can definitely reheat leftovers in the microwave (2-3 minutes), or oven (350 F for about 10 minutes or until warm).
More side dish recipes:
Cooking Tips:
If you don't want to use sour cream, then substitute it by using half and half or heavy cream.
Also, to help lighten up the recipe. use light (low fat sour cream) or plain yogurt to cut on calories.
For a larger portion, double the ingredients and use a 9X13 pan.
You can garnish with some bacon or green onion on top.
In addition, this recipe works great with both regular corn, fresh corn, whole corn kernels, or sweet corn. Just use what you have on hand.
Tools used to make this Corn Casserole: