Cranberry Orange Turkey Breast
Cranberry Orange Turkey Breast is such a great, easy and delicious alternative to cooking a whole turkey. The meat turns out juicy and flavorful.
I can say that this Cranberry Orange Turkey Breast is the simply the best you can have! It tastes amazingly good with a sweet and savory kick to it. I highly recommend you try two of my most popular recipes: Instant Pot Orange Chicken and this Slow Cooker Brown Sugar Orange Ham!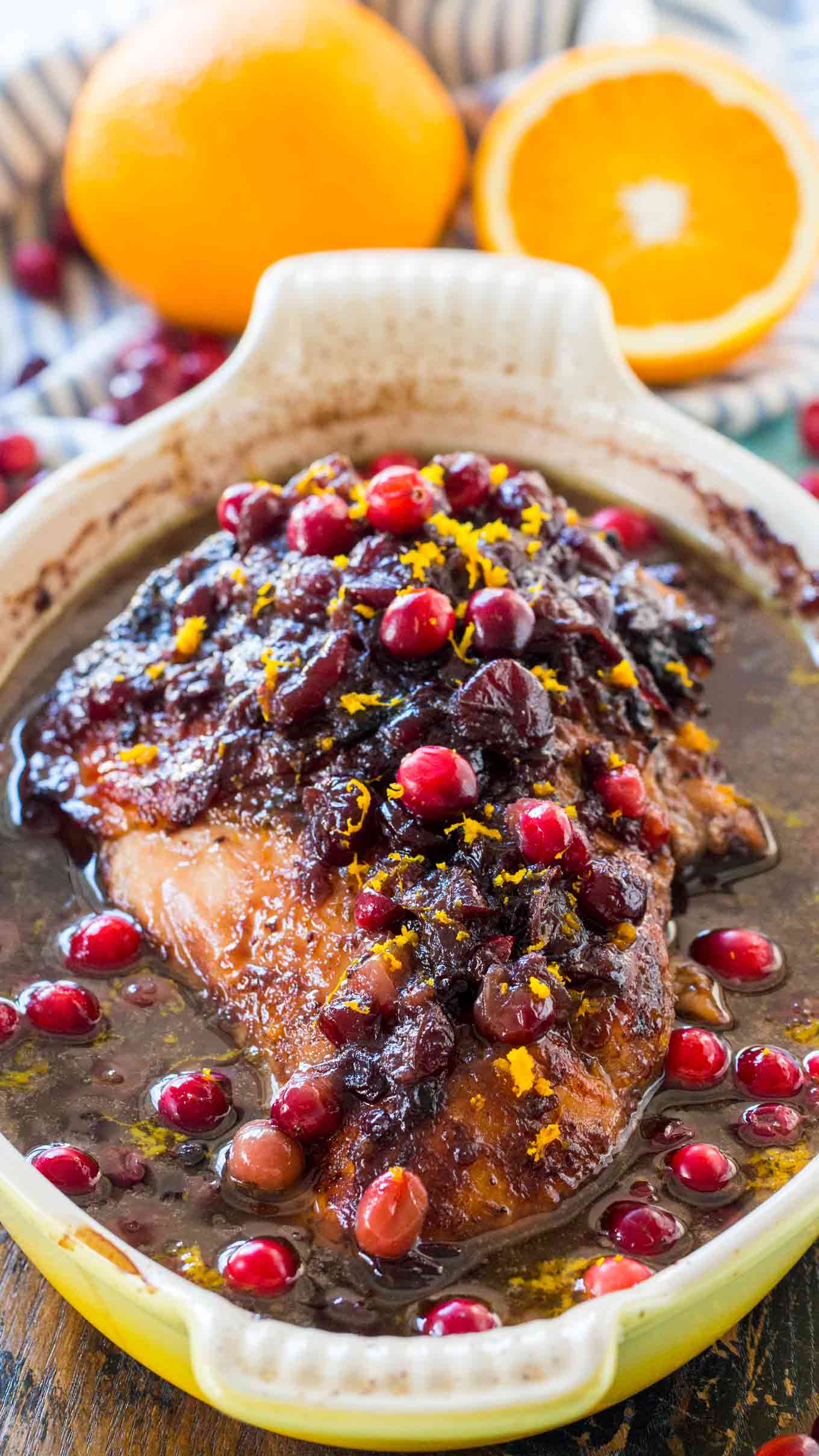 Cranberry Orange Turkey Breast
Cranberry Orange Turkey Breast is such a great alternative to cooking a whole turkey. If you have a small gathering on Thanksgiving, or just crave a delicious turkey dinner, this is the recipe to go for. I absolutely love how this turkey breast turned out, it is so easy to make in one pan.
Tart cranberries, orange juice, orange zest, and lingonberry jam create a juicy sauce in which the turkey is roasted. The sauce can be poured afterward on the meat when you serve it. This Cranberry Orange Turkey Breast is made with simple, easy to find ingredients and you have to use just one roasting dish.
To make this dish even tastier, the turkey breast has been rubbed with a brown sugar and spices blend, that adds to the festive holiday flavors. Garnish the roast with fresh cranberries and extra orange zest, fresh rosemary or thyme, right before serving.
WHY YOU WILL ENJOY THIS CRANBERRY ORANGE TURKEY BREAST:
Easy to make with only a few ingredients.
Perfect fall-flavored dish with cranberries and orange zest.
It uses only one pan, hence minimum dishes to use and clean.
The dish is packed with amazing flavors and protein.
Perfect for busy weeknights and also for entertaining guests.
You will have delicious leftovers that can be stored in the fridge, in an airtight container for 3-4 days.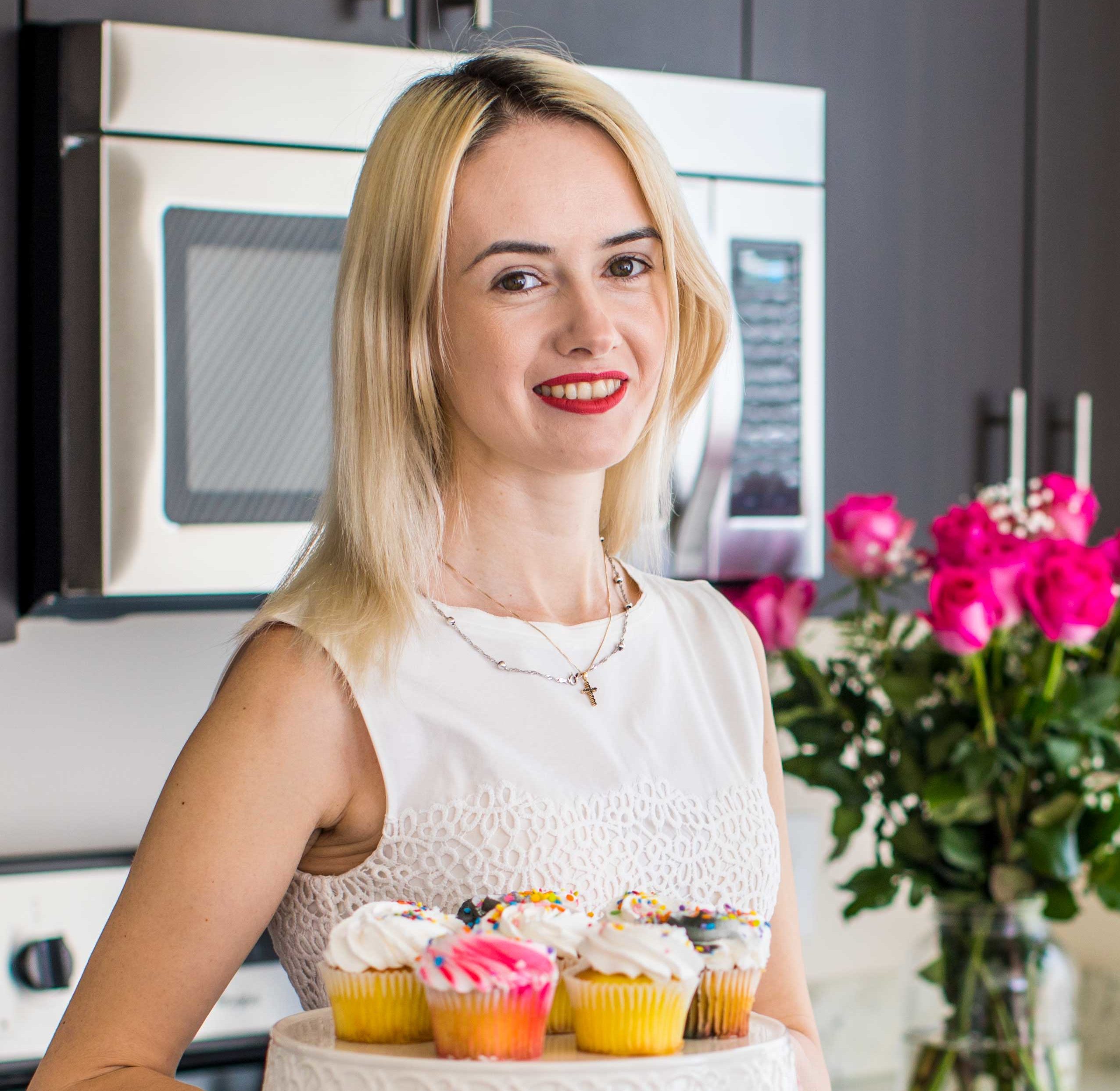 Follow us on Pinterest for more delicious recipes!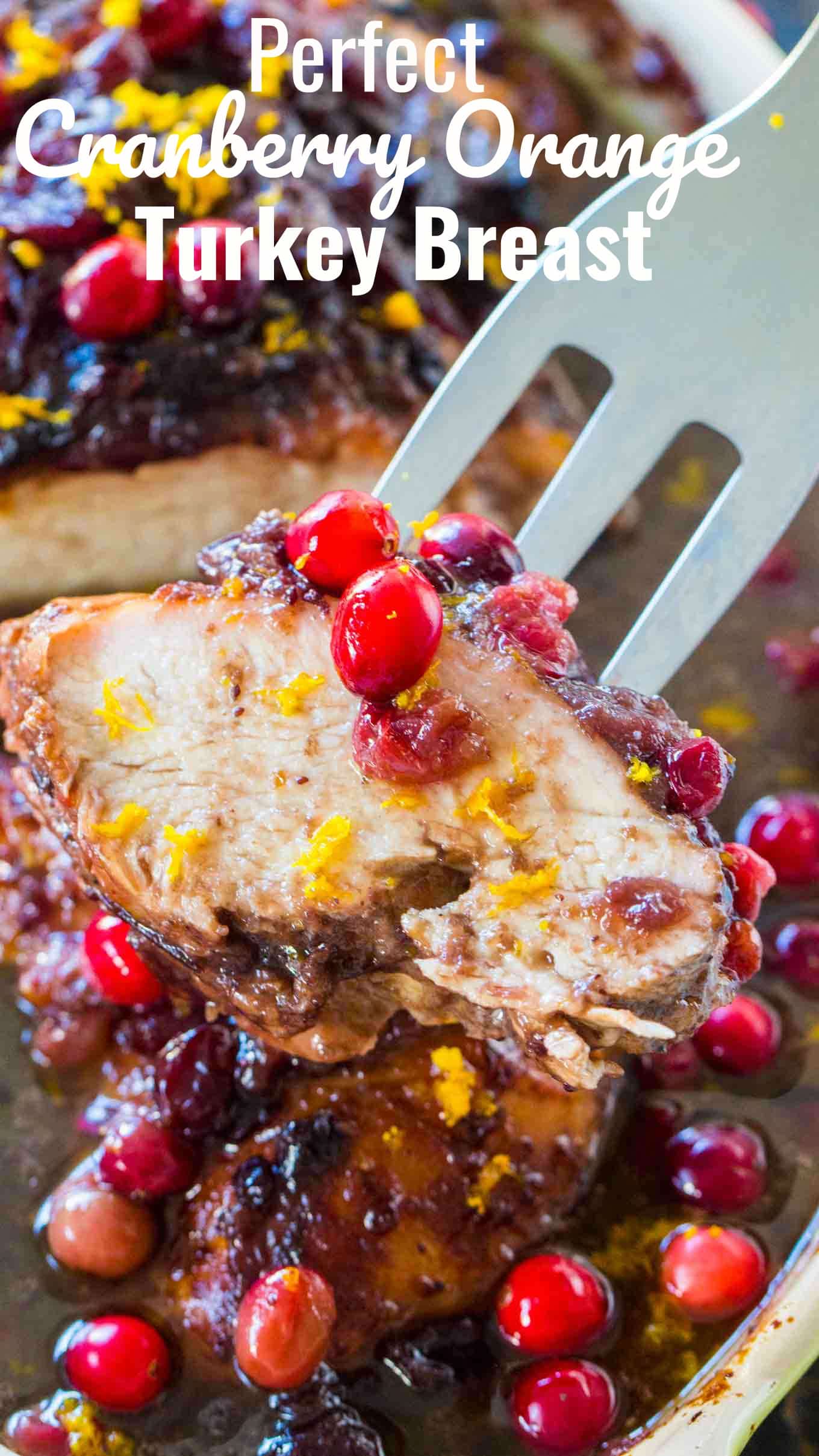 Cranberry Orange Turkey Breast Recipe Tips:
I like making this dish with turkey breast, but it works great with chicken breasts or chicken thighs – you will have to use about 6.
For the best flavors, it's better to buy herb-marinated turkey breast since it is more tender. Just make sure you don't buy one that is in an overpowering marinade because the flavors are not to compete.
Don't skip the fresh orange zest, it's what it makes the dish amazing.
For a spicier kick, add 1-2 teaspoons of red pepper flakes.
After the turkey breast has been cooked you can serve it with the sauce. You can also run the sauce through a mesh drainer to make it smooth.
Can I substitute pork for turkey?
Yes, pork or ham is a great alternative for turkey in many recipes including this one. If you are going to use pork or ham, I would recommend using pork tenderloin or pork sirloin. The cooking time will also vary best on the cut that you choose.
Can I make this Cranberry Orange Turkey in the Slow Cooker?
Yes, you can! Prepare the sauce and the rub as directed in the recipe. Add the turkey to the slow cooker and add the sauce around it. Cover and cook on low for 3-4 hours on high or about 6-7 hours on low.
The internal temperature of the turkey breast should be at 165 F degrees.
How to make Orange Zest?
Rinse the orange.
Set your tool over a cutting board. A microplane produces a very fine zest, perfect for baking and cooking. If you don't have a microplane, use the smallest holes on an ordinary grater.
Grate the skin of the orange only. Grate just enough to get through the orange skin, this way you can avoid the bitter white pith underneath.
Rotate the orange and repeat. Once the white pith is exposed, rotate the orange and zest the next strip of peel. Repeat until most of the peel is removed, or until you have enough zest for your recipe.
Can you use orange juice instead of orange zest?
Yes! Because orange zest adds a citrus flavor to your recipes, including desserts, main dishes, and more. If you don't have an orange and a zester handy, you can use regular orange juice. 1 medium-size orange = approximately 1.5 tablespoons of orange zest = to 4 tablespoons of orange juice.
Looking for more Holiday Dinners? Check these out: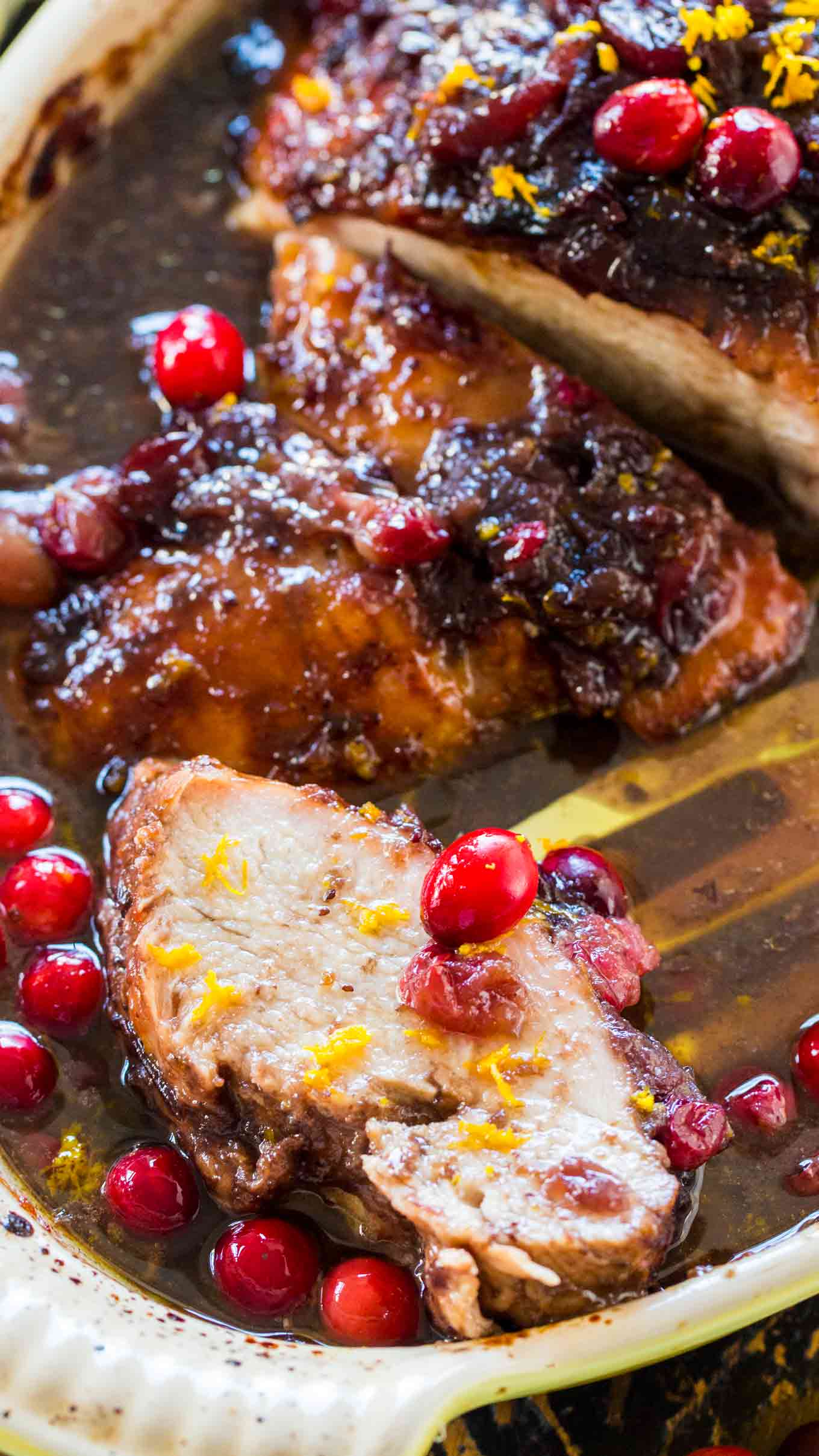 Save Recipe
Cranberry Orange Turkey Breast
Author: Catalina Castravet
Serves: 5 people
Prep time:

10

minutes
Cook time:

1

hour

40

minutes
Total time:

1

hr

50

mins
Ingredients
1 turkey breast (about 4 lb)
Rub Blend:
2 tablespoon brown sugar
4 garlic cloves (minced)
2 tablespoons canola oil
1 tablespoon dark molasses
1/4 teaspoon cinnamon
1/4 teaspoon ground nutmeg
1/4 teaspoon salt
1/4 teaspoon ground black pepper
Sauce:
2 cups cranberries (fresh)
1 14 ounces can whole berry cranberry sauce
1/2 cup Lingonberry Jam can be replaced with Apple Jelly
1 cup orange juice
zest of 1 orange
2 tablespoons cornstarch
Instructions
Preheat oven to 375 degrees F.
Add all the "Rub Blend" ingredients to a small bowl and mix to combine. Rub well onto the turkey breast and set aside.
Add all the cranberry sauce, lingonberry jam, fresh cranberries and orange zest to a medium bowl. Stir to combine.
Combine orange juice with cornstarch in a cup, whisk to combine and stir into the cranberry mixture.
Lightly grease a roasting pan that is big enough for the turkey breast. Don't use a very large pan, the breast needs to sit in tightly.
Add the seasoned turkey breast to the roasting pan and pour the cranberry sauce around the it. Don't pour much on top of the breast, as you want it to roast nicely without burning.
Place the roasting pan in the oven and bake for about 1 1/2 hours or until the internal temperature of the turkey breast is at 165 F degrees.
Remove the roasting pan from the oven, cover with aluminum foil and let it rest for 15 minutes before slicing the turkey.
Garnish with fresh cranberries and extra orange zest before serving.
Calories: 389 Carbohydrates: 45 Protein: 34 Fat: 8 Saturated Fat: 0 Cholesterol: 84 Sodium: 453 Potassium: 605 Fiber: 2 Sugar: 30 Vitamin A: 155 Vitamin C: 33.8 Calcium: 54 Iron: 1.4 g
Save Recipe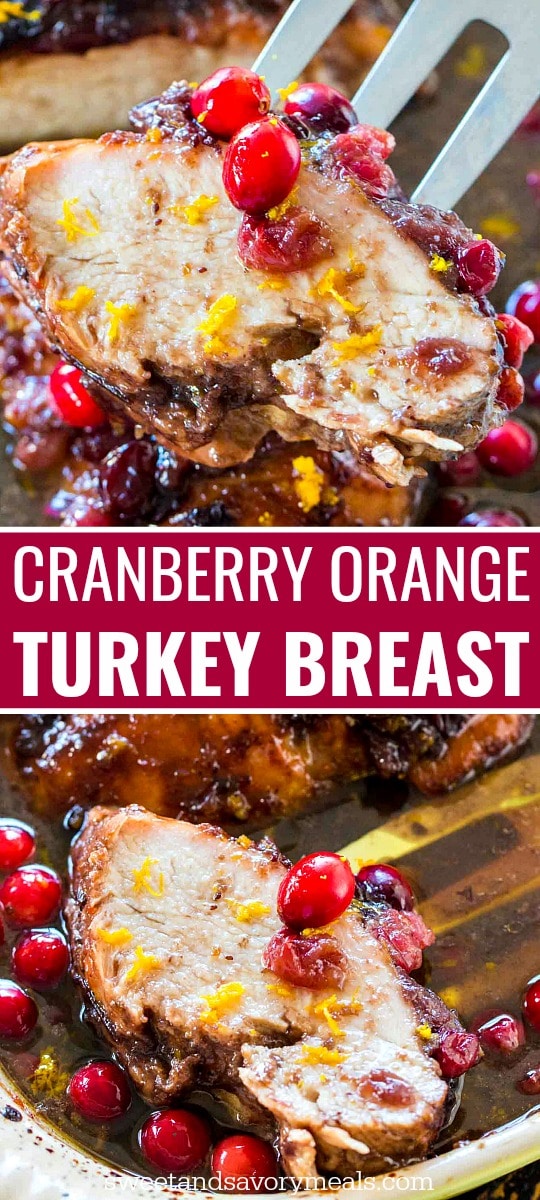 More recipes you might love