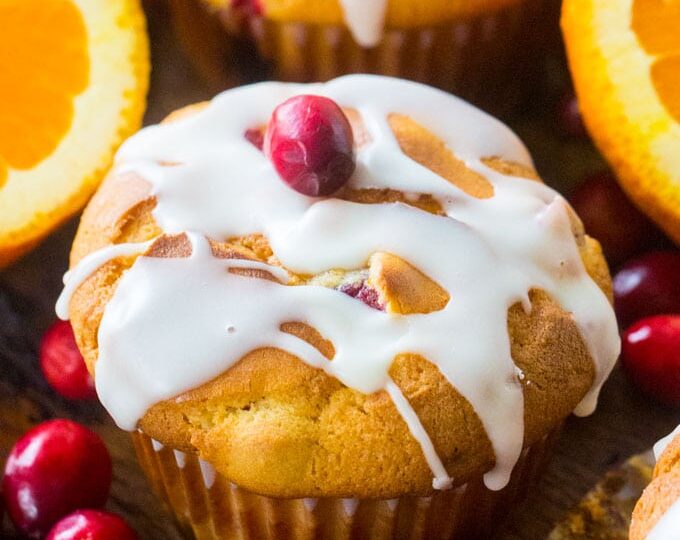 Cranberry Orange Muffins [Video]
Cranberry Orange Muffins are the perfect fall flavor combo. Sweet, fluffy, juicy, with an amazing orange aroma and tart cranberries in every bite. Watch the short video tutorial below and see how simple they are to make!
Muffins are a specialty in our kitchen, and we love making them puffy and delicious like Ube Purple Muffins, Chocolate Chip Ricotta Muffins, and Blueberry Lemon Muffins.
Cranberry Orange Muffins
Cranberry Orange Muffins are the perfect way to start a crisp fall morning. During this time of the year, I am ready to add cranberries to anything and everything! These Cranberry Orange Muffins are so fluffy, sweet, tart, juicy and refreshing!
They are pretty to look at and very tasty that they are hard to resist. Nothing like having a combination of sweet, tart and citrusy all in one bite! Did I mention that they are ready in about 30 minutes? Yes, that too!
Also, they are perfect for any occasion. Whether you want a nice birthday dessert or something delicious on the Thanksgiving tables, this is the dessert to go!
Tips to Make the Perfect Cranberry Orange Muffins Recipe:
Don't skip the orange zest, it will add the most amazing, citrusy, refreshing flavor!
I prefer to use fresh cranberries in this recipe, frozen will work too.
Make sure you don't over bake them, start checking at the 20 minutes mark.
If you don't have yogurt on hand, you can use full-fat sour cream.
The Orange Glaze is optional, can be skipped if you want to cut on sugar.
The muffins are great served warm with butter!
How to make Orange Zest
First, rinse the orange.
Set your tool over a cutting board. A microplane produces a very fine zest, perfect for baking and cooking. Also, if you don't have a microplane, use the smallest holes on an ordinary grater.
Then, grate the skin of the orange only. Grate just enough to get through the orange skin, this way you can avoid the bitter white pith underneath.
Rotate the orange and repeat. Once the white pith is exposed, rotate the orange and zest the next strip of peel. Repeat until most of the peel is removed, or until you have enough zest for your recipe.
Tools/Ingredients I used to make these Cranberry Orange Muffins Recipe: