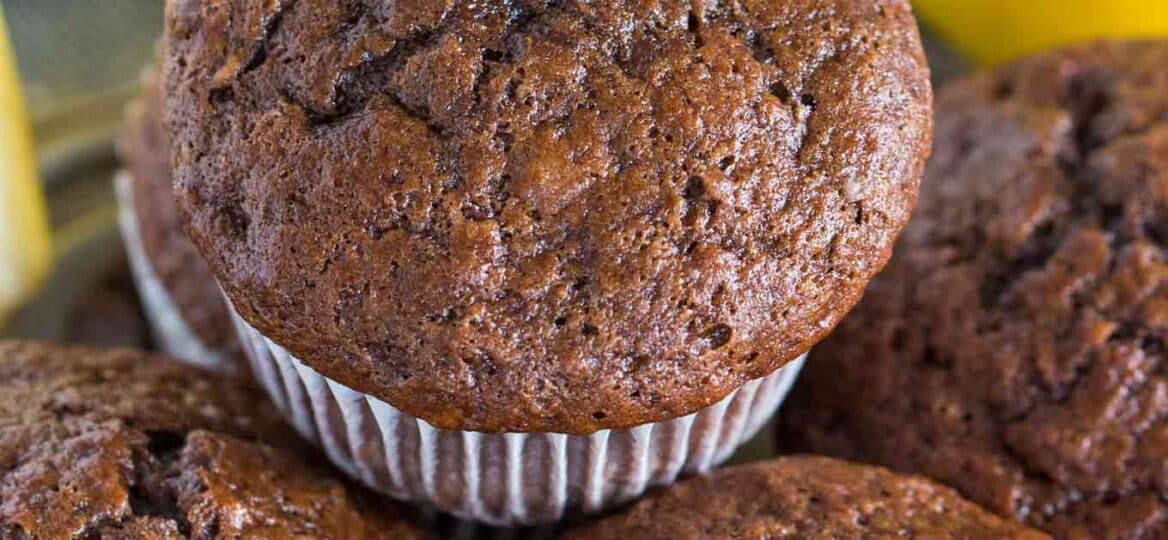 Best Chocolate Banana Muffins [VIDEO]
Chocolate Banana Muffins are the best way to use overripe bananas. The muffins are very easy to make, soft, chocolaty and full of flavor. Check out the short video tutorial below and learn how to quickly and easily make them!
Muffins are a specialty in our kitchen, and we love making them puffy and delicious like Ube Purple Muffins, Cranberry Orange Muffins, and Chocolate Chip Ricotta Muffins.
Best Chocolate Banana Muffins
Chocolate Banana Muffins are the best way to use those overripe bananas that are probably already looking sad on your countertop. These Chocolate Banana Muffins are definitely a favorite in our family. They are so easy to make and are a great kitchen project with kids as they are ready in 30 minutes.
I buy extra bananas on purpose, just so I have a few on hand to make these muffins. The muffins have the most amazing texture, light, fluffy, moist and with lots of chewy chocolate chips through them. Chocolate and bananas are a match made in heaven, so you should definitely try your hands at this Chocolate Banana Bread.
Why you will love these Chocolate Banana Muffins:
Firstly, they are rich and chocolaty and are a show stopper dessert.
Also, easy to find ingredients and minimal prep work and dishes to clean.
Perfect for brunch parties and for bigger crowds.
Easy to transport if you have to take it to a brunch party.
In addition, its a great way to use over riped bananas.
It can be made 1 or 2 days in advance so you don't have to worry about a last-minute dessert.
Chocolate Banana Muffins Recipe Tips
Firstly, use quality chocolate since it is one of the main ingredients here. The same applies to the chocolate chips, use high-quality ones.
Bananas must be brown, very ripe, and easy to mush. Obviously, don't wait for the bananas to turn completely brown, that is overdoing it.
Also, it is best to sift the dry ingredients, it will make a difference in texture.
I also like to use larger chocolate chips, as they don't fully melt when baked and are amazing when you bite into them!
In addition, you can also add some chopped walnuts, about 1/3 cup for some crunchiness.
You can use canola oil, vegetable oil or even olive oil! Also, you can use melted coconut oil.
These Chocolate Banana Muffins also taste amazing with peanut butter chocolate chips!
Watch the muffins closely, not to over-bake them, check after 15-20 minutes. A toothpick inserted in the center of the muffins should come out clean or just with some melted chocolate on, but not raw batter.
Serve the muffins warm or room temperature, with some butter.
How long will the Chocolate Banana Muffins stay fresh?
The Chocolate Banana Muffins can be stored wrapped in plastic wrap at room temperature for about 4-5 days.
Can you freeze the Chocolate Banana Muffins?
Absolutely! Cool the muffins completely and fully wrap it in plastic wrap, tightly. After that wrap in aluminum foil. Freeze for up to 2 months. Defrost before slicing.
Looking for more chocolaty desserts? Check these out:
Tools/Ingredients I used to make these Chocolate Banana Muffins Recipe:
Regular Muffin Pan – I use this pan to bake muffins and regular size cupcakes, I had it for many years and absolutely love it.
Cupcake Liners – when it comes to cupcake/muffin liners the sky is the limit, I like to keep them in a wide range of colors so I can use it based on the recipe or event.
Cocoa Powder – love this one, it is a bit more expensive, but it tastes amazing!