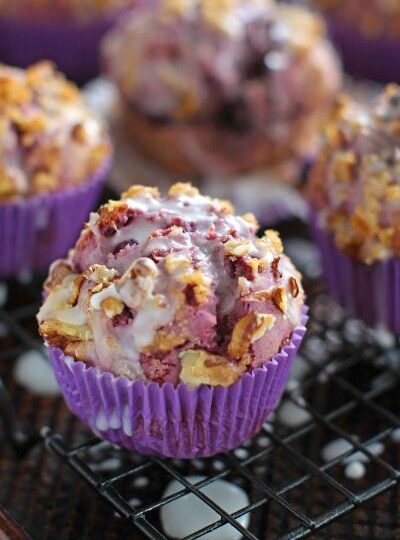 Ube Muffins – Naturally Purple!
Ube Muffins are insanely delicious and naturally purple. Topped with toasted walnuts and brown sugar these are fun to make and fun to eat.
These Purple Muffins are so pretty and delicious, it will be a hit for themed parties, and perfect to make with kids! I am obsessed with the color purple, and I love making Unicorn Cupcakes, Purple Cake and Purple Cake with Lemon Buttercream.
Ube Muffins
Ube Muffins are the perfect way to start your day. Their bright color will cheer you up and put you in a great mood for the rest of the day. Ube Muffins are naturally purple, and you know how much I love purple desserts. My most popular recipe on the blog is this gorgeous and easy to make Purple Cake. The muffins are loaded with crunchy toasted walnuts and topped with sweet brown sugar!
Why You Will Love These Purple Ube Muffins:
Firstly, they are very easy to make and can be easily transported with no mess.
Also, they can be enjoyed on the go.
Kids and adults love them.
Adorable purple color achieved with no food coloring.
Filling, sweet and delicious.
It can be enjoyed for breakfast or dessert.
In addition, they are great hostess gift.
It would be awesome for baby showers.
Ube Muffins Recipe Tips:
You need a purple yams. They are harder to come around and most grocery stores don't carry them. I usually get mine from Whole Foods, Asian markets also carry them.
Don't be fooled by the cute purple potatoes at your local grocery store, that's not what you are looking for. Purple yams are basically cousins with sweet potatoes, but are purple!
I prefer to boil the purple yams (also called ube) whole with skin, this way the inside doesn't get too watery and mushy and it preserves the natural purple color even more.
Make sure you don't over bake them, start checking at the 20 minutes mark.
The walnuts are optional, if you are allergic or just don't have any on hand, you can skip them.
The brown sugar topping is also optional, I like it because it adds a nice caramel flavor.
The Vanilla Glaze is also optional, can be skipped if you want to cut on sugar.
The recipe can also be made with sweet potatoes if you want to make sweet potato muffins instead.
The muffins are great served warm with butter!
Tools/Ingredients I used to make this recipe: