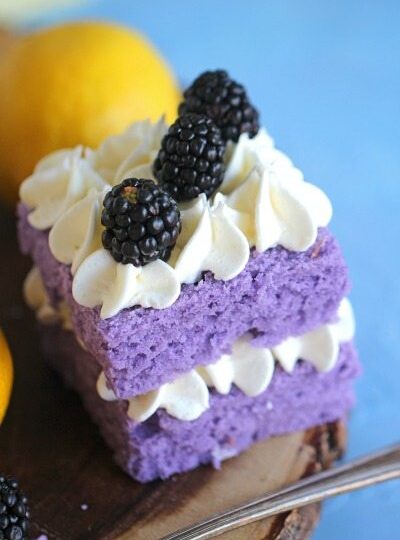 Purple Cake with Lemon Buttercream [VIDEO]
Purple Cake with Lemon Buttercream is cut into mini individual cakes, decorated with fresh blackberries, for a beautiful and tasty dessert.
This Purple Cake is so pretty and tasty, that it is perfect for themed parties, and is a hit with kids and adults alike! I am obsessed with the color purple, and I love making Unicorn Cupcakes, Magic Purple Cake and Ube Muffins.
Purple Cake With Lemon Buttercream
Purple Cake with refreshing lemon zest and a lavender extract is the cake that you have to try this summer! With vibrant color and amazing flavor, this cake is also incredibly easy to make. The cakes is soft and moist and topped with sweet vanilla buttercream.
The best part of this recipe is that it's easy to follow and you can make the cake in any color you would like. I like to cut it into individual mini cakes, that are almost too pretty to eat.
Why You'll Love This Purple Cake with Lemon Buttercream:
Firstly, it's a gorgeous cake, with a beautiful purple color, a mild vanilla taste, and refreshing lemon buttercream.
Also, the cake is very easy to make, you basically bake a huge one layer cake and cut it into squares.
In addition, the individual desserts are the perfect single serving, looking also festive and easy to transport.
Perfect for a special occasion, like a baby shower or birthday.
Lastly, it's super fun to make with kids.
Purple Cake with Lemon Buttercream Recipe Tips:
Make sure all the ingredients are at room temperature.
Use enough gel food coloring because just a few drops are not enough to make this cake purple.
You can customize the cake and use lavender extract instead of vanilla. Also, you can make the cake a different color.
Also, vanilla beans can be replaced with vanilla extract.
Don't skip the lemon zest, because it adds a punch of fresh lemony flavor to the cream.
Be careful not to over-bake the cake, start checking after 25 mins of baking.
How to make lemon zest?
Follow these easy steps below:
Rinse the lemon.
Set your tool over a cutting board. A microplane produces a very fine zest, perfect for baking and cooking. If you don't have a microplane, use the smallest holes on an ordinary grater.
Grate the yellow skin of the lemon only. Grate just enough to get through the yellow skin, this way you can avoid the bitter white pith underneath.
Rotate the lemon and repeat. Once the white pith is exposed, rotate the lemon and zest the next strip of peel. Repeat until most of the peel is removed, or until you have enough zest for your recipe.
Can you use lemon juice instead of lemon zest?
Yes! Lemon zest adds a citrus flavor to the Purple Cake. If you don't have a lemon and a zester handy, you can use regular store-bought lemon juice. 1 medium-size lemon = approximately 1 tablespoon of lemon zest = 2 to 3 tablespoons of lemon juice.
Tools/Ingredients I used to make the Vanilla Purple Cake with Lemon Buttercream:
Purple Cake Recipe Video: