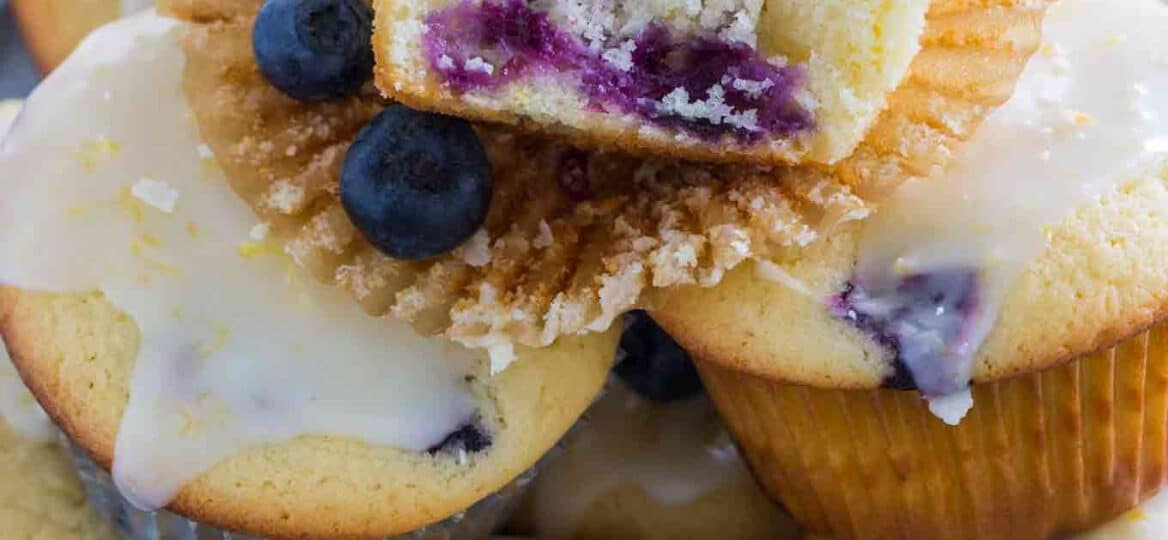 Blueberry Lemon Muffins with Lemon Glaze [Video]
Blueberry Lemon Muffins are the perfect combo of sweet and tart! Easy to make in just over 30 minutes, they are such a tasty snack or dessert.
This is the perfect dessert to enjoy during any time of the year. It is delicious and super easy to make. For more lemon inspired desserts, check out my homemade lemonade, lemon pound cake, and lemon bundt cake.
Blueberry Lemon Muffins with Lemon Glaze
If you are into berry and lemon combos, then these Blueberry Lemon Muffins are a must make. I can snack of these all day, which probably is not the best idea. But I can't resist the juicy, sweet blueberries with the citrusy lemon freshness combo.
Also, these muffins are great for an on-the-go sweet breakfast, because let's face it, sometimes we all need some sugar to start the day. They are the perfect snack or even dessert, so feel free to try some any day of the week. In addition, you can make a batch for brunch or as hostess gifts, their unbelievable flavor and tender crumb will win you praises and friends.
Looking for more Lemon Desserts? Check these out:
Pin This Blueberry Lemon Muffins Recipe to your Favorite Board
What do you need to make Blueberry Lemon Muffins?
The recipe for Blueberry Lemon Muffins is very easy and does not require any unusual ingredients. Most likely you already have all the ingredients on hand, here is what you will need:
Dry ingredients: flour, sugar, baking powder, salt.
Wet ingredients: eggs, butter, milk, and sour cream.
Fresh fruits: blueberries, lemons. You can also use store bought lemon juice.
A muffin pan (this silicone one is also great) and muffin liners.
Can you make Blueberry Lemon Muffins with frozen blueberries?
Yes, you can replace the fresh blueberries in this recipe with frozen blueberries, the same ratio. Also, you don't have to thaw the frozen blueberries. Make sure they are not a chunk of ice, look for the berries to be separated.
Add them to the batter, like you would fresh blueberries. The difference will be that frozen blueberries may sink more during baking and not burst as much.
Can you freeze Blueberry Lemon Muffins?
Yes, you can! First, cool muffins completely and do not frost. Then, wrap tightly each muffin in freezer wrap and add them in batches to freezer bags. Muffins can be stored frozen for up to 3 months at 0 degrees F or lower.
How to make lemon zest
Follow the easy steps below:
First, rinse the lemon.
Then, set your tool over a cutting board. A microplane produces a very fine zest, perfect for baking and cooking. If you don't have a microplane, use the smallest holes on an ordinary grater.
Next, grate the yellow skin of the lemon only. Grate just enough to get through the yellow skin, this way you can avoid the bitter white pith underneath.
Rotate the lemon and repeat. Once the white pith is exposed, rotate the lemon and zest the next strip of peel. Repeat until most of the peel is removed, or until you have enough zest for your recipe.
How to thaw frozen Blueberry Lemon Muffins?
Muffins can be thawed completely at room temperature, or heat frozen muffins in the microwave by placing an unwrapped muffin on a napkin, microwave-safe paper towel or plate. Microwave on high for about 30 seconds for each muffin.