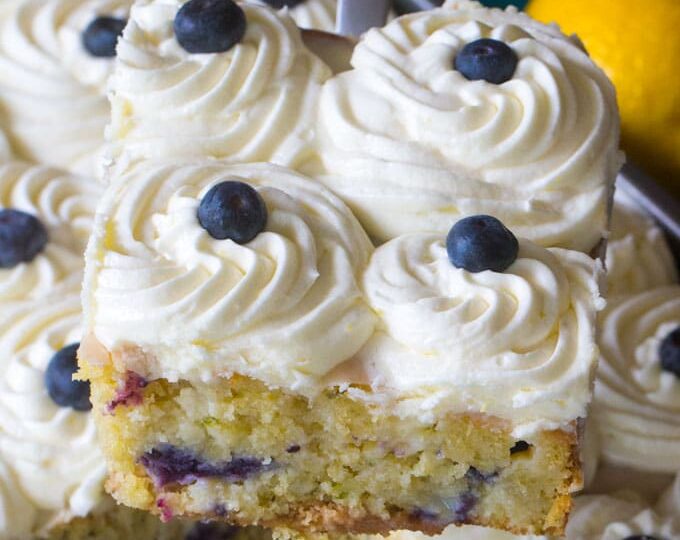 Blueberry Zucchini Poke Cake [VIDEO]
Blueberry Zucchini Poke Cake is so tender, moist and delicious. Made with zucchini, olive oil and lots of fresh lemons, this cake is just amazing!
Poke Cakes are very popular on the blog because they are so easy to make, look stunning and taste delicious. Having already so many tasty poke cakes, like this Strawberry Poke Cake, German Chocolate Poke Cake, and Baileys Poke Cake, it only made sense to add a Blueberry Zucchini version to the mix.
Homemade Blueberry Zucchini Poke Cake
Blueberry Zucchini Poke Cake is the only cake I want to eat all summer long. The cake is very, very easy to make, so don't be fooled by it's pretty look. I have said it many times on the blog that I am a huge fan of moist and tender cakes. This Blueberry Zucchini Poke Cake is so tender, it melts in your mouth.
The cake is packed with grated zucchini, lots of fresh lemon zest and juicy blueberries. The olive oil gives it an incredibly rich and moist crumb. The cake is moistened using a sweet white chocolate sauce and topped with refreshing lemon buttercream.
Looking for more Poke Cake recipes? Check these out!
Pin This Blueberry Zucchini Poke Cake Recipe to your Favorite Board
Blueberry Zucchini Poke Cake Recipe Tips:
Make sure you drain as much water as possible from the zucchini. After I grated them, I placed them in between two cloth towels and pressed really hard to squeeze all the water.
When you measure the grated the zucchini, make sure you do it AFTER you squeezed the water. Pack the cups tightly with grated zucchini. I used 1 1/2 medium zucchini.
Using a cake mix will reduce the prep time. You can use the Yellow Cake mix or White Cake mix.
Also, Do NOT use frozen blueberries in this recipe, their water content is too high. Use fresh blueberries.
Similarly, you can skip the blueberries or replace them with fresh blackberries, raspberries or diced apples.
Based on reference, you can add 1/2 cup of chopped walnuts or pecans into the batter.
Let the cake absorb the white chocolate mixture for at least 8 hours in the fridge before serving, this will make the cake extra tender.
Keep the cake refrigerated as the frosting will soften if kept at room temperature for too long.
You can either pipe the frosting on top of the cake, or just spread it evenly with a spatula.
Clean the knife after each cut, otherwise, the slices will be messier, since the frosting may stick to the knife.
Tools/Ingredients I used to make this Blueberry Zucchini Poke Cake Recipe:
Non-Stick Baking Pan – I use this 9×13 pan for many recipes, brownies, fudge and blondies, the quality is great and it will last you a long time
Vanilla Extract – love this vanilla extract, the flavor is great, I always have some on hand
White Chocolate Chips – I use these all the time, they taste great in cookies and are perfect to melt with condensed milk
Here is a step by step video of the recipe for you: