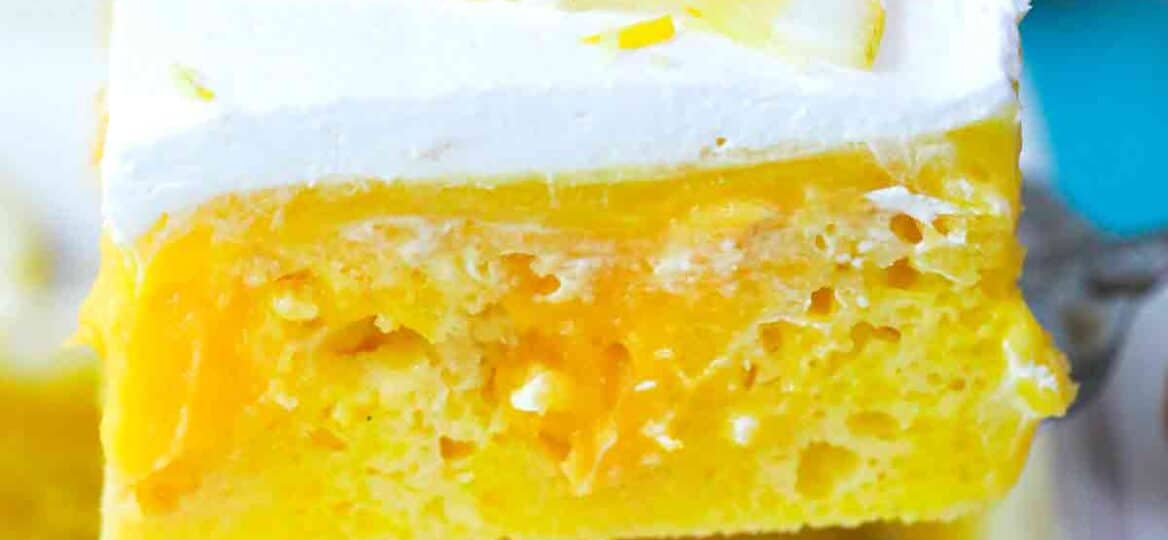 Lemon Poke Cake Recipe [Video]
Lemon Poke Cake is fluffy and light, stuffed with lemon curd, creamy milk pudding, and topped with a homemade lemon whip. This will quickly become the perfect summer dessert that you will make over and over again!
For more crowd-pleasing fruit desserts, whip up this Strawberry Crisp, Cranberry Orange Muffins, and Instant Pot Berry Cobbler!
Lemon Poke Cake Recipe
Lemon Poke Cake is bursting with fresh, creamy, and tangy citrus flavor— even the whip topping has zest in it! Filling up the holes is a combo of lemon Jell-o plus lemon curd, balanced out by the thick and milky pudding.
When you cut it up, the filled holes create beautiful, yellow strips through the slices. Finally, we also love this dessert because it's one of the easiest we make!
This is only one of the many flavors you can customize this recipe with. Later on, we're sharing delicious variations like strawberry, caramel, and more!
What goes into a homemade lemon poke cake
Cake:
Boxed mix: Use your favorite yellow, lemon, or white boxed mix.
Wet: To make an extra-rich and soft crumb, we're enhancing the mix with sour cream, a little milk, oil, and eggs.
Flavoring: A combo of fresh juice plus zest makes our cake bright and tangy!
Pudding layer:
Jell-o: Get the lemon Jell-o flavor and prepare some boiling water.
Instant pudding: Pudding with cold milk complements the Jell-o with tangy creaminess!
Curd: We're not done with the lemony flavors yet— to finish our pudding layer, we're pouring in citrus curd into the holes! It's so easy to make it from scratch, so if you're up for that, here's the perfect recipe!
Whip topping:
Prepare heavy cream (cold), icing sugar, and more zest.
How to make a moist lemon poke cake from scratch
Bake. Mix up all the cake ingredients and bake at 350F for 20-25 mins.
Poke. Spaced 1 inch apart, poke the cake using a butter knife or the end of a spoon.
Pour. Cook up your Jell-o, and pour it into the pokes when it's room temp. Then, spread the curd evenly on the surface. Finally, mix your cold milk and instant pudding together, and pour it IMMEDIATELY all over the cake. Place into the fridge and chill it down for a couple of hours.
Whip. Beat your cream with the icing sugar and lemon zest until everything is stiff. Spread all over your cooled cake.
Serve. Top with fresh berries and thin lemon slices, and enjoy!
Recipe variations and substitutions:
Strawberry: Use strawberry Jell-o and pudding, and thinned-out strawberry jam instead of curd.
Caramel: Whisk in some caramel into plain Jell-o, use vanilla pudding, and dulce de leche instead of curd.
Orange: Use orange Jell-o and pudding.
Lime: Use Lime Jell-o and pudding, add lime zest, and use our key lime curd.
Other flavors: We highly recommend experimenting with flavors and combinations! You can use other Jell-o and pudding flavors you love in this recipe.
Frequently Asked Questions
How do you properly juice lemons?
First, microwave it or carefully roll a heavy bottle or rolling pin over it. We swear by this trick! It loosens the thick peel and makes it a breeze to squeeze.
Next, cut it in two along the length. Use a hinge squeezer, hand juicer, reamer, or manual juicer to press the juice out. Don't have one? Use a pair of tongs or just your hands to squeeze each half. After, take a fork and scrape out the pulp to get out more of the juice.
How many lemons should you squeeze to get a cup of juice?
Give or take, you'll need about 5 ½ fruits to reach a full cup of juice. That's because there's about 3 tbsp. of juice in one piece.
How to serve lemon poke cake?
You can enjoy it warm, but we love eating it a little chilled. The stuffing firm up a little and the flavor develops some more. Those pockets of curd, pudding, and Jell-o are so refreshing and delicious!
Our favorite way to serve this is with homemade lemon whip cream. To add texture, we love topping it with crushed nuts, chocolate chips, toasted coconut, or caramel/chocolate sauce if you have a huge sweet tooth. Ice cream is also fantastic!
Can you freeze homemade poke cakes?
Yes, you can. We do it often, especially if we need to cook many other dishes for a get-together. This way, you have dessert good to go!
We recommend freezing it after the sauces, Jell-O, and pudding have already set into the holes and the entire thing has cooled down. Then, wrap very tightly in cling and foil before freezing.
Thaw overnight in the refrigerator before the day you serve it.
Storage instructions:
Store the leftovers in a very tightly-sealed container so it doesn't dry out. Keep it for up to 3 days, but try to finish as soon as you can before it gets soggy.
More poke cakes to try:
Deliciousness to your inbox
Enjoy weekly hand picked recipes and recommendations