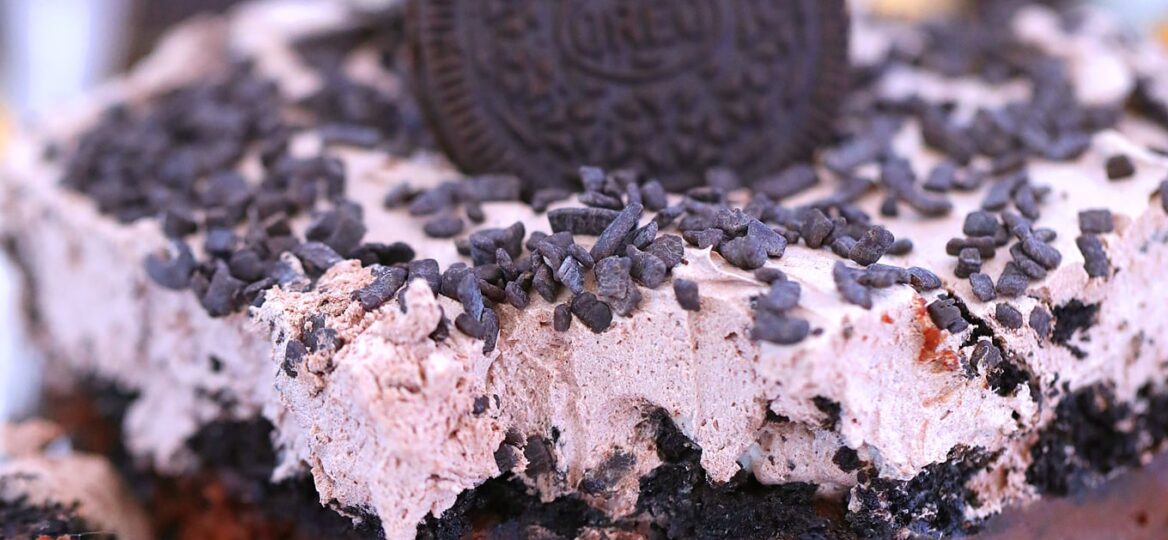 Best Oreo Poke Cake Recipe
Oreo Poke Cake is a moist and creamy cake made with chocolate mix, cool whip cream, pudding, and crushed cookies. The perfect dessert for birthday parties, holidays, or gatherings!
We love poke desserts and they are very popular on our blog. You might also love our famous Strawberry Poke Cake, Blueberry Zucchini Poke Cake, and Banana Pudding.
Easy Oreo Poke Cake Recipe
This Oreo Poke Cake is one of the best desserts you can have. Even if you are not an Oreo lover, this recipe will win you over. It is so moist, fluffy, and flavorful, that is hard not to like it.
Our son is a huge Oreo lover, and this recipe is absolutely his favorite treat. It is so perfect and creamy, that it melts in your mouth. Although it might look like a very sophisticated and fancy dessert, it's quite easy to make. Bring it to a potluck, picking, or any event, this cake is guaranteed to be the best one on the table.
WHAT IS A POKE CAKE?
Is a type of dessert that usually has holes in it when cooked. These holes are filled with various fillings or a liquid, and once cooked, makes the cake a moist and creamy texture. Also, it makes it very flavorful and delicious because the filling is uniformly infused into the dish.
HOW TO MAKE A PERFECT OREO POKE CAKE RECIPE?
Prepare Chocolate Cake Mix – In a 9×13 pan, bake the chocolate cake mix according to package instruction. Once cooked, let it cool for about 10 minutes prior to moving to the next step.
Poke it – Take a wooden spoon, and make uniform holes all over the bottom of it.
Fill it up – Once the holes are done, it is time to fill them up with sweetened condensed milk and chocolate mixture.
Make the Pudding – just prepare chocolate pudding per box directions. Spread on top of the cake.
Make the frosting – In a bowl, using a hand mixer, combine together the heavy cream, cacao, and powdered sugar. If you do not have a hand mixer stir in manually using a fork till the frosting is well combined and has a nice consistency.
Crush the Oreos – in a ziplock bag, crush about 8 to 10 cookies using a rolling pin. Stir the crushed cookies into the frosting.
Frost the cake – Lastly, spread the frosting mixture over it. Sprinkle it with mini chocolate chips and more crushed cookies.
Chill – It is recommended to serve it chilled, so once fully assembled place it in the refrigerator for about 1 hour prior to serving.
Can you make Oreo POKE CAKE in advance?
Absolutely! It will even taste better if refrigerated for at least a few hours, so we highly recommend making it up to 1 or 2 days in advance and store in the fridge. The pudding and the frosting will infuse into it better, and you will end up with a moist and balanced dessert.
CAN YOU FREEZE it?
Yes. However, it is best to freeze it without adding the frosting because it will get mushy once defrosted. Ensure it is properly wrapped in aluminum foil. Then, place it in a freezer bag. Best to freeze it for up to 3 months. Prior to serving, defrost it overnight, and then add the frosting on top.
More poke cakes:
Recipe Tips:
This delicious dessert can be topped with melted chocolate or caramel.
Also, if you plan on storing it for more than 1 day, then we suggest topping it with the crushed Oreos just prior to serving. The cookies have a tendency to soften after more than 1 day. Therefore, is best to sprinkle them just before serving.
As stated above, we highly recommend chilling it prior to slicing and serving. Best to refrigerate it for at least 8 hours before serving, this will make it extra moist and tender.
In addition, try to clean the knife after each cut, otherwise, the slices will be messier due to its moisture.
Tools/Ingredients used to make this recipe:
9×13 Cake Pan – A great quality non-stick pan that works great in baking these types of desserts.
Deliciousness to your inbox
Enjoy weekly hand picked recipes and recommendations