Classic Tres Leches Cake [video]
Tres Leches Cake is a light, fluffy and creamy poke cake soaked in a mixture of three kinds of milk. The dessert is topped with whipped cream and served with berries on the side.
Before enjoying this delicious dessert try my Chicken Enchiladas, Taco Salad and Chicken Quesadilla recipes as your main courses.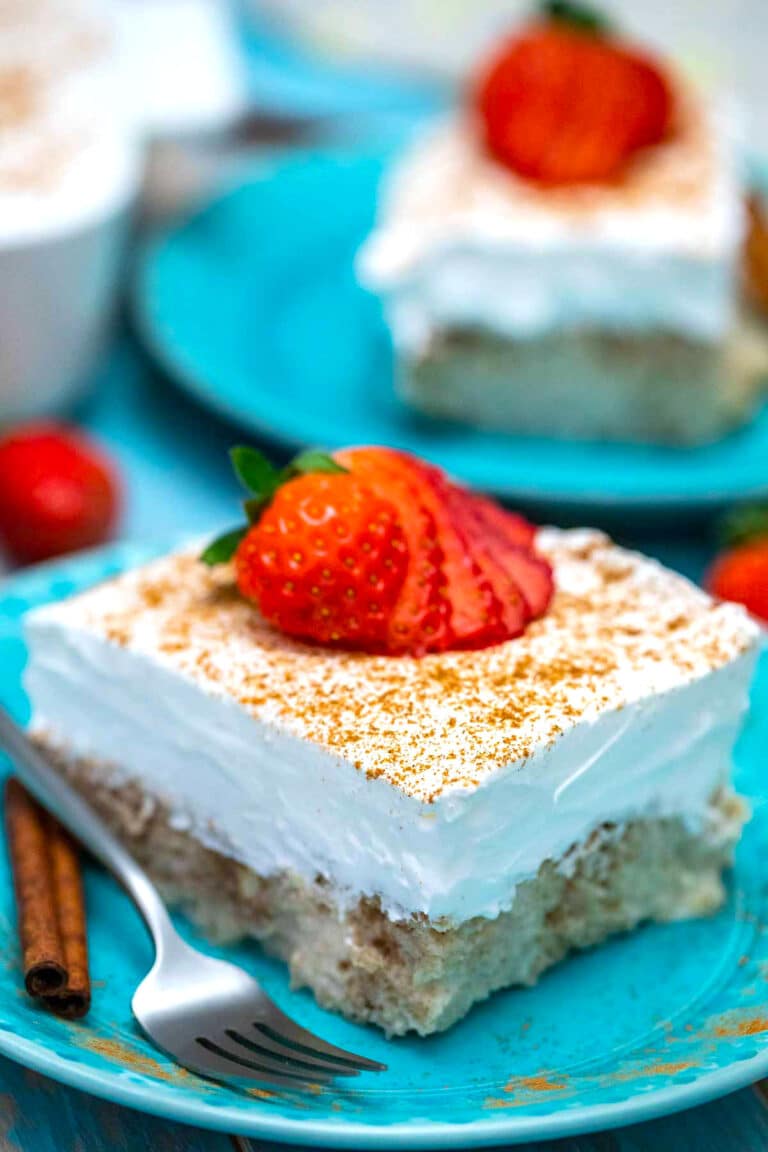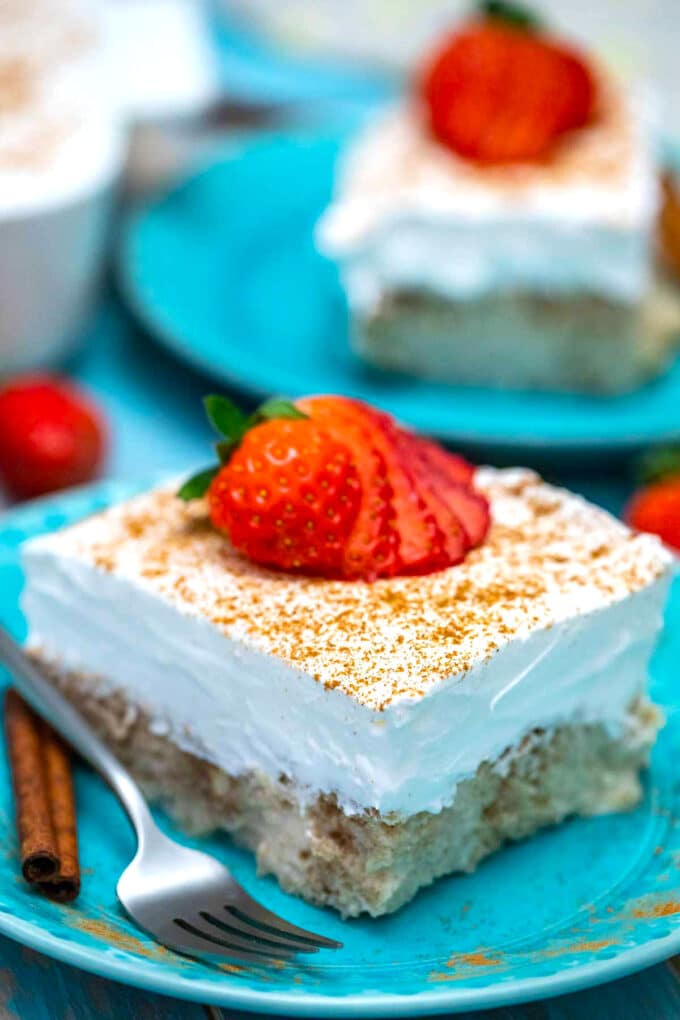 Classic Tres Leches Cake Recipe
Tres Leches Cake is the perfect sweet treat to make at home, as it requires simple ingredients and easy steps to complete. Chilling it in the refrigerator for six hours or overnight is crucial to achieving the right texture and consistency is the most important part.
I was first introduced to this dessert at a Mexican restaurant and have liked it ever since. I knew I had to have it and figure out how to make it. Though it takes a few steps to complete, it always tastes better fresh.
It is very similar to bread, that you do not have to make it at home all the time, but when you make it at home it tastes so much better.
With Cinco de Mayo coming up this will be the perfect excuse and reason to make for the holiday. I really think that the difference between making a good and excellent cake is in using quality ingredients, topping it with a homemade whipped topping and fresh fruit of the side.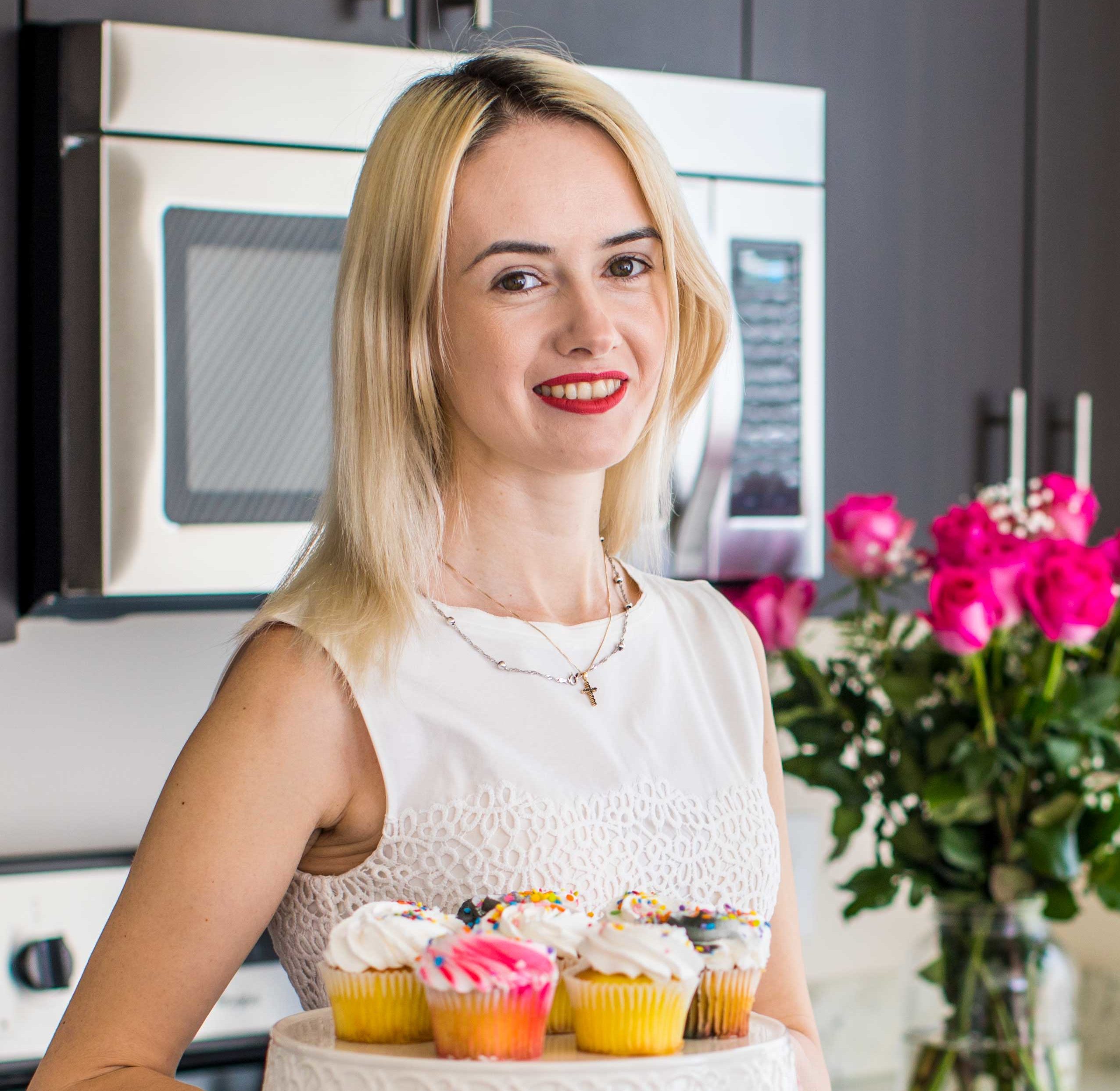 Follow us on Pinterest for more delicious recipes!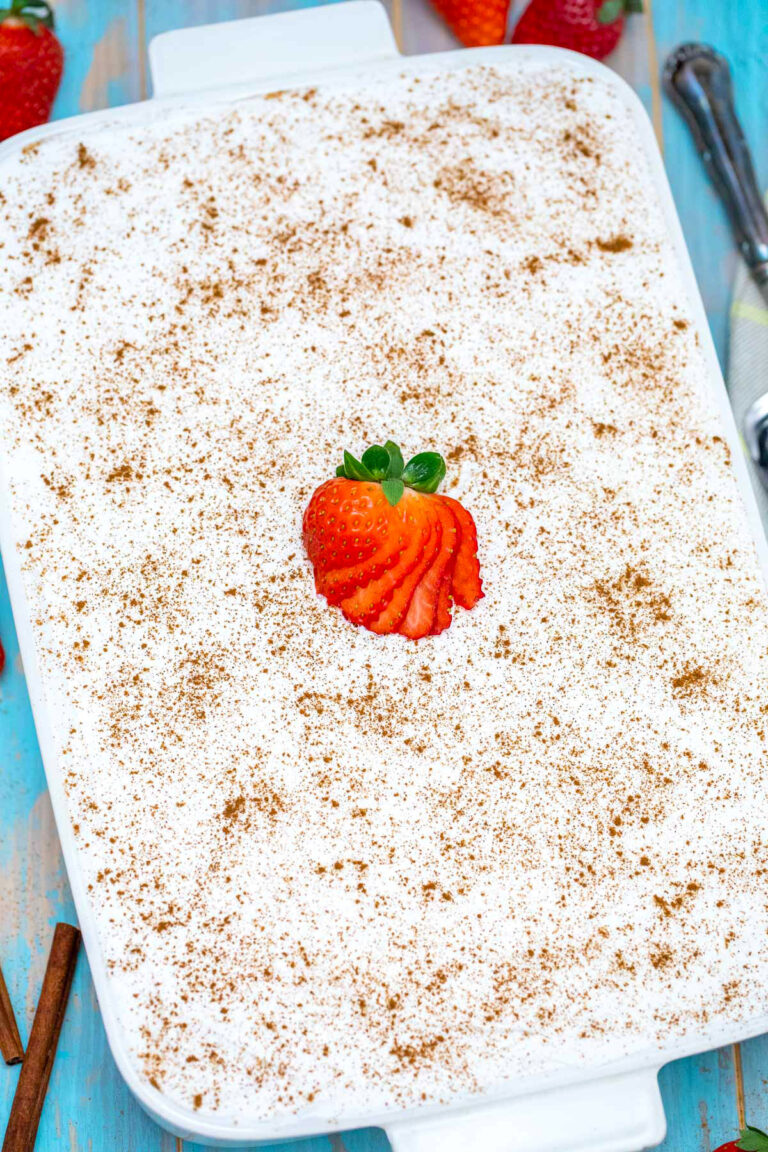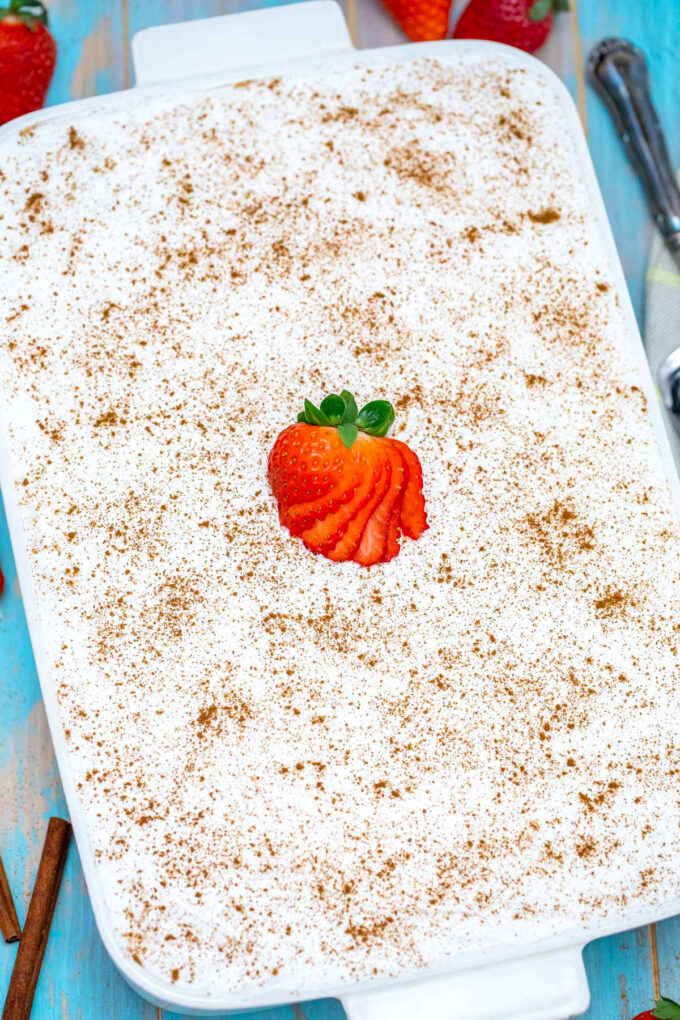 What is tres leches cake?
Tres leches which directly translates into "three milks" is a traditional Mexican poke cake that is served with some berries on the side or on top.
This cake is filled with three different kinds of milk and is condensed into one spongey and delicious slice. The three kinds of milk are evaporated milk, condensed milk, and whole milk. There is also cinnamon, nutmeg, eggs, salt, vanilla extract, and multiple different kinds of ingredients that go into making it.
What is a poke cake?
This means that you take a baked cake and poke several holes in it after baking. The holes are filled with liquid and filling such as different types of milk or cream. In this particular case, it is filled with a milk mixture.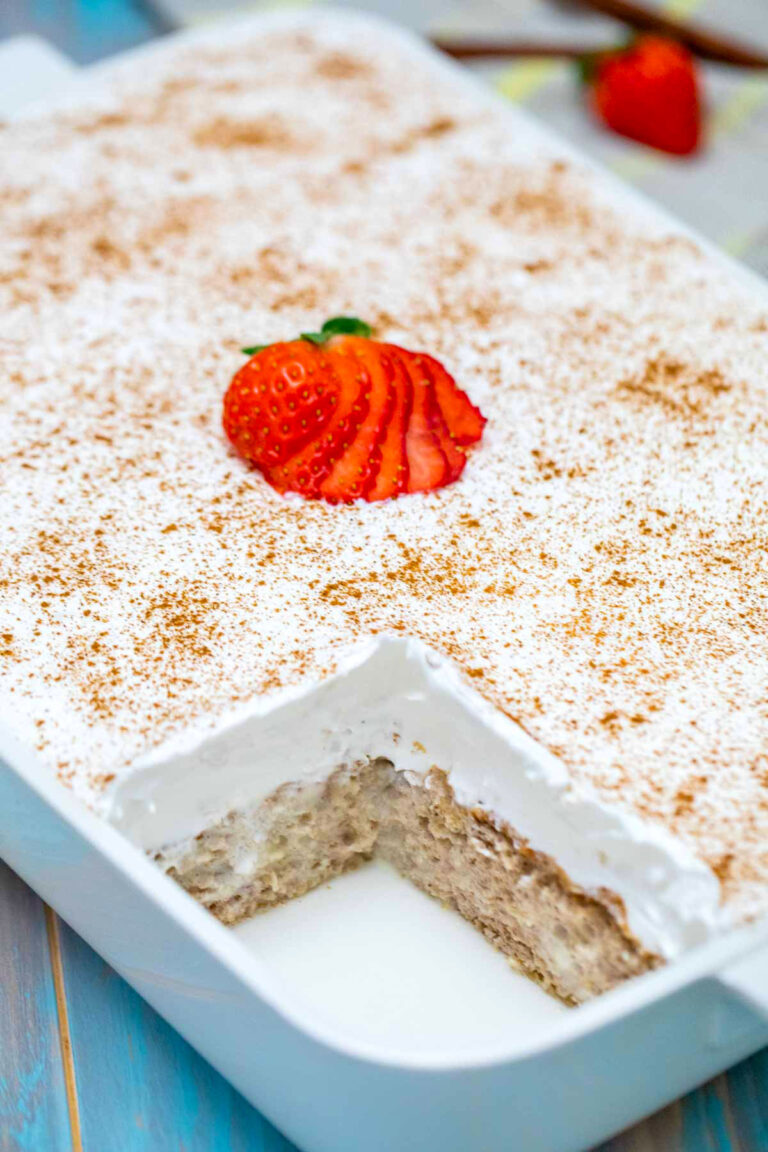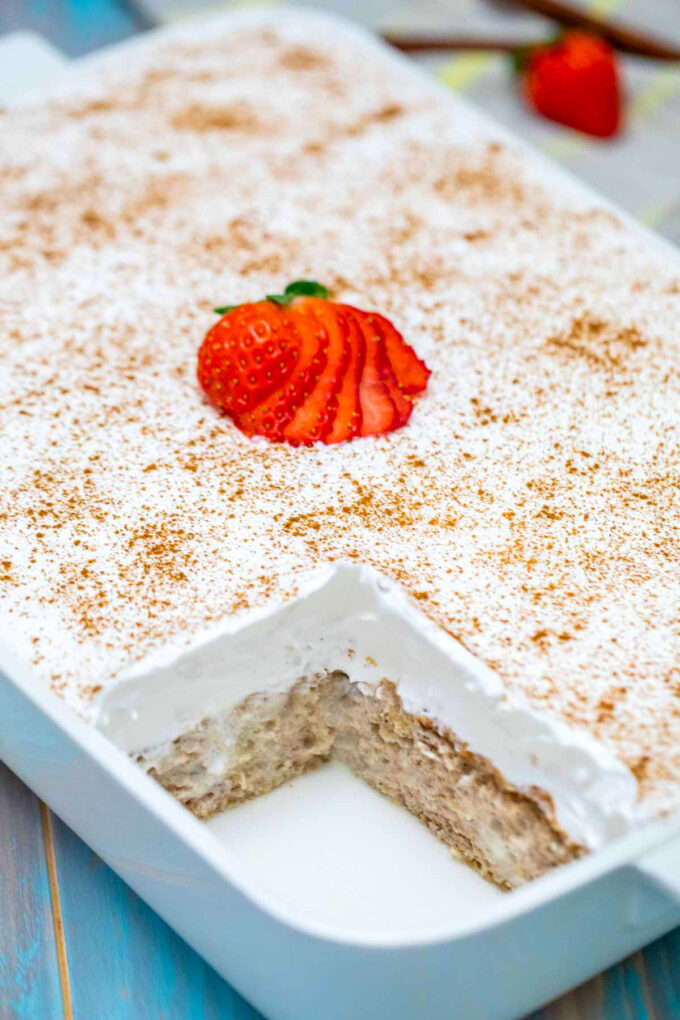 How do you make Classic Tres Leches Cake:
Bake the Cake: First, you make a classic sponge cake based on the recipe. Or you can use a White Cake Mix or Yellow Cake mix to make the base.
Make the Milk Mixture: While the cake is baking, make the "three kinds of milk mixture" by combining sweetened condensed milk, evaporated milk and whole milk.
Poke: Once the cake comes out of the oven, immediately use the end of a wooded spoon to poke holes all over the surface. Next, pour the milk mixture uniformly over the cake.
Cool and refrigerate: Let the cake cool and transfer to the fridge for a few hours or best overnight.
Whipped Cream: Make the whipped cream, and top the cooled cake with it, sprinkle with cinnamon and chill for one hour before serving.
Serve: Garnish with fresh strawberries and serve.
What kind of milk do you use to soak tres leches cake?
Three different kinds of milk are used to soak this: evaporated milk, sweetened condensed milk, and whole milk. In addition, if you would like to try a dairy-free option try and replace all of these with coconut or almond milk. The almond milk will be the most neutral kind in flavor.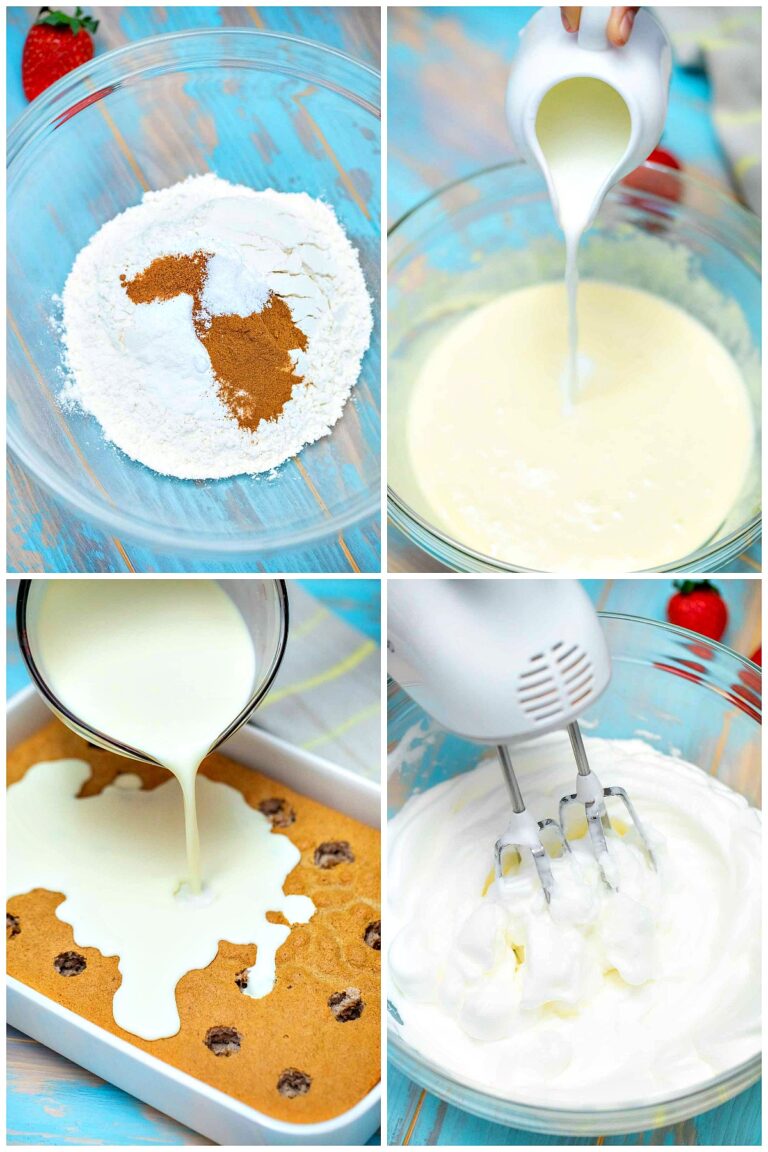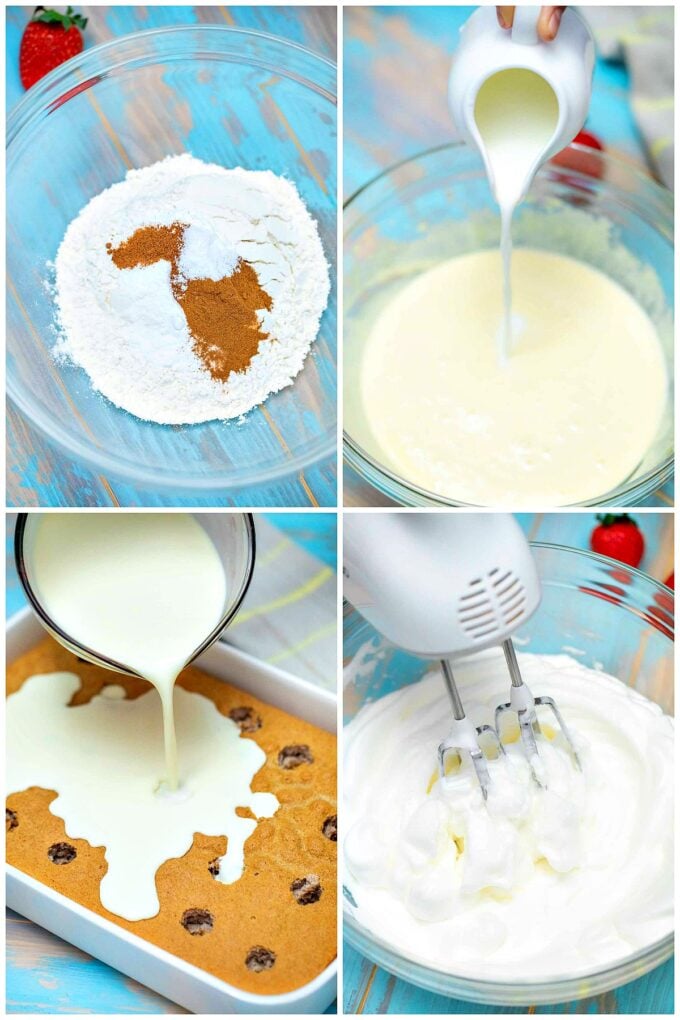 Does tres leches dessert have alcohol?
It is up to you. Depending on whether or not you want to infuse it with booze you can. By adding rum into the recipe it will taste more like a tiramisu. I would recommend doing this if you were having a party with more adults rather than children.
The taste of the rum inside a dessert can be intimidating for children, but delicious for adults.
How long can you keep Mexican tres leches dessert fresh?
This lasts for about four to five days in the refrigerator. It is recommended to consume it in the first 48 hours so that it can still have that sense of freshness.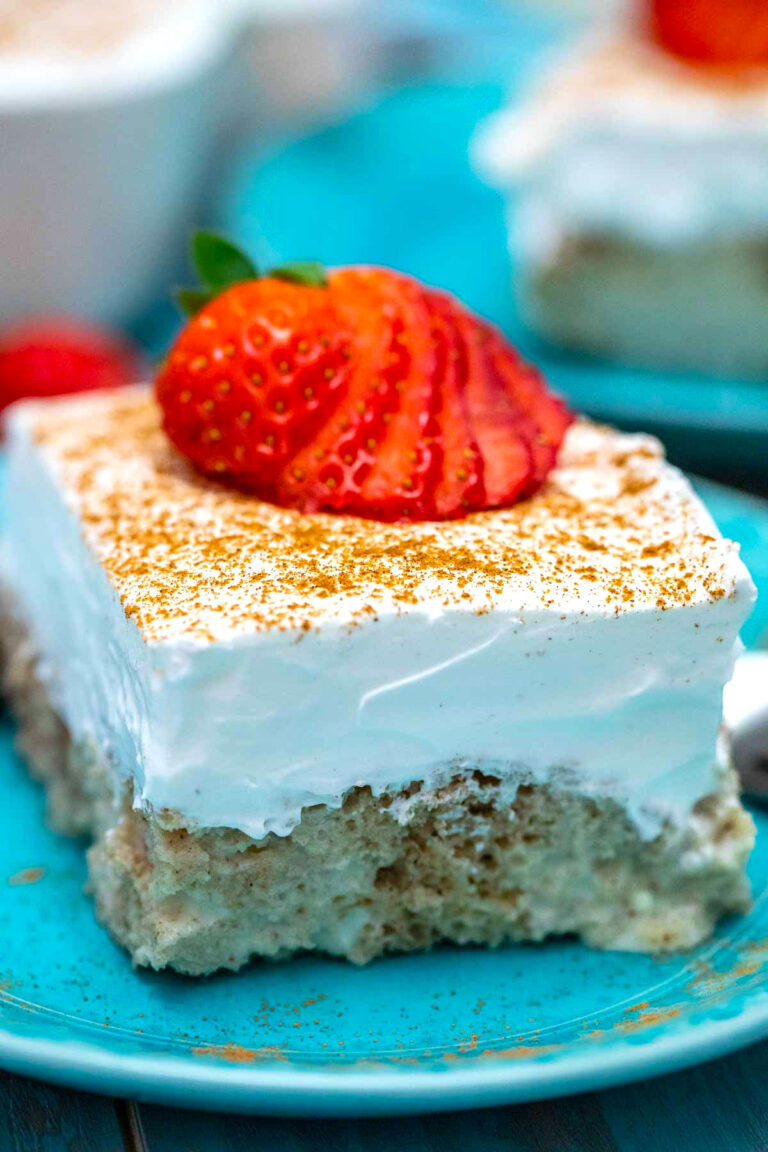 How long you should let the cake soak?
This particular cake is best soaked for six hours or overnight. That way, the sponge can soak up all of the milk inside and be filled with flavor.
Can you freeze tres leches cake?
It is not a good idea to freeze the cake, because the sponge would freeze well, but the milk will just be soggy and a mess rather than the delicious dessert you once enjoyed.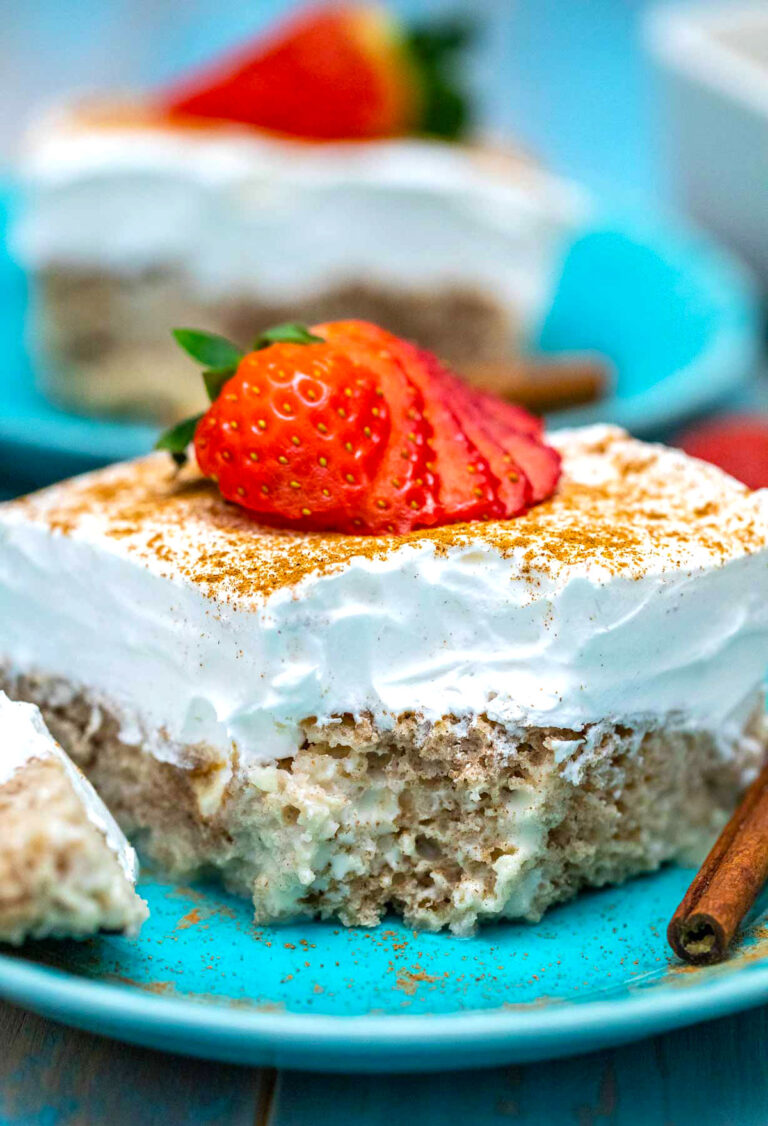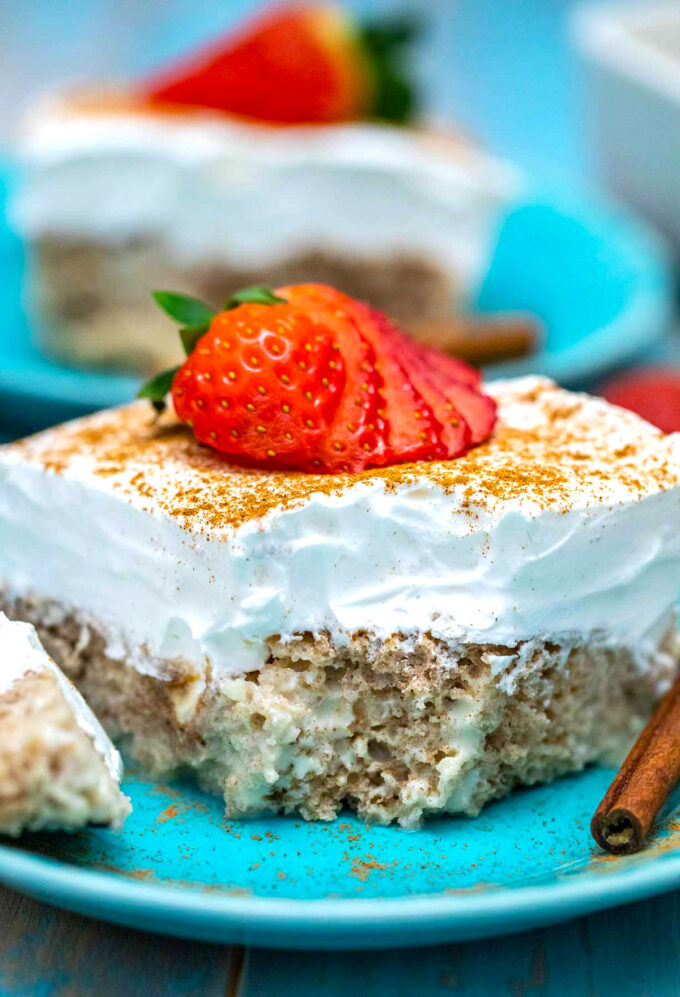 Recipe Tips:
First, to reduce some of the time that takes to make this cake, you can use a cake mix for like White Cake mix that you can spice with cinnamon and nutmeg.
Also, instead of the homemade Whipped Cream, you can use Cool Whip Topping.
The cinnamon and nutmeg are optional, you can skip if you don't like them.
If you are looking for a boozy treat, add 1/3 cup of rum to the milk mixture.
Also, this dessert is great served with berries on the side, like strawberries, raspberries, blueberries or blackberries.
Keep it refrigerated as the Whipped Cream will soften if kept at room temperature for too long and it will melt.
Clean the knife after each cut, to ensure clean and beautiful slices when serving.
Save Recipe
Classic Tres Leches Cake
Tres Leches Cake is a light and creamy poke cake soaked in a mixture of three kinds of milk. Topped with whipped cream and served with berries on the side.
Author: Catalina Castravet
Serves: 12 servings
Prep time:

30

minutes
Cook time:

30

minutes
Total time:

7

hrs
Ingredients
Cake:
Milk Mixture:
Whipped Topping:
Garnish:
Instructions
Milk Mixture:
Chill:
Whipped Topping:
Nutrition information
Calories: 315 Carbohydrates: 53 Protein: 10 Fat: 6 Saturated Fat: 3 Cholesterol: 85 Sodium: 271 Potassium: 329 Fiber: 0 Sugar: 46 Vitamin A: 455 Vitamin C: 0.6 Calcium: 320 Iron: 1.2
Save Recipe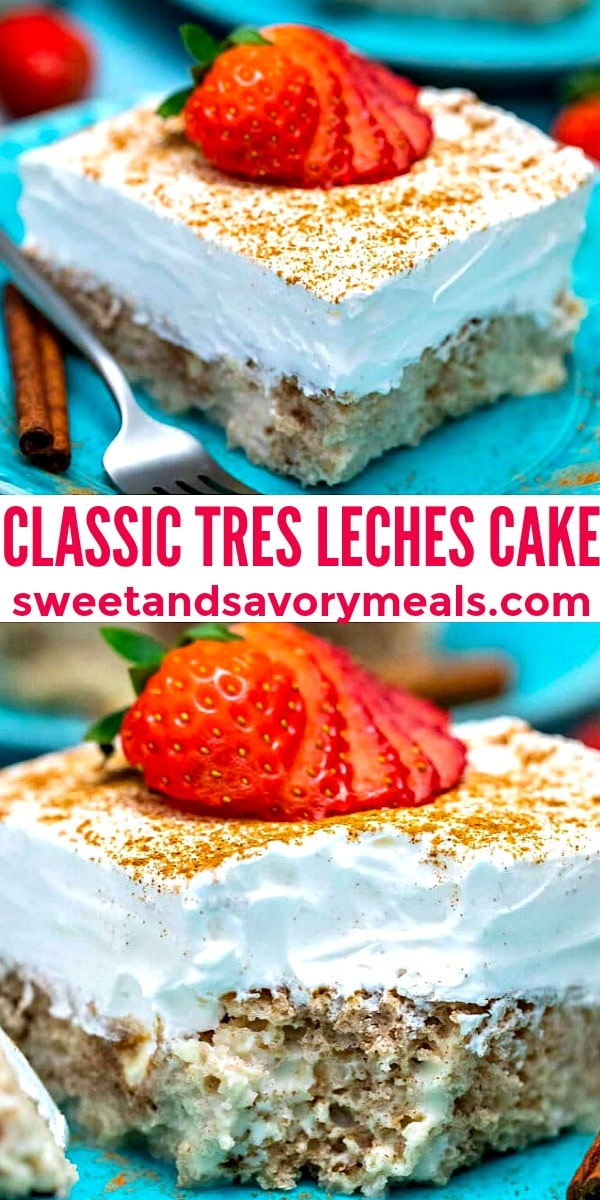 More recipes you might love
Categories: