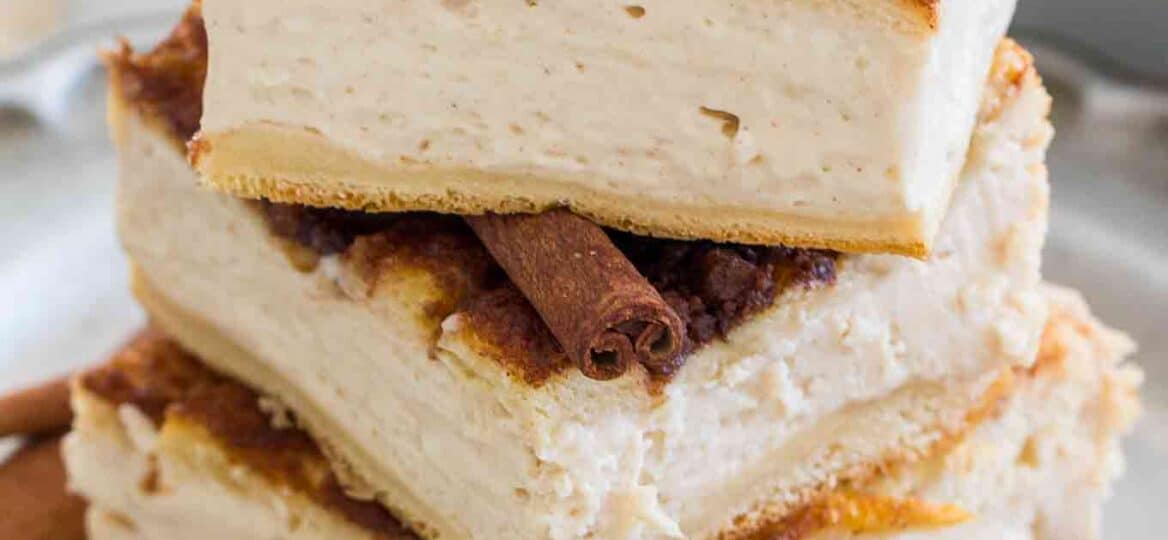 Best Sopapilla Cheesecake Recipe [Video]
Sopapilla Cheesecake Recipe is a very simple and delicious made with a thick layer of cheesecake, in between the crescent dough and topped with a cinnamon mixture.
Cheesecake recipes are very popular on the blog, being that cheesecake is my favorite dessert. You should also try these Pumpkin Cheesecake Bars, and the Cheesecake Factory Original Cheesecake copycat recipe.
Best Sopapilla Cheesecake Recipe
If I would have to choose a dessert to eat for the rest of my life, I would have a hard time choosing between cheesecake and ice cream. I probably make cheesecake every week, and I love the creamy texture and sweet taste, it's just the perfect combo for me. This Sopapilla Cheesecake is a new favorite around here. A creamy layer of cheesecake is baked between crescent dough that has been topped with a melted butter cinnamon sugar mixture!
This recipe is so simple and easy, that everyone can make it. You don't have to worry about cracks or other "cheesecake issues"! If you love, sopapillas, or snickerdoodles, or anything with cinnamon, this recipe is a must-try!
Usually, this Mexican Cheesecake is made with 2 packages of cream cheese, which you can do as well, but since I am a cheesecake fanatic, I firmly believe that more is better. I used 4 cream cheese packages, for a thick and creamy cheesecake layer.
I mean, this combo is the bomb, a sweet and cinnamony cheesecake layer, baked between pillowy crescent dough! The best part? A cinnamon brown sugar butter mixture is poured on top, so every bite you take is filled with a cinnamon flavor that is hard to resist and will remind you of Sopapillas.
What are Sapopillas?
A sopapilla is a crispy, deep-fried pastry, rolled in cinnamon and sugar, that is very common in Hispanic cuisine, especially in Mexico. It is often served covered with honey or syrup.
What do you need to make Sapopilla Cheesecake?
Cream Cheese – make sure your cream cheese is at room temperature. I like to use four packages for a thicker cheesecake layer, but you can also use two only.
Egg and White Sugar – make sure the egg is at room temperature
Brown Sugar – I prefer to use brown sugar for the cinnamon butter mixture, the flavor is deeper and so much better.
Cinnamon – I like to add a pinch to the cheesecake batter as well.
9×13 baking dish – I have this one and I love it.
Adding flour or cornstarch to a cheesecake:
Usually, the flour and/or the cornstarch are added to the cheesecake batter to avoid cracks. About 1/3 cup of flour and/or 1 tablespoon to1/4 cup of cornstarch is added to the batter with the sugar.
I also like that the addition improves the texture of the cheesecake, making it a bit firmer. I personally dislike the cheesecakes are so creamy, that they melt, or don't hold their shape well. You can add flour or cornstarch to this recipe or skip it, it's up to you.
Looking for more Cheesecake Recipes? Check these out: