Sopapillas Recipe [Video]
Last updated on June 18th, 2021 at 06:46 pm
Sopapillas are crispy, airy, delicious deep-fried pastries, that have been rolled in cinnamon sugar and served with a drizzle of honey.
If you haven't tried yet my amazing Sopapilla Cheesecake, you are definitely missing out. If you want to take it over the top, make some real Sopapillas, pile them up on top of the cheesecake bars, and drizzle with some honey right before serving. That will be a fantastic dessert!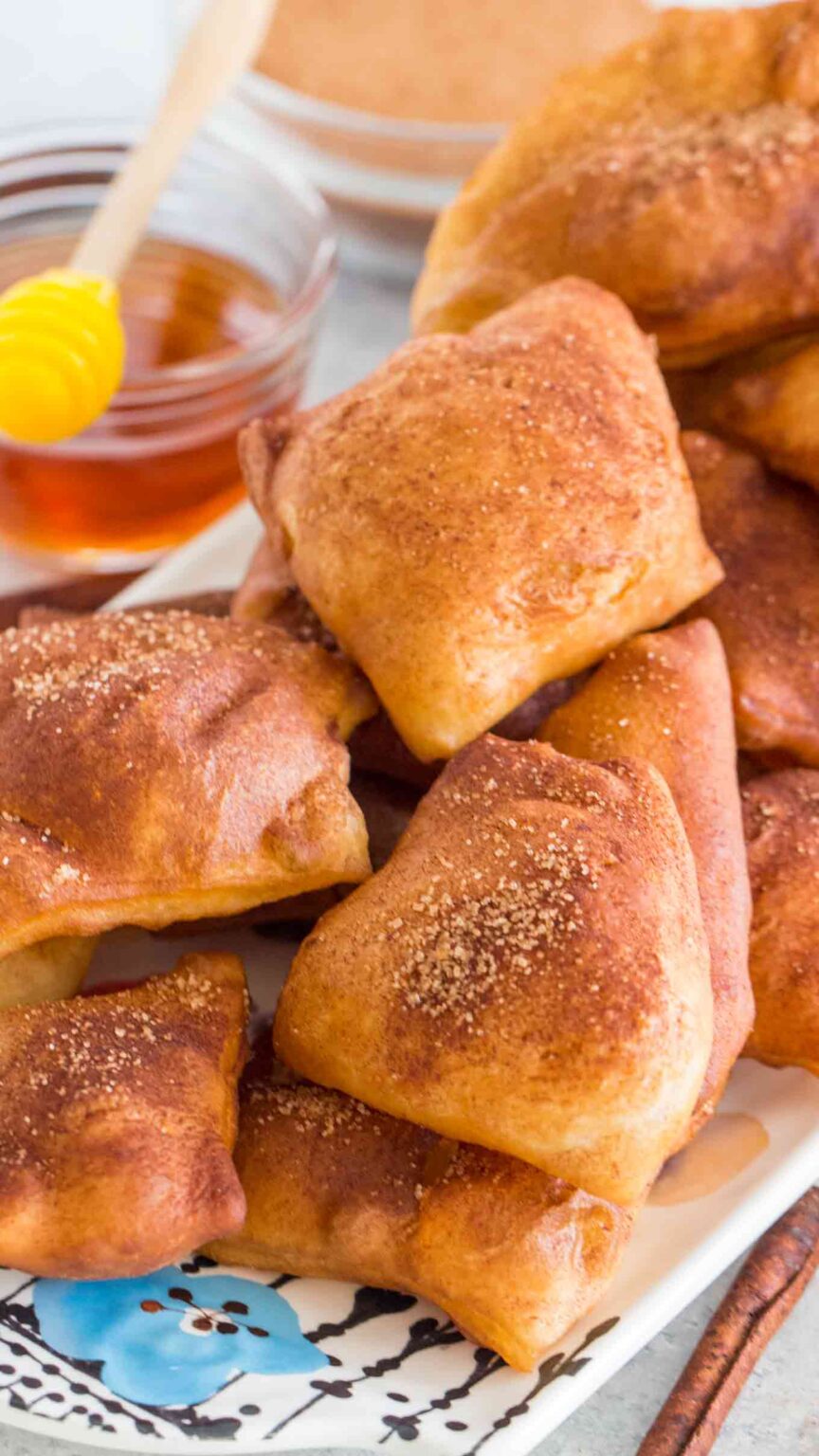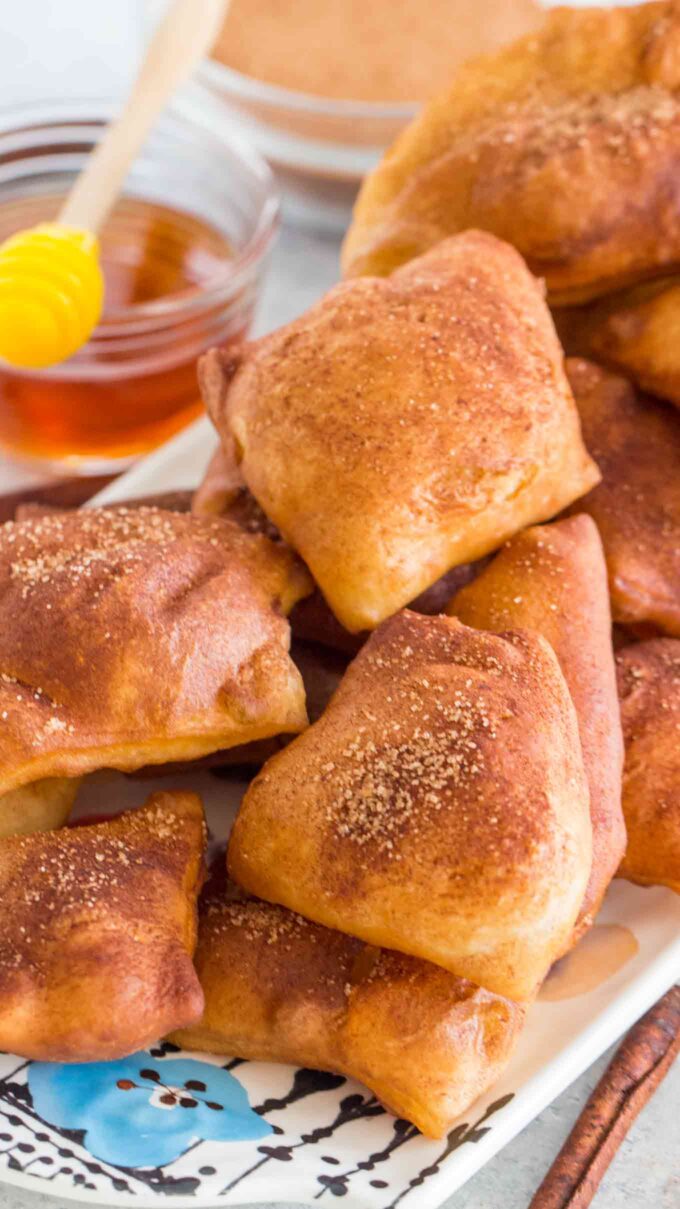 Homemade Sopapillas Recipe
Sopapillas are beautiful pillows of fried dough rolled in cinnamon sugar, and they are impossible to resist. Every time I travel to Mexico, I just can't get enough. These pastries are so easy to make at home and they are a hit at brunch parties. You can enjoy them pretty much any day of the week. Also, they are great for Christmas, birthday party, or simply in the morning with a cup of tea or coffee!
A Sopapilla is basically a golden brown pastry shell, that has been deep-fried to perfection. Inside there is nothing but air! Perfect Sopapillas should look like pillows and when you bite into one, you get the light crispiness of the dough and next to some amazing flakiness from the airy center.
What are Sopapillas?
It is a crispy pastry that is very popular in Hispanic cuisine. Sopapillas are deep-fried in oil and rolled in cinnamon and sugar. Usually, they are being served covered with a drizzle of honey.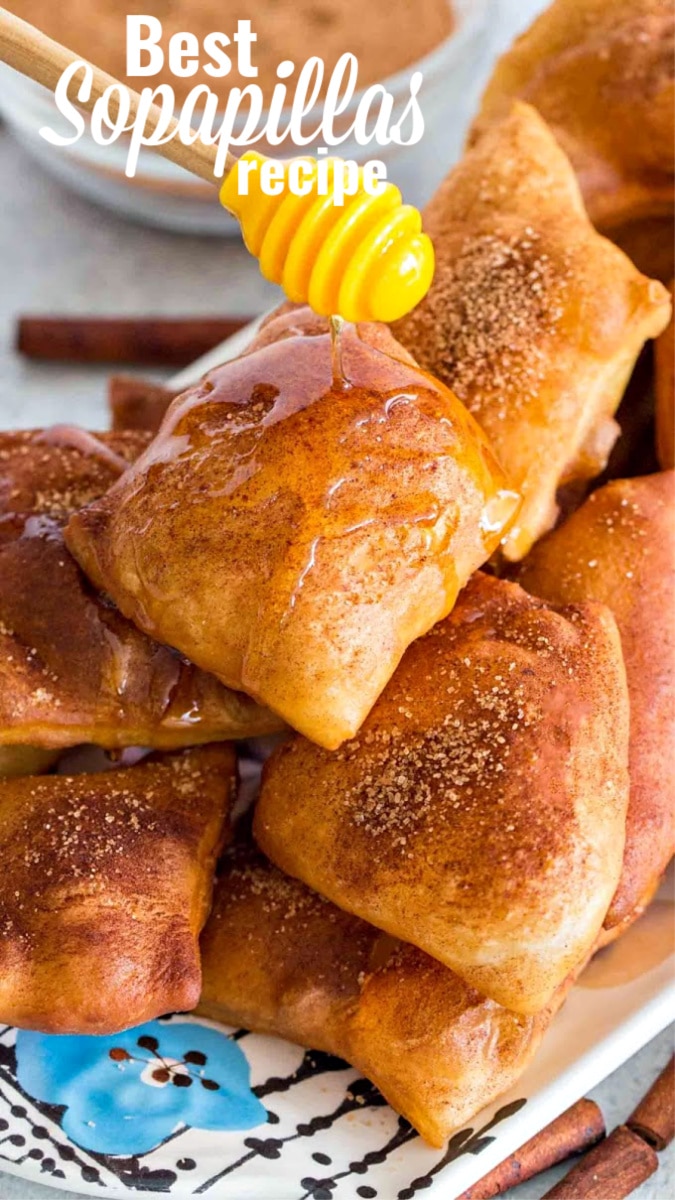 What do you need to make Sopapillas?
This dessert is fairly easy to make, you will need only a handful of ingredients that are very common.
Shortening
Flour
Sugar
Baking powder
Salt
Water
Milk
Cinnamon
How do you make Sopapillas?
First, you mix the dry ingredients in a large bowl: flour, sugar, baking powder and salt.
After that, using your hands or a pastry blender, combine the flour mix with the shortening.
Lastly, add the warm water and milk. Roll the dough into a ball and let it rest.
When ready to use, roll the dough, cut 2×2 inch or larger squares and deep fry.
Roll in cinnamon sugar and serve drizzled with honey.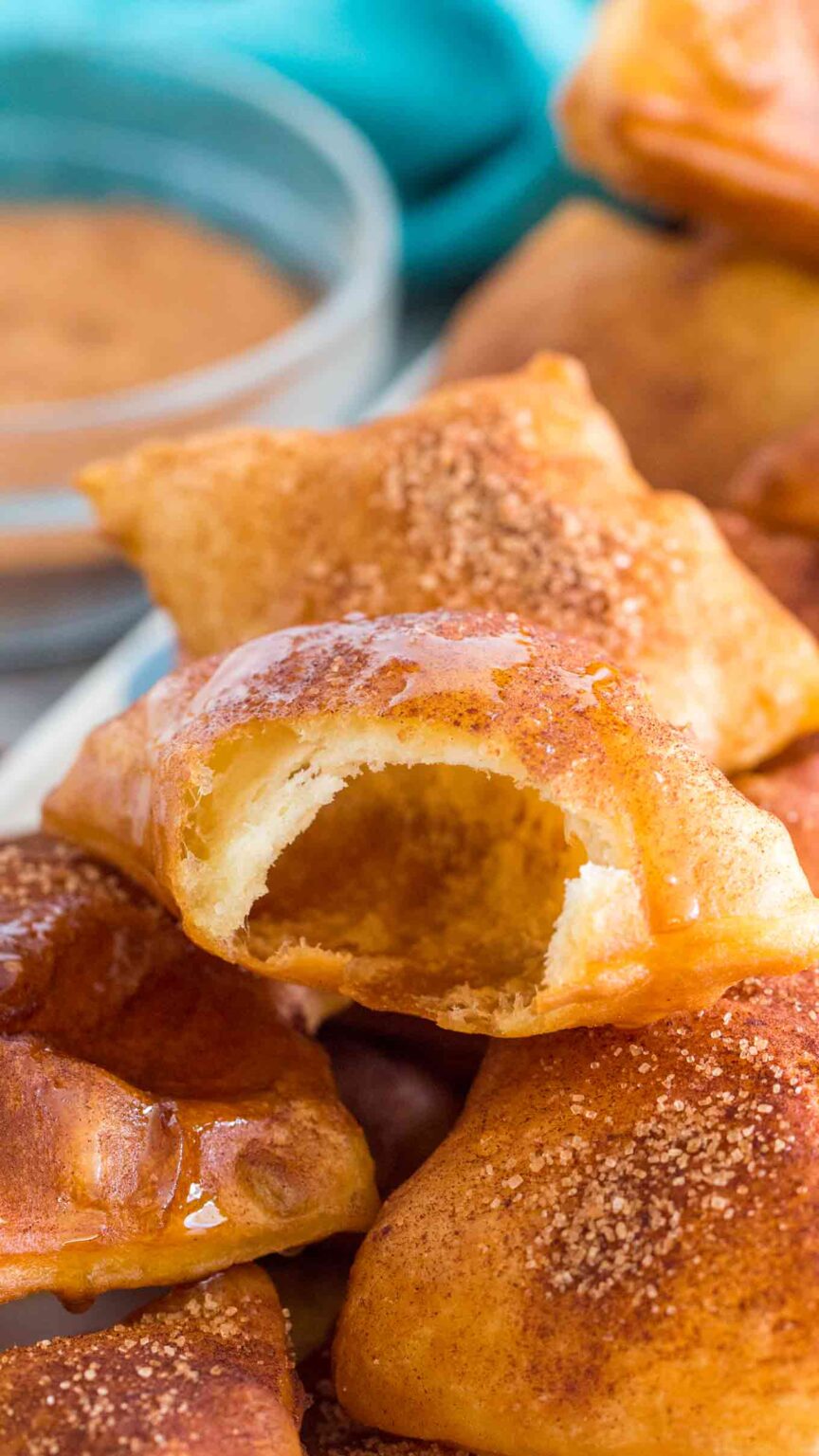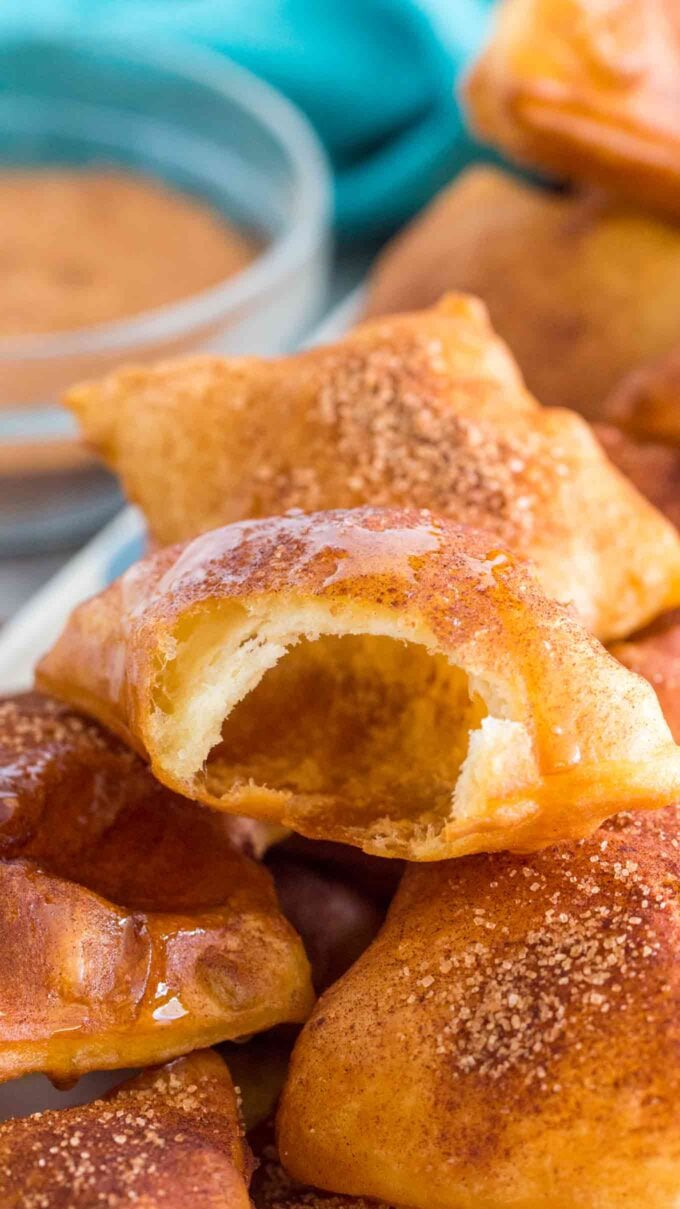 Can you substitute shortening with butter?
While I love butter, and in many instances, you can use butter instead of shortening, however in this Sopapillas recipe, I recommend using shortening.
Butter vs Shortening
What is Shortening and what does it do in baking?
Vegetable shortening is a fat made from vegetable oil and it is usually hydrogenated, so when you buy some, always make sure you choose a non-hydrogenated version. Shortening has a longer shelf life in comparison to butter and it's also cheaper, but it lacks the flavor of butter. A fun fact is that shortening is vegan.
While butter is usually about 80-85% fat and 15-20% water, shortening is 100% fat. Shortening has a higher melting point than butter, which makes sit easier to incorporate it into the dough that needs to be rolled out. Also, the dough made with shortening will hold its shape better during baking.
What does Butter do in baking?
Butter definitely has the best flavor, so it wins when it comes to making cookies, cakes or frosting. It also adds beautiful flakiness to pie crusts, due to the water content it holds.
But while it tastes good, it can be harder to work with, because of its lower melting point. If it gets too warm, the dough will be too soft to roll and it will tear easily. If it gets too cold, the dough will be more difficult to roll. You may have to transfer the dough in and out of the fridge several times.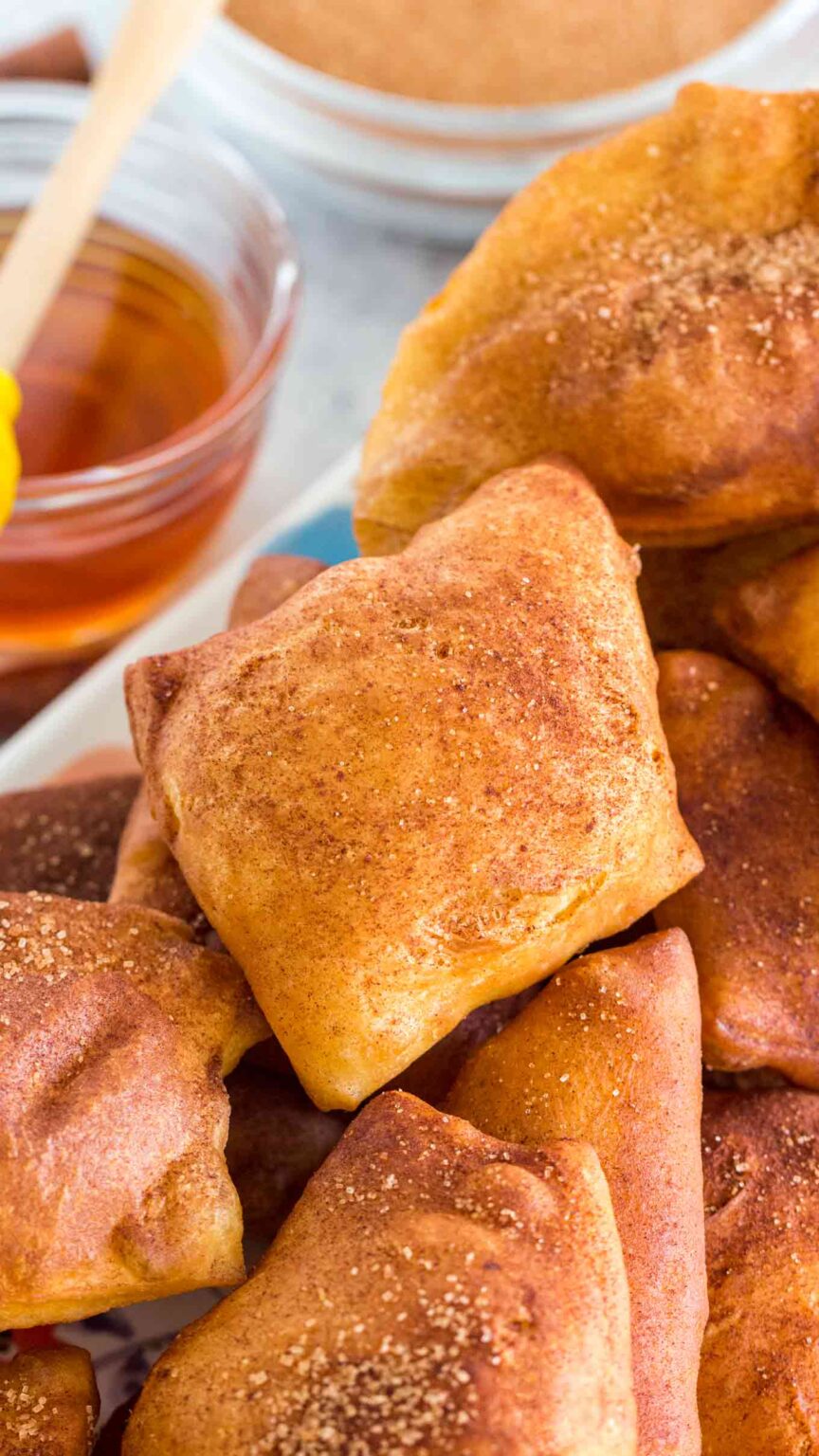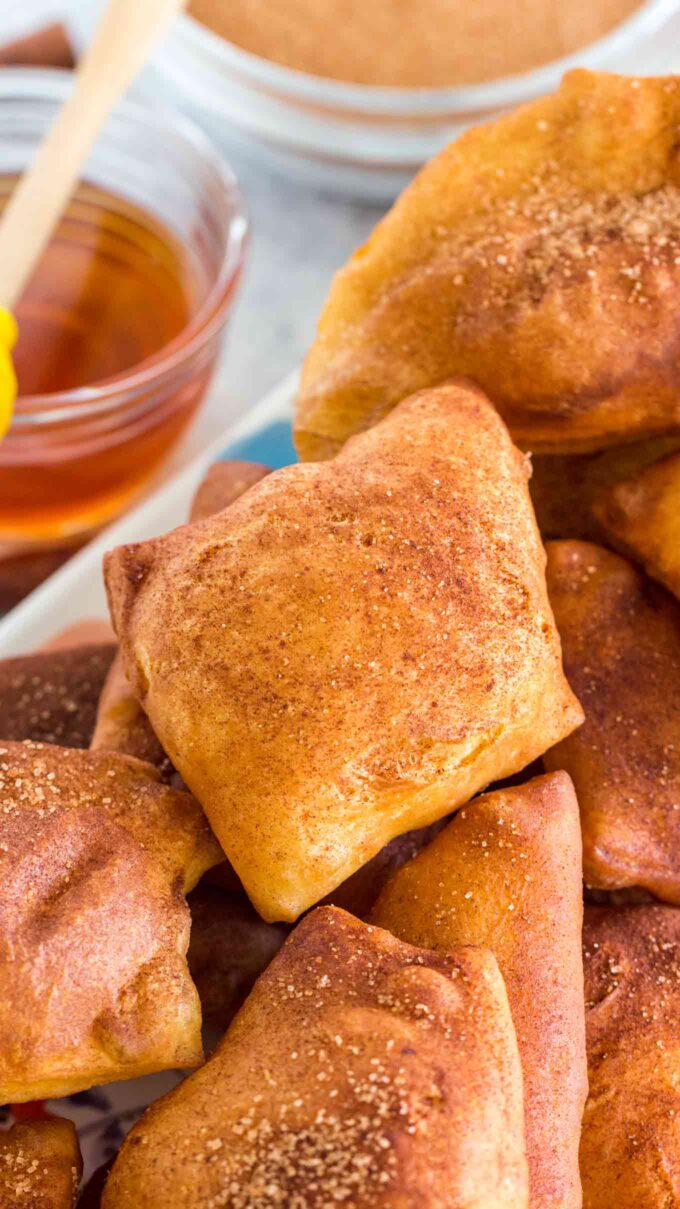 How do you make Homemade Cinnamon Sugar?
Ingredients:
1 cup white cane sugar
1 tablespoon cinnamon
Instructions:
In a small bowl add sugar and cinnamon and stir until fully combined.
Can you make Sopapillas dough in advance?
Yes, you can. The dough can be stored in the fridge for up to 24 hours.
More delicious desserts to try: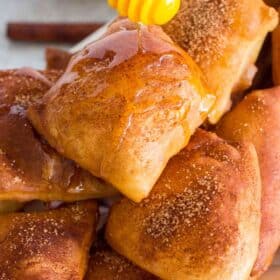 Sopapillas Recipe
Sopapillas are crispy, airy, deicious deep fried pastries, that have been rolled in cinnamon sugar and served with a drizzle of honey.
Save
Share
Print
Pin
Rate
Ingredients
Sopapillas:
3 1/3

cups

all-purpose flour

3

teaspoons

baking powder

2

tablespoons

white sugar

1

teaspoon

salt

2

tablespoons

vegetable shortening

3/4

cup

water

(lukewarm)

1/2

cup

whole milk

(lukewarm)

Vegetable or canola oil
Cinnamon Sugar:
1

cup

white cane sugar

1

tablespoon

ground cinnamon
Instructions
Sopapillas:
In a large bowl add dry ingredients: 3 cups of flour, baking powder, sugar, and salt. Whisk to combine.

Add shortening and using your fingers or a pastry blender, combine it with the flour mix until it is fully rubbed in and the mixture resembles sand.

Scoop a well in the center of the flour and shortening mix and add warm water and warm milk.

Using a wooden spoon, stir the mixture until well combined.

Once combined, use your hands to knead the dough, for about 5 minutes. If the dough is too sticky, add the remaining 1/3 cup of flour a little at a time. The dough should be just lightly sticky, easy to work with, soft and smooth.

Knead the dough into a smooth ball. If needed, transfer the dough to a lightly floured surface while you knead it.

Once you formed a ball, place the dough on a lightly floured surface and cover with a damp towel. Let it rest for 30 minutes. The dough can also be wrapped in plastic food wrap and refrigerated for 24 hours.
Fry:
After 30 minutes, cut the dough in 4, and roll each piece into a small, smooth ball. You can also skip cutting the ball into pieces, and just roll the entire piece, its just harder to work with it this way.

One by one, roll out each ball on a floured surface into an imperfect rectangle that is about 1/8-1/4 inch thick. Cut into 3 inch squares and arrange them on a tray that has been covered with parchment paper.

Add oil to a deep pan, saucepan or deep-fryer. If using a pan/saucepan, you need to fill it with at least 4 inches of oil.

Once the oil is hot, 375 degrees F, add Sopapillas a few at a time and fry until golden brown on both sides.

It is important to not add too many at the same time, depends how large is the pan or pot you are using. They should have enough room to puff up. Also, it is very important to move them around. Use chopsticks or two forks, to move them around the pan and turn on the other side.

Sopapillas have airy centers, they should inflate almost like balloons when added to the hot oil. When moving them around, turning or removing them from the pot, be gentle and careful, to not pierce them.

Cook only until golden brown on each side. Remove and place on a cooling rack that has been placed inside a baking dish. This is done to drain any remaining excess oil.
Cinnamon Sugar:
Add cinnamon and sugar to a large bowl and whisk to combine. Toss one by one, the still hot Sopapillas into the Cinnamon Sugar mixture or just sprinkle it on top.

Serve warm drizzled with honey.
Nutrition
Calories:
91
kcal
|
Carbohydrates:
18
g
|
Protein:
1
g
|
Fat:
1
g
|
Saturated Fat:
0
g
|
Cholesterol:
0
mg
|
Sodium:
86
mg
|
Potassium:
85
mg
|
Fiber:
1
g
|
Sugar:
8
g
|
Vitamin A:
35
IU
|
Calcium:
45
mg
|
Iron:
1.1
mg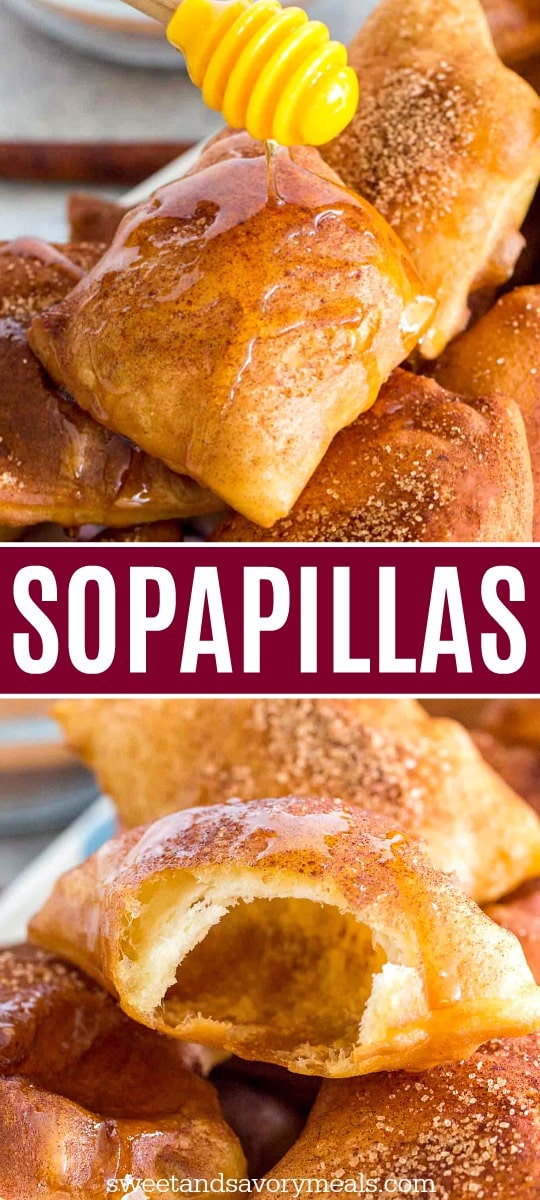 More recipes you might love