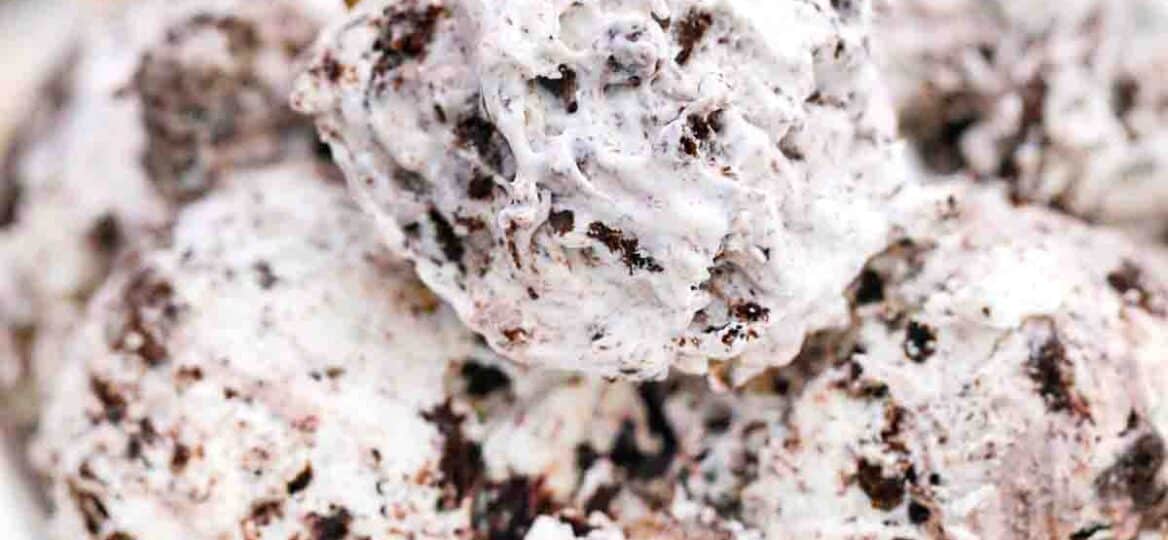 3 Ingredient Oreo Ice Cream Recipe
3 Ingredient Oreo Ice Cream is a quick and easy no-churn ice cream recipe, you can whip up an indulgent dessert in just a few minutes with just a few ingredients. Also known as cookies and cream ice cream, there is no ice cream maker required! It is super creamy and delicious. The kids and adults will absolutely love it. In fact, mine agreed this was soooo good, we should make it once a week!
Serious Oreo lovers would really enjoy this Easy Oreo Fudge also made with only three ingredients. All you need is sweetened condensed milk, Oreo cookies, and white chocolate and it only takes an hour to set! For an even faster 3-ingredient Oreo dish, try our 5-Minute Oreo Dessert. You just need Oreo cookies, butter, and heavy cream.
You may already know that it was Nabisco and Sam Porcello who invented Oreo sandwich cookies, but who invented Oreo cookies and cream ice cream? Both Edy's/Dreyer's and Blue Bell insist that they invented the delicious dish. However, most people believe that it came from South Dakota State University. It was the dairy plant and two students who created the iconic flavor in 1979 when trying to come up with an original flavor.
For this scrumptious Oreo ice cream recipe, all you need are three ingredients including Oreo cookies, heavy cream, and sweetened condensed milk. It is a great recipe to make with the kids or grandkids and requires no fancy gadgets like an ice cream maker. Any cooking foodie will love this fun recipe. And if you are worried about nutrition, calories, and fat, you can substitute regular Oreos with fat-free Oreos and use less sweetened condensed milk.
If you like homemade ice cream, we have several recipes for you to make with or without an ice cream machine. Our no-churn cherry ice cream does not need anything special. Just cherries, sweetened condensed milk, lime zest and juice, heavy cream, and powdered sugar. For those with an ice cream maker, try our blackberry ice cream made from milk, cream, vanilla beans, egg yolks, and mini chocolate chips. And it is topped with our homemade blackberry syrup.
Ingredients needed:
These are the only ingredients you need for this homemade Oreo ice cream recipe. When you are ready to begin, scroll down to our handy recipe card for step-by-step instructions and exact measurements.
Oreos
Sweetened condensed milk: Not evaporated milk.
Heavy whipping cream: It is best to use cold heavy cream.
How to make 3 ingredient Oreo ice cream from scratch?
Crush the cookies: First, crush the Oreo cookies in a plastic baggie using a rolling pin or one of your canned goods.
Beat the cream: Then, use a hand mixer or electric mixer to whip heavy cream and condensed milk in a large bowl or medium mixing bowl. Start out on a low speed until the ingredients are incorporated and then switch to high speed until stiff peaks form.
Fold in the Oreos: Next, gently fold the crushed cookies into the ice cream mixture. Stir gently.
Transfer to a pan: Lastly, scoop the batter into a three-pound loaf pan and sprinkle some chopped Oreos or Oreo crumbs on top.
Freeze before serving: Finally, cover with plastic wrap and freeze for at least six hours before serving.
Recipe variations:
Different Oreo flavors: Oreo has over 50 flavors. You do not have to use regular Oreos. Mix them up and try whatever flavors you like such as strawberry cream, peanut butter, or vanilla.
Other cookies: You can even use different kinds of cookies like vanilla wafers, mint cookies, or oatmeal.
Add-ins: Feel free to use whatever add-ins you like such as peanut butter, Nutella, cocoa powder, or mini marshmallows.
Add fruit: You could also add your favorite fruit. Cherry, strawberry, or raspberry would all be delicious.
Crunchy: Pour in some chopped nuts or granola for crunchier ice cream.
Add anything: You can add anything you like to this ice cream including chunks of brownie or cake batter.
Extract: Similarly, add your own favorite flavor to the ice cream with any kind of extract. Some great ideas are mint, lemon, and raspberry.
How to serve:
You can serve this homemade Oreo ice cream any time you feel like having a frozen dessert. Whether it is a snack or an after-dinner dessert, this recipe is so easy and inexpensive, you can have it every night! Try one of these fun serving suggestions or share some of your own ideas in the comments section at the bottom of the page.
This easy ice cream goes great with a slice of cake at a birthday party or another celebration.
Add a scoop of whipped cream on top for an extra creamy dessert. Try our easy and delicious homemade whipped cream recipe.
To make it an Oreo milkshake instead, just freeze it for two hours or until it is the consistency you like.
Pour some deliciously thick homemade caramel sauce on top for a richer dish.
You could also top your ice cream with chocolate syrup.
Fruit toppings are also a great idea. Our tangy and sweet strawberry sauce is incredible.
For festive ice cream, add a few tablespoons of rainbow sprinkles.
Frequently asked questions
What is the difference between stiff and soft peaks?
A stiff peak is one that stands on its own after you remove the beaters from the batter. The tips should not curl or bend over at all. Soft peaks will not hold their shape at all. Then, there are medium peaks. For these, the peaks will bend over a bit after you lift the beaters, but the rest of the shape will hold.
Why don't I need an ice cream maker?
By using chilled heavy cream and sweetened condensed milk, the mixture gets thick enough to freeze on its own. It is similar to frozen whipped cream. In fact, you can just use these two ingredients for vanilla ice cream or mix in whatever you like such as cookies, fruit, or candy.
Why is my ice cream runny?
You may not have left the ice cream in the freezer long enough. Put it back in for another few hours and check it again. If it is still not thick enough, place the pan inside a chilled mixing bowl filled with salt and ice. Then, put it back in the freezer for three to four hours. If that does not work, just eat it as a homemade Oreo ice cream milkshake.
What are the nutrition facts in this recipe?
Each serving has 689 calories, 77 grams carbohydrates, 131 mg cholesterol, and 360 mg sodium as well as 47 grams fat, 25 grams saturated fat, 1 gram trans fat, and 60 grams sugar. On the other hand, you also get 5 mg iron, 10 grams protein, 3 grams polyunsaturated fat, 14 grams monounsaturated fat, and 1 gram fiber. It also includes 435 mg potassium, 1,300 units vitamin A, 3 mg vitamin C, and 250 mg calcium.
How to store leftovers:
Store: You can store your leftover cookies and cream ice cream in a freezer-safe airtight container in the freezer for two to three weeks.
More Oreo desserts to try:
Recipe tips:
For faster prep time, use a food processor or blender to crush the cookies.
Make sure you use whipping cream with at least 35% milkfat to have a creamy texture.
To speed up freezing time, place the mixing bowl and your beaters in the freezer for 30 minutes before using them.
Also, use chilled cream and sweetened condensed milk for faster freezing.
When serving, dip your ice cream scoop into hot water to get clean, easy scoops.
You should also take the ice cream out about 10 to 15 minutes before serving.
Add a layer of plastic wrap right on top of the ice cream to prevent freezer burn.
The freezing time can vary depending on the temperature and size of your freezer.
3 Ingredient Oreo Ice Cream
Ingredients
14

Oreo cookies

crushed - plus more to sprinkle on top

14

oz

can sweetened condensed milk

16

oz

heavy whipping cream
Instructions
First, add Oreo cookies to a plastic bag and using a rolling pin crush them.

Then, add the heavy whipping cream and sweetened condensed milk to a medium bowl. Use an electric mixer to beat the mixture until stiff peaks form. Start out at a low speed and gradually increase to a high speed.

Next, using a rubber spatula, gently fold the crushed cookies into the mixture.

Finally, scoop the mixture into a three-pound loaf pan and sprinkle more chopped Oreos on top.

Cover with plastic wrap and freeze for at least six hours before serving.

Let the ice cream soften at room temperature for 15 minutes, before scooping and serving.
Deliciousness to your inbox
Enjoy weekly hand picked recipes and recommendations