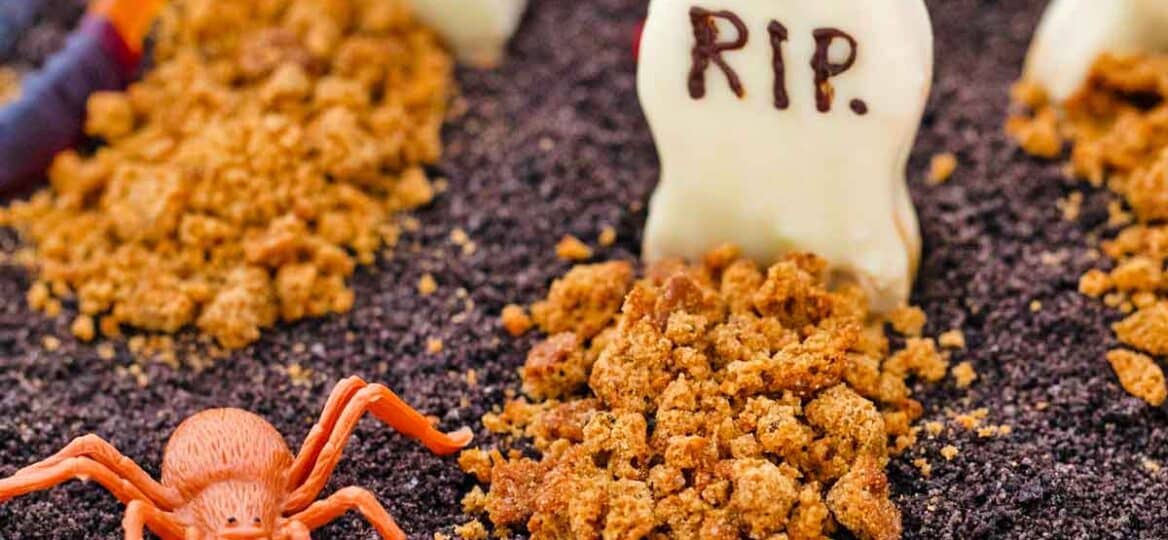 Oreo Dirt Pie is a fun and delicious dessert made with just a handful of ingredients, easy to make with kids, and perfect for Halloween. Prep time is just minutes too! The only thing that takes time is the chilling, but you can make it the night before you serve it to solve that issue. It is cute enough for a kids' birthday party or any kind of family gathering you have planned. Perfect for a Halloween party too!
The dirt cake was a twist on the Mississippi Mud pie dessert popular in the 1960s. The pie was made with an Oreo crust, chocolate pudding, gooey brownie, and whipped cream. Although we are not quite sure who made it first, this version of the mud pie originated in the United States in the 1970s. Some say it was the pudding company, Jell-O that started it.
This is one of those easy desserts you can make ahead of time and have ready when you need it. For this yummy dessert, all you need are a few ingredients including instant pudding mix, cookies, Cool Whip, butter, half and half, and gummy worms. You can exchange the worms for other decorations to make your pie unique like candy pumpkins, skeletons, gravestones, and spiders for Halloween.
Ingredients needed:
To make this easy no-bake dessert, gather the ingredients listed here. Then, find the recipe card at the bottom of this page for the instructions and measurements.
Oreo crust:
Oreo cookie crumbs: Approximately 22 cookies.
Melted butter
Pudding layer:
Oreo cookie crumbs: About 11 cookies.
Cool Whip

Half and half
Instant chocolate pudding
Dirt topping:
Oreo cookie crumbs: About six cookies.
Gummy worms
How to make Oreo dirt pie from scratch?
Make the crust: First, add the Oreo cookie crumbs and melted butter into a small mixing bowl. Stir together until all the cookie crumbs are coated and it resembles wet sand.
Chill: Next, use your hands or a measuring cup to push the Oreo crust mixture into the bottom and sides of a pie plate and freeze for 20 to 30 minutes.

Make the pudding filling: Now, use an electric mixer to whip the half and half and chocolate instant pudding mix in a large mixing bowl. Whisk for one or two minutes until the pudding is dissolved and starts getting thick. Let it sit for five minutes to get even thicker.
Stir in the rest: Next, stir in the Oreo cookie crumbs. Then fold in the Cool Whip with a spatula.
Chill some more: Then, spread the pudding mixture evenly in the crust. Cover with plastic wrap and chill for at least six hours before serving. Six to eight hours is better.

Make the dirt layer: Last, remove the pie from the refrigerator, sprinkle the cookie crumbs over the top, and use the end of a wooden spoon to make holes to put the gummy worms in.

Serve cold: Finally, serve cold in a glass dish or large bowl.
Recipe variations:
Variations: Change the flavor of your crushed Oreo cookies to give this delicious chocolate pie any flavor. For example, try chocolate Oreos or mint Oreo cookies instead of the classic Oreo cookies.

Double-stuf: Use double-stuf cookies for an even creamier dessert. The extra filling makes a big difference.
Other flavors: Try making this easy no-bake dirt pie with other flavors of pudding mixture like instant vanilla pudding mix or even butterscotch instead of chocolate pudding mix.

Use a different crumb crust: You could also use a different pie crust like a chocolate graham cracker crust.

Mini dirt pies or dirt cups: Make and serve these in individual cups for dirt pudding cups. You can use any kind of cup, but clear ones are best for seeing the layers.

Cream cheese mixture: For a thicker pie, add a block of whipped cream cheese.

Sweeter pie: For an even sweeter Oreo dirt pie, add 1/4 cup of powdered sugar to your whipped topping.
How to serve:
This easy Oreo dirt dessert is great for family gatherings, holiday parties, or just a fun dessert for the family. You can use one of the variations above to change it up or suggest some ideas in the comment section. Here are some great serving ideas you can try.
Serve this showstopper dessert in a trifle dish or trifle bowl so everyone can see the layers when it is sitting on the dessert table.

Make your own homemade whipped cream with our great whipped cream recipe for a richer and creamier pie.

Top your crushed Oreos with Halloween decorations like orange and black sprinkles, mini-pumpkins, and candy spiders for a cool Halloween pie.

Serve a scoop of ice cream on the side. We have an awesome recipe for Oreo ice cream with only three ingredients!
Similarly, mix some sprinkles in with your Oreo crumbs throughout the pie for even more delight.

Add some caramel sauce to the top of your dirt pie to make a muddy dirt pie.

Make this fun recipe even more entertaining by serving it in a plastic bucket using a plastic shovel for a serving spoon.
Frequently asked questions
What is the best way to crush Oreos?
You can use a food processor or high-powered blender to blend them into a crumbly texture. Or, just put them in a Ziploc bag and pound them until they are crumbs. This is actually a fun way to relieve stress. Use a rolling pin or can of veggies or soup. Anything heavy will work. Use a freezer bag to prevent it from breaking.
How can I make this faster?
If you absolutely cannot wait six to eight hours, you can cut that to four or five hours if you need it quickly. Or, put it in the freezer to chill for two hours and you should be able to serve it then. Just make sure the pie is set when you cut it, or it will be more like pudding than pie. Another option is to make it the night before and let it chill overnight.
What is the difference between dirt pie and dirt cake?
Dirt cake is similar, but it does not have a crust. A dirt cake, also known as Dirt and Worms, is an easy dessert made with chocolate cookie crumbs, vanilla pudding, cream cheese, and a few other ingredients. It is also topped with gummy worms to give it a more kid-friendly appeal.
What can I use instead of pudding?
If you do not have any chocolate pudding, you can use any flavor you have. Just make sure it is instant pudding mix or it will not set right. If you do not have any pudding at all, mix chocolate milk with double-stuf Oreo cookie crumbs. After it is completely mixed, let it chill for several hours in the fridge to set.
What are the nutrition facts in this recipe?
Worried about nutrition, calories, and fat? Here are the approximate numbers for this great dessert. Each serving has 518 calories, 24 grams of fat, 11 grams of saturated fat, 71 carbs, 40 mg of cholesterol, 43 grams of sugar, and 530 mg of sodium. On the other hand, you also get 11 grams of unsaturated fats, 439 units of vitamin A, 1 mg of vitamin C, 100 mg of calcium, 7 mg of iron, 6 grams of protein, and 260 mg of potassium.
More halloween recipes to try:
How to store leftovers:
Store: You can store your leftover Oreo dirt pie in an airtight container in the fridge for four to five days.

Freeze: Freezing is not recommended. The cookies get soft, and the pudding turns watery.
Recipe tips:
If you do not have a food processor, just put the Oreo cookies into a ziplock baggie and smash them with a rolling pin or meat tenderizer. You could even use a can of veggies. Use freezer bags because they are thicker and will not break open.
It is best to let your pie chill overnight, but you can shorten that to four to six hours.

Make sure you use instant pudding mixture and not cook and serve pudding. It will not set properly unless you use instant.
For faster prep time, use a store-bought Oreo cookie crust so you do not have to make your own.
If using unsalted butter add ¼ teaspoon salt in with the crushed cookies and butter.
You can use cold milk instead of half and half but make sure it is whole milk.

Feel free to use any kind of chocolate sandwich cookies instead of Oreos for this delicious recipe.
Looking for other dessert cuisine? You can find all kinds of delicious recipes on our food blog.

Set your phone on cook mode so it does not go dark while you are preparing your pie.
Oreo Dirt Pie
Ingredients
Oreo crust:
2

cups

Oreo cookie crumbs

about 22-24 whole Oreo cookies

6

tablespoons

unsalted butter

melted
Chocolate pudding filling:
1

box

instant chocolate pudding

3.9 oz

1 1/2

cups

half and half

1

cup

Oreo cookie crumbs

about 11-12 whole Oreo cookies

8

ounces

Cool Whip

thawed
Topping:
1/2

cup

Oreo cookie crumbs

about 6-8 whole Oreo cookies

6

gummy worms

RIP cookies

Edible eyes

Spiders
Instructions
Oreo crust:
Add the crumbs and melted butter to a small mixing bowl and stir together until well combined and the mixture resembles wet sand.

After that, transfer the mixture to an uncreased 9-inch pie dish and firmly press it onto the bottom and up the sides. Place the pie plate in the freezer for 20 minutes.
Chocolate pudding filling:
Next, while the crust is chilling, in a large mixing bowl, whisk together the dry chocolate instant pudding mix and half and half. Whisk for 1-2 minutes until the mixture starts to thicken. Let the pudding sit for 5 minutes to thicken even more.

After that, stir in the Oreo cookie crumbs and the Cool Whip until fully combined.

Transfer the chocolate filling to the prepared Oreo crust and spread it evenly.

Cover the pie plate with plastic wrap and refrigerate for at least 6 hours or overnight before serving.
Toppings:
Right before serving, remove the pie from the fridge and sprinkle the Oreo cookie crumbs on top to create the 'dirt'.

Garnish with RIP cookies, spiders, worms, and edible eyes.
Deliciousness to your inbox
Enjoy weekly hand picked recipes and recommendations