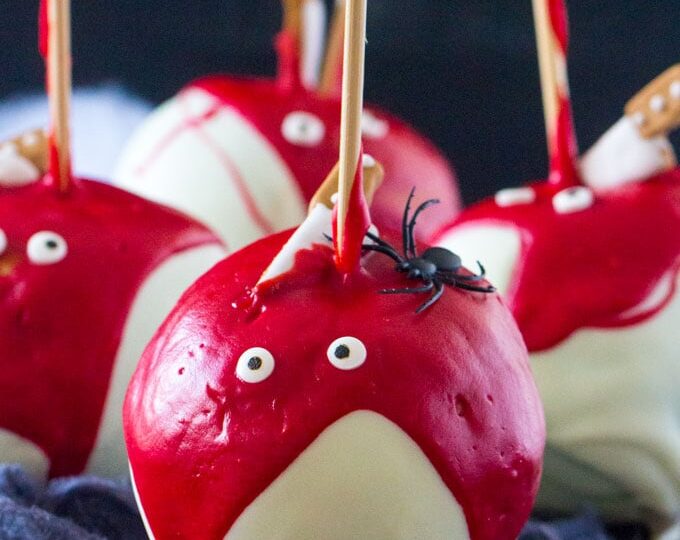 Bloody Halloween Desserts 4 Ways [VIDEO]
Bloody Halloween Desserts four ways are a fun and easy way to take your Halloween treats to a new scary, delicious and fun level! Watch the recipe video tutorial below and see how fun they are to make! Kids and adults are guaranteed to love them!
Best Halloween Desserts
These desserts are one fun way to make your Halloween even scarier, spookier and tastier!! These recipes are very easy to make! Impress your friends with the most colorful and bloody dessert table. They are quite festive, spooky looking, and yet surprisingly delicious.
If you are looking for some great dessert ideas for Halloween, then these desserts would be a perfect fit. They are not very complicated to make, and are guaranteed to make an impression with everyone! Give them a try, and you will see how easy and delicious they are!
Here is a fun, 2-minute video of how to make these four desserts!
First is the Bloody Halloween Desserts Chocolate Dipped Apples. The items used are:
Second is the Toxic Cupcakes. The items Used are:
I made the cupcakes and the frosting using this recipe.
Cherry pie filling.
Thirdly is the Bloody Halloween Desserts Brownie Ghost Graves. The items used are:
I made the brownies using this recipe, skipped the walnuts and added some cherry pie filling.
Lastly, is the Bloody Halloween Desserts Witch Fingers. The items used are:
Orange Cake Mix.
Vanilla Frosting.
Red frosting – blood.
Chocolate Frosting – dirt.
Silvered Almonds – nails.