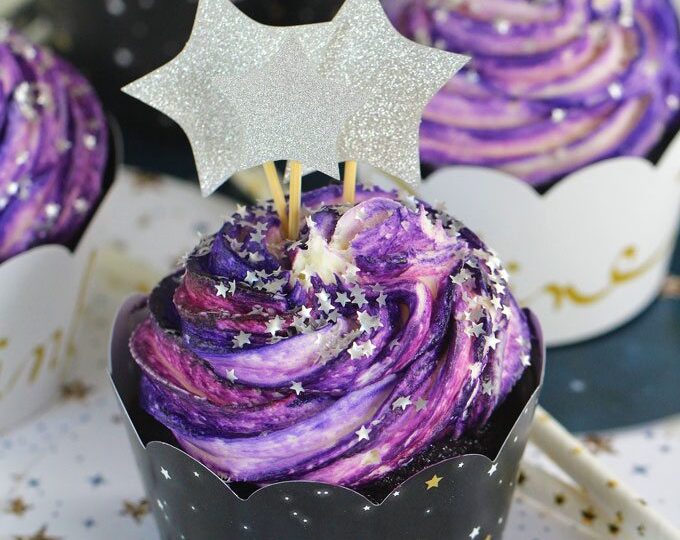 Galaxy Cupcakes – With a Trick! [VIDEO]
Galaxy Cupcakes are made easy with no colored buttercream trick. No more mess and fuss, these Galaxy Cupcakes are super delicious and very easy to make.
These Galaxy Cupcakes are so pretty and tasty, that is perfect for themed parties, and is a hit with kids and adults alike! I am obsessed with the color purple, and I love making Unicorn Cupcakes, Magic Purple Cake and Purple Muffins.
Galaxy Cupcakes
Galaxy Cupcakes are pretty and mesmerizing, but usually making them can be a long process with many messy bowls, which is not the case here. Introducing you to Galaxy Cupcakes that are a breeze to make and you don't have to color the buttercream.
You read that right, this buttercream hasn't been colored at all! I am going to show you an easy trick, that will help you make gorgeous Galaxy Cupcakes mess-free, hassle-free and they will be a hit with kids. These treats are not only pretty and fun to make, but they are simply the BEST cupcakes you can get! Kids and adults love them, and they are great for any occasions. Also, you could use different colors to match your desired theme!
Why You Will Love This Galaxy Cupcake Recipe:
Very easy to make with minimal bowls to clean.
A great recipe to make with kids.
Delicious and gorgeous, these cupcakes will be the highlight of any party!
You can make them in your favorite flavors and colors!
If you love gorgeous and delicious cupcakes, check these recipes too:
Pin This Galaxy Cupcake Recipe to your Favorite Board
Galaxy Cupcakes Recipe Tips:
I used my go-to recipe for the cupcake batter, but you can use any recipe that you like. I really like this one, as the cupcakes are moist and soft. You can also use a store-bought cupcake mix and add the gel food color to it.
For the best cupcakes and for them to rise nicely in the oven, do NOT over-mix the batter.
After you put the cupcakes in the oven, do NOT open the oven door for 15 minutes.
When working with gel food color be extra careful, it can easily stain your hands, counter or carpet. Cover the surfaces accordingly. The stain will wash off your hands in about 24 hours, if you want to keep your hands clean, you can wear silicone gloves.
When coloring the inside of the bag keep in mind that the thinner the gel, the lighter the color of the frosting will be. I like to pile colors on top of each other, like pink on top of purple, and where it meets and it's more concentrated it creates black.
Also, you can also play with other colors that you like, there is no right or wrong. I like using Violet, Pink and Metallic Silver, but can use shades of dark blue, grey, black, even mix in some edible silver dust.
I always recommend that you color a bag, add a little frosting and do a test, this way you will learn first hand if you need to add more color if it should be more concentrated, so a test run is always good when trying a new technique.
Can I add different flavors to the batter?
You can add different flavors to the batter, almond extract, vanilla extract, cherry extract or even lemon are delicious options.
Should I use shorting for the frosting?
When making the buttercream, it has a lot of sugar so it can hold its shape when piped. I do not like the taste of shortening, so I only use butter in my frosting. If you want to use shortening, to create even a stiffer buttercream, replace half of the butter with shortening. The sugar amount stays the same in both cases.
Can I eat the cupcake right away?
Do NOT eat the cupcakes right away, the gel food coloring is very fresh and in some spots more concentrated, so it will easily stain the hands and mouth and if you serve these to kids since the frosting is not settled there is a higher chance to end up with a mess.
Best, refrigerate the cupcakes for one hour before serving and serve them at the table, don't let kids walk around the house with them.
Tools/Ingredients I used to make the Galaxy Cupcakes Recipe:
Watch Galaxy Cupcakes and Frosting Recipe Video: