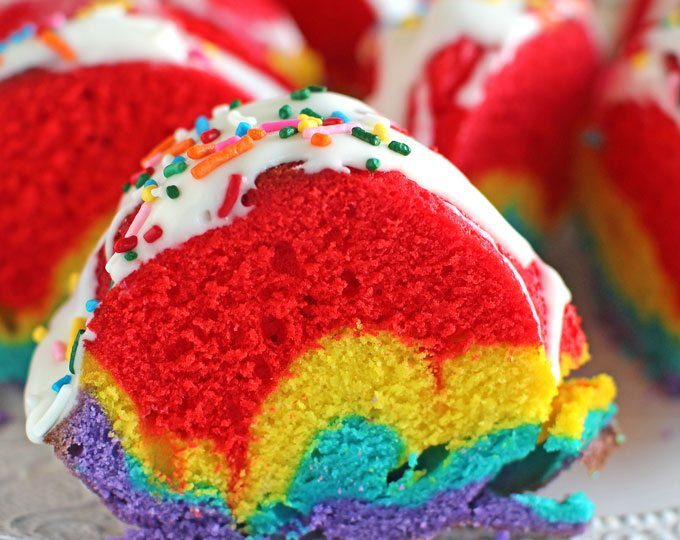 Rainbow Bundt Cake [video]
Rainbow Bundt Cake is very easy and fun to make, the gorgeous colors make the cake festive and perfect for a special occasion. Watch the recipe video tutorial below and see how simple and easy this is!
We love delicious and colorful cakes. This one is perfect for holidays such as Easter, or Valentine's Day. You can also check out carrot cake cheesecake and mint chocolate chip cake.
Rainbow Bundt Cake
This Rainbow Bundt Cake is so easy to make and such a fun project to bake with kids. It looks very festive and beautiful, no one will ever assume that it can be done in less than one hour. To have gorgeous and vibrant colors is key to use gel food colors. They are way more intense and look so pretty.
The cake itself is a classic vanilla-flavored bundt cake, that is tender and moist. It is finished with a sweet glaze and more colorful sprinkles. You can skip the glaze, as the colorful colors are enough to make this dessert stand-out.
Why You'll Love this Recipe:
Festive and colorful, perfect for a special occasion or birthday party
Very easy to make, the cake is done in under one hour
Endless colorful possibilities, mix and match as you like
Delicious flavor and texture
So good that kids and adults will love it equally
The perfect project to do with the kids, everyone will have so much fun
Recipe Tips:
I prefer using a silicone bundt cake pan when baking bundt cakes. It just makes the removal process so much easier and it's guaranteed that the cake won't stick to the pan.
Using gel food color is key here, as it won't add much extra liquid to the batter. A few drops will create gorgeous colors.
Be careful when you add another colored layer. Carefully level it out with the back of a spoon or spatula on top of the other level, without mixing it in.
If you will be using a silicone bundt cake pan consider that it heats up quicker than a regular pan, so check for doneness a few minutes earlier.
How to Freeze a Bundt Cake:
Wrap tightly in clear wrap and after that either add it to a freezer-safe bag or wrap in foil. Freeze for up to 3 months. When ready to enjoy, thaw in the fridge overnight.
Tools/Ingredients used to make this Recipe:
Gel Food Coloring – this set comes in a variety of colors and it won't water down your recipe.
Silicone Bundt Cake Pan – I like how easy it is to bake using silicone pans, they are non-stick which helps a lot with cake removal.
Watch recipe video:
Love Rainbow recipes? Check these Mini Rainbow Cheesecakes:
And how about toast on Rainbow Bread: