Rainbow Bundt Cake is very easy and fun to make, the gorgeous colors make the cake festive and perfect for a special occasion.
This post contains affiliate links at NO extra cost to you, I just like sharing the things that I love and worked for me. Thank you for your support and for reading Peas & Peonies.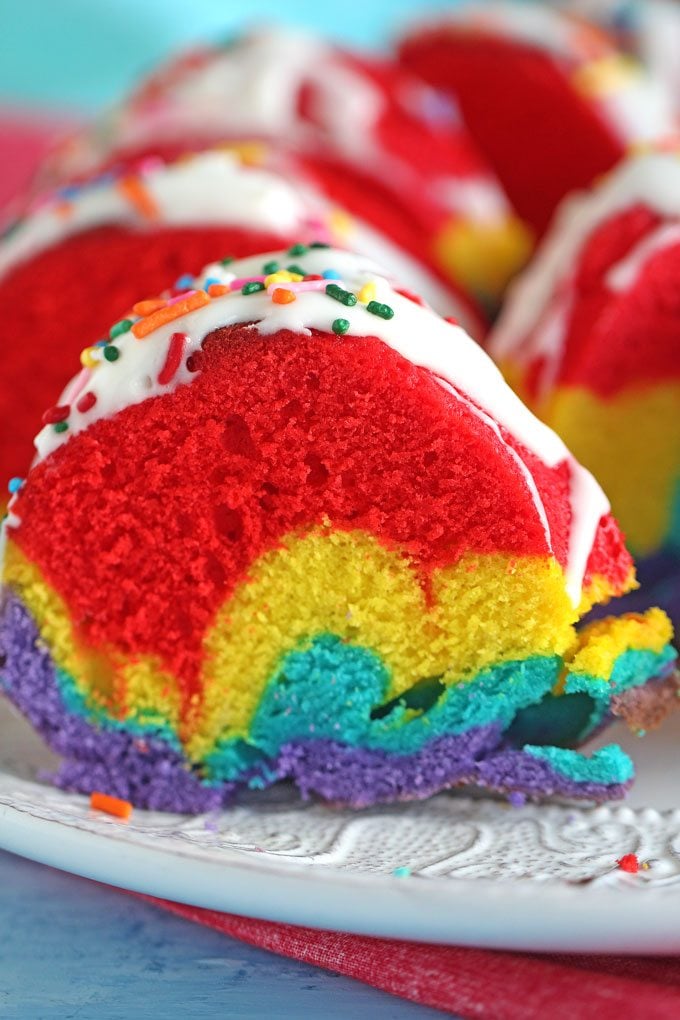 Rainbow Bundt Cake is so easy to make and such a fun cake to bake with kids. The cake looks very festive and beautiful, no one will ever assume that it can be done in less than one hour. To make the cake taste extra fresh, I substituted the usual vanilla flavor with peach extract, and it gave the cake an incredible aroma! This Rainbow Bundt Cake is soft, sweet, moist and it will be a hit with kids and adults.
Tips and Tricks To Make The Perfect Rainbow Bundt Cake:
I prefer using a silicone bundt cake pan when baking bundt cakes, it just makes the removal process so much easier and its guaranteed that the cake won't stick to the pan
Using gel food color is key here, as it won't add much extra liquid to the batter, a few drops will create gorgeous colors
Be careful when you add another colored layer, carefully level it out with the back of a spoon or spatula on top of the other level, without mixing it in
If you will be using a silicone bundt cake pan consider that it heats up quicker than a regular pan, so check for doneness a few minutes earlier
Why You'll Love This Rainbow Bundt Cake:
Festive and colorful the Rainbow Bundt Cake is perfect for a special occasion or birthday party
Very easy to make, the cake is done under one hour
Endless colorful possibilities, mix and match as you like
Delicious flavor and texture
So good that kids and adults will love it equally
Perfect project to do with the kids, everyone will have so much fun
Tools/Ingredients I used to make this Rainbow Bundt Cake Recipe:
Gel Food Coloring – this set comes in a variety of colors and it won't water down your recipe
Silicone Bundt Cake Pan – I like how easy it is to bake using silicone pans, they are non sticks which helps a lot with cake removal
Peach Extract – A very sweet and fresh peach flavor that is so perfect in cakes and frostings
Rainbow Bundt Cake
Rainbow Bundt Cake is very easy and fun to make, the gorgeous colors make the cake festive and perfect for a special occasion.
Author:
Katalina Kastravet
Ingredients
1 cup granulated sugar
1 stick (1/2 cup) unsalted butter, softened
2 eggs, room temperature
1 cup milk
2 teaspoons peach extract*
2 cups all-purpose flour
2 teaspoons baking powder
¼ teaspoon salt
5-8 drops purple gel food color
5-8 drops blue gel food color
5-8 drops yellow gel food color
5-8 drops red gel food color
Peach Glaze:
1½ cups powdered sugar
3 - 5 tablespoons milk
1 teaspoon peach extract
Instructions
Preheat oven to 350°F.
Grease and flour a silicone or regular bundt pan. If using a silicone bundt cake, place it on top of a baking sheet pan.
In the bowl of a mixer, beat together granulated sugar and butter, stop once to scrape the sides and bottom of the bowl.
Add eggs one at a time and beat on medium speed until well blended.
Change speed to low and add milk and peach extract. Increase speed back to medium and mix well. Add flour, baking powder and salt and beat about 1 minute or until smooth. Stop once to scrape the sides and bottom of the bowl.
Divide batter into 4 bowls and stir in gel food color with a spatula until well combined.
Add the colored batter into the prepared pan, start with red followed by yellow, blue and purple.
Bake for 30-35 minutes or until toothpick inserted into center comes out clean.
Let cake cool into the pan on a wire rack for 10-15 minutes. Gently loosen cake from pan and turn out onto wire rack; cool completely before icing.
Peach Glaze:
Add powder sugar, 3 tablespoons milk and peach extract into a medium bowl and mix until fully incorporated and smooth. If glaze is not runny enough, add more milk. You need the glaze to be thick enough to hold it's "drip" on the cake, but runny enough to pour.
Notes
You can use vanilla extract as well.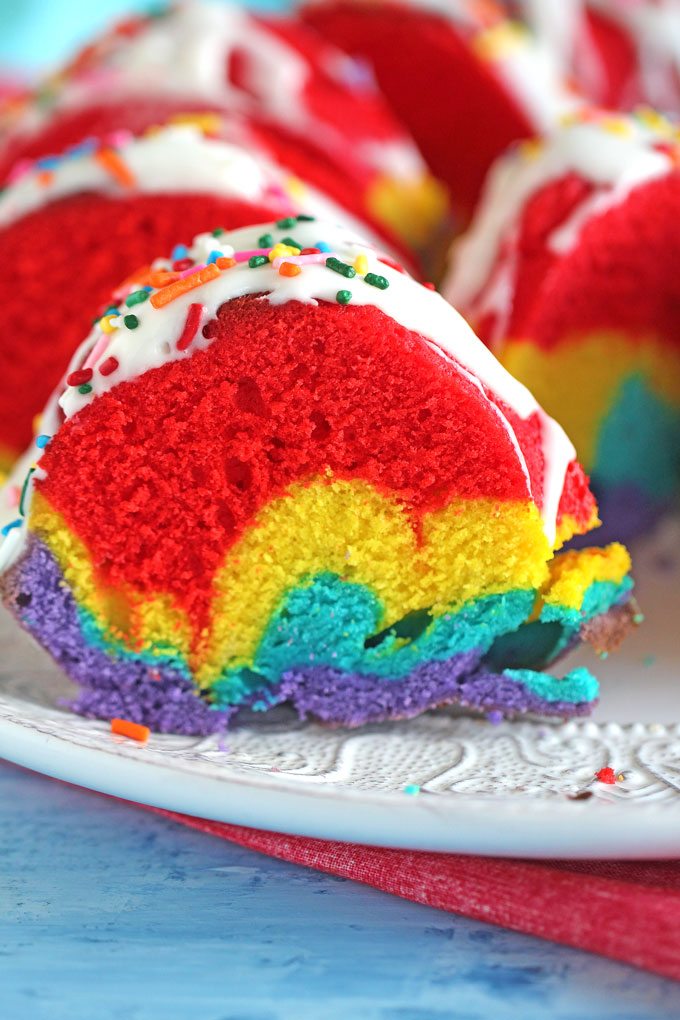 Love Rainbow recipes? Check these Mini Rainbow Cheesecakes: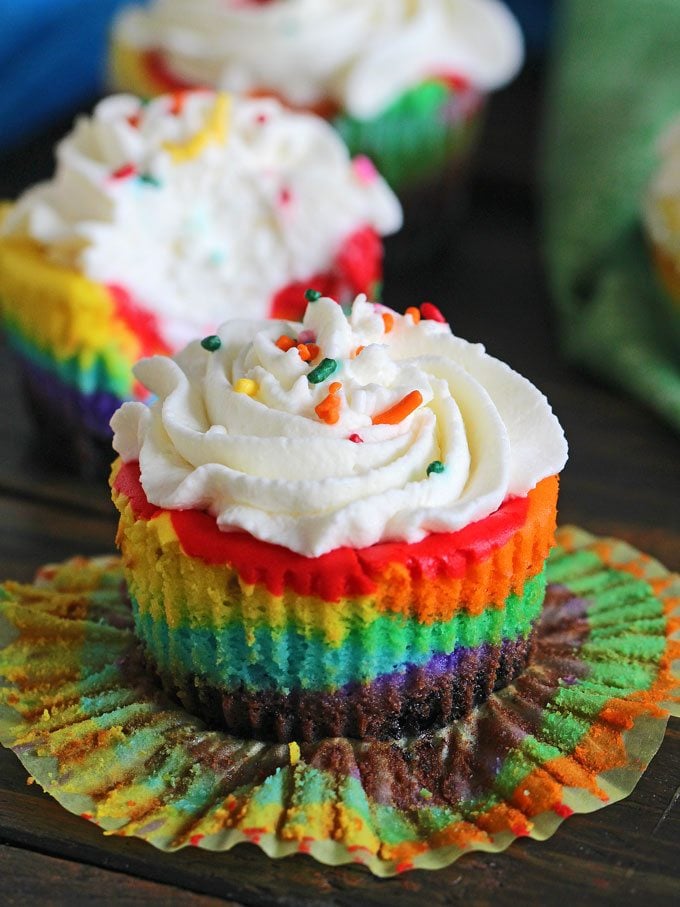 And how about toast on Rainbow Bread: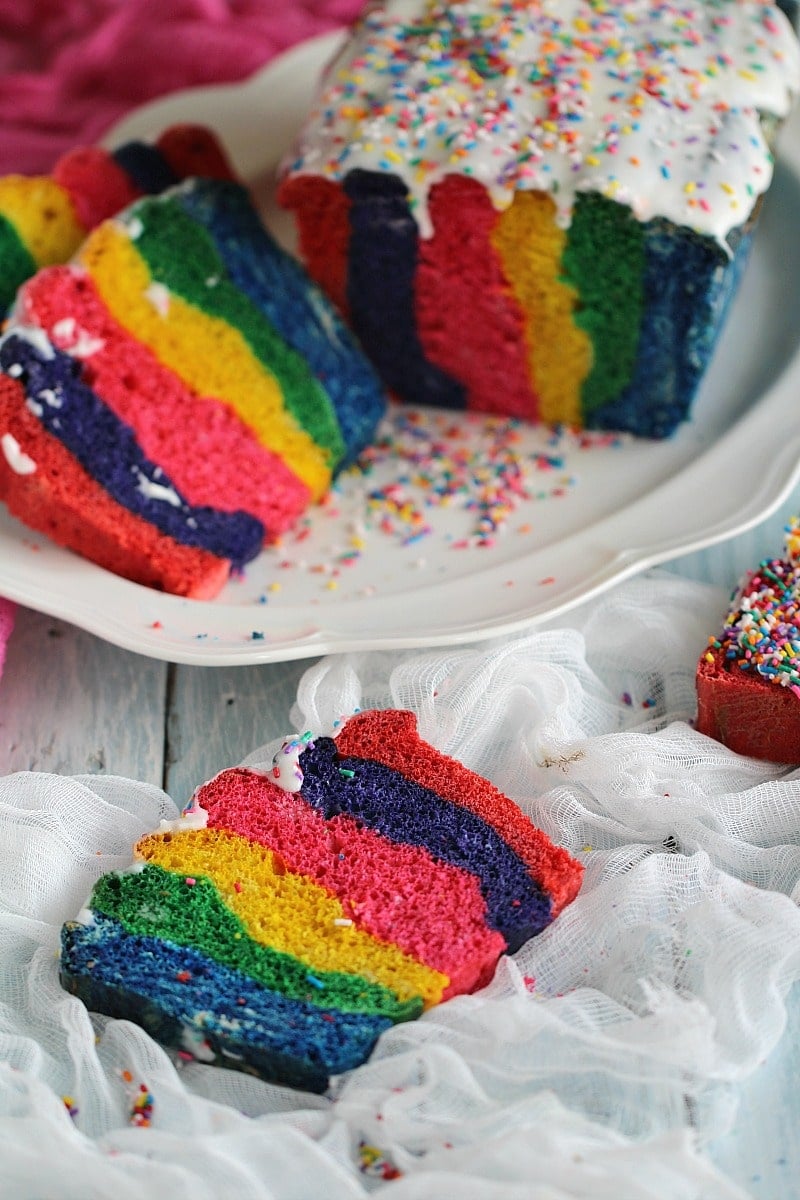 Happiness on a plate!