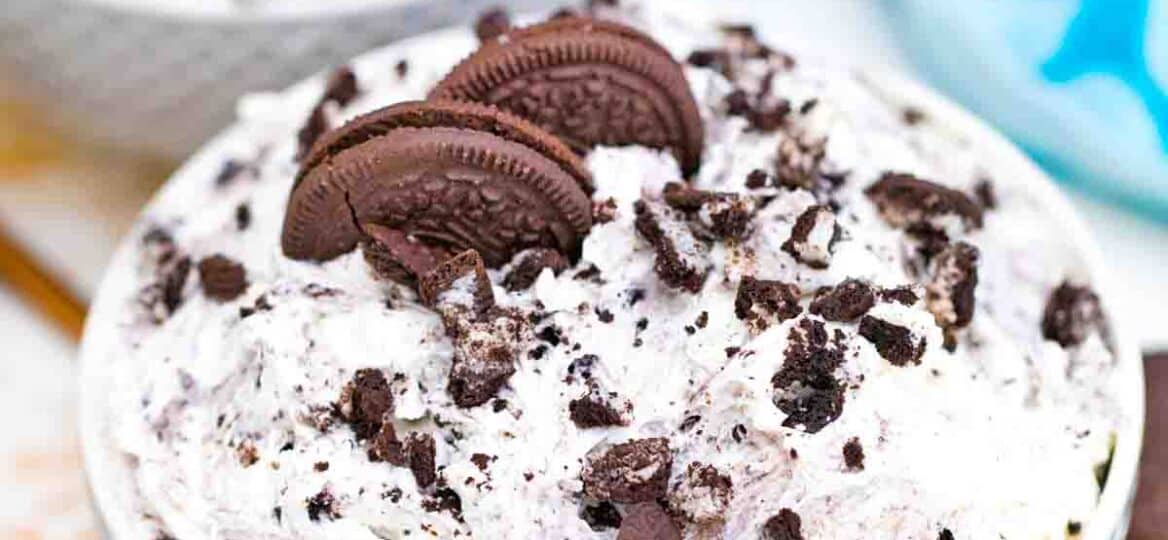 No Bake Oreo Fluff Recipe
Oreo Fluff is an easy and delicious no-bake dessert made with just a few ingredients, that is great on its own or served as a dip. This is a quick dessert you can make in minutes with just a few basic ingredients so you do not have to spend hours in the kitchen. And it is perfect for summer because you do not have to heat up the house by turning on the oven.
Are you looking for other fluff desserts? Try our incredibly light and creamy Pineapple Fluff with its tangy sweet flavor. It is made with instant vanilla pudding, crushed pineapple, mini marshmallows, shredded coconut, and a few other ingredients. Or you can make our fluffy Magnolia Bakery Banana Pudding recipe. You only need bananas, vanilla wafers, pudding, heavy cream, sweetened condensed milk, and vanilla extract.
Do you like to dip your Oreos? About 49 percent of Oreo cookie lovers insist on dipping their cookies in milk before eating them. And they have it down to a science. Apparently, the exact time for cookie dunking is four seconds. And then there are those people who eat the middles first and then eat the cookies. Do you have a preference? Share in the comments section.
This easy Oreo fluff recipe has become a family favorite in my house because it is light, fluffy, and chocolatey without being too sweet. It is one of my favorite recipes for desserts because of the creamy texture and I can make it quickly with just a few items. If you have Oreos, pudding mix, milk, cream cheese, and whipped cream, you can make this quick dessert in minutes.
If you love Oreos, try one of our other Oreo dessert recipes. This easy Oreo fudge only has three ingredients including sweetened condensed milk, white chocolate, and Oreo cookies. Another fast and easy Oreo dessert with only three ingredients is this 5-minute Oreo dessert made from whipping cream, unsalted butter, and Oreo cookies.
Ingredients needed:
To make this incredible Oreo fluff dessert recipe, all you need are a handful of ingredients listed here. When you are ready to begin, find our recipe card at the bottom of the page for the precise measurements and instructions.
Oreo instant pudding mix
Whole milk
Softened cream cheese: At room temperature.

Cool whip: Or any whipped topping will do.
Crushed Oreos: Regular or Double Stuffed.
How to make Oreo fluff from scratch?
Mix it up: First, mix the dry Oreo pudding mix with one cup of whole milk in a medium bowl.
Whip the cream cheese until smooth: Then, add softened cream cheese to the pudding mixture and whip it with a hand mixer or electric mixer until no lumps remain. You could also use a large mixing bowl and stand mixer.

Add whipped cream: After, gently fold in the Cool Whip topping until it is all combined.
Fold in the crushed cookies: Now, gently fold in most of the Oreo pieces.
Chill and serve: Finally, cover with plastic wrap and refrigerate for at least an hour before serving topped with the remaining Oreos.
Recipe variations:
Another pudding: Feel free to use another flavor such as instant vanilla or chocolate pudding. Cheesecake pudding or white chocolate would also be incredible.
Chocolate chips: You can never have too much chocolate. Why not throw in a couple of handfuls of chocolate chips?
Another flavor Oreos: Oreo has more than 50 different flavors. Try something different like peanut butter Oreos, golden Oreos, or mint Oreos.

Add marshmallows: For extra fluff, add mini marshmallows.

Dark chocolate ingredients: Alternatively, use all dark ingredients like dark chocolate Oreos and pudding.
Use extracts: You can add extra flavors to your Oreo fluff with extracts. Try birthday cake, mint, or almond extract.

Double fluff: Instead of whipped topping, try marshmallow fluff on top of your Oreo fluff for a double-fluff dessert.
How to serve:
This easy Oreo fluff salad recipe works as an easy dessert dip for parties, a topping for ice cream or pie, or you can just eat it with a spoon! It will satisfy any sweet tooth. Try one of these fun serving ideas or share some of your own in the comments section at the bottom of this page.
Add a handful of chopped peanuts, crushed walnuts, slivered almonds, or candied pecans for a crunchy topping.

Make your Oreo fluff even fluffier with a dollop of homemade whipped cream. Try our easy and delicious whipped topping recipe.

If you are serving this as a dip, offer a variety of different dippers like a medium-sized bowl of fresh fruit such as apple slices, pears, raspberries, or strawberries.

Make chocolate chip sandwiches by filling two chocolate chip cookies with Oreo fluff.

You can also use this Oreo fluff to top your ice cream. We have a simple and delicious 3-ingredient Oreo ice cream recipe that would be perfect!
Drizzle some chocolate syrup on top for an even more chocolatey flavor.

Instead of chocolate, try another flavor like caramel, butterscotch, or mint.
Or you could use pretzels, graham crackers, or a large bowl of vanilla wafers.
Liven up your Oreo fluff with some rainbow sprinkles on top.
Frequently asked questions
Why are Oreos so chocolatey?
Although Nabisco likes to keep its ingredients mostly secret, we do know that they use a special cocoa powder to make their cookies extra chocolatey. The one they use is called black onyx cocoa, which is an extra-Dutch cocoa powder washed with alkali to mellow out the flavor and darken the color.
What is the difference between Oreo fluff and marshmallow fluff?
First, there are no marshmallows in this easy recipe for Oreo fluff or in the majority of the recipes you can find online. Oreo fluff is made from Oreos, pudding, whipped cream, and cream cheese. Marshmallow fluff is made from marshmallow ingredients like corn syrup, sugar, and egg whites.
Why can't I use regular pudding instead of instant?
The regular cook-and-serve pudding in the box needs to be cooked. To get this type of pudding mixture to set, you have to heat up the pudding and milk on the stove until it boils. Then, you need to let it cool to set. But instant pudding can be whisked up in minutes, with no cooking required.
What are the nutrition facts in this recipe?
If you make this recipe exactly as instructed, you will get 129 calories, 14 grams fat, and 8 grams saturated fat in each serving. It also has 10 mg cholesterol, 50 grams carbs, 300 mg sodium, and 40 grams sugar. But on the good side, you also get 165 units of vitamin A, 129 mg of calcium, 3 mg iron, 215 mg potassium, 5 grams protein, and 1 gram fiber.
More recipes with Oreos to try:
How to store leftovers:
Store: If you have leftover Oreo fluff or made it in advance, store it in an airtight container in the refrigerator. It will stay fresh for three or four days. However, the cookies will get soft after about 24 hours.

Freeze: Freezing your Oreo fluff leftovers is also fine. Just put it in a freezer-safe container or a freezer bag. It can remain frozen for several months.

Thaw: For the best texture and flavor, put your frozen fluff in the fridge overnight before serving.
Recipe tips:
If you are on a low-carb or low-fat diet, use sugar-free pudding, skim milk, low-fat cream cheese, and sugar-free cookies.

Oreo has a large variety of healthier choices including gluten-free Oreos.

Shorten prep time by using a food processor to make your crushed Oreos.

Another way to shorten prep time is by using premade pudding. You will not have to whip it to get it ready.

If you do not have a food processor, a high-powered blender will work too.

Another way to crush those cookies is with a rolling pin. Just put them in a baggie and smash them. It is kind of fun!
You can leave out the cream cheese for a lighter and fluffier Oreo fluff.

Make sure you get instant pudding instead of cook and serve.

Fold in the cookie crumbles gently to prevent them from getting too mixed.
No Bake Oreo Fluff Recipe
Ingredients
4.2

oz

package Oreo Instant Pudding Mix

1

cup

milk

8

ounces

cream cheese

at room temperature

8

ounces

Cool Whip

30

Oreos

crushed
Instructions
In a large bowl mix the dry pudding mix with the milk until fully combined.

Add cream cheese then using an electric mixer, whisk it until the mixture is smooth.

After that, using a spatula fold in the Cool Whip until fully combined.

Gently fold in the crushed Oreos, leaving out only about 1/3 of a cup to use as garnish.

Refrigerate at least 15-30 minutes before serving. Sprinkle the saved crushed Oreos and decorate with Oreo cookies before serving.
Deliciousness to your inbox
Enjoy weekly hand picked recipes and recommendations