Oreo Fudge is a three-ingredient no-bake dessert that you can prepare in a whim! Make a huge batch for your giveaways this holiday season!
Thinking of an easy dessert that you can prepare for the holidays? This recipe will give you exactly that! Try also my other no-bake recipes like Keto Chocolate Cheesecake Bites, Cake Balls, and Chocolate Peanut Butter Cookies!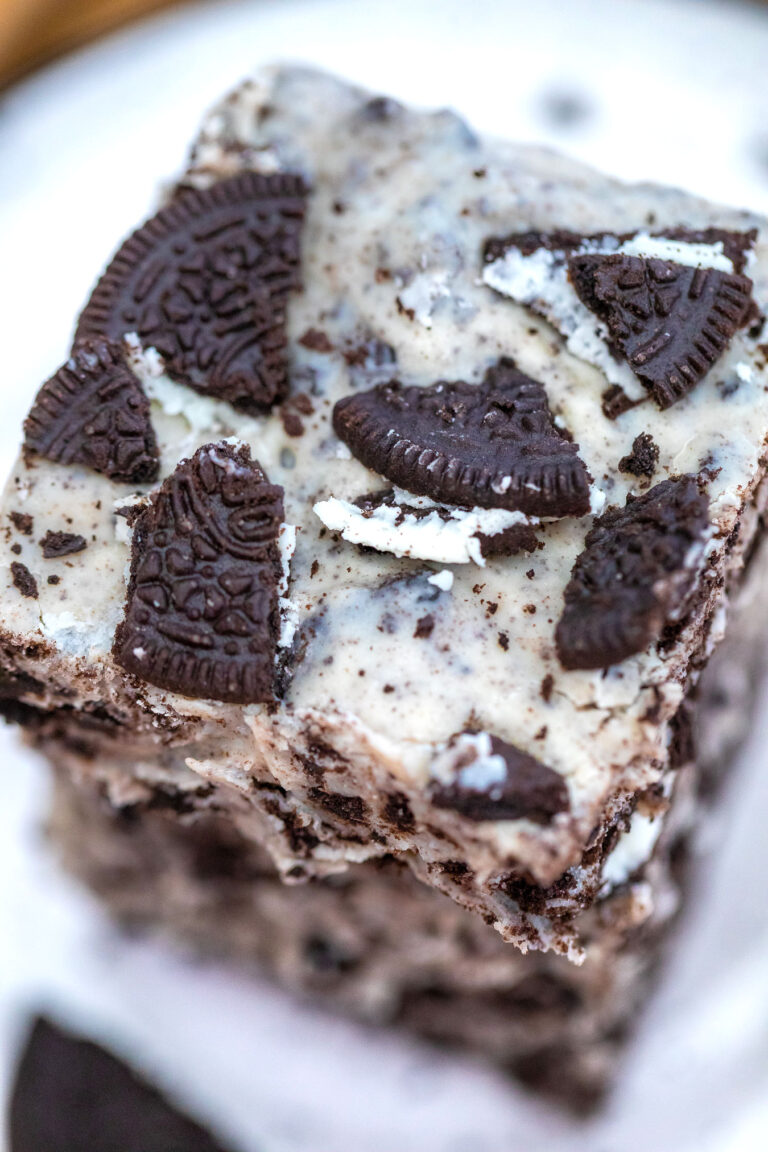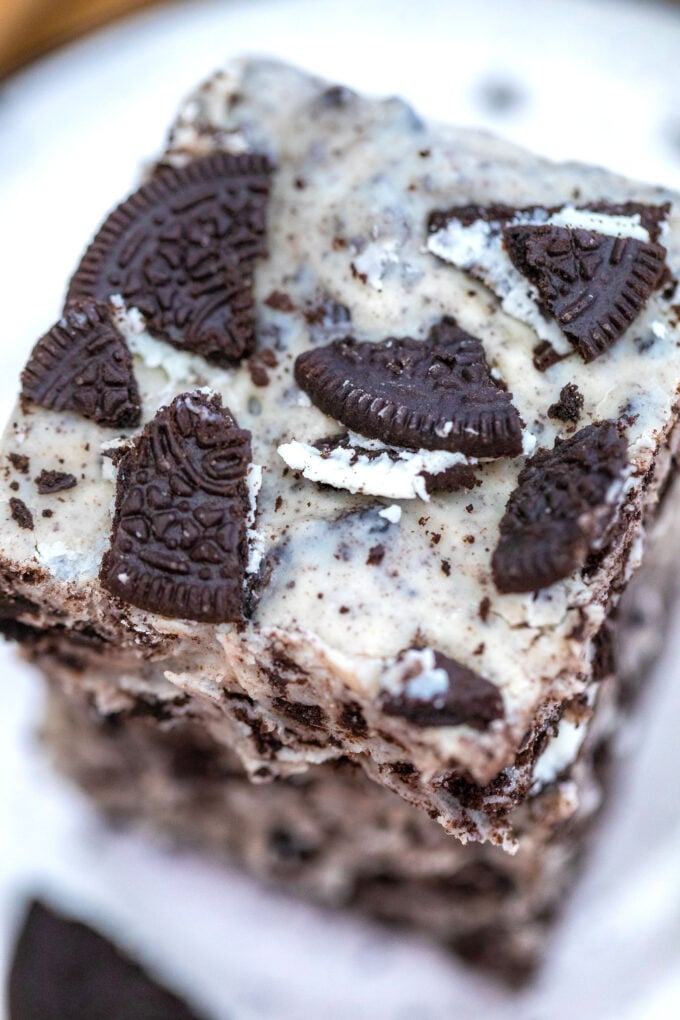 Easy Oreo Fudge Recipe
Oreo Fudge is the ultimate cookies and cream favorite! It is what I am thinking of making for the holidays as my simple token of appreciation for colleagues, neighbors, and friends.
This year has been a blast! And I am celebrating it with this easy recipe! What makes this ideal as a gift is that it can easily be placed in decorative packaging.
It is not as fragile as cupcakes that will require special boxes to preserve the frosting. It is not as big as cake or pie slices, too. And the best part is that they are delicious without the complex process of making them!
Desserts do not have to be baked all the time and this recipe is proof of that. No special technique is required, only an hour in the refrigerator. And it only requires three basic ingredients! What a steal!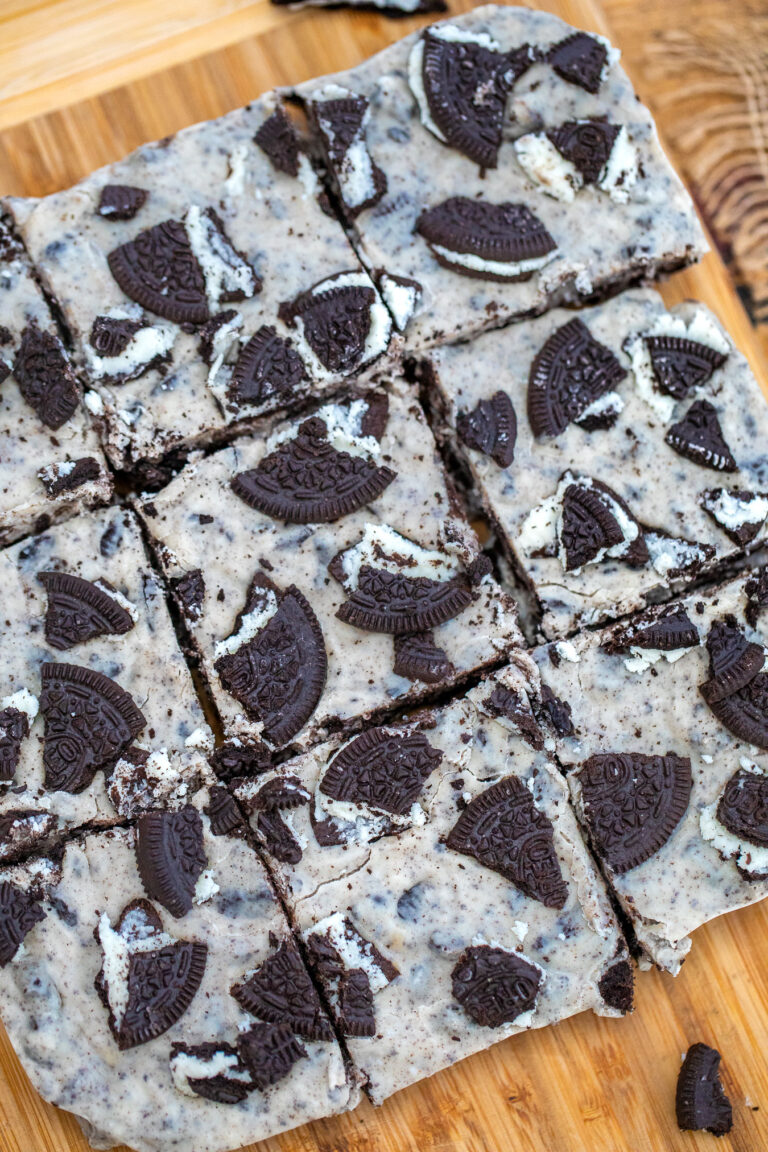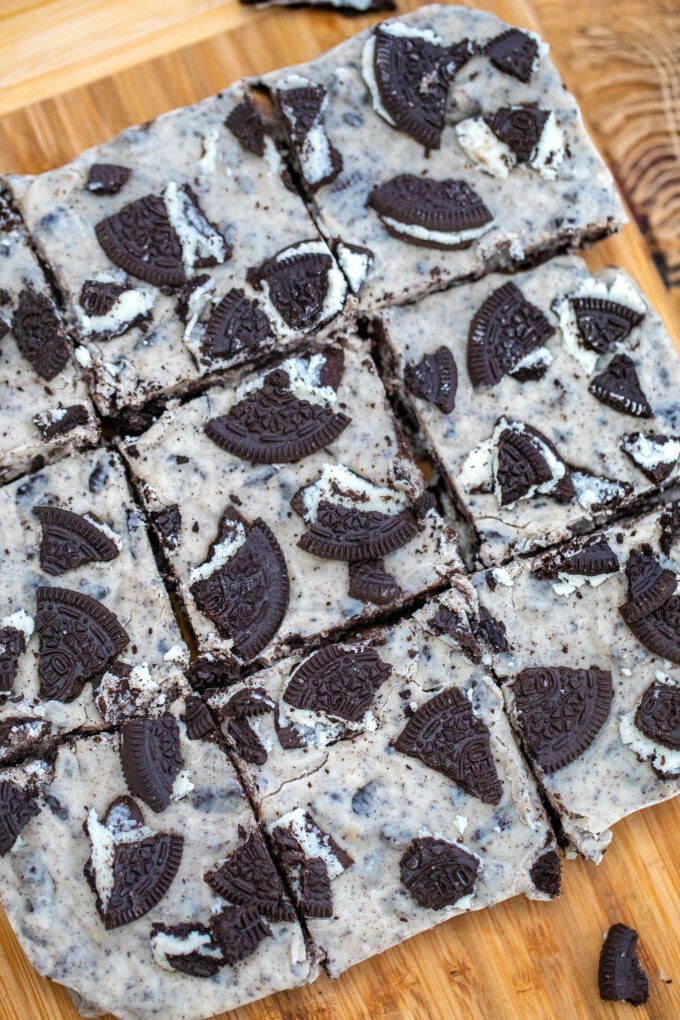 What do you need to make Oreo Fudge?
Three ingredients are required for this easy recipe:
Oreo cookies: broken into big chunks
Sweetened condensed milk: provides the body for the chocolate mixture
White chocolate or chocolate chips: can be substituted with chocolate bars
How to Make Oreo Fudge:
Prepare the baking dish: Put parchment paper in it. The best way is to put one sheet and then, lay another one on top across the other.
Break the cookies: Reserve 4 cookies and put the rest in a large plastic bag. Break the cookies into big chunks by pounding on them or use a rolling pin.
Make the chocolate mixture: Heat a saucepan and pour in the milk and chocolate. Melt everything by stirring over a medium-low flame. Once fully melted, remove from heat.
Combine: Mix the cookie chunks with the chocolate mixture, then, pour the mixture in the baking dish. Break the 4 cookies reserved earlier and sprinkle on top.
Serve: Refrigerate for an hour to set, then, cut small squares using a heated but dry knife. Then, serve.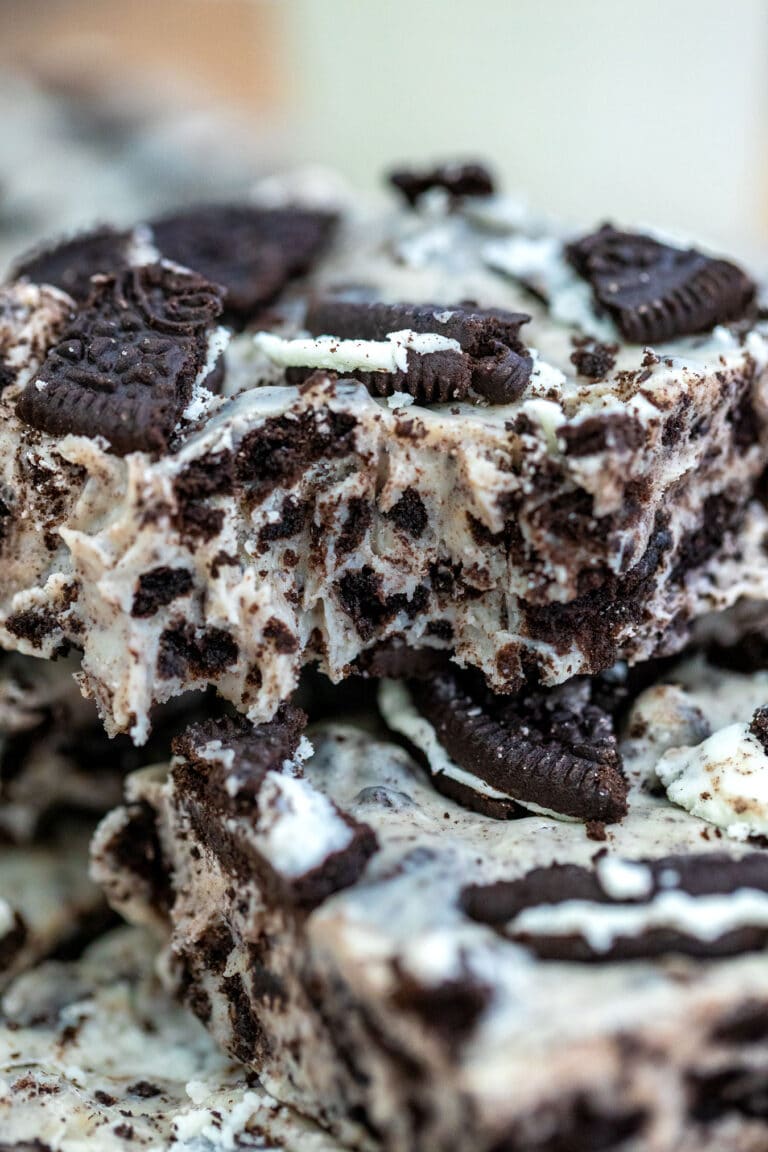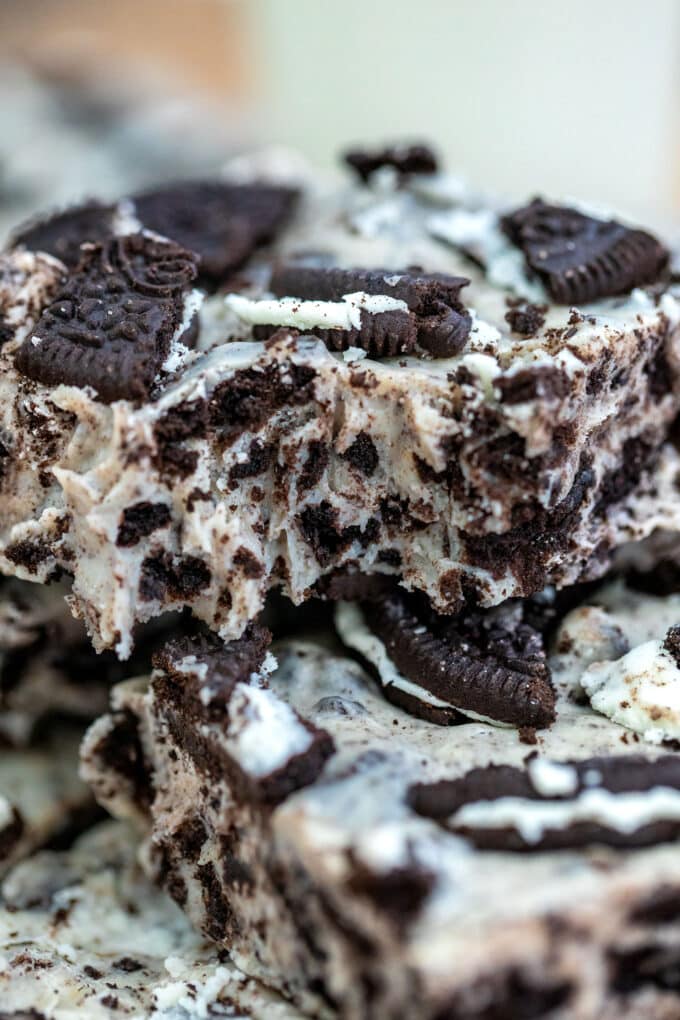 Recipe Variation:
If you use a special variant of Oreo, then, you can adjust your recipe accordingly.
Peanut butter: stir in a few tablespoons of peanut butter
Mint: stir in half a teaspoon of peppermint extract and a drop of green food coloring if you like
Lemon: add lemon extract
Red velvet: make the cream cheese filling then, combine with melted white chocolate
Strawberry: combine melted white chocolate with strawberry frosting
How long does Oreo Fudge last?
At room temperature: Keep it in an airtight container and it will last for a week.
In the fridge: You can refrigerate it for it to last for up to 2 or 3 weeks.
In the freezer: Frozen, it will last for 2 months. Thaw overnight in the fridge to serve.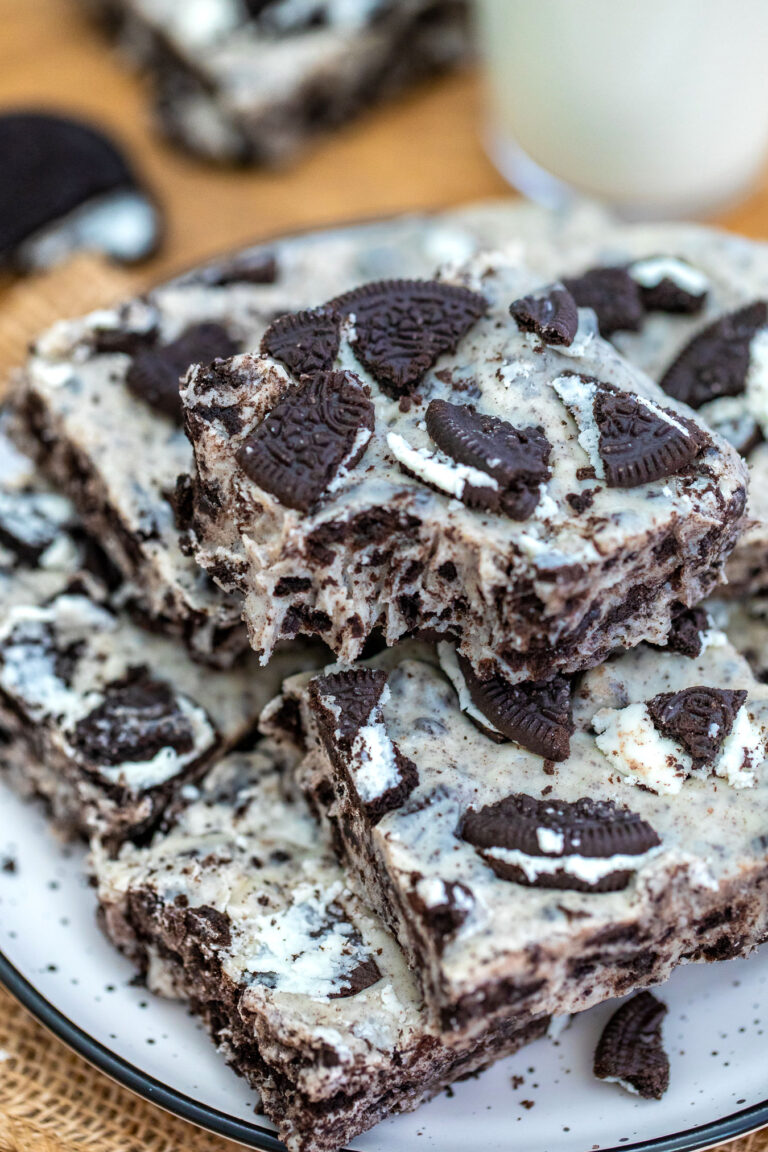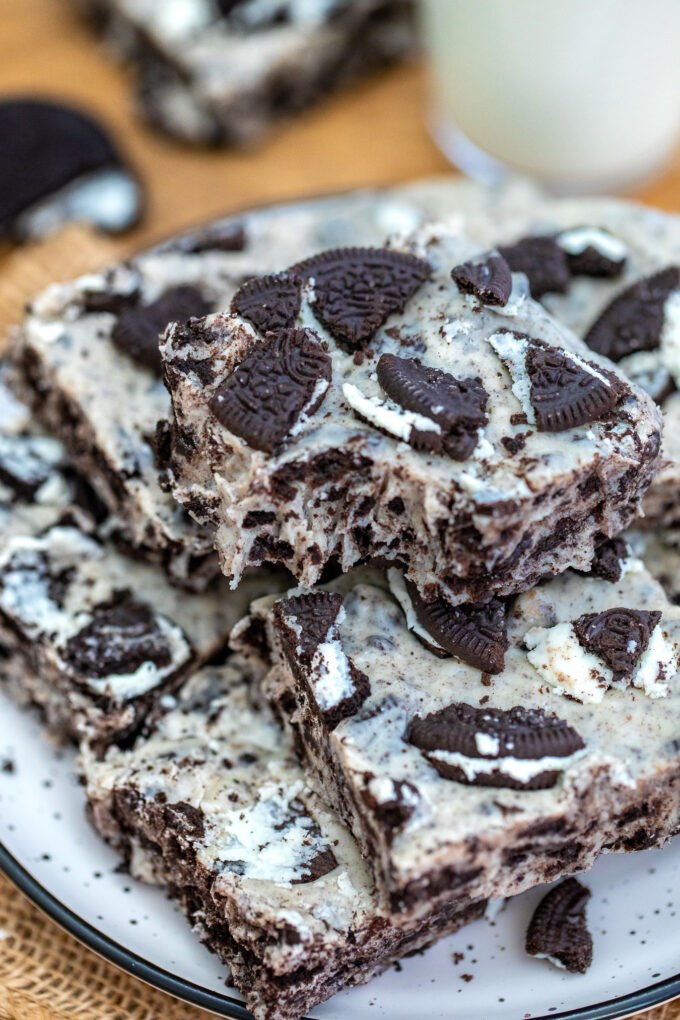 Recipe Tips:
Aside from pounding on the Oreos, you can also just coarsely chop them on a chopping board.
Add a teaspoon of vanilla extract to add flavor.
Melting the chocolate can also be done in the microwave. Put the pieces in a microwave-safe bowl along with the condensed milk and heat in 20-second intervals until melted.
Aluminum foil can also be used in place of the parchment paper.
If you want to make it into various shapes and sizes other than small squares, you can use a cookie-cutter. Just remember to heat it up in hot water, then, wipe it dry with a towel before slicing the fudge. Repeat the process. This is also the technique in using the knife to cut the small squares.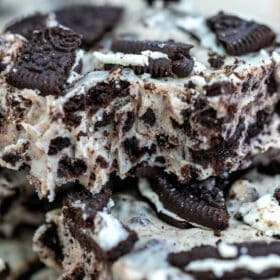 Easy Oreo Fudge
Oreo Fudge is a three-ingredient no-bake dessert that you can prepare in a whim! Make a huge batch for your giveaways this holiday season!
Save
Share
Print
Pin
Rate
Ingredients
14

oz

can sweetened condensed milk

14

oz

white chocolate

(or chocolate chips - chopped)

24

OREO cookies
Instructions
Line an 8" x 8″ baking dish with parchment paper, the paper should hang on two opposite sides for easy fudge removal.

Set 4 Oreos aside and add the rest to a ziplock bag, break into large chunks.

Place a small saucepan over medium-low heat and add condensed milk and white chocolate, stirring constantly until completely melted. Remove from heat.

Mix the cookie pieces into the chocolate mixture and pour into the prepared pan.

Break theremaining4 cookies into pieces and sprinkle on top.

Refrigerate for one hour. Cut into squares and serve!
Nutrition
Calories:
520
kcal
|
Carbohydrates:
74
g
|
Protein:
8
g
|
Fat:
22
g
|
Saturated Fat:
12
g
|
Cholesterol:
15
mg
|
Sodium:
231
mg
|
Potassium:
195
mg
|
Fiber:
1
g
|
Sugar:
64
g
|
Vitamin A:
123
IU
|
Vitamin C:
1
mg
|
Calcium:
205
mg
|
Iron:
3
mg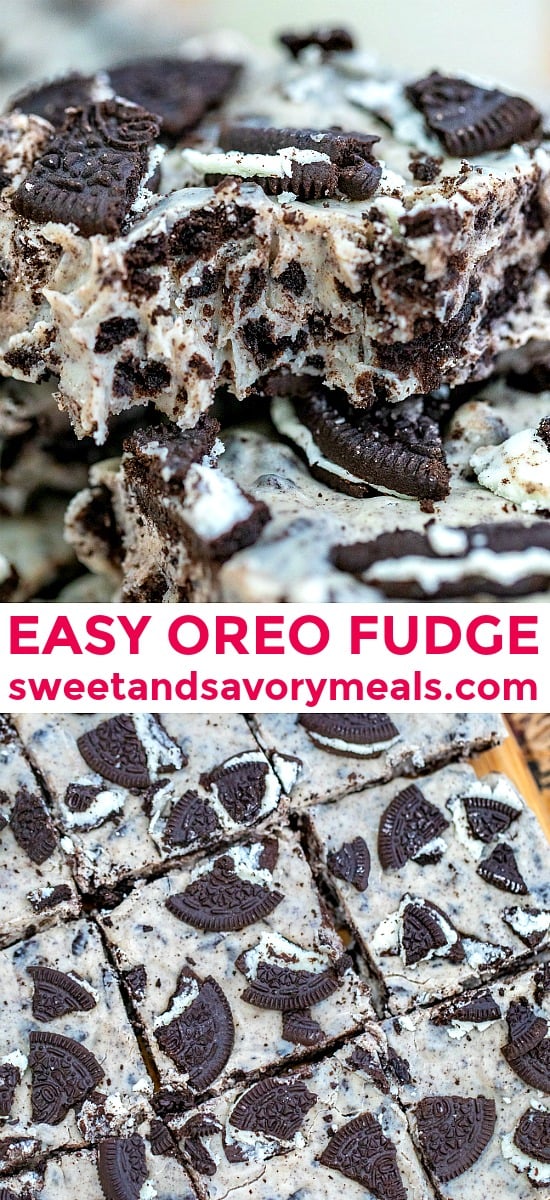 More recipes you might love