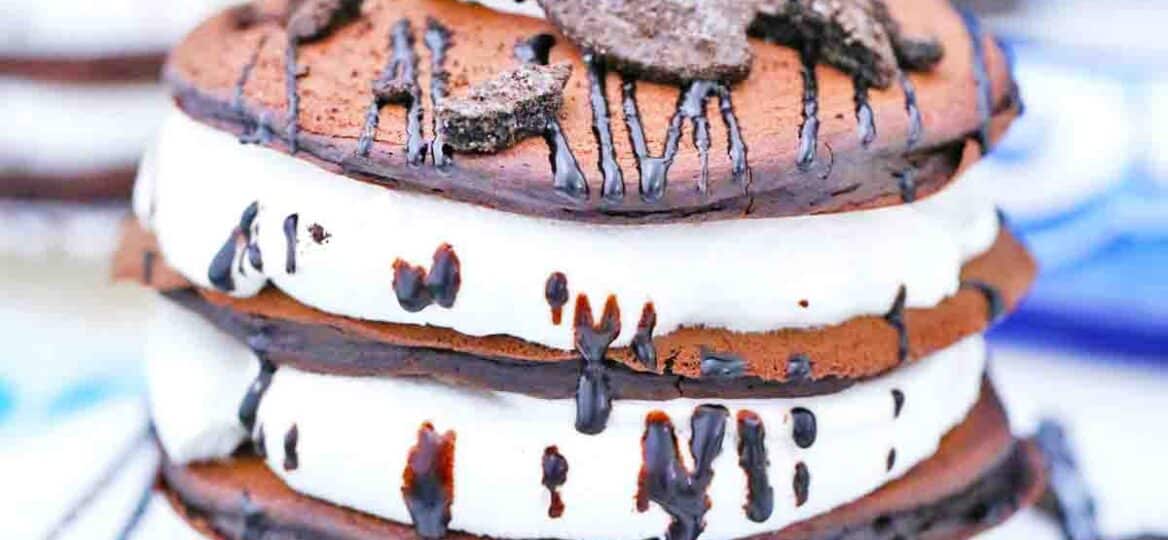 Chocolate Oreo Pancakes Recipe
Oreo Pancakes are the perfect combination of cookies for breakfast, sweet, fluffy, chocolaty, and with layers of thick cream. If you have a sweet tooth and love pancakes, you have to try these Oreo pancakes topped with whipped cream and crushed cookies. This is one of the best pancake recipes I have ever made and will always be in my favorite breakfast cuisine file.
The first pancake was mentioned in 600 BC by an ancient Greek poet. They were made from curdled milk, honey, oil, and wheat flour. But experts believe that it was the stone age people who started this delicious trend more than 30,000 years ago. In fact, they found remains of pancakes in the stomach of Otzi the Iceman.
Also known as cookies and cream pancakes, these are so much better than regular pancakes, you will want to have them every morning. Whether you top them with your favorite syrup or nothing at all, these pancakes make any day feel like a special occasion. And you do not need much else besides the basic baking ingredients and some Oreos.
Ingredients needed:
These are the simple ingredients for this Oreo pancake recipe. Please scroll down to our recipe card for complete instructions and exact measurements when you are ready to begin.
All-purpose flour
Oreos
Melted butter
Large egg
Whipping cream
Whole milk
Granulated sugar
Unsweetened dark cocoa powder
Baking powder: Not baking soda.
Kosher salt
Chocolate sauce: For serving.
Crushed Oreos: For serving.
How to make Oreo pancakes from scratch?
Separate the cookies: First separate the Oreos, putting the cookies in the food processor and the cream in a medium bowl.

Chop the Oreos: Then, pulse the cookies until they are just chopped, not crumbs.
Make the fresh whipped cream: Now, add the whipping cream to the mixing bowl with the cookie cream and beat with an electric mixer until stiff peaks form. Put the cream into a piping bag and chill in the fridge.

Combine wet mixture and dry ingredients: Next, whisk baking powder, flour, sugar, and cocoa powder in a large bowl. In a separate bowl, beat the butter, egg, and milk until thoroughly mixed. Pour the dry ingredients into the wet ingredients and stir just until it is mixed with some lumps. Do not overmix!
Cook pancakes: After, heat up a large skillet over medium heat and melt one tablespoon of butter. Then, turn to medium-high heat and pour 1/4 cup of the pancake batter into the pan and wait until bubbles form to flip it. Cook for another minute or two until it is golden brown.

Serve with whipped cream: Immediately, squeeze chilled whipped cream between two pancakes and serve topped with whipped cream and crushed Oreo cookies. Add a drizzle of chocolate syrup on top.
Recipe variations:
Cake flour: For more fluffy pancakes, use cake flour instead of all-purpose flour.

More crushed Oreos: Make more crushed Oreo cookies to add to the pancake batter. Gently fold it into the batter right before cooking.

Add vanilla extract: Add a teaspoon of vanilla extract to your pancake batter for a richer flavor.

Other extracts: Alternatively, try using other extract flavors like chocolate, almond, coconut, or butter. You could even use rum or butterscotch.
Buttermilk: Similarly, add a tablespoon of lemon juice to your batter to make a buttermilk flavor Oreo pancake.

Other Oreo flavors: Use your creativity to make your own unique Oreo pancakes. There are so many kinds of Oreo flavors, you can try a new one every week for a year.

Add candy: Toss in some mini M&M's or another candy for an even more special breakfast.
How to serve:
These yummy pancakes are perfect for Sunday breakfast, brunch with friends, a unique dessert after dinner, or an afterschool snack anytime. Try one of these great serving ideas or share some of your own in the comments at the bottom of this page.
Use leftover pancakes as the bread to make sausage and egg sandwiches for a special breakfast tomorrow.

If serving the whole family, place small bowls of their favorite toppings to use as they wish. Try chocolate chips, maple syrup, or our deliciously thick and rich caramel sauce.
Like nuts? Add a handful of chopped walnuts or pecans on top of the whipped cream.

Instead of whipped cream, you could also top your pancakes with a scoop of ice cream. Try these amazing Oreo ice cream. You only need 3 ingredients for this recipe!

Any kind of pancake goes well with eggs and sausage. Make a whole buffet for the family to enjoy this weekend.

Skip the whipped cream and use our sweet and tangy strawberry sauce instead. Or some other kind of fruit preserves or sauce.
Frequently asked questions
How many different flavors of Oreo cookies are there?
Believe it or not, there have been more than 85 different varieties and flavors of Oreo cookies. From the bizarre buffalo wing flavor to the most popular birthday cake Oreo cookie, there are Oreos for every taste. Some of the most popular are birthday cake, fudge dipped, peanut butter, golden Oreos, mint thins, and chocolate cream filled.
Why are my Oreo pancakes so runny?
It is possible that you may have used too much liquid in your measurements. It is important to be precise when you are measuring for a new recipe. If this happens, just add a little more flour. Just a little at a time, stirring between additions so it does not get too thick.
Can I make these pancakes gluten-free?
Yes, you can make Oreo pancakes without gluten, but you will have to change some of your ingredients. First, you will need gluten-free Oreos. The regular ones have gluten in them. And you will need some kind of rice flour or another gluten-free type. Some of the best are almond flour, buckwheat, and oat flour.
What is the difference between pancake and waffle batter?
A pancake batter has more leavening in it such as baking powder. This helps them rise. Waffles have more egg and butter to be brown on the outside and chewy in the middle. To make waffle mix from pancake mix, just double the eggs and oil or butter.
What are the nutrition facts in this recipe?
If you are worried about the nutrition, calories, and fat, here are some estimates. Each serving has 402 calories, 43 carbs, and 25 grams fat with 15 grams of saturated fat. It also has 100 mg cholesterol, 199 mg sodium, and 23 grams sugar. But you also get 8 grams monounsaturated fat, 3 grams polyunsaturated fat, 7 grams protein, 200 mg potassium, 2 grams of fiber, 900 units vitamin A, 99 mg calcium and 3 mg iron.
More pancake recipes to try:
How to store leftovers:
Store: Store your leftover Oreo pancakes in an airtight container in the fridge. They will stay fresh for up to five days.
Freeze: It is also safe to freeze pancakes for up to two months. Wrap them in plastic and put them in a Ziploc bag for the best results.
Thaw: Thaw your leftovers in the fridge overnight before serving.
Reheat: To reheat, put leftover pancakes in the microwave for 30 to 45 seconds each.
Cooking tips:
To make chopped Oreos, you do not have to have a food processor. You can use a blender or put them in a baggie and smash them.

Do not chop them too much. You want them to be chunky, not crumbs.

Instead of using a frying pan or skillet, you can use a hot griddle. This is especially good if you are making a big batch of pancakes.

Feel free to use non-stick cooking spray or oil instead of butter.

You can use any chocolate cookies you like. They do not have to be Oreo cookies.

If you do not like the idea of a chocolate pancake, leave out the cocoa powder.

To shorten pancake prep time, use premade whipped cream and just add Oreos to boxed pancake mix.

Check out the rest of our food blog for more delicious and easy recipes to try.
Oreo Pancakes
Ingredients
1 1/2

cups

all-purpose flour

1/4

cup

dark cocoa powder

unsweetened

1/2

cup

granulated sugar

2

teaspoon

baking powder

1 1/4

cup

whole milk

1

large egg

room temperature

2

tablespoons

unsalted butter

melted - plus more for the pan

10

Oreos

Pinch

Kosher salt

1 1/2

cups

heavy whipping cream

cold

Crushed Oreos

for serving

Chocolate Sauce

for serving
Instructions
Start by separating the Oreos, add the cookie part to a food processor, and the cream from the middle to a medium bowl.

Pulse the cookies to make chop them, but do NOT make them into crumbs.

Add the cold whipping cream to the bowl with the cream filling, and beat until stiff peaks form. Transfer the mixture to a piping bag and chill in the fridge until ready to use.

In a large bowl, combine flour, cocoa powder, sugar, and baking powder, and whisk to combine.

In a separate medium bowl, combine milk, egg, and melted butter and whisk to combine.

Next, add the wet ingredients to the dry ingredients and stir just until combined, making sure not to over-mix.

Place a large nonstick skillet over medium heat and melt 1 tablespoon of butter. Add about 1/4 cup of pancake batter to the pan. Cook until little bubbles appear, flip and continue cooking on the other side for about 1-2 minutes per side.

To serve, layer the chocolate pancakes with a thick layer of whipped cream, top with more whipped cream, crushed Oreos, and a chocolate drizzle.
Deliciousness to your inbox
Enjoy weekly hand picked recipes and recommendations