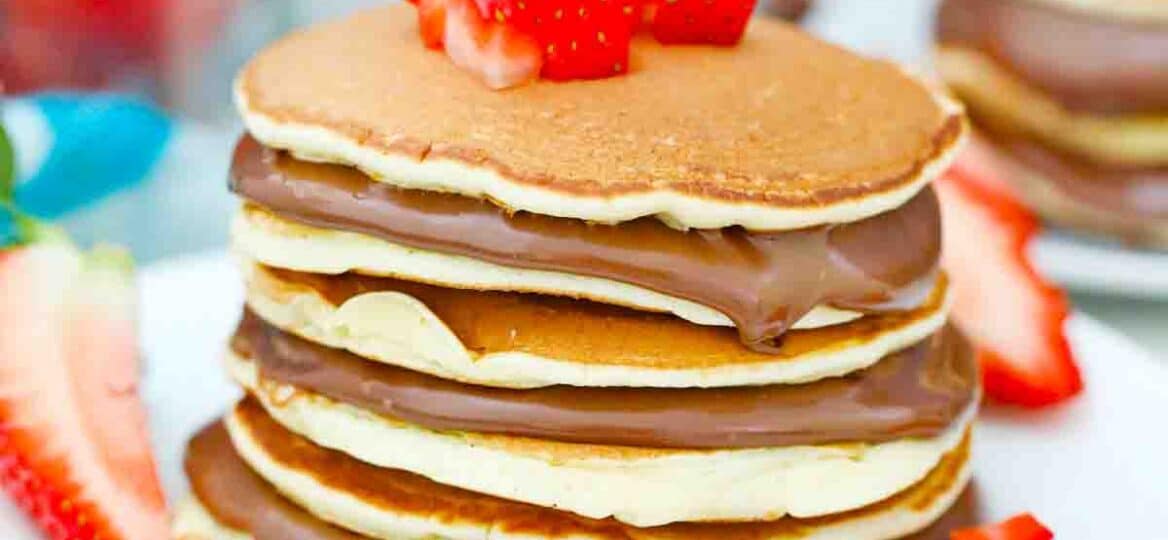 Nutella Pancake Sandwiches Recipe
Nutella Pancake Sandwiches are fluffy and light with creamy hazelnut filling in the middle for a chocolaty flavor burst in every bite. No need to go to the pancakes place to get your next stack of hotcakes. You can make these at home with just some basic ingredients and a few minutes of your time.
If you love Nutella, try one of our other Nutella recipes. For example, these Nutella Cookies are chewy, soft, and scrumptious. All you need are a handful of ingredients including Nutella, sugar, butter, flour, eggs, cornstarch, and salt. Looking for a different kind of pancake? Try our Pumpkin Cheesecake Pancakes have cream cheese bites with pumpkin spice that melt in your mouth!
According to National Geographic, pancakes have been enjoyed for over 30,000 years. A discovery of starchy grains on stone age cooking tools convinced scientists that our ancient descendants were having pancakes for breakfast long before we did. Others say the ancient Greeks made tagenias during the 5th century BC.
For this yummy Nutella pancake sandwich recipe, all you need are a few ingredients including milk, vanilla, sugar, oil, egg, flour, and baking powder with a pinch of salt. Then, you just add the Nutella in between each pancake for a sweet "sandwich" the kids will love.
Want something new and different for breakfast? These fluffy carrot cake cinnamon rolls are bursting with cinnamon, sugar, and buttery flavor topped with a thick and sweet cream cheese frosting. Craving donuts? Instead of going to the bakery, you can make your own chocolate custard-filled donuts with this easy recipe.
Ingredients needed:
These are the simple ingredients for this Nutella pancake sandwich recipe. Scroll down to our recipe card for complete instructions and exact measurements.
Nutella or some other kind of chocolate hazelnut spread
Whole milk
Vanilla extract
White granulated sugar
Vegetable oil
Large egg
All-purpose flour
Baking powder: Not baking soda.
Kosher salt
How to make Nutella pancakes from scratch?
Mix the wet ingredients: First, whisk vanilla extract, sugar, oil, egg, and milk in a large bowl with a hand mixer.
Mix the dry ingredients: Then, use a different bowl to mix the salt, powder, and flour.
Combine it all: Now, mix the wet and dry ingredients a little bit at a time. Stir well between each addition to prevent clumps.
Cook pancakes: After, heat a nonstick skillet over medium heat before pouring half a cup of pancake batter onto the pan with a measuring cup or spoon. Flip when air bubbles form and cook until golden brown. Repeat with the remaining batter until it is gone.
Spread and serve: Last, spread a dollop of Nutella onto one cooked pancake and place another on top. Repeat until they are all done. Serve them while they are still warm.
Recipe variations:
Another oil: Feel free to use a different oil such as canola or coconut oil. You could even use unsalted butter.
Chocolate pancakes: For even more chocolatey flavor, add 1/4 cup of cocoa powder to the pancake batter,
Chocolate chips: You could also add chocolate chips. Any kind will work including semisweet, milk, dark, or even white chocolate.
Other chips: In fact, be creative and add other flavors with butterscotch or peanut butter chips.
More flavor: Another way to add more flavor is with extracts. Try chocolate, peanut butter, mint, or even birthday cake extract.
Buttermilk: Add buttermilk to your batter for a tangy flavor.
Whole wheat flour: Use whole wheat instead of all-purpose for a healthier breakfast.
Crunchy sandwich: Add chopped hazelnuts for a crunchier sandwich.
Bake pancakes: Make it even easier by pouring the pancake batter into a baking tray with sides and baking it in the oven for 10 minutes at 425 degrees F. Then, just slice them into squares for the sandwiches.
How to serve:
This super easy recipe is perfect for breakfast, brunch, or a nice snack. You can even serve them for dessert. Try one of our awesome serving suggestions or share some of your own in the comments section at the bottom of this page. We love hearing from you.
Add a dollop of whipped cream on top for a decadent dessert. We have an easy and delicious recipe for homemade whipped cream.
Instead of making the sandwiches, let guests make their own so they can get the amount of filling they prefer. Just set out a small bowl of Nutella and a spreading knife.
Top these fluffy pancakes with sliced strawberries or whatever kind of fruit you like.
Of course, maple syrup is always a good choice for any pancakes. Try our recipe for thick and yummy golden syrup.
Set out a dish of butter too for those who want to add some. Even though it is a sandwich, it still tastes delicious with melted butter on top.
Serve these yummy sandwiches with a side of candied bacon for a whole meal to please any sweet tooth.
You can eat these for breakfast, brunch, a snack, or dessert. Or wrap them up and save them for kids' lunches.
Frequently asked questions
Why not just use bread?
You could use bread for your Nutella sandwich but with this recipe, you get the sweetness of pancakes to make your sandwich even better. The kids will love it. And believe it or not, these pancakes actually have less fat and fewer calories than most white bread on the market. So, why not?
Why is my pancake batter so thin?
Thin pancakes tend to spread too much in the pan. It is a common problem when making pancakes. Sometimes we just go too fast and accidentally add too much liquid or not enough dry ingredients. In this case, all you have to do is add more flour and whisk well and it should thicken up nicely.
What is the difference between baking soda and powder?
Baking soda is just bicarbonate of soda or sodium bicarbonate. Baking powder is actually made by mixing baking soda with cornstarch and cream of tartar. So, if you ever need to substitute, you can add those two ingredients to your soda to get baking powder. And for a quick substitute use 1/3 of the amount of powder for soda.
What are the nutrition facts in this recipe?
Each delicious serving of these fluffy pancake sandwiches has 310 calories, 14 grams fat, 1 gram trans fat, and 10 grams saturated fat as well as 700 mg sodium, 40 carbs, 50 mg cholesterol, and 15 grams sugar. But you also get 8 grams protein, 210 mg calcium, 300 units vitamin A, 2 grams fiber, 3 mg iron, 190 mg potassium, 2 grams monounsaturated fat, and 1 gram polyunsaturated fat.
How to store leftovers:
Store: You can store your leftover Nutella pancakes in a sealed container or wrapped in plastic wrap in the fridge for up to four days.
Freeze: If you have way too many leftovers or want to make them ahead for future use, place them in individual serving packets with freezer bags. Just put three or four pancakes in each package and they can stay frozen for up to three months.
Thaw: Thaw your leftover pancakes in the fridge overnight for the best texture and flavor.
Reheat: You can reheat your Nutella pancakes for 30 to 60 seconds in the microwave, depending on how many you are reheating.
More recipes with Nutella:
Cooking tips:
Serve warm for best results. You want the butter to melt when serving.
You can keep pancake batter refrigerated for several days but be sure to stir well before using.
Freezing pancake batter is also good if you have too much. Simply put it in a freezer-safe jar or container and it will be good for up to 90 days.
Shorten prep time by making the pancake batter the night before.
You could also use a boxed pancake mix and just add the other ingredients to save time.
Make sure you get the eggs mixed completely into the other wet ingredients, so you do not have any white streaks.
You need two pancakes for each sandwich so be sure to cook an even number of pancakes.
Be sure to flip after bubbles start to form so you do not burn your pancakes.
Nutella Pancake Sandwiches
Ingredients
1

cup

whole milk

1

cup

all-purpose flour

3

tablespoons

vegetable oil

3

tablespoons

sugar

2

eggs

at room temperature

1

teaspoon

baking powder

1

teaspoon

vanilla extract

Pinch

of salt

1/2

cup

Nutella
Instructions
In one bowl, using a hand or electric mixer, mix milk, eggs, oil, sugar, and vanilla extract.

In another bowl stir together flour, baking powder, and salt.

Little by little add the flour mixture to the milk mixture. Stirring well after each addition not to make clumps.

Place a nonstick skillet over medium heat.

Use a ladle or a measuring cup to pour about 1/4-1/3 cup of batter. When air bubbles start to form on the pancake flip it to the other side and cook until golden.

Finally, spread 1-2 tablespoons of Nutella onto one cooked pancake and top with another one to create a sandwich. Repeat until they are all done. Serve them while they are still warm.