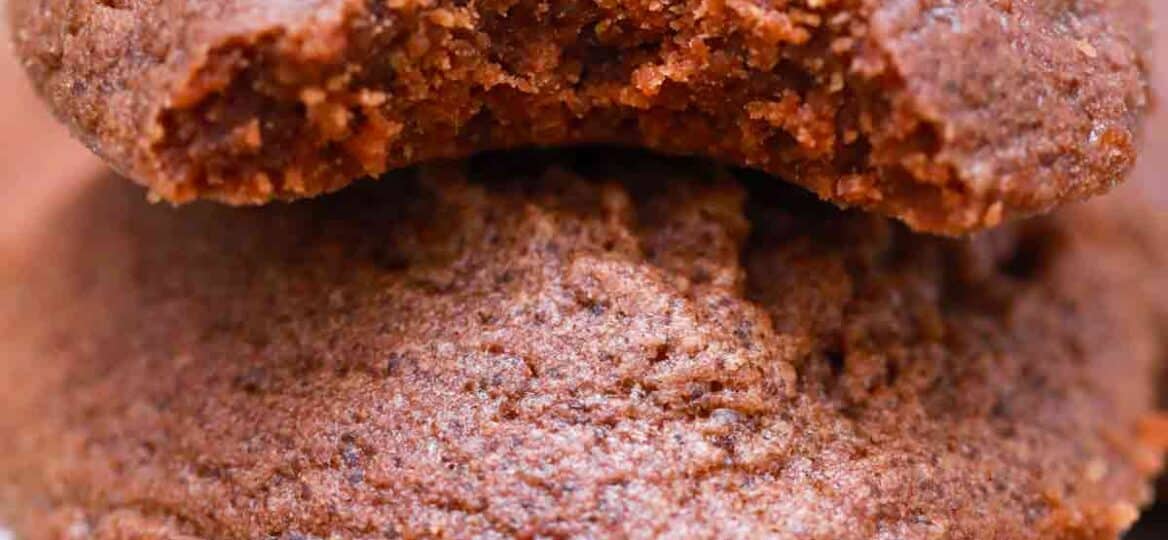 Nutella Cookies Recipe [Video]
Nutella Cookies are soft, dense, chewy, and loaded with the irresistible Nutella flavor. Easy to make, these cookies are incredibly decadent. Serve them with a glass of milk, and smothered in more Nutella.
We love good cookies around, I am a firm believer that life is too short to skip dessert. Therefore, I highly recommend you try our Twix Cookies, they melt in your mouth! Also, I would say you should definitely bake our Nutella Oreo Cake and try the mouthwatering Nutella Cheesecake recipe!
Homemade Nutella Cookies Recipe
Nutella cookies are definitely a must-try! Hence, this is one of my all-time favorite recipes. Because the cookies all the time turn around perfect chocolaty clouds. On the other hand, they are perfectly tender, in a way that they melt in your mouth. But don't be fooled, they are still dense and hearty, that you would have to wash them up with a glass of milk, coffee, or tea.
This recipe is so chocolaty, and that obviously my favorite part. Equally important is that this store so well at room temperature, so you can always have them on hand. I like to enjoy mine with a bit more Nutella or peanut butter on top.
Another great serving suggestion is to microwave the cookies for 30 seconds and after that top it with ice cream. This is a life-changing combo!
What is Nutella?
It is a sweetened cocoa spread made from hazelnuts. It is being manufactured in Italy, by Ferrero, which is the 3rd largest chocolate producer in the world.
The chocolate and hazelnut spread is consumed in many ways, but most common is on toast, waffles, pancakes, French toast. Similarly, it is being used as a sweet dip for fruits or churros. It is also used in baking, cakes, cookies, cheesecakes, and many other concoctions!
What do you need to make Homemade Nutella Cookies Recipe
Unsalted Butter: First, the butter needs to be softened to room temperature. This way it will blend perfectly with the other ingredients and create that tender and dense crumb that we all love so much.
Nutella: Obviously the star of the show here. Equally important is to make sure it is of room temperature and make sure you give it a good stir before scooping it from the jar.
Light brown sugar: I love baking with brown sugar, either light or dark. As a result, the cookies are moister and chewier.
White granulated sugar: On the other hand, the white sugar makes them crispier by absorbing the moister from the dough.
Large Egg: The egg acts as a binder in this recipe.
All-purpose white Flour: For a fluffier texture, make sure to sift the flour first.
Cornstarch: It is being used to create a crumbly and tender texture.
Salt: Intensifies the taste of chocolate.
How do you make Nutella Cookies from scratch
Gather the ingredients: First, start by gathering the ingredients and organize your working area so everything is on hand. Equally important is to make sure that the ingredients are at room temperature.
Combine wet ingredients with sugar: The second step is to whisk the butter with the sugars until combined. Next, mix in the egg and after that add the Nutella.
Add the dry ingredients: Finally, whisk in the flour cornstarch, and salt.
Bake: Bake the cookies in the preheated oven (320 degrees F) for 7-10 minutes. Serve and enjoy!
Recipe Variations:
Try other nut butter: While Nutella is amazing, I highly recommend you use half peanut butter in this recipe. This combination is the bomb, peanut butter and chocolate are meant to be served together.
Add chocolate chips: If you are a chocoholic like me, stir into the batter a few chocolate chips, they will make this dessert even more decadent.
Add nuts: In case if you prefer some crunch, stir it into the butter with some chopped peanuts, or almond.
Mix in some dried fruits: While this recipe is not intended to include fried fruits, you can easily add some cherries, dried blueberries, and cranberries.
Frequently Asked Questions
Is Nutella Healthy?
Well, that has always been a debate as it has been advertised as a breakfast food for so many years. Based on the sugar content that it contains it does not qualify as a healthy food. But, let's keep in mind that moderation is key, so you can still enjoy it if you like it.
Can you substitute Nutella for peanut butter in recipes?
Since it has a very similar texture to creamy peanut butter, the substitution usually works well. Keep in mind, that the texture is not the same when it comes down to homemade peanut butter, that one is denser and usually contains more oil.
How do I stop Nutella from hardening?
Keep in mind that if you stored the jar in the fridge, the chocolate hazelnut spread will harden. But don't worry, just microwave it for 30-40 seconds or add it to a bowl with hot water, stir well, and done!
Does Nutella melt in the oven?
If you add it by itself to the oven or the microwave, it will melt. But, if it's part of a recipe, combined with other ingredients, it won't melt.
How to store leftovers?
Just add the cookies to an airtight container and keep them at room temperature for 4-5 days. If you place them in the fridge, they will stay fresh for a few more days.
If you intend to freeze the Nutella Cookies, make sure you let them cool completely before adding them to a freezer-safe Ziploc bag. Freeze them for no longer than 3 months.
More Recipes You Might Like: