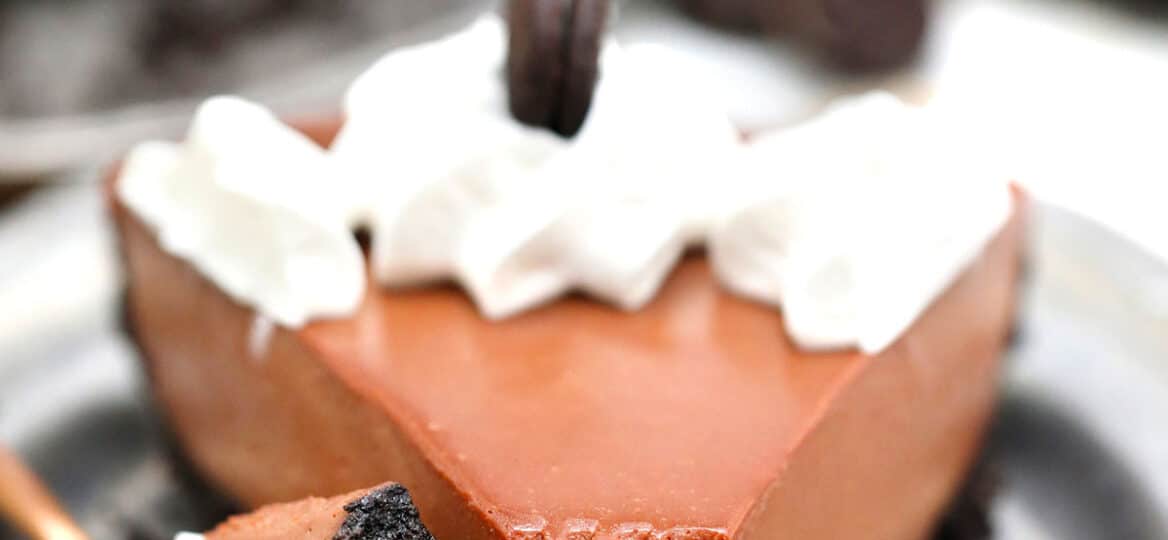 No-Bake Nutella Cheesecake [Video]
No-Bake Nutella Cheesecake is smooth, decadent, moist, and everything you like in a chocolaty dessert! Make it with this easy recipe and enjoy a slice in no time!
I confess that I have a sweet tooth and that's why I have many dessert recipes. I just can't help it! Check out my recipes for Blackberry Cobbler, Pecan Pie Bars, and Cranberry Orange Bread!
Nutella Cheesecake Recipe
No-Bake Nutella Cheesecake always perks me up when I have it. It is so delicious that it sometimes slips my mind that this is so easy to make.
Yes! You can make this dessert without the oven which is another advantage aside from it being so yummy. This cuts the prep time and most of it will be spent just waiting for the whole thing to set and firm up.
This dessert makes for a great afternoon snack or a perfect ending to a savory feast. The sweetness and tartness balance beautifully into a rich concoction.
I love how the hazelnut flavor comes across and it melds well with the cream cheese. Make it now and your guests will be left wanting for more! They would not even notice that it is not baked!
What is a no-bake cheesecake?
It is a version of the cream cheese-based dessert that has no eggs. This means that this dessert spares of you the common troubles of cracking, sinking, and leaking that are associated with baking.
But it does not mean that this version is inferior to the real thing. It is just an easier recipe that still results in a velvety and mousse-like outcome.
How to Make No-Bake Nutella Cheesecake
Prep the crust: Get the cookies and crush them. Combine the crumbs with melted butter to moisten. Then, press down the moist crumbs onto the bottom of the pan to make the crust. Refrigerate it and while doing so, proceed with the filling.
Make the filling: Prepare the gelatin by dissolving it in hot water. Whisk together cream cheese and the powdered ingredients until fully incorporated, then, whisk in the Nutella. Then, fold in the whipped cream.
Chill: Pour the filling into the crust, even out the surface, then, cover with plastic wrap. Refrigerate it to set.
Serve: Decorate with chocolate or nuts or both, then, refrigerate before serving.
Can you make it without gelatin?
Yes! You can do this, simply leave it out. Although this could guarantee a firm dessert, you can also achieve that using just the core ingredients and with proper technique.
Why is my No-Bake Cheesecake too soft?
Two common reasons could lead to this problem:
Inadequate chilling: You need to chill this dessert for at least four hours for it to set. If you can still wait, then, chill it overnight for optimum results.
Too much beating: Overbeating cream cheese can make it runny because of chemistry changes. Make sure that you use it when it is completely at room temperature so that it will be lump-free when you beat it.
Can you make No-Bake Nutella Cheesecake in advance?
Yes, you can! You need to set it so it will still sit in the fridge for hours. You can do this one day in advance for optimum preparation.
How to Store:
Refrigerate: Cover it tightly and keep it in the fridge for up to 5 days.
Freeze: Wrap it tightly and it could last in the freezer for up to 2 months.
Recipe Tips:
You can make the crust out of ground Oreo cookies, graham crackers, or chocolate biscuits.
A simple topping suggestion is to pipe whipped cream, top with nuts, and drizzle some Nutella. Heat the hazelnut spread in the microwave to make it less viscous. Or, melt it together with heavy cream and spread on the top.
Slice this dessert using a warm knife for a clean cut. Simply warm the knife in hot water, then, wipe it dry before using it.
Deliciousness to your inbox
Enjoy weekly hand picked recipes and recommendations