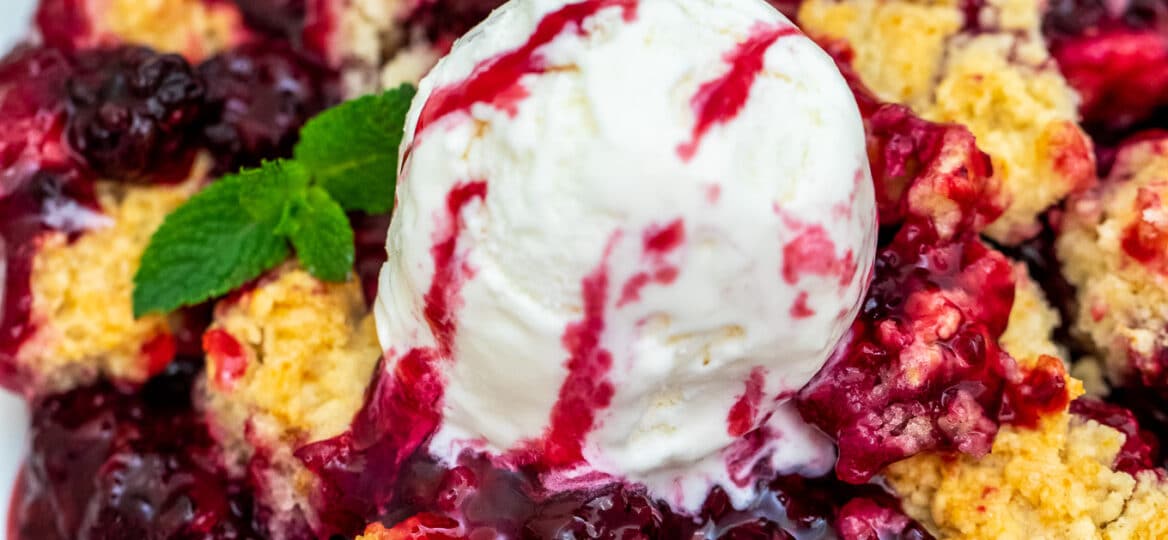 Blackberry Cobbler Recipe with Video
Blackberry Cobbler is a sweet and comforting dessert made with juicy berries and topped with buttery biscuit dough. Ready in just under one hour, it is perfect when served slightly warm with vanilla ice cream.
We love berries! And this particular berry is still in season! Go ahead and make it along with our other fruit-based desserts like Strawberry Banana Bread, Cranberry Coffee Cake, and Apple Snickers Cheesecake!
Homemade Blackberry Cobbler Recipe
Blackberry Cobbler is a nice workaround if you are aiming for a pie but don't want to exert as much effort in making one. You will not use as many ingredients but it gives you as much aroma and taste!
This specific dessert even started in this same manner. It was in the 19th century that this dish became popularized as a dessert.
Before that, it was like a deconstructed pie. Travelers brought with them fruits, either fresh, dried, or preserved, and cooked them over a fire in a Dutch oven. They topped the fruits with bits of dough and as a result, the cobbler was born.
We all grew up eating this classic dish and is a great way to enjoy blackberries.
What is a cobbler?
It is a dessert similar to a pie but only the top has the crust. And the crust is not perfect, it is made with bits of dough or biscuit.
Although it is usually done with fruit, it can also be a savory one although it is a lot less common. This recipe works well with stone-fruits like peaches and other berries. It is often served with a scoop of vanilla ice cream on top.
How to pick blackberries for Blackberry Cobbler?
Picking out the best fruits for this recipe is simple. You want them fresh and ripe and you can get that by selecting fruits that are firm and not red or purple. If the berry is not black throughout, then, it must not be ripe yet.
What if you do not have fresh blackberries?
You can opt for the frozen ones and that is fine. Just remember to give them a rinse once and dry them out completely.
How to make Homemade Blackberry Cobbler?
Prepare for baking: Grease your baking dish and preheat the oven. Set it to 350 degrees Fahrenheit.
Cook the filling: In a saucepan, let the berries boil with sugar, lemon juice, and lemon zest. Thicken it by adding in a slurry, a mixture of the water and cornstarch. Stir for a couple of minutes until thick. Pour the mixture into your baking dish.
Add topping: For the topping, combine the ingredients except for the butter and the buttermilk. Once fully combined, cut in the cold butter until crumbs form in the flour mixture. Moisten it with buttermilk and then, add spoonfuls of this on top of the filling. Be careful with this since you want it still tacky, not wet.
Bake: Pop it in the oven and then, bake for about 30 to 35 minutes, or until brown on top and the filling bubbly.
Serve: Let it cool then, serve it with a scoop or two of vanilla ice cream.
How to make Gluten-Free Blackberry Cobbler:
Simply replace the all-purpose flour with gluten-free flour.
Recipe Variations:
You can follow this same recipe but using other fruits like:
How to Store leftover?
At the counter: Loosely cover it and it will stay good for up to 3 days.
Freeze: You can also wrap it in foil and then, put it into freezer bags. Freezing can extend its shelf life up to 2 to 3 months.
Recipe Tips:
If you do not have vanilla ice cream to serve it with, then, you can simply use whipped cream.
Here is an article on how to make a buttermilk substitute.
Make sure that you use cold butter. This is to create pockets in the topping during baking and make it flaky when cooked.