Classic Apple Crumble Recipe [video]
Apple Crumble is a harmonious balance of sweetness and tartness in one easy recipe! Made with a few ingredients, this recipe is done in less than one hour!
If you are out of dessert ideas, try this easy recipe along with some of our other favorites like the Strawberry Tiramisu, Chocolate Cake, and Lemon Pound Cake!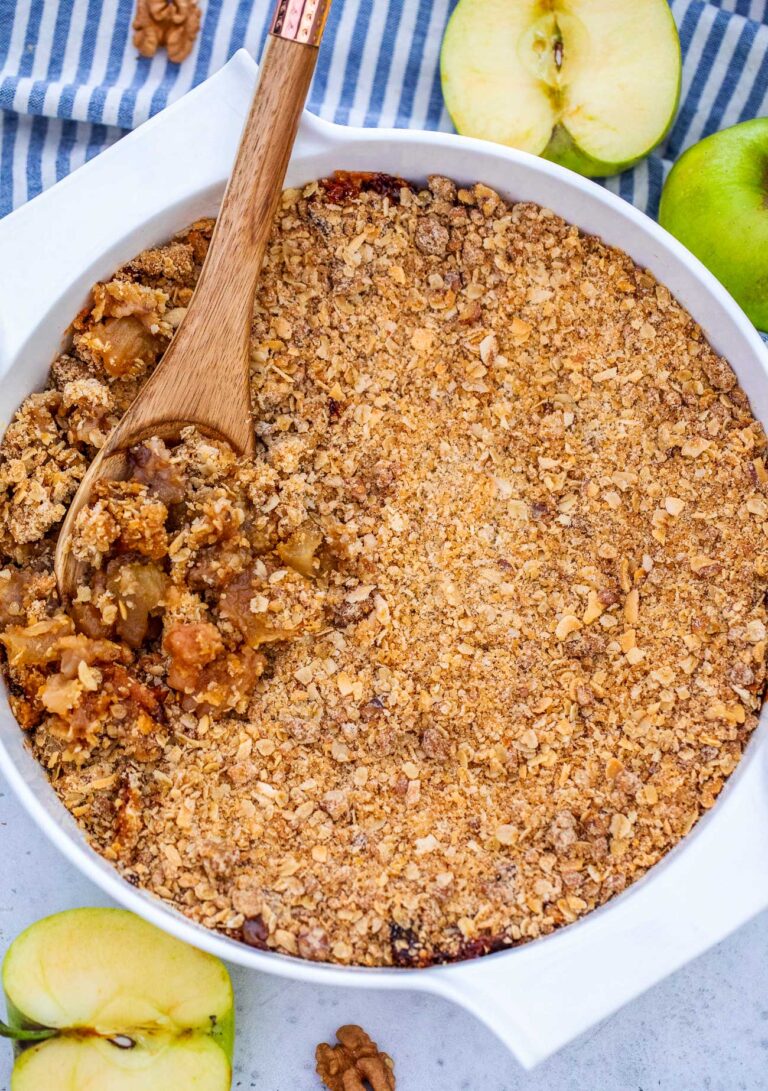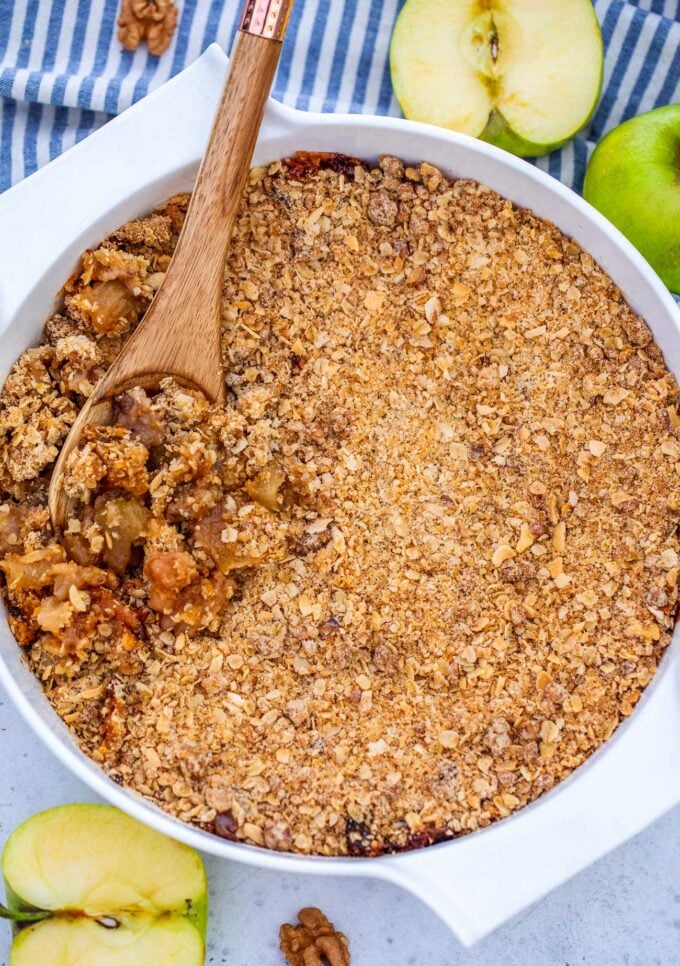 Classic Apple Crumble
This Apple Crumble recipe is made with Granny Smiths, spiced up with cinnamon and nutmeg, and topped with mixed nuts and oats! It is flavorful and has different textures yet so simple. And that makes this dessert so popular.
With just a few months till fall, apple season is fast approaching. Making this easy recipe timely for all your fall party preparations, including Thanksgiving! But don't get me wrong, you can make this all year round for any occasion. It is easy to make and, with little effort, you can feed a multitude!
What is Apple Crumble
It is a British dish that was invented during World War II when food rationing was a thing. With limited ingredients, people came up with toppings made of flour, fat, and sugar. Instead of making a pie, they invented the crumble!
It is a dessert that is baked with the top forming a crumbly layer – hence, the name. In America, there is a similar dessert called a crisp.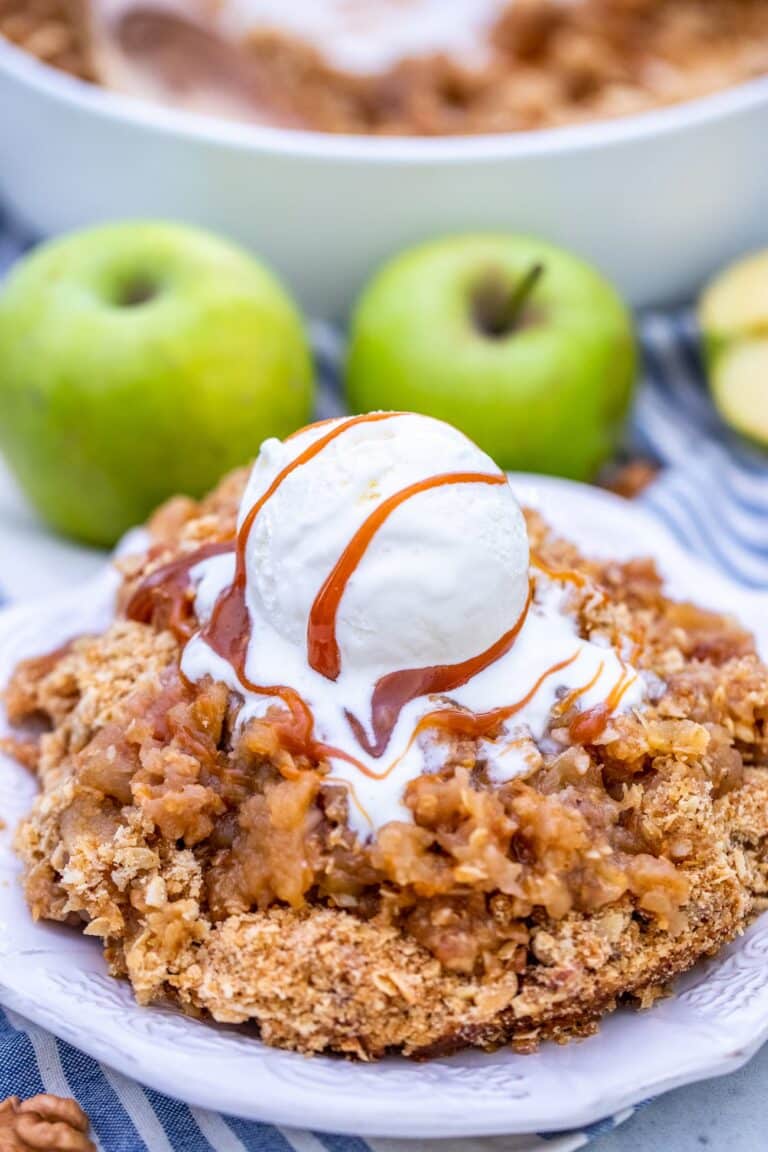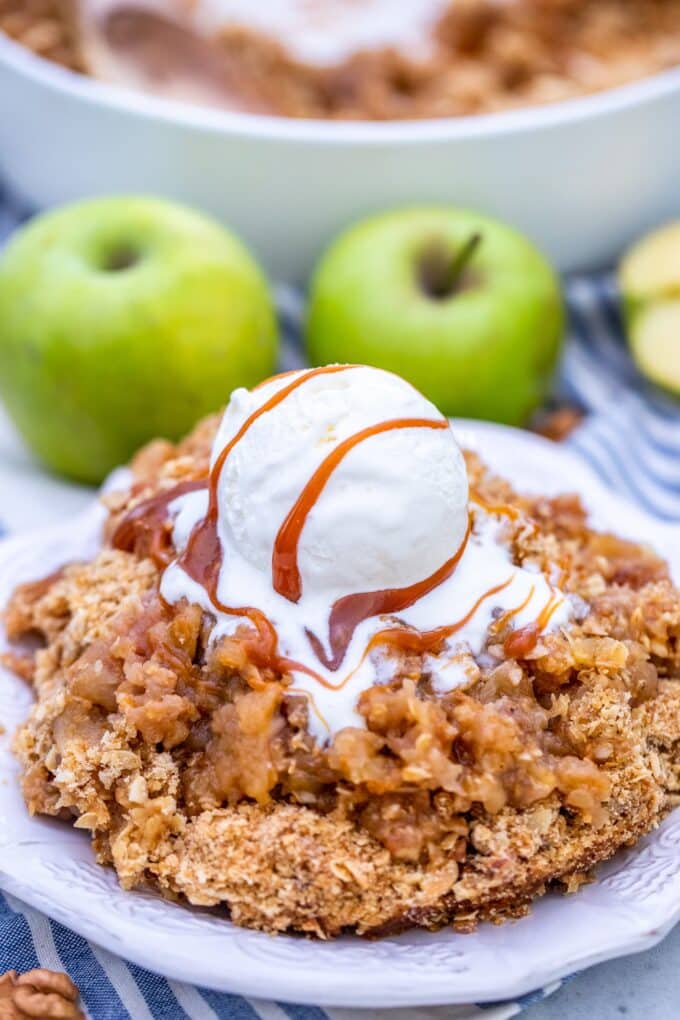 How to make Apple Crumble
Preheat the oven: Do this at a temperature of 350 degrees Fahrenheit.
Prepare the fruit: Peel and cube the Granny Smiths and then, sprinkle with cornstarch, sugar, and spices. Also, pour some lemon juice. Spread out the seasoned cubes in a baking dish.
Prepare the topping: Once you have mixed the ingredients, spread it out on top while breaking up big chunks in between fingers.
Bake: Pop it in the oven for about 30 to 40 minutes. Once golden brown, remove from the oven.
Rest: Let the dessert rest for about 10 more minutes before serving.
How to make Apple Crumble topping:
The main ingredients to make the topping are butter, sugar, and flour. But for this recipe, we add in more ingredients that are not only delicious but also add more crunch. Just combine everything in a bowl until the texture becomes sand-like.
What apples are best for Apple Crumble:
I personally like Granny Smith green ones for this because this variant has a nice touch of tartness to it. It balances out the sweetness of the sugar perfectly. But any kind will do.
In this recipe, we use the apple, but you can also use other fruits like berries and pears.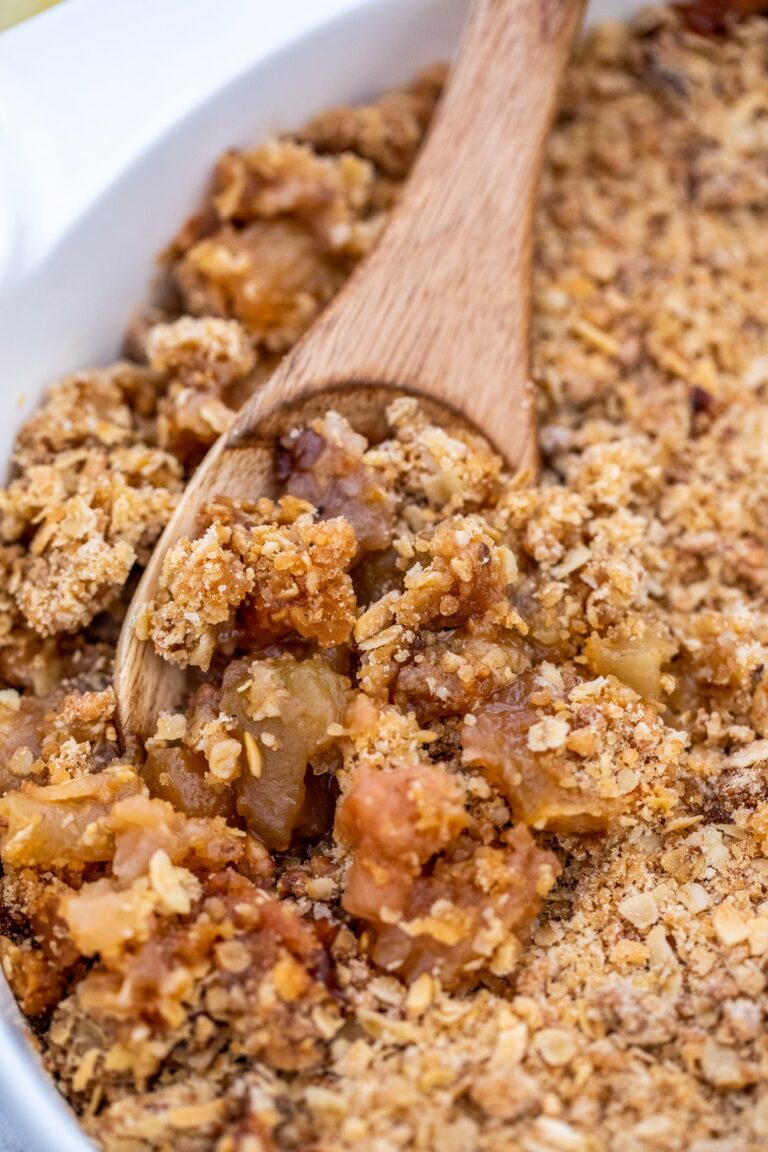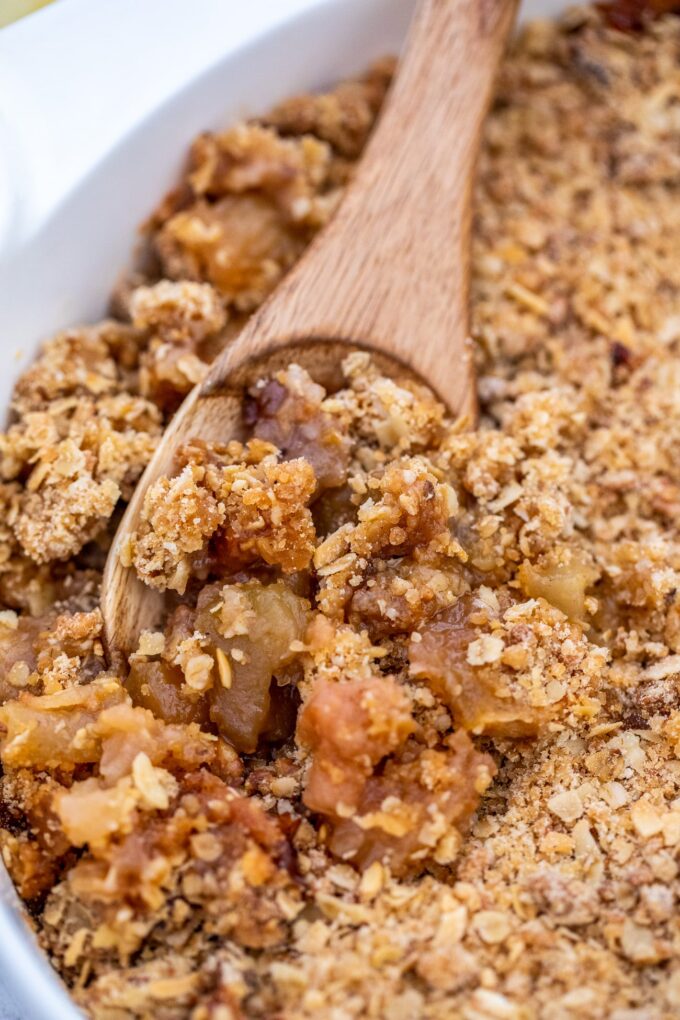 Apple Crumble Variations:
Gluten-Free: Just follow the same recipe but make the appropriate substitution like flour to all-purpose gluten-free flour. Make sure you use gluten-free oats. When processed in a facility that is not gluten-free as in many commercially available brands, you cannot be sure. This is also true for the nuts though naturally, they are gluten-free.
Mixed Fruits: Add a variety of other fruits, like pears and even plums or peaches, to add different textures and more flavor.
Mixed Nuts: Add a variety of mixed nuts to the topping and filling, almonds, macadamia, and pecans are great choices.
Storing Recommendations:
Make it in advance: Make a big batch and refrigerate the leftovers once they have cooled down completely. You can reheat within two days at the same temperature it was baked at. You can even keep it at room temperature for up to two days.
Refrigerate it: Store it in the fridge in an airtight container for up to 5 days.
Freeze it: You can assemble everything first, freeze, and then, thaw and bake on the day you would need it. This is also another way on how to make this in advance.
Serving Suggestions:
This dessert is versatile as you can serve it hot or cold. If you want to serve it hot, you can add whipped cream. Otherwise, it can be enjoyed cold with some vanilla ice cream!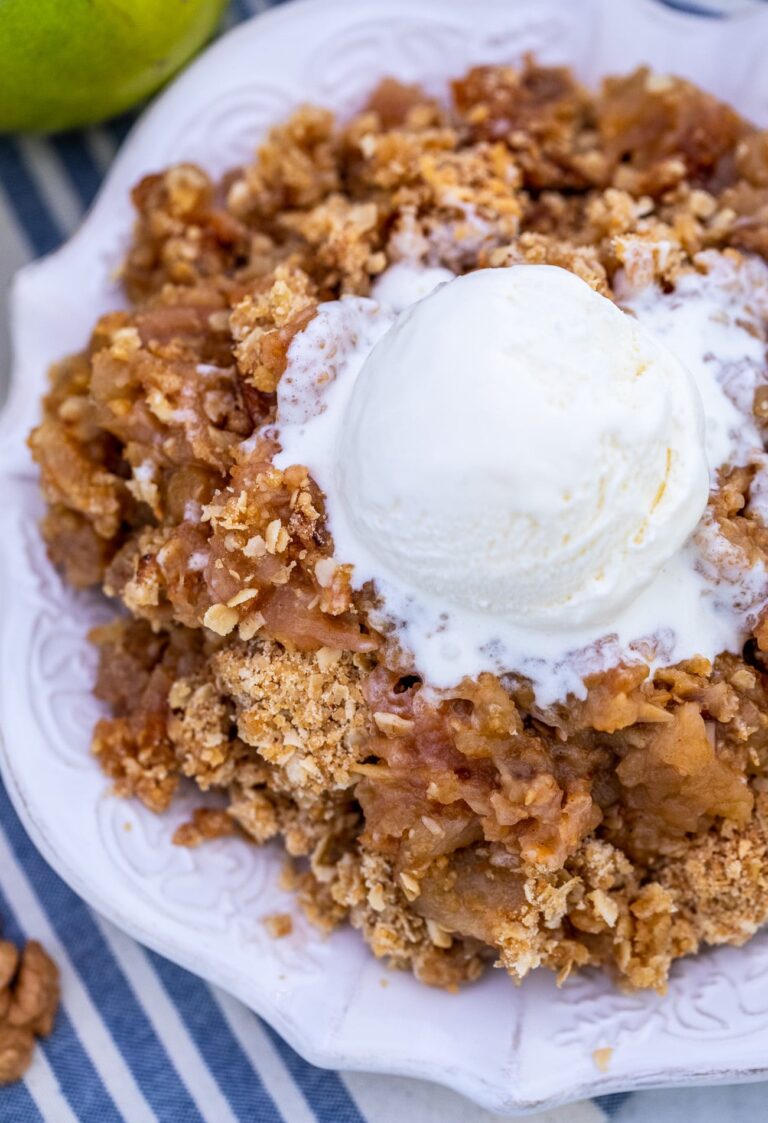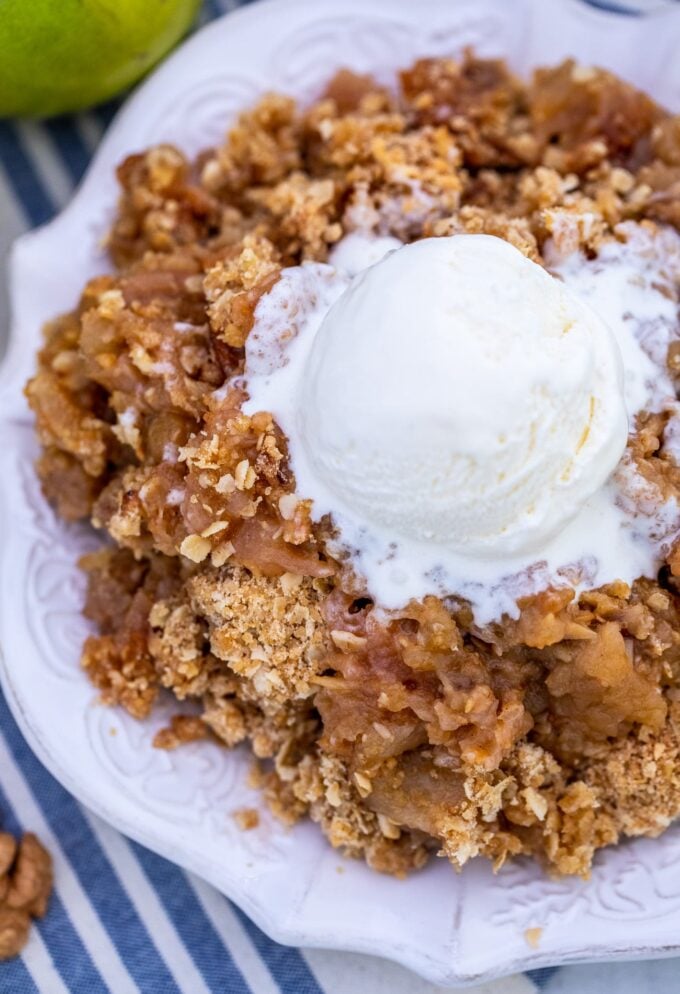 More homemade apple recipes:
Recipe Tips
You can make double the toppings required and store the leftovers in the fridge for up to a week. With this, you can simply peel and cut up some apples to make a new batch to satisfy your cravings.
Feel free to change up the ratio of the spices according to your preferences.
If you use apples that are on the sweet side, cut back on the sugar on the toppings but not on the filling. It is the sugar that makes the filling caramelize nicely.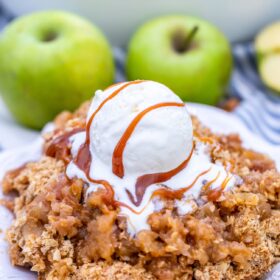 Classic Apple Crumble
Apple Crumble is a harmonious balance of sweetness and tartness in one easy recipe! Made with a few ingredients, this recipe is done in less than one hour!
Save
Share
Print
Pin
Rate
Ingredients
Apple Filling:
2

lb

Granny Smith apples

1/4

cup

cornstarch

1/2

cup

white granulated sugar

2

tablespoons

lemon juice

1/2

teaspoon

ground cinnamon

1/2

teaspoon

ground nutmeg
Topping:
1

cup

rolled oats

1/3

cup

slivered almonds

1/3

cup

chopped walnuts

1

cup

all-purpose flour

1

cup

brown sugar

(packed)

1/2

teaspoon

baking powder

1

teaspoon

cinnamon powder

1/2

teaspoon

nutmeg powder

1/2

cup

unsalted butter

(melted)

Pinch

of salt
Serve:
Vanilla ice cream

Caramel sauce
Instructions
Preheat oven to 350 degrees F / 180 degrees C.

Lightly grease with butter or baking spray a 1.5-2 quarts baking dish. Set aside.
Apple Filling:
Peel apples and then cut them into 1.5-2 inch cubes.

Add chopped apples to a large bowl. Sprinkle with cornstarch, sugar, cinnamon, nutmeg, and then drizzle with lemon juice. Toss, then spread out evenly onto the bottom of the prepared baking dish.
Topping:
Add all the topping ingredients to a medium bowl. Mix until clumps form, it should resemble wet sand.

Spread the topping evenly over the apples, crumbling with fingers.
Bake:
Bake for 30 to 40 minutes or until golden brown.

Once ready, remove from oven and cover loosely with foil to keep warm for about 10-15 minutes before serving.
Serve:
Serve warm topped with vanilla ice cream and a drizzle of caramel sauce.
Nutrition
Calories:
480
kcal
|
Carbohydrates:
78
g
|
Protein:
4
g
|
Fat:
18
g
|
Saturated Fat:
8
g
|
Cholesterol:
30
mg
|
Sodium:
112
mg
|
Potassium:
310
mg
|
Fiber:
5
g
|
Sugar:
51
g
|
Vitamin A:
445
IU
|
Vitamin C:
6.7
mg
|
Calcium:
88
mg
|
Iron:
2.1
mg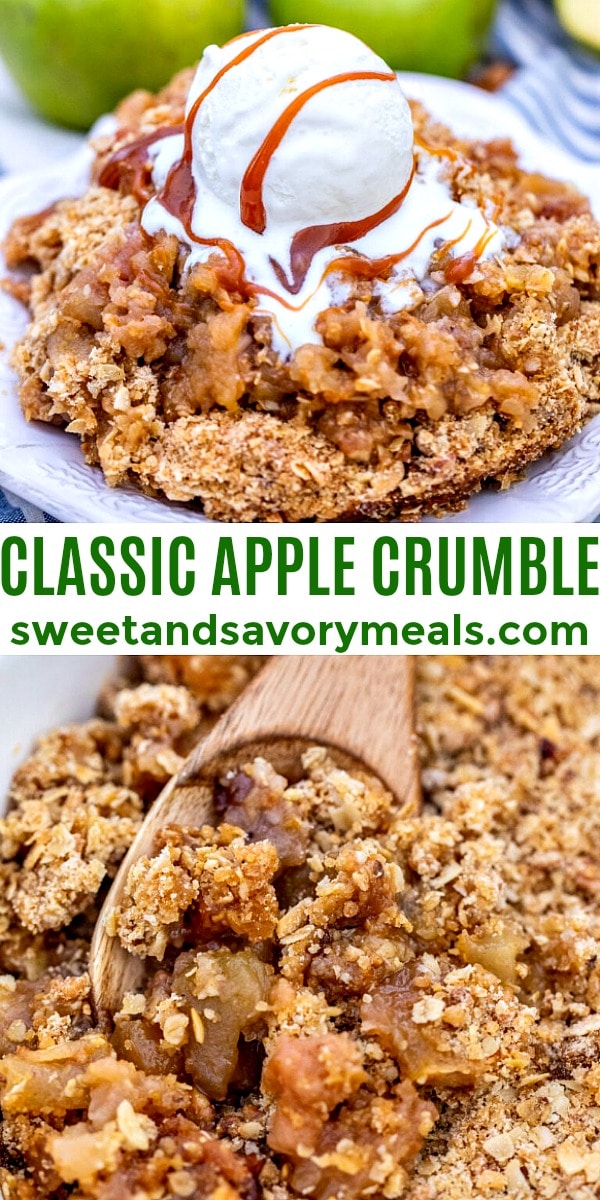 More recipes you might love