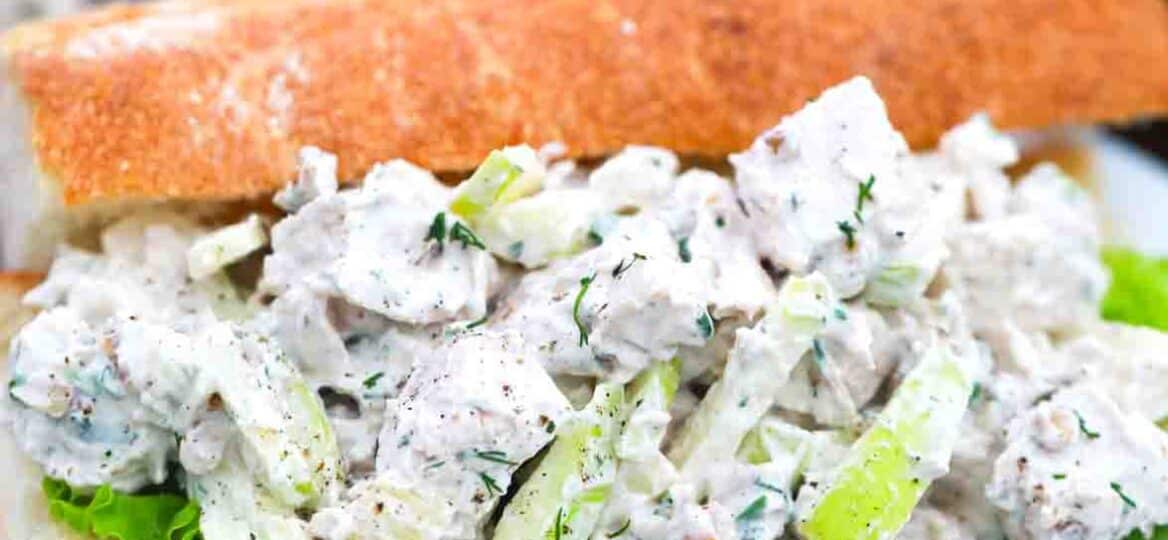 Apple Fennel Chicken Salad Recipe [Video]
Apple Fennel Chicken Salad is a delicious blend of sweet crisp apples, bold fennel, and tender chicken with crunchy walnuts and a creamy mayo and honey mustard dressing. For lunch, dinner, or a snack, however, you want to eat it, this is the perfect chicken salad recipe. Your whole family is going to love it.
If your family loves fennel, try this recipe for Oven Roasted Bok Choy made from baby bok choy and seasoned with garlic, red pepper flakes, and sesame seeds. Speaking of roasting, this Herb Roasted Turkey recipe would be the perfect dinner with brown sugar, apples, grapes, and pears. Another great addition to your apple fennel chicken salad is lentils.
It is always interesting to know where recipes originated, especially the good ones. Chicken salad has a controversial origin. Some say that it was invented by Liam Gray, the owner of Town Meats in 1863 in Rhode Island.
However, others say that Sarah Rutledge penned a recipe that was featured in 1847 in the Carolina Housewife: House and Home. Whoever started it, we love it! This refreshing salad is perfect for sandwiches with a plate of fruit on the side.
Or, you can just eat it out of the bowl. No matter how you serve it, this chicken salad is a whole new spin on the classic dish your grandma used to make. Your family and friends will be asking for the recipe so make sure you save it.
If you are looking for more recipes to make for dinner, this slow cooker cabbage and sausage is delicious comfort food with smoked sausage and apple cider vinegar. For something vegetarian, our cabbage pot roast with potatoes, kidney beans, and carrots will make a hearty meal for everyone.
Follow us on Pinterest for more delicious recipes!
Ingredients needed:
To make this delicious chicken fennel apple salad recipe, all you need are the ingredients listed below. After, scroll down to our recipe card for the complete instructions and exact measurements.
Granny smith apples: Peeled and sliced into thin sticks.
Chicken breasts: Raw or precooked are both fine.
Walnuts: Chopped.
Shaved fennel fronds
Greek yogurt
Honey mustard: Or dijon mustard.

Mayonnaise
Chopped dill
Fresh parsley: Minced.
Fresh lemon juice
Green onions: Thinly sliced.

Kosher salt
Fresh ground pepper
How to make apple fennel chicken salad from scratch?
Boil: First, boil water in a large stock pot. Then, add the chicken and boil over medium heat, stirring occasionally, until it is fully cooked. The internal temperature should be 165 degrees F.

Mix other ingredients: While you wait for the chicken to cook, mix the remaining ingredients together in a large bowl.

Chop cooked chicken: Once the chicken breast is done cooling, let it cool before chopping it into small bite-sized chunks.

Put it all together: After, add chicken to the large bowl to combine with the mayo mustard mixture. Toss the salad well, making sure the apples and chicken are completely covered in dressing. You can add more mayo or yogurt for a creamier salad.

Serve chicken salad: Finally, serve on your favorite sandwich bread.
How to make apple fennel chicken salad with roasted chicken?
Preheat oven: Cooking your chicken in the oven is an even easier way to make the chicken for this dish. To begin, preheat your oven to 350 degrees F and coat a baking pan or dish with olive oil or non-stick cooking spray.

Coat the chicken: In the meantime, coat the chicken with oil, black pepper, and kosher salt before placing it in the prepared pan.

Roast chicken breasts: When the oven is ready, place the pan on the middle oven rack and roast for 25 to 30 minutes depending on the size of the chicken breasts.

Cool and chop chicken: Afterward, let the chicken cool for at least 30 minutes before chopping for the salad.

Mix it all together: Lastly, blend the other ingredients with the chicken in a large bowl until it is completely mixed.

Have sandwiches: Then, put a large scoop of chicken salad between your favorite bread and enjoy.
Recipe variations:
Rotisserie chicken: You could also skip step one and use rotisserie chicken instead.

Other cuts of chicken: If you like dark meat, use chicken thigh or leg meat.

Other meat: Instead of chicken, you could also use pork, turkey, or veal.

Balsamic vinegar: Instead of oil, add balsamic vinegar for an extra-tangy flavor.

Make it sweeter: Alternatively, make your apple chicken salad even sweeter with a tablespoon of maple syrup.

Add more veggies: Feel free to add your favorite veggies like spinach, chopped bell peppers, or celery.
Add more fruit: Similarly, add your favorite fruit such as mandarin oranges, chopped pears, or grapes.

Dried fruit: In fact, adding dried fruit like raisins, cranberries, and dates, add flavor as well as vitamins and minerals.

Garlic: In addition, for garlic lovers, add a 1/2 teaspoon of garlic powder or minced garlic.

Other herbs: Some other herbs that go well in this salad include rosemary, sage, thyme, oregano, marjoram, and tarragon.
How to serve:
This delicious and crunchy apple chicken salad is perfect as a sandwich for lunch or with side dishes for dinner. Try one of these serving ideas or one of your own:
You do not have to make this into a sandwich. Try this salad on top of a bed or lettuce or just eat it from a small bowl.

This salad would go great with a side dish of your favorite vegetable. Our Hasselback carrots with maple syrup and apple cider vinegar would be perfect.

Scatter some of your favorite shredded cheese on top like cheddar, mozzarella, or parmesan.

Enjoy a scoop of this as a side dish to our barbecue pork chops cooked in fennel, lemon, and pineapple juice.

Drizzle a teaspoon of olive oil on your salad before serving for added flavor.
Use leftovers to make a new dish like this turkey salad with grapes.

Sprinkle some chopped crispy bacon on top for extra protein and a delicious taste.

For a beverage, our sweet and tangy pineapple lemonade.

Have a romantic picnic with your honey or take the kids to the park. Pack these chicken salad sandwiches with dill pickles, potato chips, and fruit.
Frequently asked questions
What kind of apple is best for this chicken salad?
Any kind of sweet apple will be perfect for this dish. We prefer to use Granny Smith apples because they are so crisp and tangy, they do not get all soggy. Some other types of apples you can use are Honeycrisp, Fuji, Gala, or Red Delicious. You can also try Golden Delicious, Jonathan, Red Rome, Empire, or Liberty.
What does fennel taste like?
Also known as sweet anise, fennel is a vegetable in the carrot family that is often used in pork, chicken, and seafood dishes. You can use the whole plant including the fennel fronds and fennel bulb, depending on what you are making.
The majority of people who use fennel say that it tastes like black licorice with a hint of mintiness. It also has a slightly nutty flavor that is perfect for salads.
Why is my chicken apple fennel salad watery?
When you add onions and other watery vegetables, they can release the water before you have the chicken and mayo completely mixed together. Therefore, this will cause extra liquid to be released, making it watery. If this happens, just add a bit more mayo and give it a good stir and it should be thick and creamy again.
What are the nutrition facts in this recipe?
One single serving of this apple chicken salad contains 445 calories, 30 grams of carbs, and 24 grams of fat including 4 grams of trans fat and 4 grams of saturated fat. The cholesterol is about 91 milligrams, and it also has 622 milligrams of sodium and 5 grams of sugar.
You also get 213 units of vitamin A, 7 milligrams of vitamin C, 7 milligrams of vitamin E, and 4 milligrams of vitamin D. In addition, one serving has 90 milligrams of calcium, 87 milligrams of magnesium, and 16 milligrams of niacin as well as 4 milligrams of iron and 25 grams of protein.
More salad recipes:
How to store leftovers:
Store: You can store leftovers in an airtight container. It will be good for three to five days in the fridge.

Freeze: If you freeze your salad, it will stay fresh for several months. However, it can seem oily because the oil separates when frozen.

Thaw: Don't forget to put your frozen leftovers in the fridge to thaw overnight before serving.
Cooking tips:
Make sure the pieces are chopped into bite-size pieces. You do not want huge chunks in your chicken salad sandwich.

To save time, use canned chicken so you do not have to cook or chop it.

Similarly, you can also get fruit already peeled and chopped from the grocery section at most grocers.

For a vegetarian salad, simply omit the chicken from the recipe and call it apple fennel salad.

It is not necessary to peel your apple if you do not want to.

Prepare this in advance in an airtight container so you can have chicken salad sandwiches whenever you are in the mood.

You can also substitute the walnuts for pecans or leave out the nuts completely.
Apple Fennel Chicken Salad
Ingredients
1 1/2

lbs

boneless and skinless chicken breast

raw or pre-cooked

1

cup

granny smith apples

cut into matchsticks

1/2

cup

fennel

chopped

1/2

cup

walnuts

or pecans - roughly chopped

1/2

cup

mayonnaise

1/4

cup

greek yogurt

1

teaspoon

honey mustard

1

tablespoon

chopped

dill

1

tablespoon

fresh parsley

minced

1

teaspoon

fresh lemon juice

3

green onions

finely sliced

1/4

teaspoon

salt

1/4

teaspoon

fresh ground pepper
Instructions
If the chicken is raw, bring a large stock pot with water to a boil.

Season it with some salt and pepper, and add the chicken and poach until fully cooked or the internal temperature reaches 165 degrees F.

Transfer the cooked chicken to a cutting board and let it cool. Once cooled, cube it and add it to a large bowl.

Add the remaining ingredients to the bowl.

Using a spatula toss well to combine. Add more mayonnaise if needed and adjust for salt and pepper.

Serve with your favorite sandwich bread, with some fresh salad leaves.

Cover and store in the fridge.