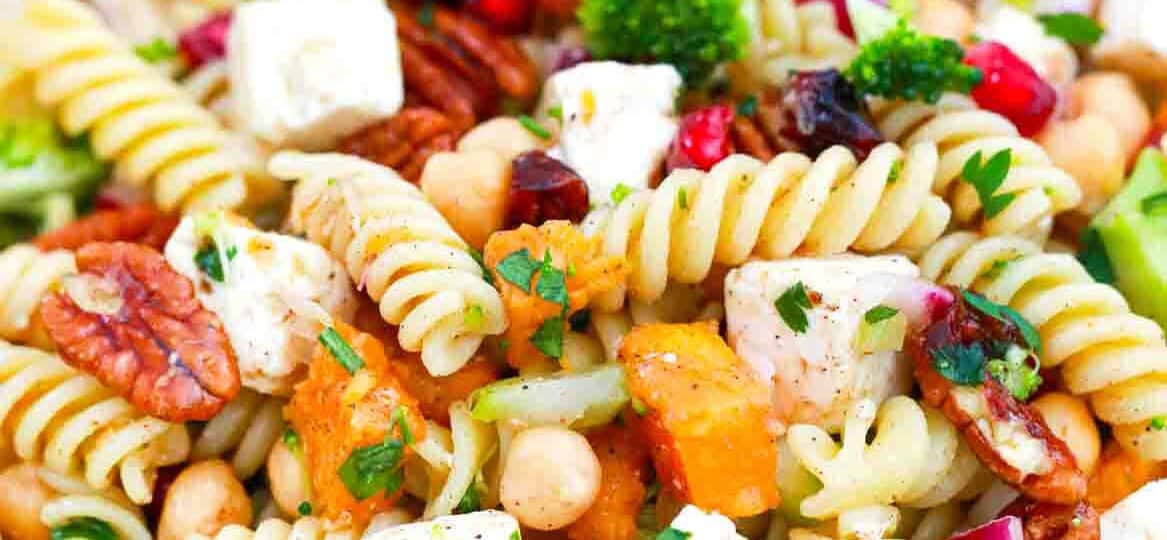 Fall Pasta Salad Recipe [Video]
Fall Pasta Salad is the perfect quick and easy dinner for a cool fall evening with all the flavors like butternut squash, coated in a sweet and tangy dressing. Toss all your favorites in a large mixing bowl and add a light dressing for a nice refreshing change to salad cuisine. Add some kind of meat like chopped rotisserie chicken to make it a hearty main dish for the entire family.
Are you looking for more recipes for pasta salad? Try our Southwest Ranch Pasta Salad with black beans, sour cream, and grape tomatoes. Another one of our popular recipes is this Pesto Pasta Salad made from penne pasta, pine nuts, and basil pesto.
The history of pasta salad is unclear. Many people believe it is an Italian dish, but others say it was made in America. The first time the recipe showed up in print was in 1914 and it was served on top of lettuce leaves and molded like jello.
However, it has also been found that in the 1800s, German immigrants made macaroni and potato salad with mayonnaise and mustard. Also known as fall harvest pasta salad, this delicious salad has all the fall flavors with just a touch of sweetness in the dressing.
Unlike other recipes, this fall pasta salad has squash, cranberries, and chickpeas with rotini pasta, pomegranate seeds, and sweet candied pecans. You can even add some fall fruits.
For something else delicious to do with pasta, try our creamy beef and shells with ground beef, sour cream, and marinara sauce or spinach ricotta stuffed shells made with jumbo pasta shells, ricotta cheese, and spinach. Pizza lovers will enjoy our instant pot pizza pasta from pepperoni, cellentani pasta, and four kinds of cheese.
Ingredients needed:
To make this fall pasta salad recipe, you will need to gather these ingredients. Then, when you are ready to begin cooking, scroll down to the bottom of the page for our recipe card with detailed instructions.
Salad ingredients:
Medium butternut squash: Peeled and cut into bite-size pieces.
Dry rotini pasta
Chopped raw broccoli
Diced celery
Chickpeas: Drained and rinsed.
Block goat cheese: Diced.
Dried cranberries
Diced red onion
Candied pecans: Or toasted pecans.
Pomegranate seeds
Chopped fresh parsley
Olive oil
Salt and pepper
Cinnamon: Just a pinch.
Nutmeg: Just a pinch.
Dressing ingredients:
Olive oil
Apple cider vinegar
Dijon mustard
Pure maple syrup
Grated garlic cloves
Molasses
Cinnamon
Nutmeg
Kosher salt
Black pepper
How to make fall pasta salad from scratch?
Preheat: First, preheat oven to 400 degrees F.

Toss the squash: Meanwhile, toss the butternut squash chunks with olive oil, cinnamon, nutmeg, salt, and pepper on a large baking sheet. Spread it into a single layer.
Bake the squash: Once the oven is heated to 400 degrees F, bake for 35 to 40 minutes, or until the squash is fork tender.

Cook pasta al dente: While the squash is baking, cook the pasta according to the package directions to make them al dente. Rinse in cold water and let it cool for several minutes.

Combine the ingredients: Next, in a large bowl, add pasta, squash, and the remaining ingredients, tossing lightly to mix.
Make the dressing: Finally, whisk salad dressing ingredients in a small bowl and pour it over the salad. Stir until it is evenly coated and serve immediately.
Recipe variations:
Another oil: You can use another oil if you like. Avocado oil would be great in this salad.

Poppy seed dressing: Add a tablespoon of poppy seeds to your salad dressing to make poppy seed dressing.

Favorite veggies: You can add just about any roasted veggies you like. We like brussels sprouts, sweet potatoes, carrots, pea pods, sweet corn, and bell peppers.
Add cheese: Also, feel free to add feta cheese or some other kind of cheese you like.

Make it meaty: Add some meat like grilled chicken, turkey, or pork to this for a hearty main course.

Add some fruit: Chop up some fall fruits like apples, pears, grapes, persimmons, and peaches to add some more sweetness.

Heat it up: Spice up your salad with medium heat like chopped jalapenos or serrano peppers.

No syrup: As well, instead of maple syrup, you can use honey.
Other vinegar: In addition, you can also switch the apple cider vinegar with red wine vinegar.
How to serve:
This fall pasta salad recipe can be served as a side dish or main course, and you can serve it hot or cold. The dressing can be changed, and you can add or omit anything you like. Try one of our favorite serving suggestions or share one of your own below in the comments section.
Add some romano or parmesan cheese to make a richer cheese flavor.

Use leftovers to make a different kind of salad like our crack chicken pasta salad made with chicken breasts, cheddar cheese, and bacon.
You could also add hardboiled eggs to make this salad recipe even more delicious with even more protein.
Speaking of protein, chopped bacon or bacon bits would also be a tasty addition. Our recipe for candied bacon would be perfect.

Top with mushrooms, bulb onions, and avocado slices.

Serve on top of a bed of lettuce for a real salady salad. Try our recipe for the arugula salad.

In addition, for more greens, mix in one cup of spinach.

Add a fresh glass of tea or lemonade. This homemade lemonade recipe would be awesome.
You can also top your salad with canned black beans or pinto beans.

If you want something boozier, try our boozy apple iced tea.
Frequently asked questions
Why is my fall harvest pasta salad soggy?
If you cook your pasta too long, it can get mushy or soggy. Make sure you do not cook it too long. Remove it from the hot water one minute before it reaches al dente. Immediately take it off the stove and rinse it in cold water to stop the cooking process and let it drain completely.
What is the best pasta for this fall pasta salad?
Short pasta is the best. Make sure it has plenty of nooks and crannies to hold the dressing and other flavors. Besides the rotini called for in this recipe, some of the best pasta noodles we think would be great include penne, farfalle, fusilli, and cavatappi. Others include shells, macaroni noodles, and orzo.
Can I reuse pasta water?
Pasta water is the perfect starchy water to add depth and flavor to any recipe. Adding pasta water to a bread recipe gives it a more intense flavor and using it to boil rice makes it thicker and richer. Therefore, you can also use it instead of broth in soups or other recipes for flavor with less sodium. It is also a healthy way to water your plants.
What are the nutrition facts in this recipe?
Each serving of your fall pasta salad has 320 calories, 70 grams of carbs, 2 grams of fat with 1 gram of saturated fat, 160 milligrams of sodium, and 12 grams of sugar. You will also get 14,300 units of vitamin A, 12 grams of fiber, 140 milligrams of calcium, 160 milligrams of vitamin C, and 11 grams of protein.
How to store leftovers:
Store: First, you should store your salad separately from the dressing, so it does not get soggy. The pasta salad can be saved in an airtight container and the dressing can go into a jar. Both can be kept in the fridge for up to five days.

Freeze: You can also freeze fall pasta salad for up to three months.

Thaw: For best results, defrost your leftovers in the refrigerator overnight before serving.

Reheat: This salad is best served cold.
More side dishes:
Cooking tips:
Try to chop all the pieces the same size for better uniformity and taste.
In addition, you can also chill this salad for 30 minutes, because it is just as delicious and served cold.

Equally important, Be sure to take a quick taste test before serving to make sure it does not need more salt and pepper.

Also, cut your prep time and buy precut veggies and use bottled dressing.

This salad tastes even better if you make it the day before. All the flavors have time to be absorbed and melded together.

Do not add the salad dressing to the whole salad if you are not going to be eating the whole thing. Just use it per serving.

Additionally, be sure to salt the water for more flavor.
Fall Pasta Salad
Ingredients
1

medium butternut squash

peeled and cut into bite-size pieces

1

tablespoon

olive oil

Salt and pepper

to taste

1/4

teaspoon

cinnamon

1/4

teaspoon

nutmeg nutmeg

16

ounces

dry pasta

I used rotini

2

cups

chopped raw broccoli

1

cup

diced celery

15

oz

can chickpeas

drained and rinsed

8

oz

goat cheese

cut into small cubes

1/2

cup

dried cranberries

1

small red onion

diced

1/2

cup

pecan halves

1/2

cup

pomegranate seeds

1/4

cup

chopped fresh parsley
Apple cider mustard dressing:
1/2

cup

olive oil

1/4

cup

apple cider vinegar

1

teaspoon

dijon mustard

1

tablespoon

pure maple syrup

2

cloves

garlic

grated

1

tablespoon

molasses

Pinch

of cinnamon

Pinch

of nutmeg

Salt and pepper

to taste
Instructions
Preheat the oven to 400 degrees F.

Cover a large baking sheet with foil for easier clean-up and add the cubed butternut squash.

Drizzle with oil and season with salt, pepper, cinnamon, and nutmeg. Toss to combine.

Bake until butternut squash is fork tender, 35-40 minutes. Let cool before mixing with other ingredients.

Cook pasta according to package directions. Drain and rinse with cold water. Add it to a large bowl.

Add the butternut squash and all the remaining ingredients to the bowl.

Whisk together the salad dressing ingredients and pour as much as needed on the pasta salad.

Gently toss to combine, taste, and adjust for salt and pepper. Serve.
Deliciousness to your inbox
Enjoy weekly hand picked recipes and recommendations