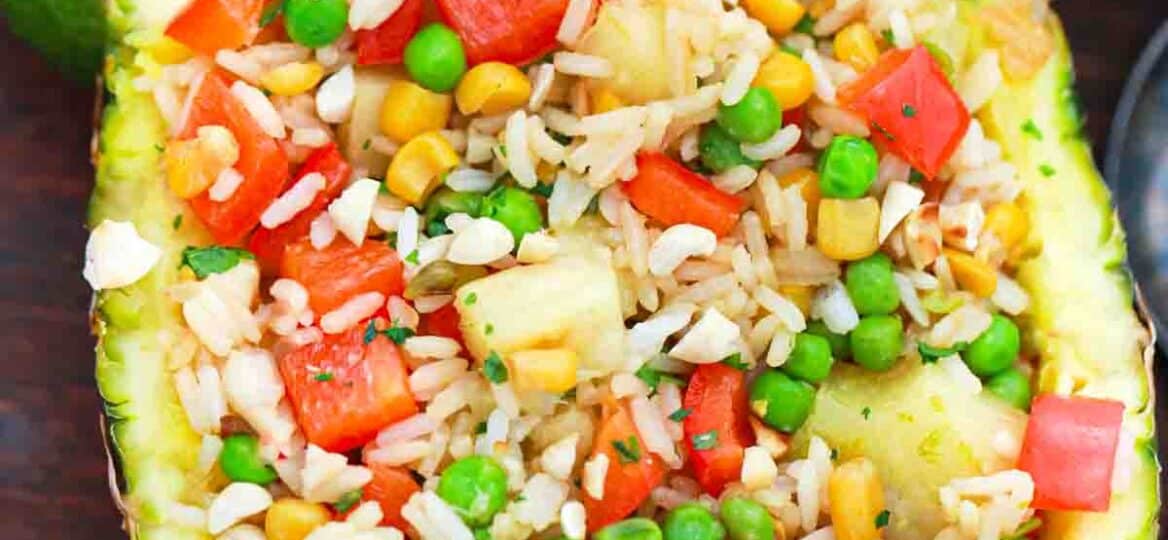 Pineapple Fried Rice Recipe
Pineapple Fried Rice is a quick and easy recipe made with fresh pineapple, jasmine rice, veggies, and a delicious sweet and tangy sauce. You can have this dish ready in minutes because your rice is cooked the day before and the rest of the ingredients are quickly stir-fried. No need to order pineapple fried rice from takeout when you can make it faster than it can get there.
Looking for other fried rice dishes? Our Chicken Fried Rice is easy and delicious with chicken breasts, sweet corn, and sesame oil, and this Shrimp Fried Rice is better than takeout and seasoned with rice wine and garlic. For something different, this recipe for Instant Pot Pineapple Chicken with hoisin sauce is ready in 30 minutes.
Researchers found the oldest record of fried rice in China during the Sui Dynasty, which took place from 589 to 618 AD although it is believed that frying rice goes back further than that. It was not popular until the Ming Dynasty from 1368 to 1644 AD. They think it started as a way to make leftovers into a whole new dish.
Thai pineapple fried rice is so fast and easy to make, you can have it every night if you want to. The sweet pineapple makes rice taste even more delicious with the savory sauce. This is seriously the best fried rice! It even tastes better than the last time you ordered pineapple fried rice
If you love this dish, we have other Thai cuisine dishes you can try too. For instance, our Thai Chicken Curry is spicy and sweet with Mexican chiles, shallots, and fresh ginger, and this coconut curry chicken is better than what you get at your favorite Thai restaurant. And this crispy air fryer coconut shrimp with sweet dipping sauce is the perfect appetizer or side dish.
Ingredients needed:
First, gather these ingredients to make our delicious Thai pineapple rice recipe. Then, when you are ready to prepare, scroll down to our recipe card with the exact measurements and instructions.
Garlic cloves: Minced finely.
Red pepper flakes
Green onions: Finely chopped.
Red bell pepper
Frozen peas
Sweet corn: Drained.
Day-old cooked rice: We used jasmine rice.
Pineapple pieces: Fresh or drained canned pineapple.
Lime zest
Lime juice
Sliced green onion
Peanut oil
Chopped roasted peanuts: Unsalted.
Cilantro: Chopped.
Sauce:
Oyster sauce
Fish sauce
Mirin
Soy sauce: We used low sodium soy sauce.

Sugar
How to make pineapple fried rice from scratch?
Heat the pan: First, heat oil in a wok or large nonstick skillet over medium-high heat.
Stir fry veggies: Then, add the pepper flakes and garlic and cook for one minute. Add red pepper flakes and cook for one more minute. Then, add corn and peas and cook for another 30 seconds while stirring with a wooden spoon.

Cook rice and sauce: After, add the sauce ingredients and the rice and cook for two minutes, stirring constantly, for about two minutes or until the rice grains are caramelized.

Add the fruit: Last, add pineapple, lime zest, and juice, stirring constantly, for 30 seconds before stirring in the green onions.

Serve: Finally, remove from heat and top with fresh cilantro and chopped peanuts with lime wedges on the side.
How to serve:
This homemade fried rice recipe is better than the kind you get from takeout and just takes a few minutes to stir fry. If you've never tried fried rice recipes, this is the one you should start with. Try one of our great serving ideas or one of your own.
Sprinkle with toasted sesame seeds for some extra crunchiness.
Instead of the soy sauce mixture, you could use teriyaki, curry, or chili garlic sauce. Try our delicious recipe for homemade teriyaki sauce.

You can also add chopped crunchy cashews on top.
Serve with a fresh salad or a side of egg rolls. We have a great recipe for Panda Express copycat chicken egg rolls you can try.
Right before serving, add more soy sauce to taste.

This fried rice dish goes great with other veggies like asparagus or green beans. Make our great recipe for air fryer bacon-wrapped green beans for a different side dish.

For a Hawaiian backyard barbecue (or any occasion) serve this dish in a pineapple bowl. Just hollow out the halves of a fresh pineapple and fill them with the pineapple fried rice.
Frequently asked questions
What is the difference between Chinese and Thai fried rice?
First, Thai fried rice is called Khao Pad in Thailand and is considered to be street food. One of the main differences is that the Thai dish uses jasmine rice and the Chinese one uses long-grain white rice. And although this recipe calls for soy sauce, traditional Thai rice is made without it.
Does it matter what kind of rice I use?
It is best to use dry rice like jasmine, long grain white, brown, or basmati rice. Other types of moist rice like arborio and sticky rice will just clump together even if they were cooked the day before. Any kind of long-grain rice will do as well but we find jasmine rice the best for this recipe because it is traditional and tastes delicious.
Is stir frying healthy?
Most stir-fries are made with very little oil and loads of fresh vegetables, so the majority of stir-fry recipes are nutrient-rich and low in fat. However, the rice itself has a lot of carbohydrates so it is best to eat more veggies and less rice. Try black rice or shirataki rice instead or you can make our great recipe for low-carb cauliflower rice.
What are the nutrition facts in this recipe?
One serving contains 350 calories, 55 grams of carbohydrates, 15 grams of sugar, 600 milligrams of sodium, 30 milligrams of cholesterol, and 14 grams of fat. It also provides 9 grams of protein, 400 milligrams of potassium, 3 milligrams of iron, 60 milligrams of calcium, and 30 milligrams of vitamin C.
How to store leftovers:
Store: Let your leftover pineapple fried rice cool completely before putting it into a sealed container. It can keep in the fridge for three to five days.
Freeze: For longer storage, freeze your leftover rice in a freezer bag for up to three months.
Thaw: No need to thaw.
Reheat: Put leftovers in the microwave for 60 to 90 seconds for a small portion. Or heat it up in a frying pan or wok.
More pineapple recipes: