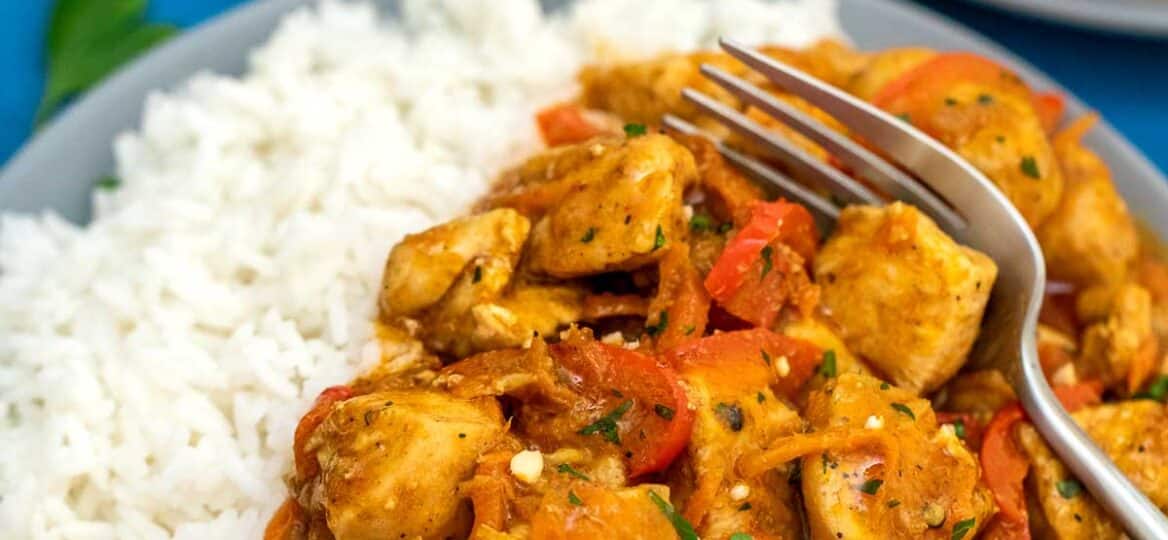 Coconut Curry Chicken [Video]
Coconut Curry Chicken is creamy, hearty, and very flavorful! This easy one-pan recipe will solve your cravings without going to the nearest Thai restaurant!
So, I ate at a Thai restaurant last weekend and the experience rekindled my love for curries! And so, I went home and recreated this dish. This is just one of the many Asian-inspired dishes that we love so much, like the Chinese Hot and Sour Soup, Instant Pot Mongolian Beef, and Chow Mein!
Coconut Curry Chicken Recipe
Coconut Curry Chicken is so rich and creamy that it is perfect served over some fluffy rice that soaks all that creamy goodness. The mixture of seasonings and spices yields a beautiful flavor profile making it appeal to an international audience, and making it popular around the globe.
The coconut milk gives it a sweetness that pairs well with the curry spices which you can alter if too overpowering for your taste. That is the beauty of home-cooking – being able to change up the recipe according to your own preference.
Do not be intimidated by the long ingredient list. Look closer and you will find that all you need is poultry, a couple of veggies, some aromatics, and the various spices that you might already have in your pantry.
It is a good thing that I love coconut milk and I keep a stash of it. If you do not have some, then, it is time to do a quick run to your grocery store and you should be able to find it. Don't keep your other ingredients waiting and let's start!
How to make Coconut Curry Chicken
Prepare the veggies: Cut and mince the aromatics and veggies as described in the ingredients list.
Sauté: Heat some oil and cook the onions. A few minutes in, add in the other aromatics. Then, add the curries, coriander, and cumin.
Brown: Stir in the veggies then, add in the meat. Cook until the meat turns brown but not thoroughly cooked.
Pour: Pour in the coconut milk and the rest of the ingredients. You may also add the fish sauce at this point, but it is optional.
Serve: Serve with rice or naan bread or both. You may garnish with cilantro, basil, nuts, and lime wedges.
Recipe Variations
You can alter this recipe as suggested below:
Add more veggies like potatoes, green beans, cauliflower, and spinach to add more fiber in it. Just add the spinach towards the end of the cooking so it will not wilt.
Go vegan by substituting the meat with firm tofu.
Try it with shrimp!
Use the slow cooker. Cook it on low for up to 8 hours, or high for up to 4 hours.
What to serve with Coconut Curry Chicken
Aside from naan bread, here are some recipes that go well with this dish:
How to Store Coconut Curry Chicken
Keep it in an airtight container and refrigerate for up to a week. You can reheat it on the stovetop or in the microwave.
Freezing will cause no issue with the coconut milk, but the texture of the veggies may change.
Recipe Tips
You can also eat it with seasonal veggies and greens when you serve it to tone down the spiciness.
I strongly recommend that you use full fat coconut milk for optimum texture. You may use lite, but you will need to thicken the base by adding a cornstarch slurry.
If you find it too thick, you may opt to add chicken broth to thin it out.
Coconut milk is prepared by simmering equal parts of shredded coconut and water. The cream, on the other hand, has three parts more of the shredded coconut than the water which makes it thicker. However, it will be too strong to be used in this dish, so, stick with the milk.