How To Cook Quinoa [video]
Quinoa is a super-food loved by many for its numerous health benefits. Learn how to make quinoa at home and use it as part of your regular menu rotation!
You can substitute rice with this to pair with your favorite savory dishes like the Hunan Chicken, Chicken Katsu, and Baked Lemon Garlic Tilapia.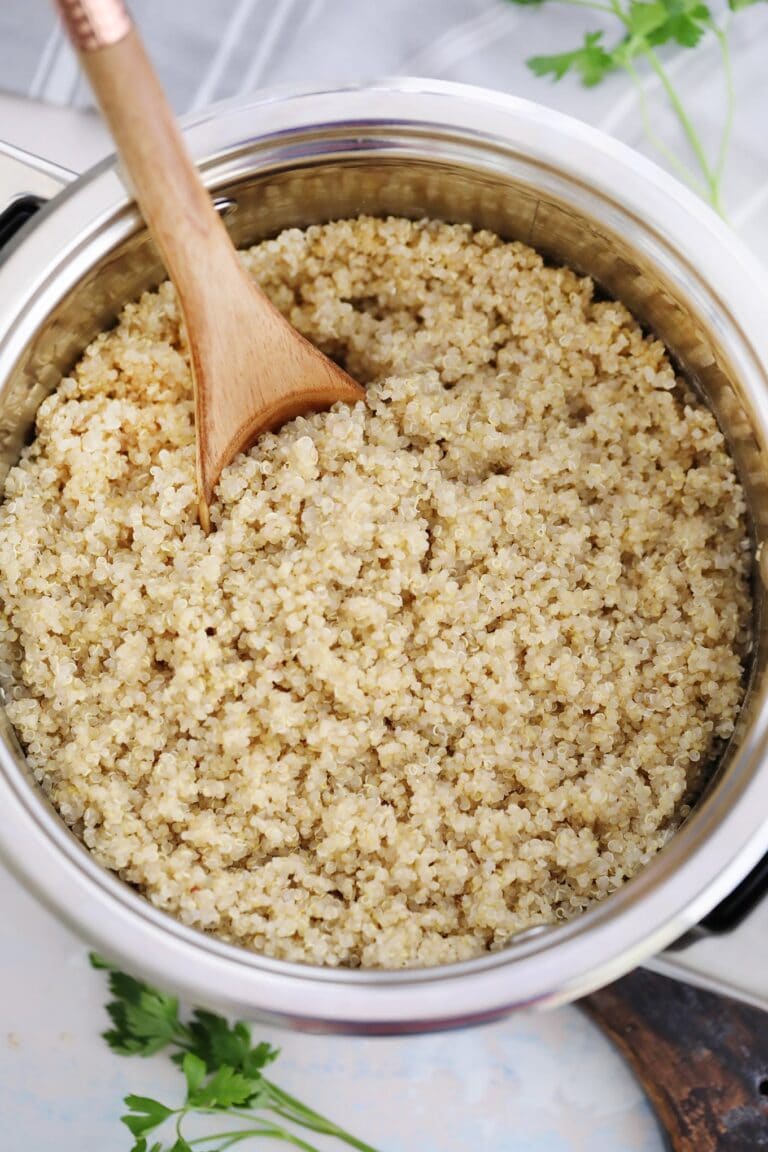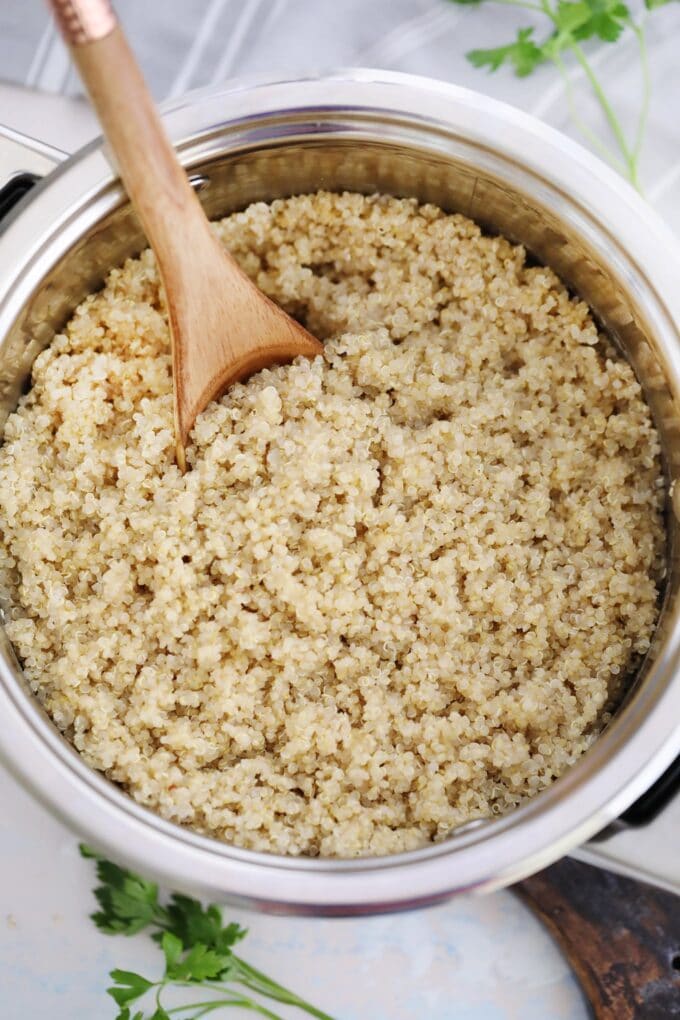 How To Cook Quinoa At Home
Quinoa is actually a seed and not a type of grain. Basically, it comes in three usual colors: white, red, and black. All of them are equally healthy and tasty with very slight differences.
The white one is the most common that you'll find in stores, but it is worthwhile to try out the red and black varieties. The red one holds its shape fairly well which makes it ideal for salads while the black one is a bit on the sweeter side.
Cooking quinoa is not rocket science! Read on to learn some tips on how to make perfect quinoa every time! Get your apron ready and let's start!
What is quinoa?
It is what is called a pseudocereal – we prepare and eat it as if it were a grain but really, it is not. When cooked, it turns out creamy and fluffy which makes it a great substitute to other grains like barley, couscous, and rice.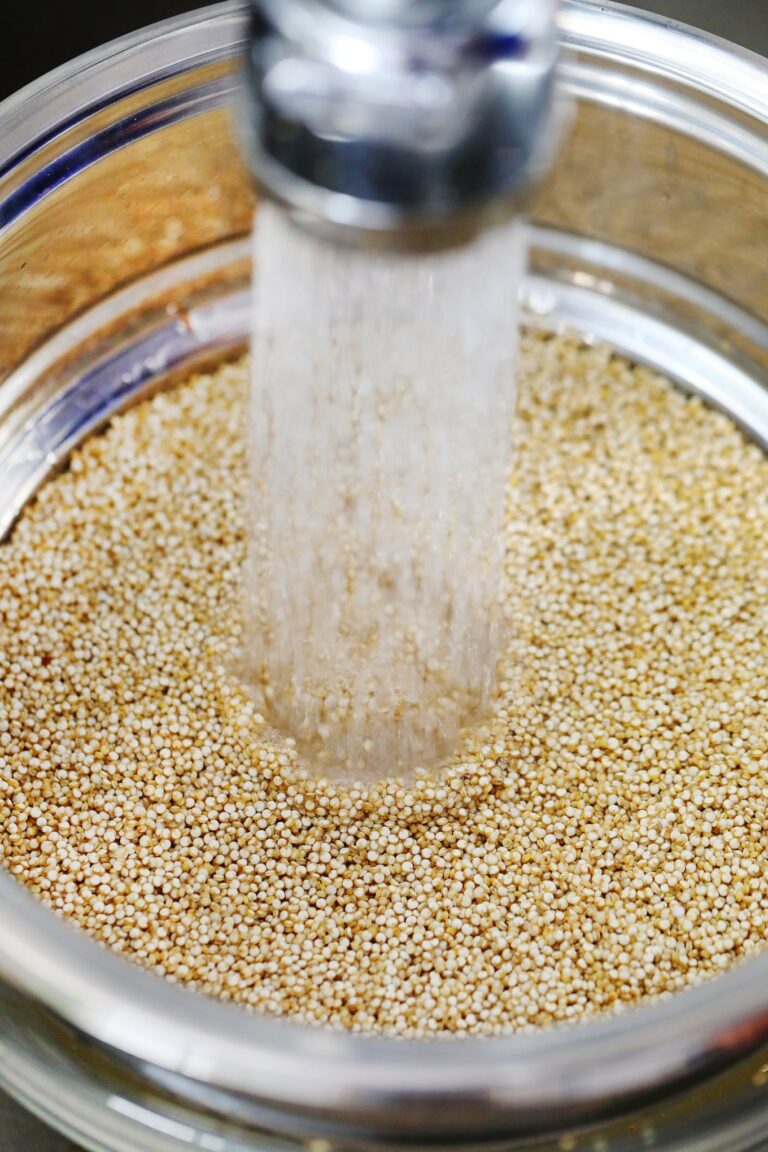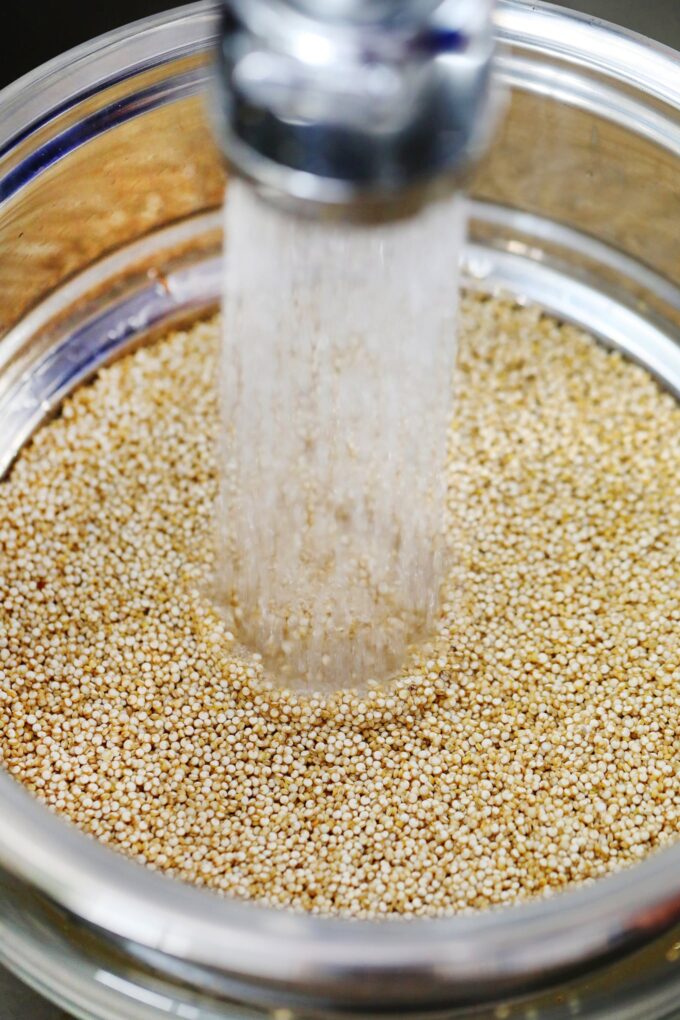 Is quinoa healthy? What are the health benefits?
It is a close relative of spinach and beets which makes it gluten-free. Being gluten-free is one of the many reasons that people have grown fond of it. It has many health benefits and is quite versatile, too! This makes learning how to properly prepare it a necessity.
It has all the nine essential proteins that are not found in any other plant-based sources. This makes this an ultimate protein powerhouse that is great especially if you are a vegan.
Include it in your diet if you are aiming for a slimmer figure. The fiber in it will keep you feeling fuller for longer which will allow you to lessen your overall food intake.
How to cook quinoa on the stove?
The key to successfully prepare this side dish is the preparation prior to the actual cooking as well as the magic ratio of liquid to every part of quinoa.
To prepare, rinse the seeds in cold water to remove any residual saponins that might be present on its surface which makes it taste slightly bitter. Do this with a fine-mesh sieve.
Then, put transfer the washed seeds to a saucepan and add water twice the amount of the seeds. If you are cooking two cups, then, add four cups of water. Add in some olive oil and salt and then, let the whole thing boil.
Cover it and lower the heat for the boiling to reduce to a simmer. This will take about 15 to 20 minutes until all the water has been absorbed.
Set it aside for five minutes, uncover the pan, and fluff with a fork.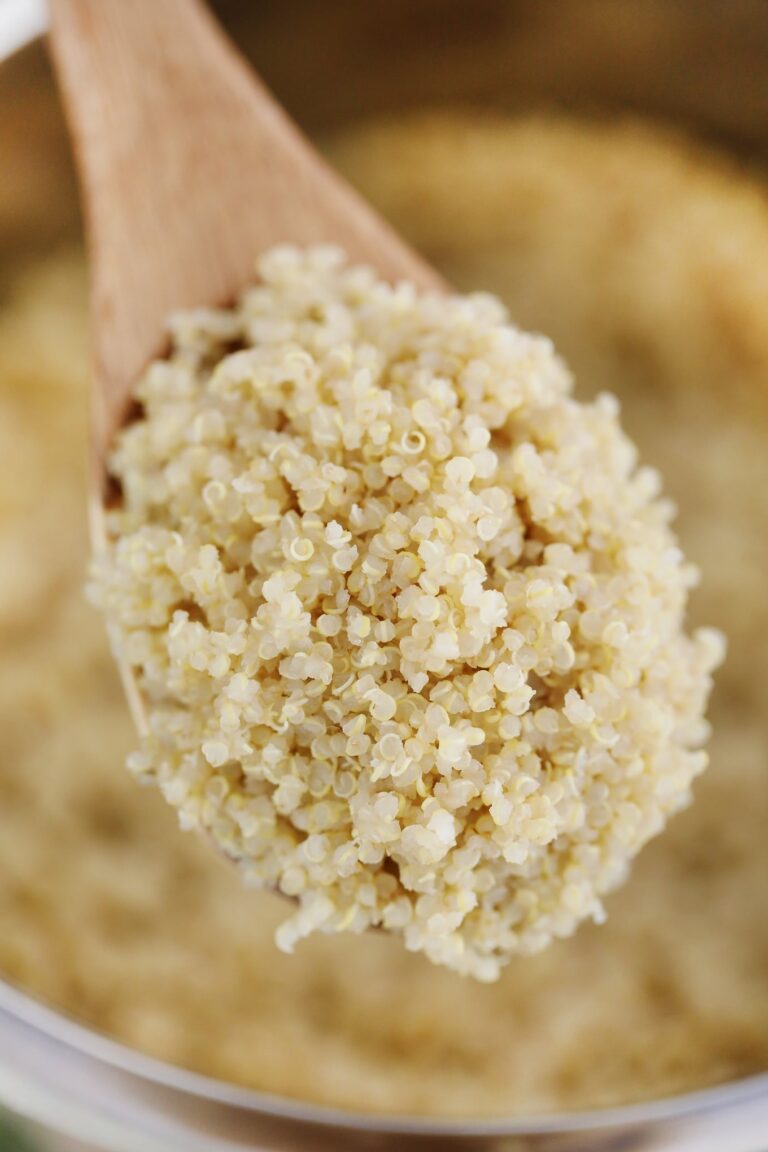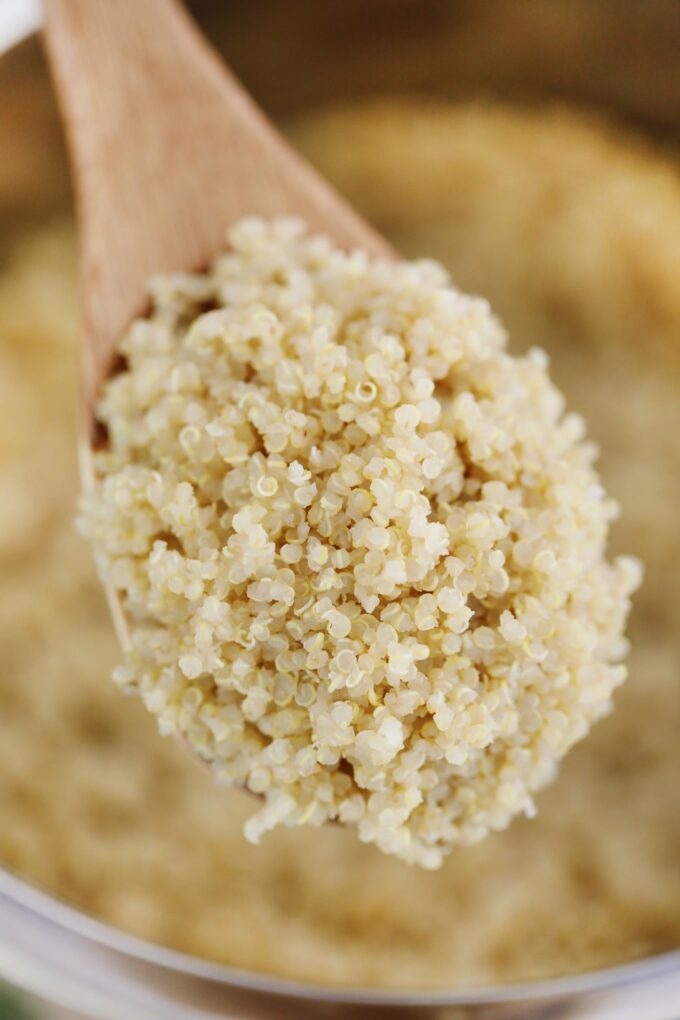 How to cook quinoa in a rice cooker?
You need not go through all the trouble of checking and timing if you use the rice cooker. All you need to do are the following:
Rinse the seeds as in the above procedure.
Add some oil to the rice cooker before adding the seeds in.
Add in some salt to taste and the corresponding amount of water (remember the magic ratio?).
Push the button to start cooking and wait until it is done.
Let it sit for another 5 minutes before serving.
How to cook quinoa in the microwave?
If you are running out of time, use the microwave. Again, rinse the seeds, add the appropriate amount of liquid, and then, transfer to a covered microwavable glass dish. Microwave on high for 6 minutes, remove the cover, and stir.
Then, pop it back to cook for another couple of minutes until it's done.
How to cook tricolor quinoa?
Tricolor or not, simply follow the procedure stated in this recipe.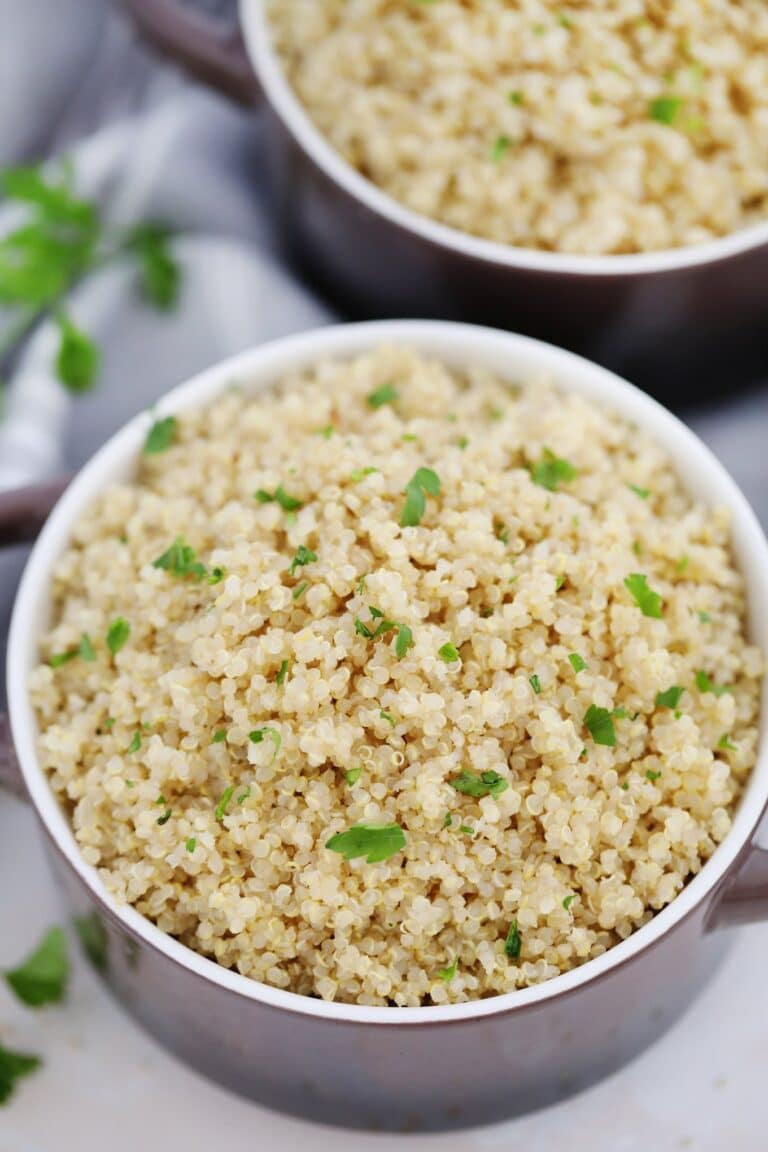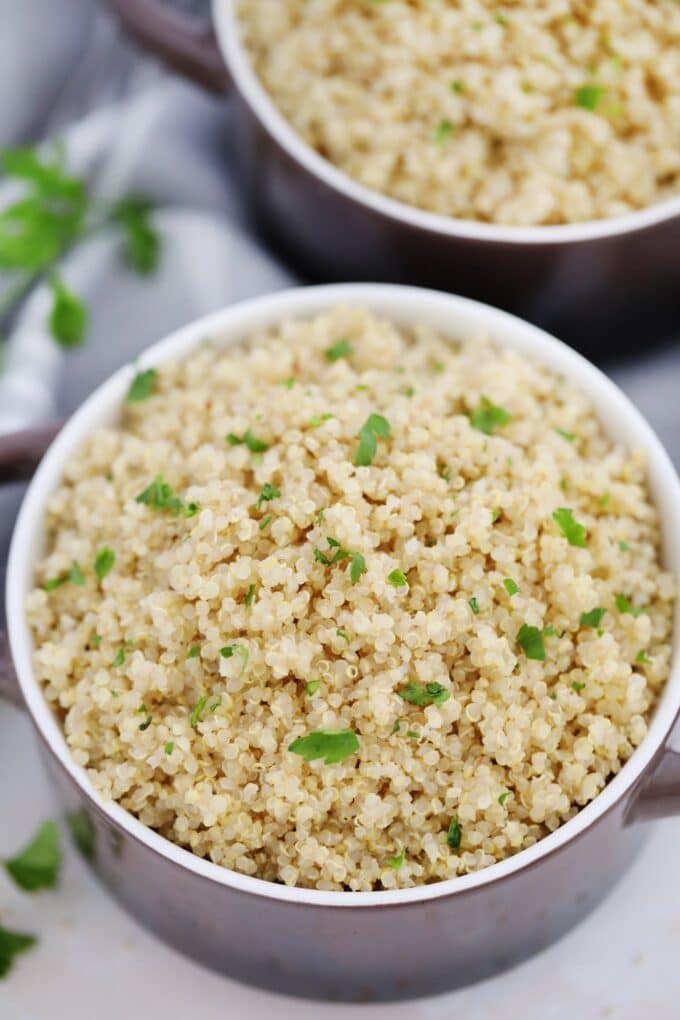 What to store with quinoa?
This is a super healthy side-dish that can be served with pretty much anything. Our favorite way is to serve it along dishes like pork loin, chicken breast, or teriyaki salmon.
How to store it?
Let it cool completely and place in an airtight container before transferring to the fridge for no more than 4 days.
It freezes well, too. Simply put it in a freezer bag, and before you reheat it, let it thaw overnight first.
Recipe Tips
To know if it has already cooked thoroughly, observe if the "tail" has come out from the seed.
Rinse it before cooking even when the package says it is pre-washed.
You can make a lot of other recipes with this like our favorite Mexican Stuffed Peppers!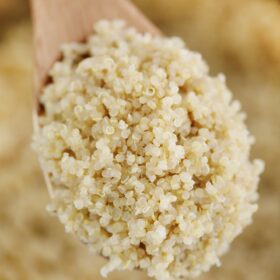 How To Cook Quinoa Recipe
Quinoa is a superfood loved by many for its numerous health benefits. Learn how to make quinoa at home and use it part of your regular menu rotation!
Save
Share
Print
Pin
Rate
Ingredients
2

cups

quinoa

4

cups

water

1

teaspoon

olive oil

1/4

teaspoon

fine sea salt
Instructions
Rinse quinoa in a fine mesh sieve until water runs clear. Then, drain and transfer to a medium pot.

Add 4 cups water, oil and salt and bring to a boil over medium-high heat.

Cover, reduce heat to medium-low and simmer until water is absorbed, for about 15 to 20 minutes.

Remove from heat and set aside for 5 minutes, uncover and fluff it up with a fork.
Nutrition
Calories:
214
kcal
|
Carbohydrates:
36
g
|
Protein:
8
g
|
Fat:
4
g
|
Saturated Fat:
0
g
|
Cholesterol:
0
mg
|
Sodium:
108
mg
|
Potassium:
319
mg
|
Fiber:
3
g
|
Sugar:
0
g
|
Calcium:
32
mg
|
Iron:
2.6
mg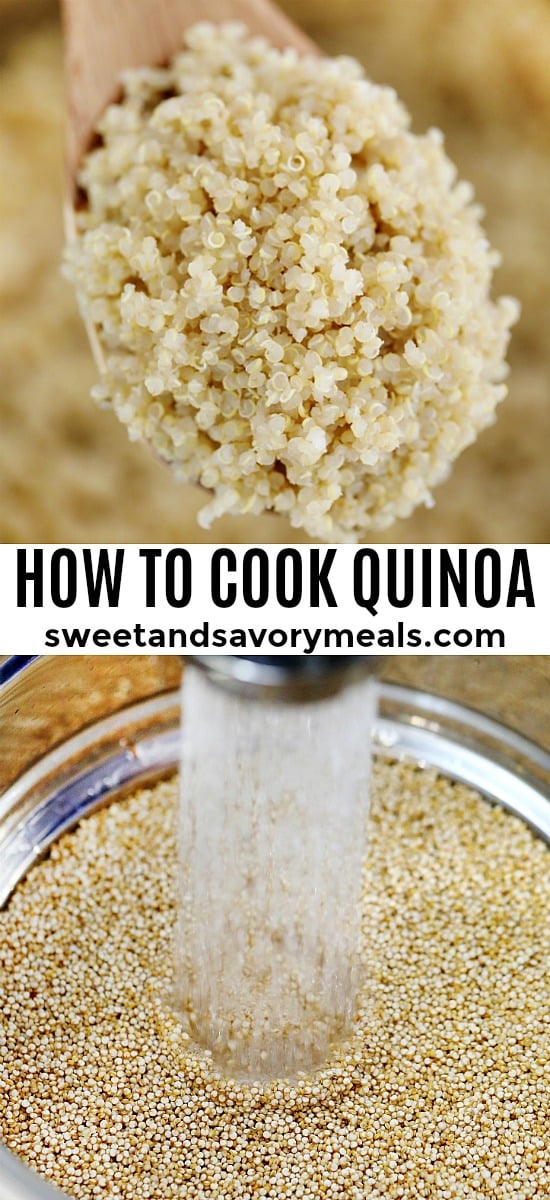 More recipes you might love