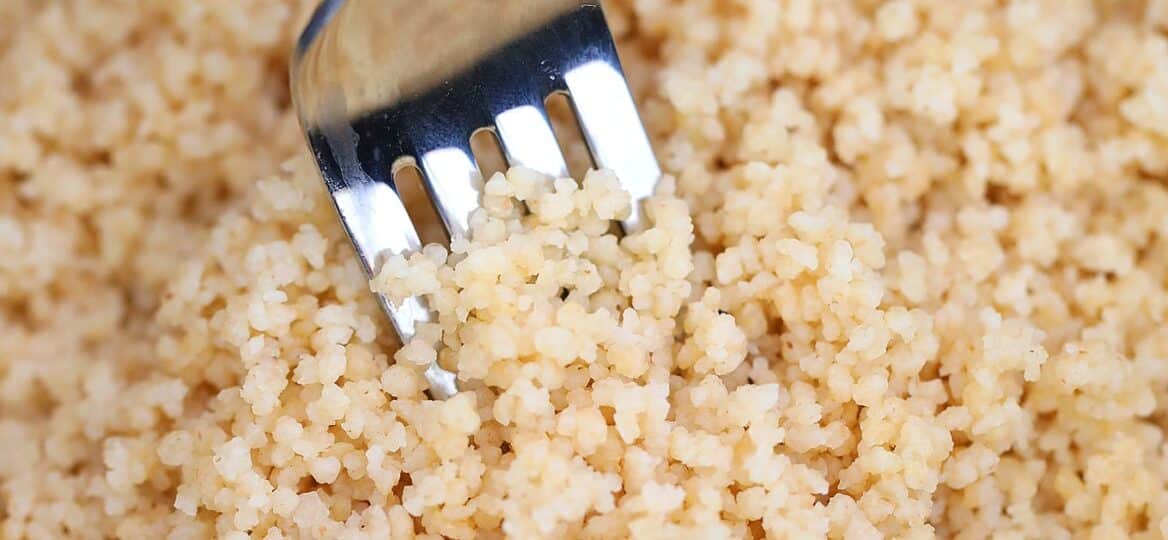 How to Cook Couscous [video]
Couscous is a fluffy and hearty side dish that is so easy to prepare! It is versatile and can be used as an ingredient in stuffing, sauces, or salads!
For a high-protein meal, you can eat this along with our other savory dishes like the Bacon Wrapped Jalapeno Popper Chicken, Barbacoa Beef, and Cube Steak!
Easy Couscous Recipe
Couscous is a great alternative to rice or pasta as sides. Once cooked, it quadruples in volume. So, in just one batch, you can make many recipes out of it.
It is just like pasta so you can also use it for many things. Its taste is neutral, too, making it a nice addition to salads, soups, and even to main dishes.
But not so many are familiar with how to prepare this grain properly. It can be done in no about 20 minutes! Not that is simple! You can keep a pack in your pantry for those occasions when you want no-fuss, quick dinners.
In this post, you will learn how easy it really is to prepare it!
What is couscous?
It is a grain product made from wheat just like pasta and shaped into tiny balls. Specifically, it is made from durum wheat processed into semolina flour.
It originated in Africa that has grown popular worldwide for its simplicity, versatility, and most importantly, healthfulness.
In grocery stores, you will find several types, but it is better to choose the whole wheat ones. Whole wheat has more fiber and protein in them as they are less processed.
Speaking of health benefits, eating this pasta can help you lose weight as it is filling. It has high levels of plant-based protein as well as selenium, an antioxidant. Selenium can help you reduce your risk to cancer, improve your immune system, and aid in cell repair and inflammation.
Is couscous better for you than rice?
Not necessarily. For one, it has gluten and if you are intolerant, then, rice is a much better choice. But in terms of protein and fiber, it is the clear winner. However, though rich in selenium, it lacks the other nutrients that rice has.
In any case, the key to a healthy diet is maintaining balance; so, you cannot eat any of the two excessively anyway. And keep in mind that the whole grains are better than the refined ones, so in choosing what to buy, go with the whole-wheat couscous or brown rice.
Where does couscous come from?
It is believed to have originated in North Africa and has spread out to all parts of the world. It is the national dish of Morocco and is popular in places like Tunisia and Algeria.
How to cook couscous?
The key to perfectly preparing this pasta is to know how much water to use. Just follow this easy recipe to prepare it perfectly every single time!
Boil some water: Whether in the microwave or on the stovetop, boil 3 cups of water.
Pour it in: Once the water is boiling, add in 2 cups of the pasta, cover, then, let it cook for about 5 to 10 minutes more.
Fluff: Using a fork, fluff the pasta so that they will not stick to each other.
You can use this recipe for whole wheat ones.
How to cook Israeli couscous:
The Moroccan type is the smallest and therefore, the easiest to prepare. Israeli, on the other hand, is bigger and almost the size of peppercorns.
Just follow the same recipe but add one more cup of water for 2 cups of raw pasta. Also, stir every minute until it is done.
How to cook pearl couscous?
Israeli couscous is also sometimes called "pearl." So, simply follow the same note as above.
What does couscous taste like?
It will taste like anything you add to it. It has a neutral taste, and so, it is a versatile menu item. The whole-wheat kind has slightly more flavor.
Toasting it imparts flavor, too. You can add herbs for more flavor, too.
What to serve with it?
This is a perfectly healthy side dish that goes with meat, fish, or veggies. We like serving it as a side dish with pork loin, oven-baked chicken breasts, salmon, or steamed broccoli.
You may also like:
Recipe Tips
To add more flavor, you may add chicken stock or wine in the water.
You can also add in thawed frozen peas in the last couple of minutes to cook along with it.
To prevent it from forming a big lump, you can toss it in oil before cooking to ensure that they will not stick together.
Deliciousness to your inbox
Enjoy weekly hand picked recipes and recommendations