Bacon Wrapped Jalapeno Popper Chicken [video]
Bacon Wrapped Jalapeno Popper Chicken surprises with a bomb of spicy jalapeno pepper! Learn how to cook this easy recipe that's full of flavors and texture!
This dish is full of many flavors that are balanced well when paired with dishes like the Creamy Cucumber Tomato Salad, Quinoa Salad, and Macaroni Salad!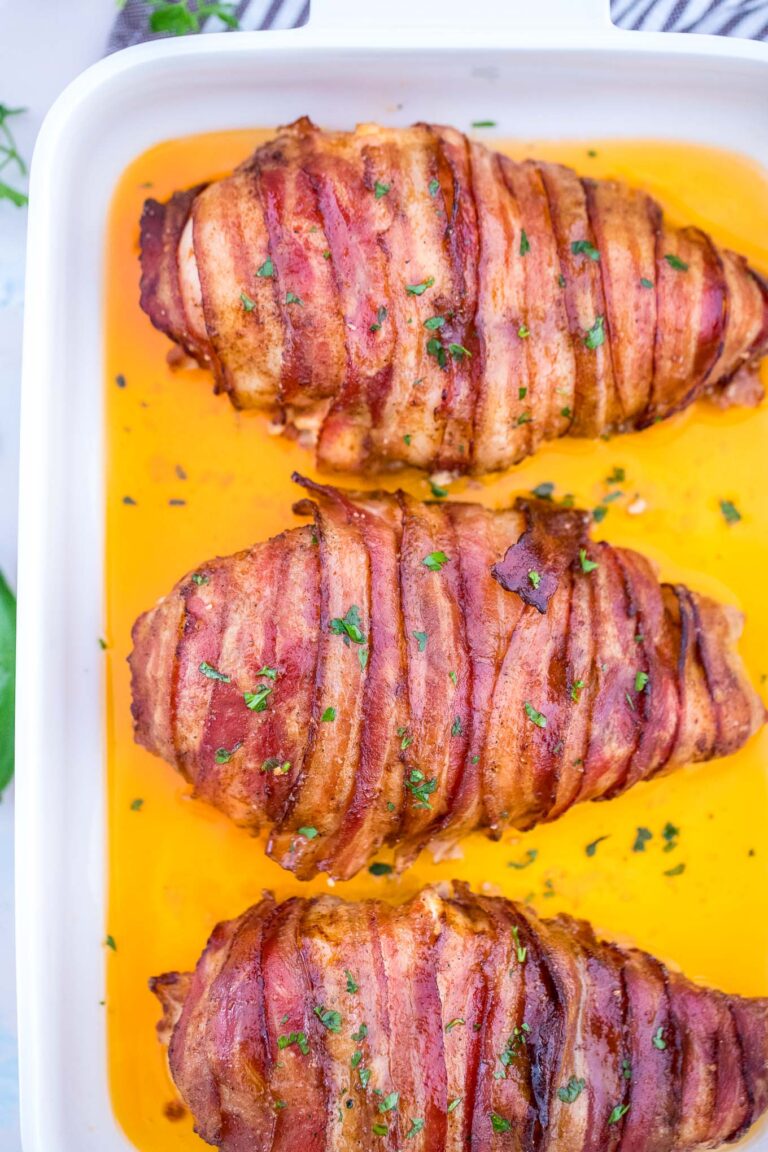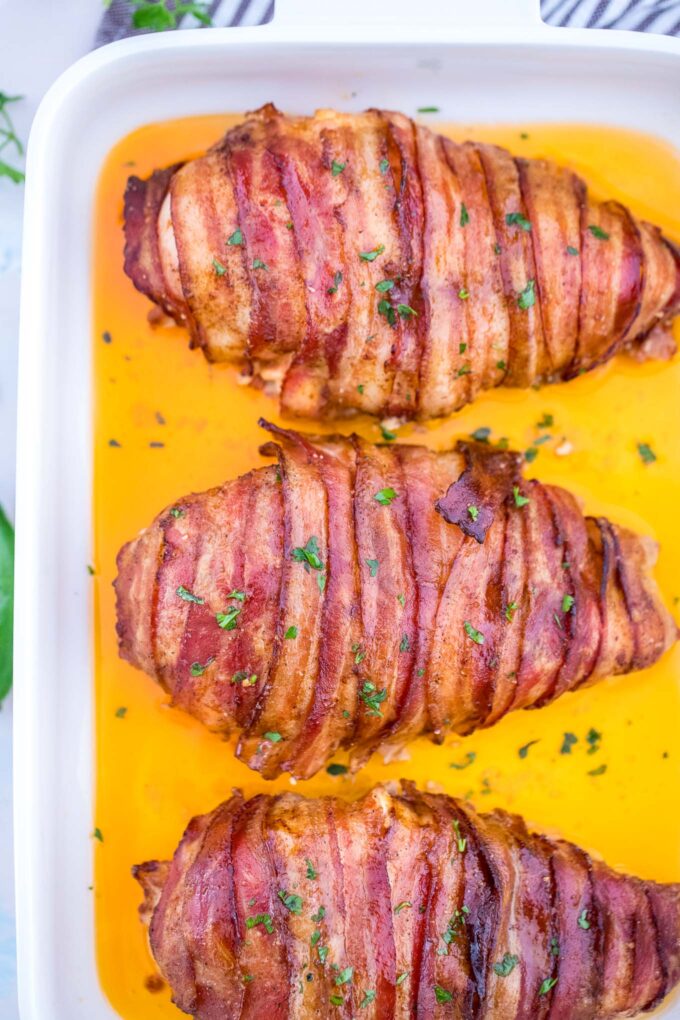 Jalapeno Popper Chicken Recipe
Bacon Wrapped Jalapeno Popper Chicken is the perfect grill recipe! It is creamy on the inside while crispy on the outside. Enjoy the different layers of flavors: smoky and crispy bacon, juicy chicken breasts, and the spicy kick from the jalapeno peppers in the creamy and cheesy filling!
I love spicy food and, so does my clan. For us, anything that has jalapenos in it is a winner! This dish became everyone's instant favorite last weekend as some family members came by to visit.
Surprised as I may have been, I did not have to worry a bit. All the ingredients are just the usual ones from my pantry, nothing fancy. And all it took was about an hour of cooking including the prep time. Here is how I did it!
Is Bacon Wrapped Jalapeno Popper Chicken Keto?
Yes, it is! For those following the keto diet, this dish is perfect as it is low in carbs. It has bacon, cheese, and chicken as the main ingredients – all keto.
What is a Jalapeno Popper?
It is what you get when you deep-fry a jalapeno pepper with some stuffing in it, sometimes made of ground meat, and is usually coated. It is thought to be derived from a Mexican recipe called chile Relleno, which is a kind of stuffed pepper.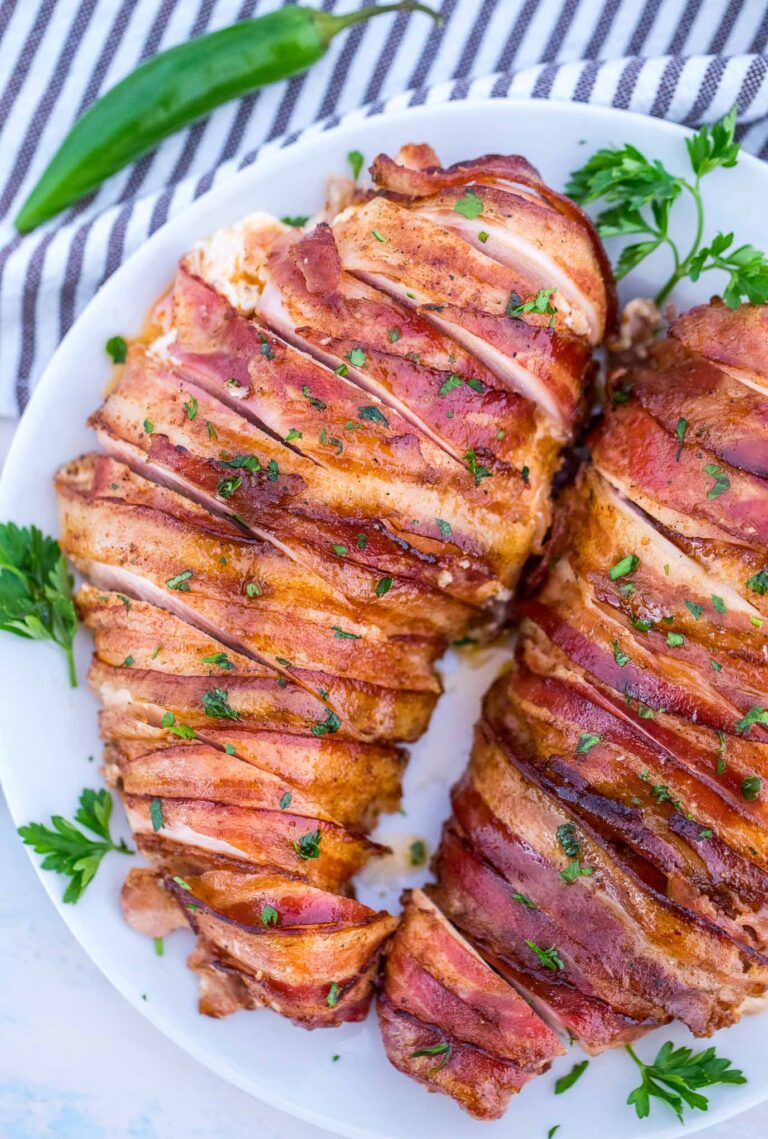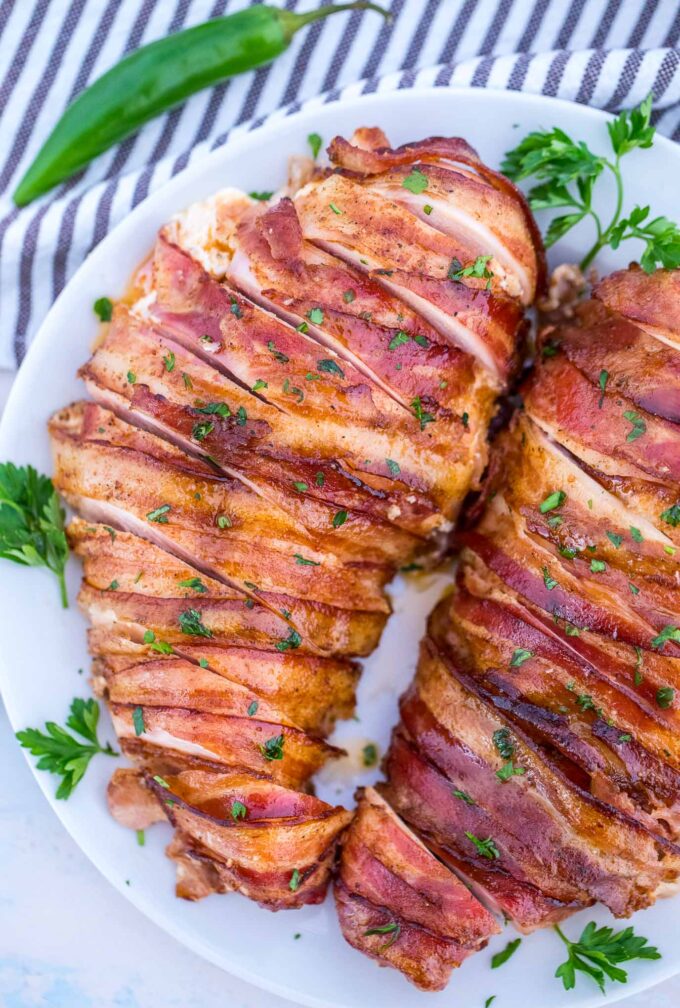 How do you make Jalapeno Popper Cheese filling?
For this, you will need the following ingredients:
Cream cheese
Cheddar cheese
Diced jalapenos (seeded)
Garlic powder
Onion powder
Dried parsley
Just mix all of these ingredients well in a medium bowl and this makes your cheese stuffing.
How do you make Bacon Wrapped Jalapeno Chicken?
Make the glaze – aside from the cheese stuffing, you will need to make a glaze. Do this by mixing canola oil, garlic powder, smoked paprika, onion powder, cayenne powder, black pepper, and salt.
Stuff the meat – cut a slit in the middle of the breasts that will serve as the pocket and fill this with the cheese stuffing.
Wrap it – wrap the breasts with about two to three strips of bacon.
Bake it – place the assembled breasts on the baking pan, seam side down. Drizzle with the glaze mixture. Then, bake for about 25 to 30 minutes. Baste the meat from time to time with the pan drippings. Check for doneness when the bacon has turned crispy and when the chicken has been cooked. Broil for another one to two minutes for crispier bacon.
Garnish – top it with some chopped parsley.
How many calories and proteins in Bacon Wrapped Jalapeno Popper Chicken?
A serving of this dish will give you about 375 calories, with the proteins coming in at 34 grams.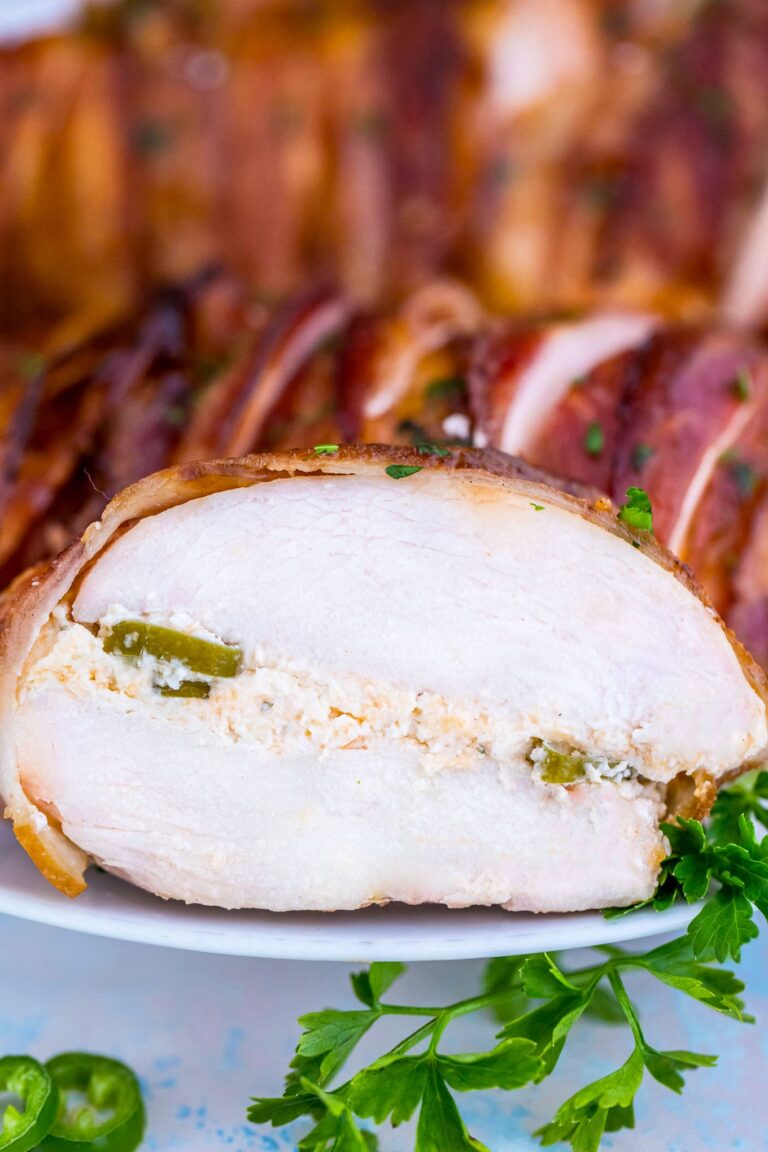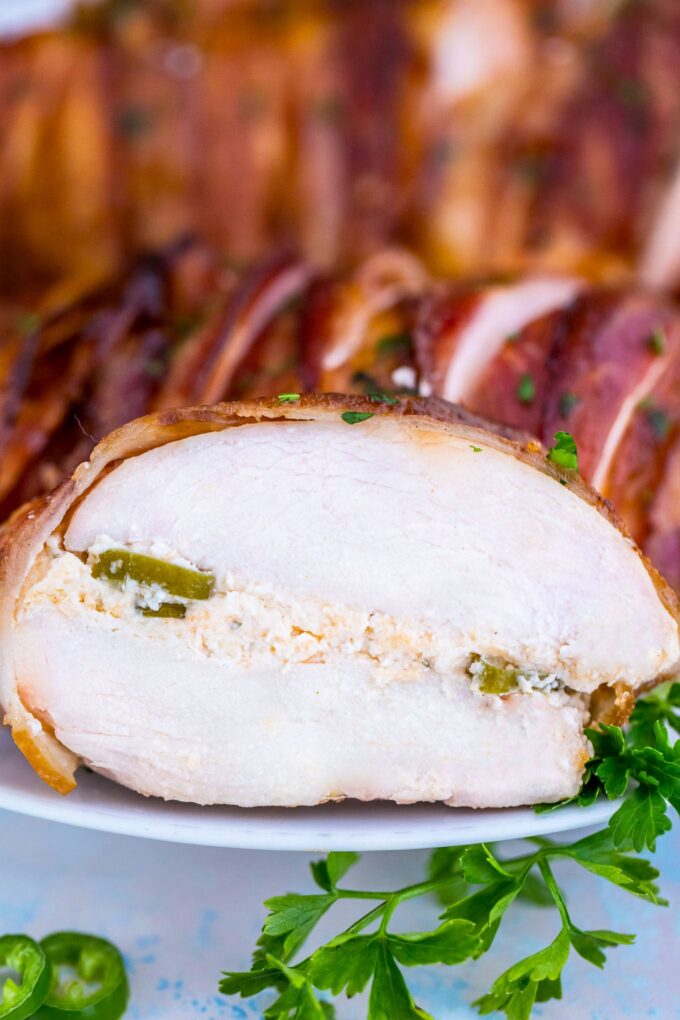 What do you serve with Bacon Wrapped Jalapeno Popper Chicken?
I like to serve it with a source of carbohydrates for a balanced meal. This is great with some
Stuffed Chicken Variations
In this recipe, I diced up the jalapenos, but you can choose not to. Instead, cut it lengthwise in one side, remove the seeds and ribs, and put the cheese stuffing. Then, put the whole pepper in the breasts.
Stuffing white meat is a great way to make it juicier. I also like our recipe for the baked cordon bleu which is also a variation of this recipe.
Can you make it in advance?
Yes, you can. If you are going somewhere else, you can prepare this at home and then, just cook it at your destination. Simply assemble everything and then, wrap each piece with plastic.
Don't have an oven at your destination? Just follow the directions and use the grill to cook. Just ensure that the temperature will be enough to brown the bacon and for the chicken to reach the required temperature of 165 degrees Fahrenheit for safety.
You can even freeze it! So, make a double batch and reheat for later.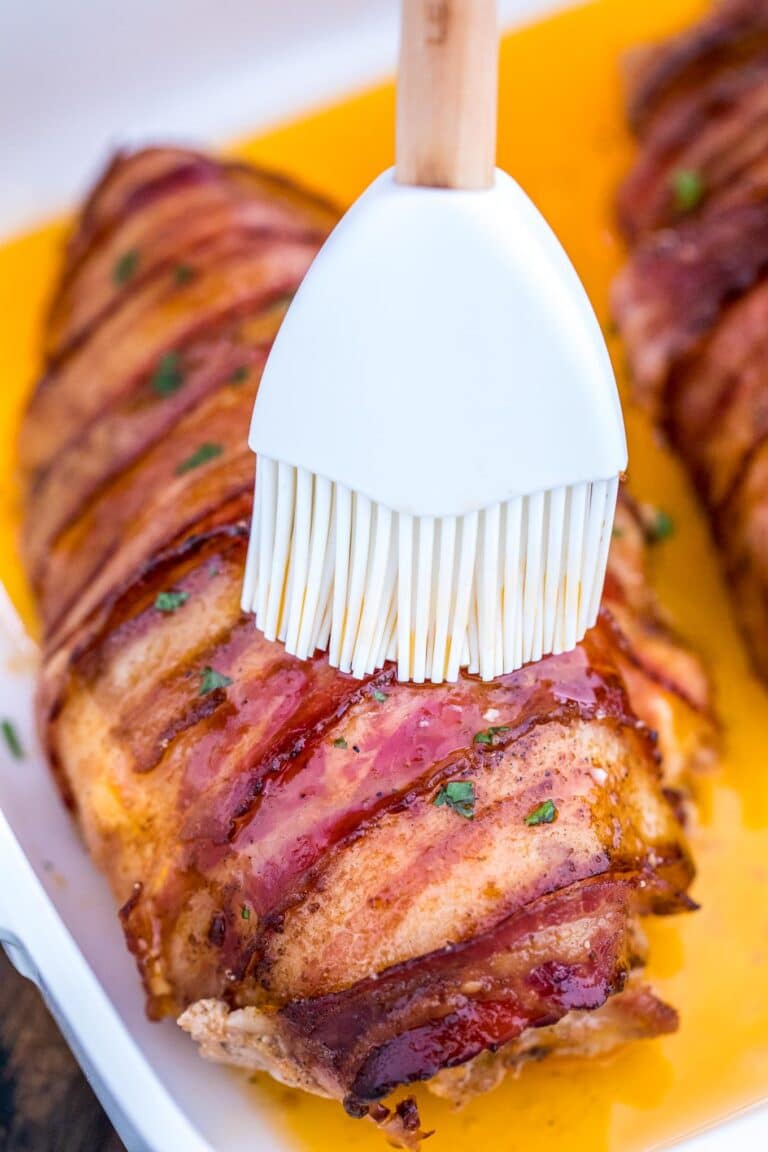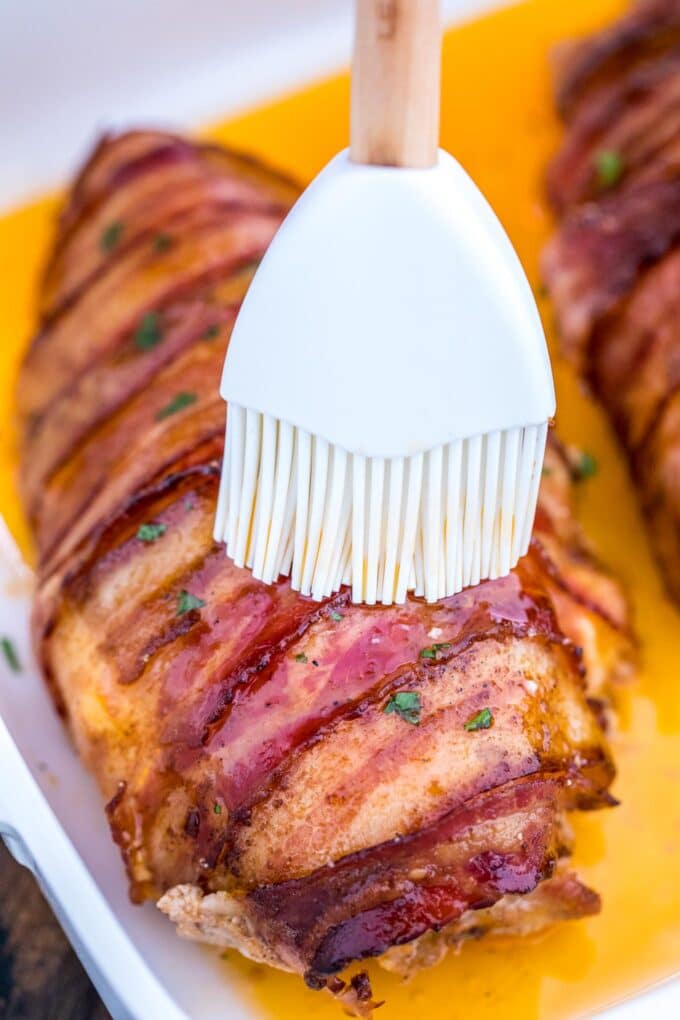 Can you freeze it?
Absolutely. Partially bake everything, then, flash freeze. Put them in the freezer, uncovered, for about 20 minutes. Then, transfer everything to the freezer bag.
When ready to reheat, no thawing is needed. You can directly cook it in the oven but this time, you can set the temperature to 450 degrees F for about 25 minutes. Also, the high heat can make the bacon crispy and at the same time, keep the inside moist.
More chicken recipes:
Recipe Tips
In preparing the jalapenos, remove all seeds and ribs to lessen the spiciness. Or, if you want it spicier, leave some of the ribs in and discard only the seeds.
In addition, there will be plenty of drippings during baking. For easy cleanup, you can line the baking pan with a sheet of aluminum foil.
Also, you can secure each piece with a wet toothpick in order to keep the filling in.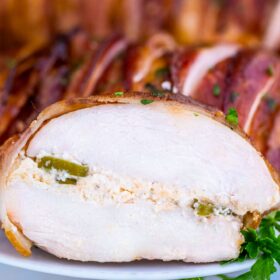 Bacon Wrapped Jalapeno Popper Chicken - Keto
Bacon Wrapped Jalapeno Popper Chicken surprises with a bomb of spicy jalapeno pepper! Learn how to cook this easy recipe that's full of flavors and texture!
Save
Share
Print
Pin
Rate
Ingredients
4

chicken breasts

(boneless and skinless)

20

slices

bacon

(do not use thick cut - about 4-5 slices per breast)
Glaze:
1/4

cup

canola oil

1

teaspoon

garlic powder

1

teaspoon

smoked paprika

1/2

teaspoon

onion powder

1/4

teaspoon

cayenne pepper

1/4

teaspoon

black pepper

1/4

teaspoon

salt
Cheese Stuffing:
8

ounces

cream cheese

1

cup

cheddar cheese

(shredded)

1

jalapeno

(seeded and finely diced)

1

teaspoon

garlic powder

1

teaspoon

onion powder

1

teaspoon

dried parsley
Garnish:
1

tablespoon

chopped parsley
Instructions
Preheat the oven to 375 degrees F.

In a small bowl, mix together all the GLAZE ingredients.

In a medium bowl, mix together all the CHEESE STUFFING ingredients.

Lengthwise, cut a pocket into each chicken breast. Stuff with the cheese mixture, dividing equally.

Wrap each chicken breast in 4-5 slices of bacon. Place the chicken breasts, seam side down in a lightly greased baking pan.

Top with the glaze mixture.

Bake for 25-30 minutes or until bacon is crispy and chicken is cooked through, basting the chicken occasionally with the pan drippings.

If you prefer extra crispy bacon, broil for an additional 1-2 minutes.

Sprinkle with parsley, then serve.
Nutrition
Calories:
914
kcal
|
Carbohydrates:
8
g
|
Protein:
73
g
|
Fat:
74
g
|
Saturated Fat:
23
g
|
Cholesterol:
253
mg
|
Sodium:
1577
mg
|
Potassium:
1241
mg
|
Fiber:
0
g
|
Sugar:
3
g
|
Vitamin A:
900
IU
|
Vitamin C:
8.2
mg
|
Calcium:
218
mg
|
Iron:
1.7
mg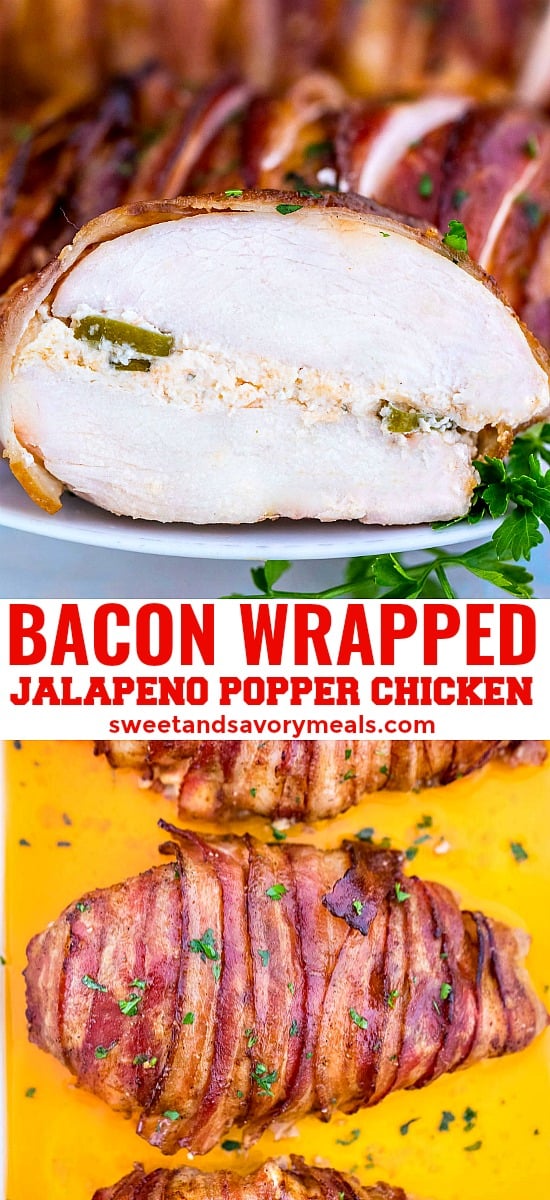 More recipes you might love