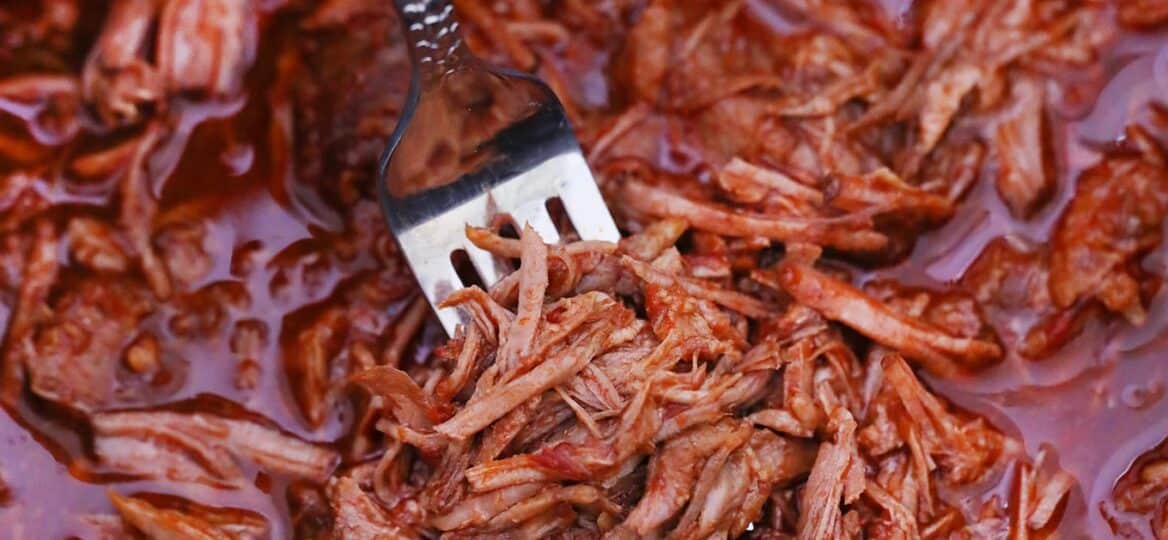 Slow Cooker Barbacoa Beef [video]
Slow Cooker Barbacoa Beef is a versatile dish you can incorporate in a lot of other Mexican favorites! This Chipotle Copycat Recipe makes a tender and juicy dish for everyone to enjoy!
You can have this for dinner along with the other Mexican favorites such as the Mexican Salad, Chipotle Black Beans, and Chicken Tostadas.
Slow Cooker Barbacoa Beef Chipotle Copycat
Slow Cooker Barbacoa Beef is what you get after shredding beef that has been cooked for long hours in your crockpot, made juicy with broth! It is also full of flavors having been seasoned with a balanced mixture of saltiness, sourness, spiciness, and savoriness!
If you like this dish at Chipotle, then, you will appreciate this easy recipe. You will no longer have to go to the restaurant to enjoy this dish. You can have this at your home and give in to your cravings anytime!
It is also versatile, and you can use this recipe to prepare a lot of other recipes with it. Hence, you can make this in a large batch, and store for later.
This recipe is a great time-saver as you can make a lot of other things while preparing this. You can just prepare the ingredients then, put them in your crockpot. It is super delicious and tender that is better than at any restaurant! Set the timer and forget about it for the rest the day. Come dinner, you will have a sumptuous Mexican dish!
What is Barbacoa Beef?
Originally, this is made by digging an underground oven and placing a pot over it containing the meat wrapped in leaves, organs, broth, and various herbs and spices. What comes out is tender meat that can be shredded and put in tacos and tortillas.
Today, this simply can be done in the slow cooker!
How do you make Chipotle Barbacoa Beef Copycat?
Make a puree out of the ingredients, except beef, by putting them into a blender. These ingredients are broth, Chipotle peppers in adobo sauce (yes, add the sauce), minced garlic, onion powder, apple cider vinegar, lime juice, dried oregano, paprika, cumin, sea salt, black pepper, and red pepper flakes.
In the crock, put in the brisket chunks, then, top with the puree and bay leaves. Cook on HIGH for 4 to 6 hours or on LOW for 8 to 10 hours, until the meat is fall-apart tender.
Once the meat is soft and fall-apart tender, shred it effortlessly with two forks. Put back the shredded meat into the juice and let it absorb the juice and all the flavors for another 5 to 10 minutes before serving using a slotted spoon.
How do you make Barbacoa Beef without a Slow Cooker?
You can use the Dutch oven for this and cook on medium-high heat.
Or, you can use the oven at 325 degrees Fahrenheit. Make sure to prepare the baking dish well by ensuring that the aluminum foil is airtight so that no steam escapes while the whole thing is cooking.
What to serve with Barbacoa Beef?
You will love it with cilantro, onions, and lime.
Serve it with rice, beans, salsa, on tortillas, in burritos, on nachos, in tacos, in enchiladas, in empanadas, in quesadillas, on baked potatoes, or solo. You can just eat it as it is!
Is Barbacoa Beef Keto?
This dish is keto-friendly as it is high-fat and low-carb. If you are on the ketogenic diet, this is perfect for you!
How do you store it? How do you reheat it?
Refrigerate this in airtight containers to be consumed within the week. Or, freeze in freezer bags, packed in single portions, and keep for two months.
Also, keep the juice in an ice tray, and freeze. This way, it allows getting only the amount that you would need, thaw, and use to cook with the meat again when you reheat.
How do you keep Barbacoa Beef juicy in the fridge?
Put the shredded meat into the juice again before storing it in the fridge.
More beef recipes:
Recipe Tips
For a deeper and richer beef flavor, sear the side of the beef chunks in oil. Then, from the skillet, transfer them into the slow cooker.
Aside from the brisket, you can use beef cheek, chuck roast, or even beef tongue!
You can also let the meat absorb the flavors of the puree by marinating overnight. Put everything in a bowl and securely cover it with plastic wrap.