Juicy Crockpot Whole Chicken with Stuffing [Video]
Crockpot Whole Chicken is an easy rotisserie style chicken resulting in perfectly tasty, juicy, and tender meat! It is a one-pot dinner made with just a handful of spices, aromatics, vegetables, and potatoes!
Chicken recipes are one of our favorites and making them in the crockpot is a super easy and juicy dinner! My family enjoys it with Slow Cooker Roasted Butternut Squash Soup, Slow Cooker Mashed Sweet Potatoes, and Crockpot Stuffing!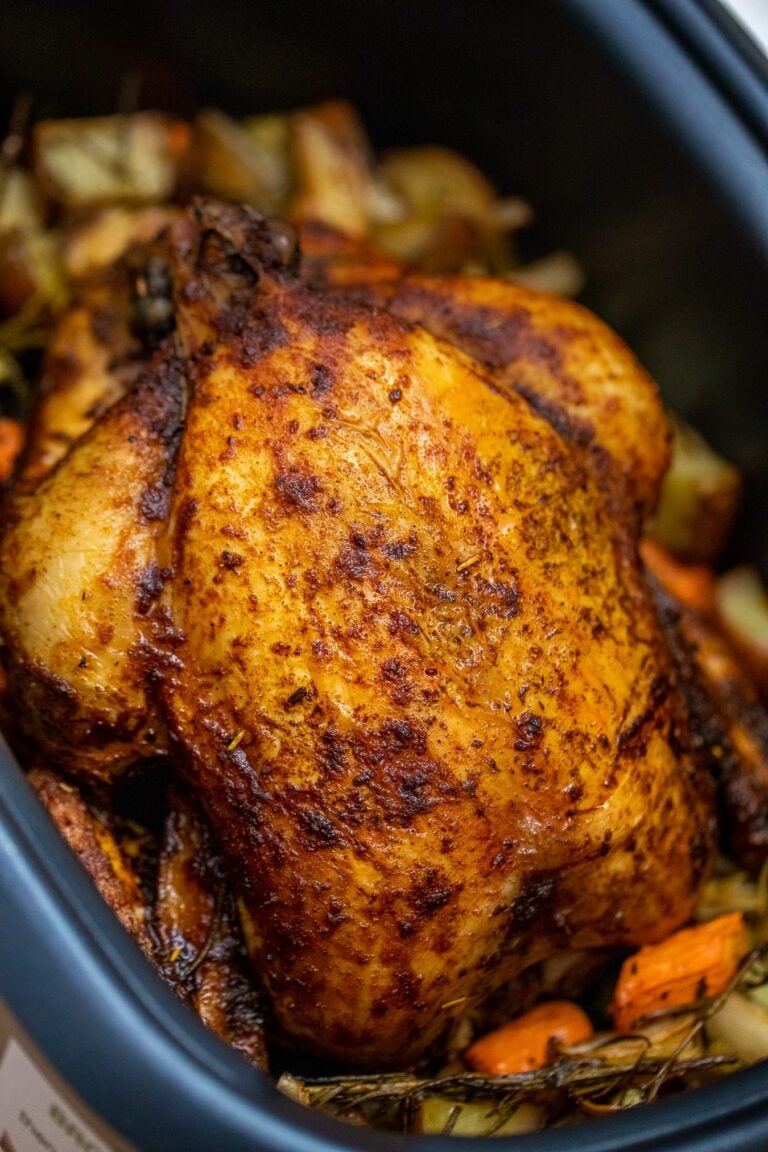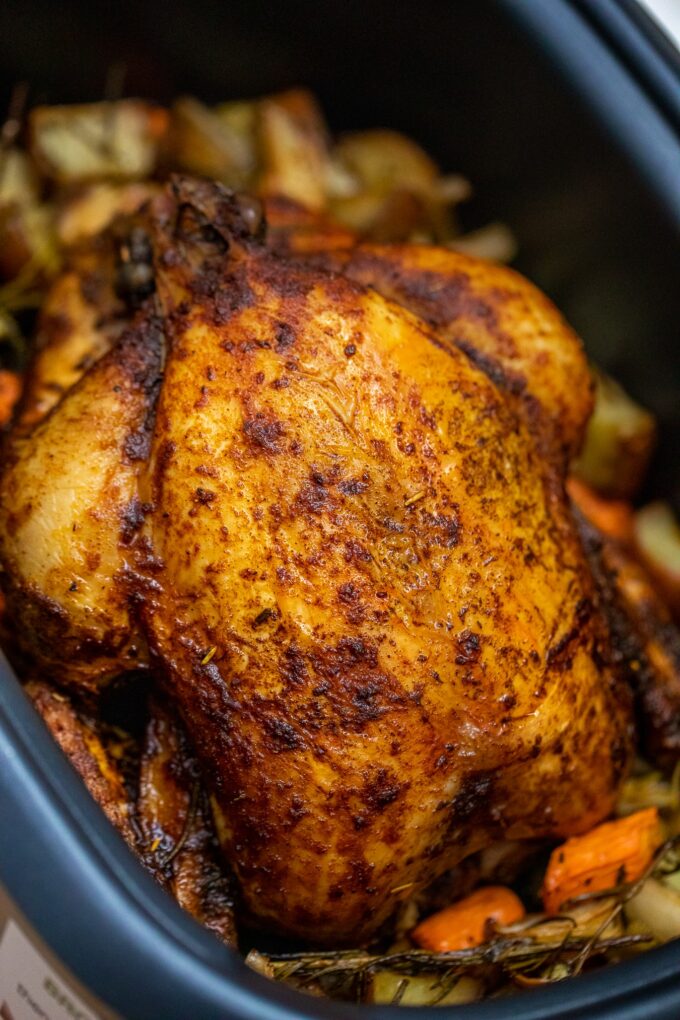 Cooking a whole chicken in the crockpot requires minimal effort and a few minutes of prep time. This is a one-pot meal made with veggies and potatoes that can be served any day of the week.
The entire chicken is seasoned with a dry rub, then slowly cooked till perfectly juicy on the inside and with a crispy skin on the outside. This is a rotisserie chicken dinner, that I love to prepare when short on time.
Also, this slow cooker whole chicken is super easy to assemble. You simply put the veggies, potatoes, and poultry in the croc kpot, and let it slowly cook for hours! When dinner time comes, you have a tender and juicy chicken for the whole family to enjoy!
The flavors from the nest of vegetables meld well with the natural taste of the bird. Dry-rubbing the spices directly on the meat also intensifies everything! So, if you want some roasted chicken and gravy as a bonus, then, this recipe is the perfect one!
Ingredients list:
Whole raw chicken: About 4 to 5 pounds.
Veggies: To make it a whole meal, I tend to cook the poultry with the vegetables together. Feel free to use your favorite veggies. I go with celery, carrots, onion, red potatoes, and a few garlic cloves.
Fresh herbs: They just bring plenty of flavor and aroma to the whole dish! I love using fresh rosemary and fresh thyme.
Seasoning: For the dry rub, I use smoked paprika, Italian seasoning, kosher salt, black pepper, dried thyme, and a bit of olive oil. However, you can also use your favorite herbs and seasoning. A great addition would be garlic powder, onion powder, poultry seasoning.
For the gravy: To make the homemade gravy, you will need unsalted butter and all-purpose flour.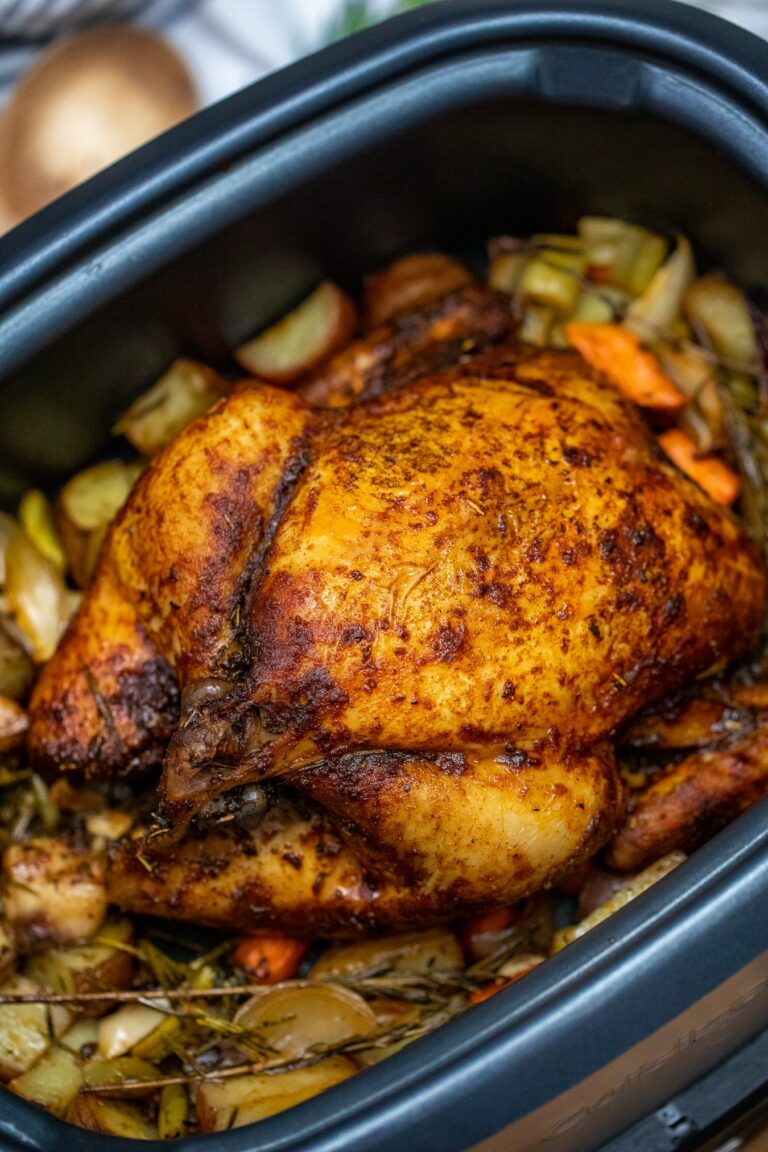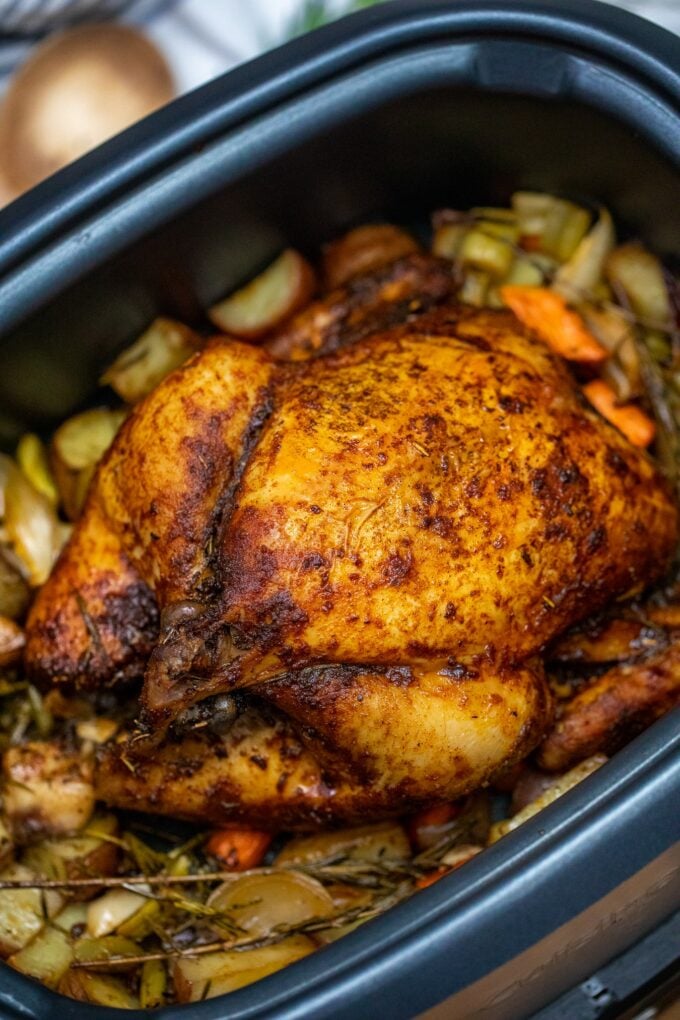 How to cook a whole chicken in the crockpot?
Please watch the short recipe video tutorial, for quick and easy step-by-step instructions. Here are the general steps:
Make a nest: At the bottom of the pot, arrange the sliced veggies and herbs to act as the nest for the bird.
Prepare the poultry: Next, remove the giblets and neck, dry the bird thoroughly using paper towels. Then, in a small bowl combine the dry rub ingredients, and season the bird evenly. Also, stuff the bird with lemons, herbs, and aromatics.
Cook: Next, place chicken on top of the nest of vegetables laid down at the bottom of the crock pot, breast-side up. Cover and cook on LOW for about 7-8 hours, or HIGH for 4-5 hours.
Broil: If you want that extra-crispy skin with perfect brown color, then, do this optional step. Simply, brush the bird with olive oil, and broil for another 5 minutes.
Make the gravy: Collect the drippings at the bottom of the pot and transfer them into a fat separator. Add butter and flour to a pan, to make the roux. Do not forget to season to gravy with salt and pepper! Then, pour over the meat.
Let it rest: Lastly, cover it with aluminum foil, and let it rest for 10-15 minutes. Once rested, place it on a cutting board. Then, slice and serve it.
How long do you cook a whole chicken in the crockpot?
It depends on how you set up the crockpot. But, typically, on LOW setting, the cooking time should be about 6 to 8 hours.
Alternatively, on HIGH setting, the cooking time should be about 4 to 5 hours.
Can you cook a whole chicken in the Slow Cooker?
Yes! The crockpot is fully capable of cooking a whole bird. However, ensure that it fits inside your crock pot. I use a large oval slow cooker when making this recipe. You shouldn't have any issues cooking a large whole chicken in it.
However, if you are using a smaller round slow cooker, then go with a smaller-sized bird.
Is it safe to cook it in the crockpot?
Absolutely! The crockpot does an excellent job cooking it evenly. Because the poultry is cooking slowly, it maintained its own juices. This results, in juicy meat and super tender chicken – every single time! 🙂
The only requirement is to check the internal temperature using a meat thermometer. For safe consumption, it should reach at least 165 degrees F, according to the USDA.
Do I need to add water or liquid?
No! The beauty of this recipe is that you don't need to use any water, or chicken stock. We are using plenty of veggies here, which release water and juices.
Also, the bird itself will release plenty of juices while slow cooking. Therefore, there is no reason and no need to add any more liquid to it. Otherwise, the bird will be sitting in water and get soggy.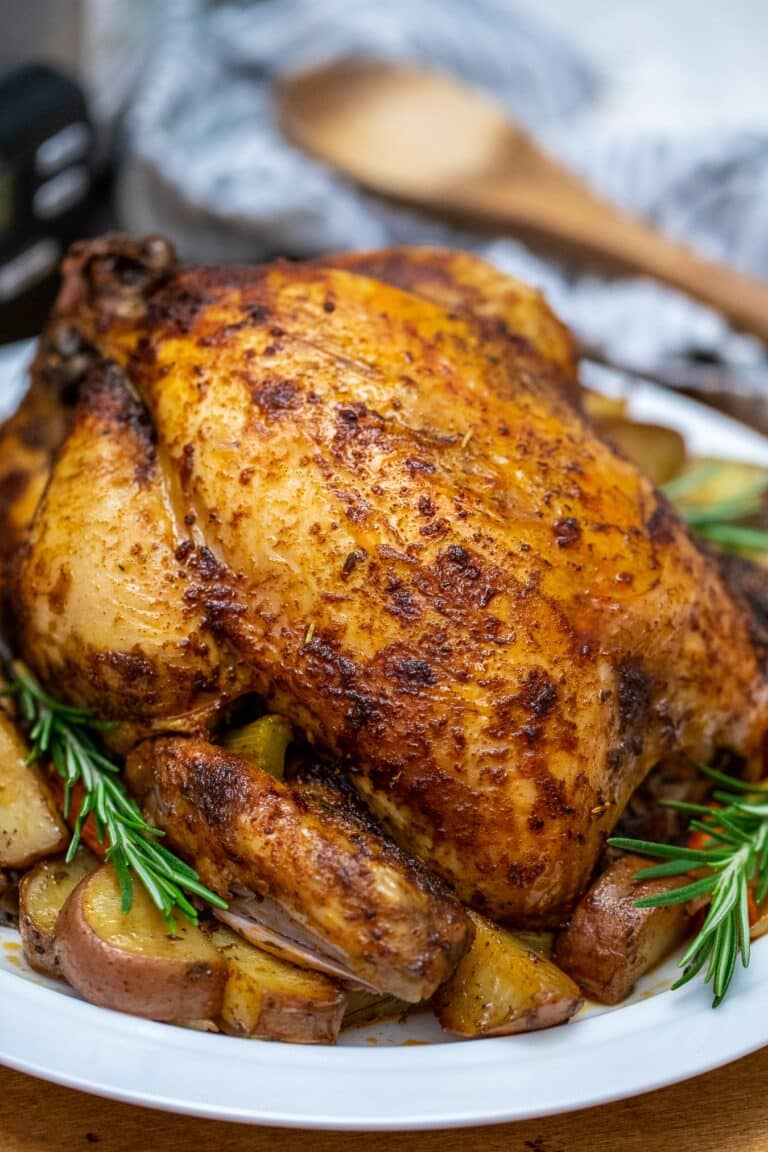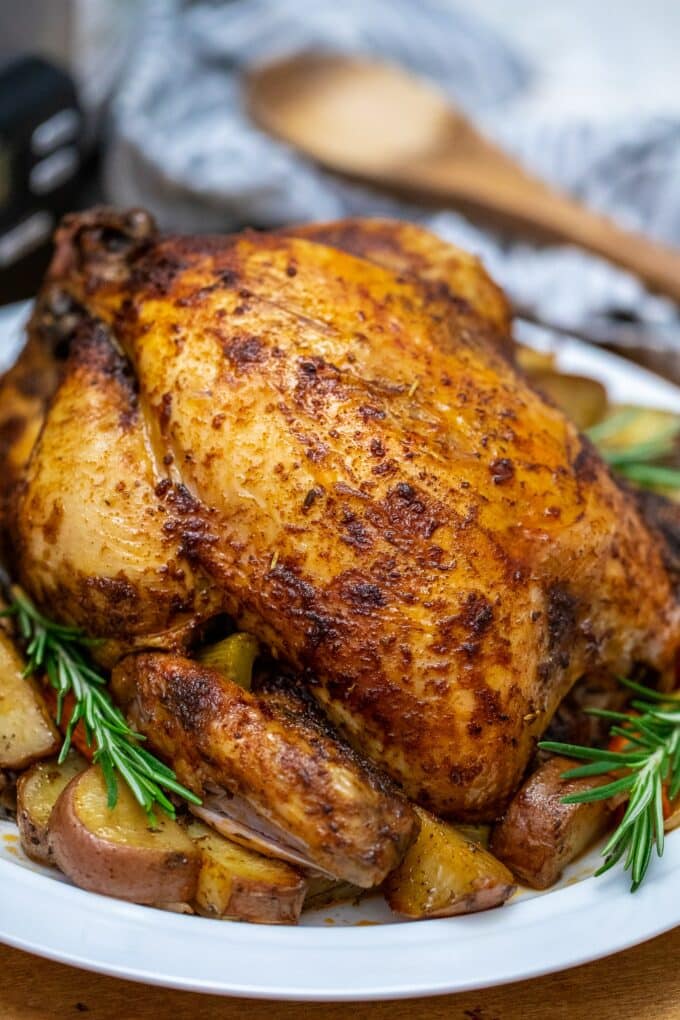 How to brown the chicken?
Feel free to serve it with veggies and potatoes straight out of the slow cooker. However, I really love to quickly broil it for about 3-5 minutes.
This helps get that crispy and brown skin. You can place the poultry on a baking pan together with the vegetables, and broil for 3-5 minutes. Then, let it rest to allow the juices to come together.
Can I cook frozen chicken in the crock pot?
I would not recommend it. For food safety reasons it is best not to cook it frozen. The best way would be to let it thaw overnight in the refrigerator.
However, if you are short on time, and really want to cook it frozen, then you can easily make this Instant Pot Frozen Whole Chicken.
How to make gravy with juices?
Follow these steps:
In a skillet over medium heat, melt some butter.
Then, whisk in the flour along with chicken drippings (leftover juices) from the slow cooker.
Cook for 1-2 minutes, until it thickens, and season with a bit of salt and pepper.
What to do with leftover chicken?
Use it in any of these equally amazing recipes:
How to Store leftovers?
Simply refrigerate it for about 3 days, covered in an airtight container.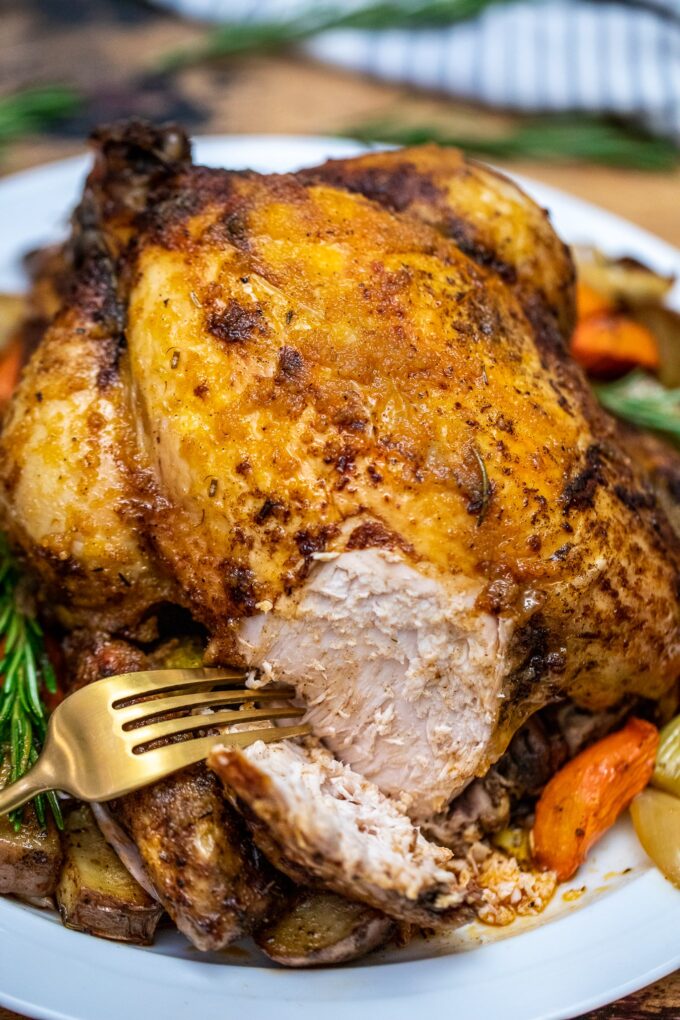 Recipe Tips:
You may use this recipe for homemade Italian Seasoning.
As stated above, there is no need to add water to it.
Also, avoid lifting the lid while the bird is cooking. It is ok to check for doneness towards the end of the cooking time. But, avoid opening it often.
In addition, feel free to add extra veggies to it.
You can also cook chicken breasts in the slow cooker.
More Slow cooker recipes to try: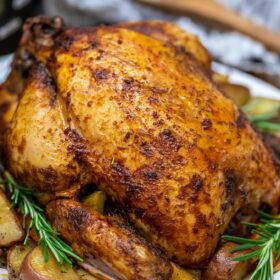 Juicy Crockpot Whole Chicken
Crockpot Whole Chicken is an easy rotisserie style chicken resulting in perfectly tasty, juicy, and tender meat! A delicious one-pot dinner!
Save
Share
Print
Pin
Rate
Ingredients
Chicken:
4 to 5-

pounds

whole chicken
Vegetables:
3

celery ribs

(cut into 2-inch pieces)

2

carrots

(peeled and cut into 1-inch pieces)

1

onion

(peeled and cut into wedges)

8

ounces

red potatoes

(cut into 1-inch pieces)

4

garlic cloves

(peeled and smashed)

4

sprigs fresh rosemary

4

sprigs fresh thyme
Stuffing:
4

garlic cloves

(peeled and smashed)

6

sprigs fresh rosemary

1

lemon

(quartered)
Seasoning Paste:
2

teaspoons

kosher salt

(plus more)

1 ½

teaspoon

smoked paprika

1

teaspoon

Italian seasoning herbs

1/2

teaspoon

black pepper

(plus more)

1/2

teaspoon

dried thyme

(or 1 teaspoon chopped fresh)

4

teaspoons

olive oil

(plus more for brushing)
Gravy:
2

tablespoons

unsalted butter

2

tablespoons

all-purpose flour
Instructions
Chicken:
Arrange celery, carrots, onion, potatoes, 4 cloves garlic, 4 springs rosemary, and thyme sprigs into an 8-quart slow cooker bowl, creating a nest for the chicken with the vegetables.
Seasoning Paste:
In a small bowl combine salt, paprika, black pepper, dried thyme, Italian seasoning, and olive oil to make a paste.

Remove the giblets and neck from the chicken. Pat dry with paper towels on the outside and inside of the chicken.

Spread the paste evenly over the chicken skin.
Stuffing the Chicken:
Stuff the chicken with the quartered lemon, 4 cloves garlic, and the remaining 6 sprigs of rosemary.

Place the chicken breast side up on the vegetables.
Cooking the Chicken:
Cover and cook on the "High" for 4 to 5 hours, or "Low" setting for 6 to 8 hours, or until the breasts reach an internal temperature of 160 to 165ºF, and thighs reach 170ºF.
For Crispy Skin and Vegetables:
Line a baking dish or tray with foil.

Brush the chicken with olive oil and broil 10-inches away from the top of the oven until the skin is browned and crispy, about 5 minutes.

To brown the vegetables, transfer them to a foil-lined baking dish and broil 10-inches away from the top of the oven for about 8 - 10 minutes.

Let the chicken rest for 15 minutes before carving.

Add vegetables to a platter and place carved chicken on top.
Gravy:
Transfer chicken drippings to a fat separator and set aside the dripping.

Melt 2 tablespoons of unsalted butter in a medium saucepan over medium heat and then whisk in 2 tablespoons flour. Once a pale roux is formed, gradually whisk in 1 cup of the chicken drippings, stirring continuously until thickened, about 2 minutes. Add more chicken drippings for a thinner sauce. Season with salt and pepper to taste.
Nutrition
Calories:
441
kcal
|
Carbohydrates:
17
g
|
Protein:
29
g
|
Fat:
29
g
|
Saturated Fat:
9
g
|
Cholesterol:
119
mg
|
Sodium:
949
mg
|
Potassium:
651
mg
|
Fiber:
3
g
|
Sugar:
3
g
|
Vitamin A:
4084
IU
|
Vitamin C:
21
mg
|
Calcium:
58
mg
|
Iron:
2
mg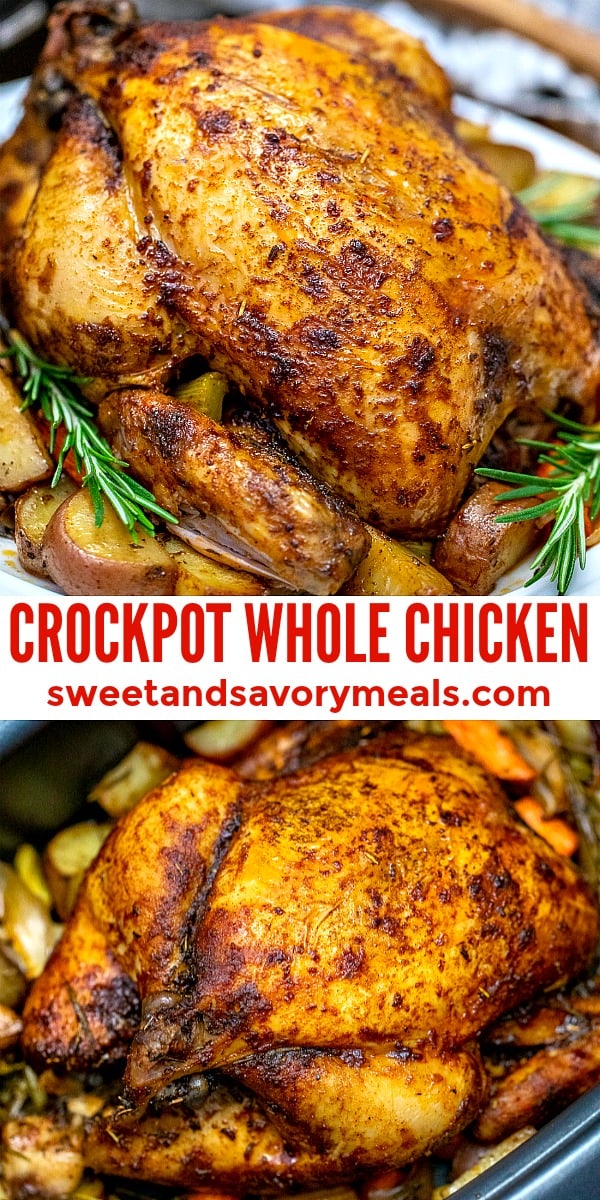 More recipes you might love