Juicy Crockpot Whole Chicken
Crockpot Whole Chicken is perfectly tasty, juicy, and tender! Make it with just a handful of spices, aromatics, and vegetables using this easy recipe!
Whenever I serve this at home, mealtime becomes a feast! My family enjoys it with other easy crockpot recipes like Slow Cooker Roasted Butternut Squash Soup, Slow Cooker Mashed Sweet Potatoes, and Crockpot Stuffing!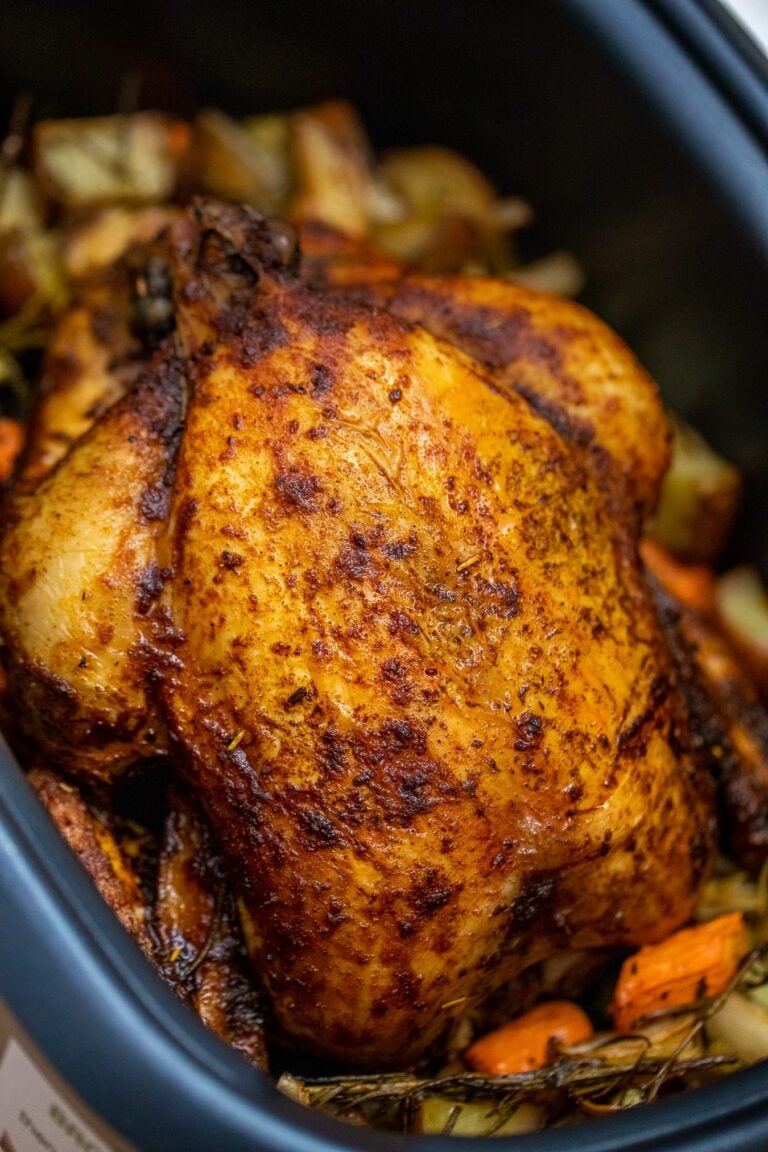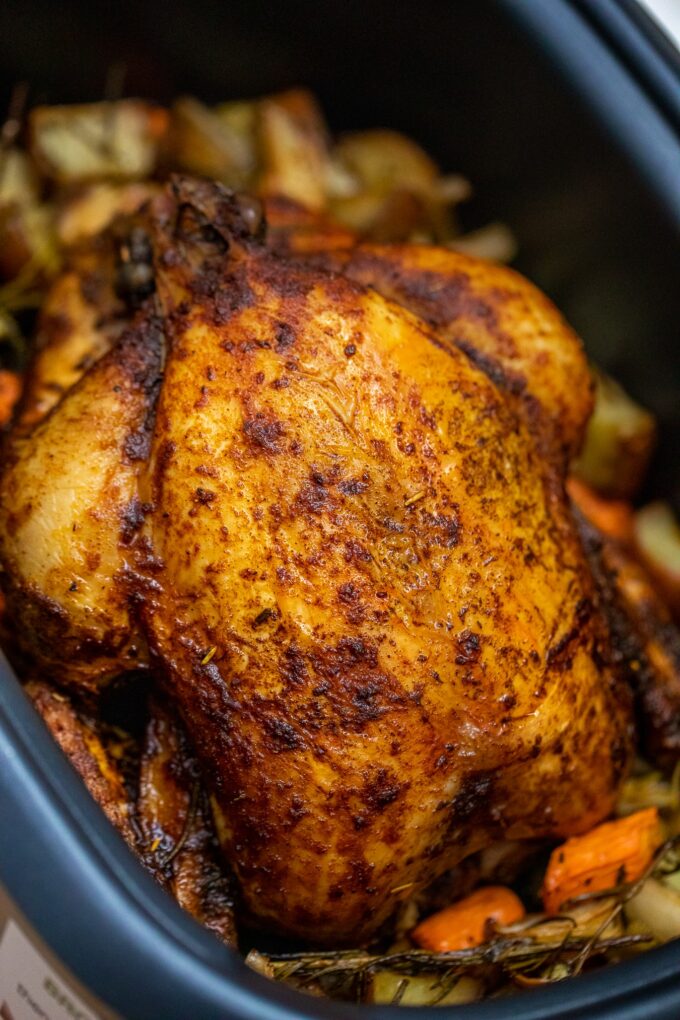 Slow Cooker Whole Chicken Recipe
Crockpot Whole Chicken is what I prepare when I don't have much time to make a decent meal but still want a hearty and healthy one. It is easy to assemble, set, and just forget about it for hours! I get to do other things away from the kitchen as this dish cooks ever so slowly.
But the time that it takes to finish this dish is also the same reason that it comes out tender and juicy! The flavors from the nest of vegetables meld well with the natural taste of the bird. Dry-rubbing the spices directly on the meat also intensifies everything!
This dish looks so put together and with a nice presentation, anyone who is served with this would think that much effort is put into it! But the recipe is completely the opposite! So, if you want some roasted chicken and gravy as a bonus, then, this recipe is perfect!
Can you cook a whole chicken in the Slow Cooker?
Yes! The crockpot is fully capable of cooking a whole bird if the bird fits in it. So, always consider the size of the pot when buying the poultry for this dish.
Is it safe to cook a whole chicken in the crockpot?
The only requirement for a dish like this is to achieve a safe temperature for eating it – that is, at least 165 degrees Fahrenheit, according to the USDA.
The crockpot can achieve this, and it helps that you cook on HIGH for at least an hour. This is so that it reaches this temperature faster and sustain it.
I would recommend thawing the bird completely if it is frozen. This way, you can be sure that it will achieve the prescribed temperature.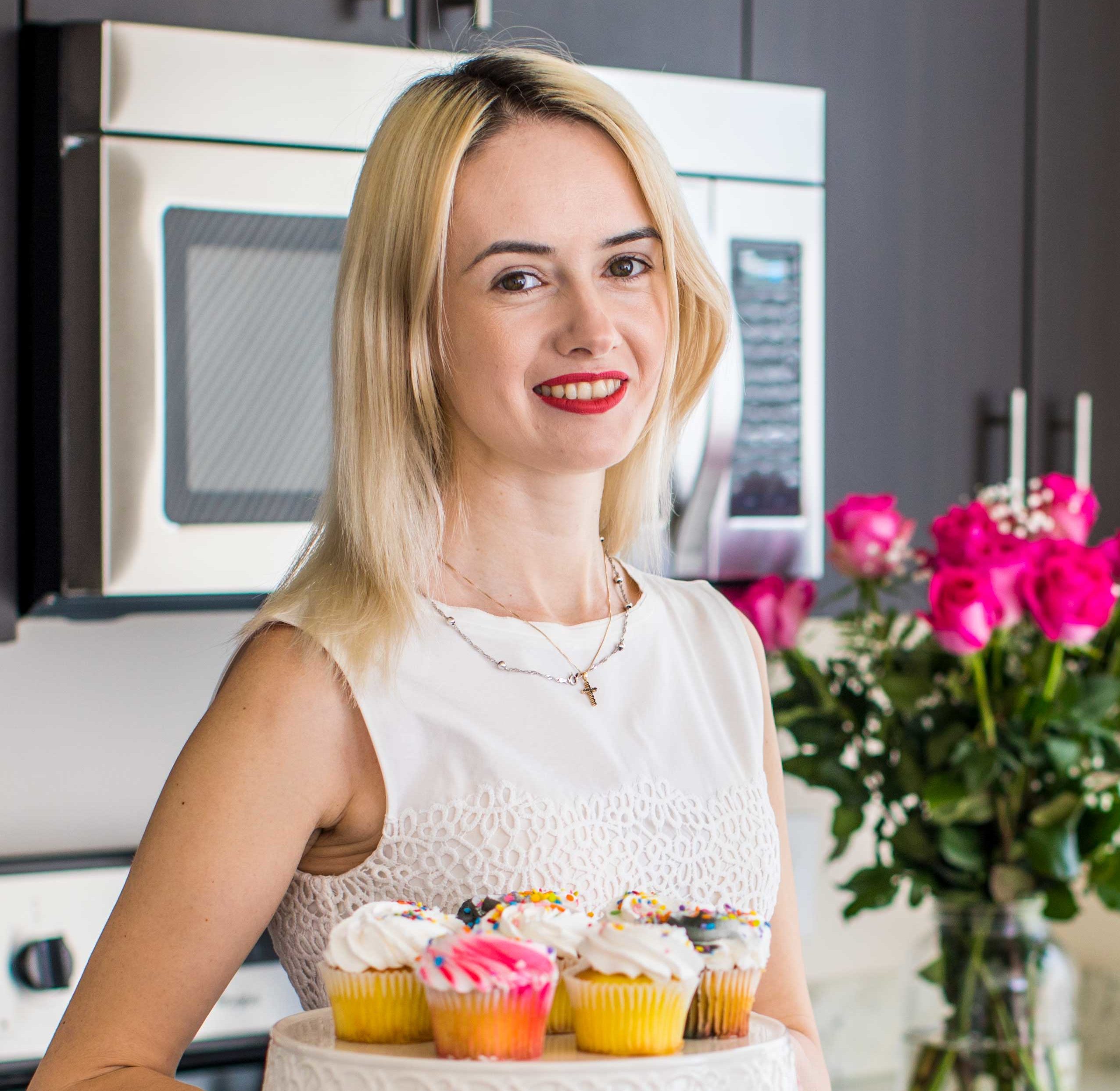 Follow us on Pinterest for more delicious recipes!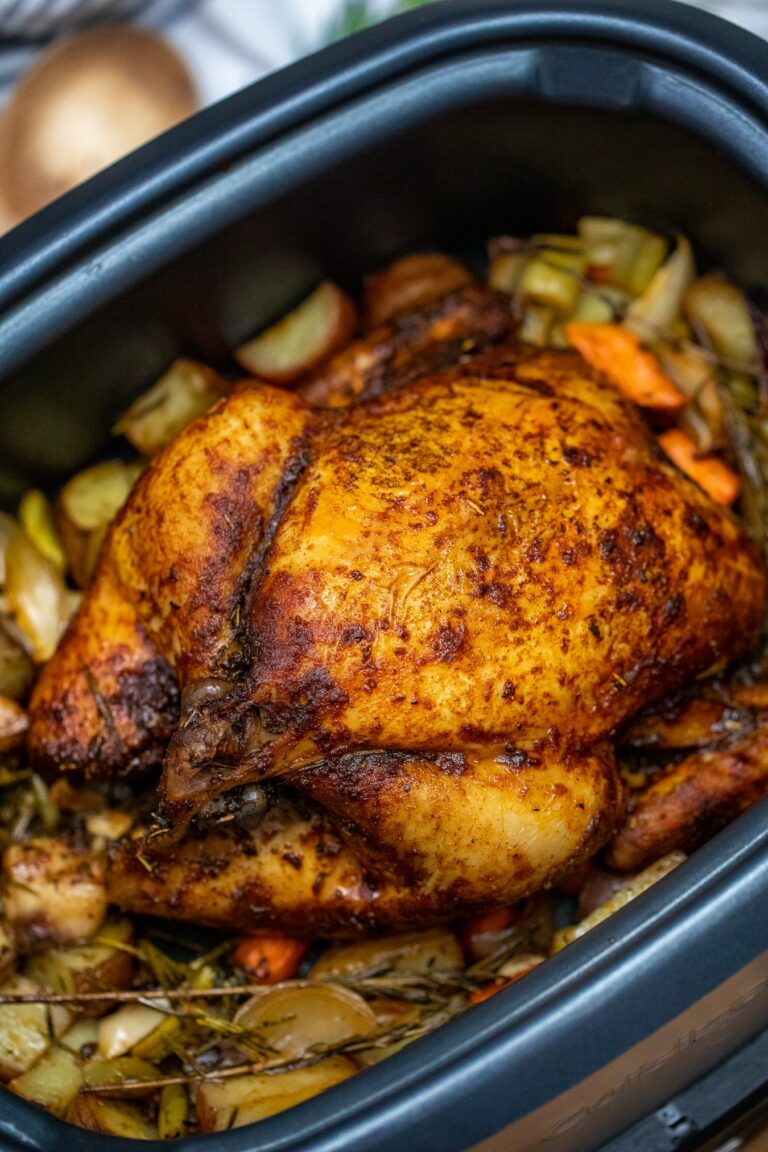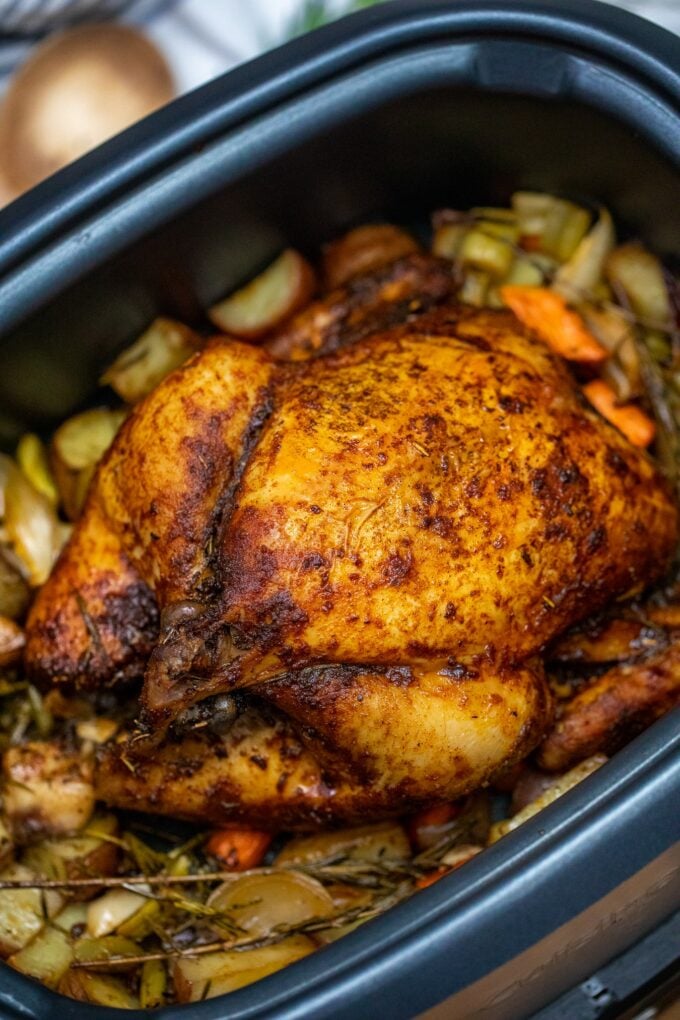 How to cook chicken in the crockpot?
Make a nest: At the bottom of the pot, arrange the veggies and herbs to act as the nest for the bird.
Prepare the poultry: Remove the giblets and neck, dry the bird thoroughly, and rub with the seasonings. For the seasonings, simply combine the ingredients in a bowl. Also, stuff the bird with lemons, herbs, and aromatics.
Cook: Set the bird on top of the nest of vegetables prepared in the pot, breast-side up. Then, put the lid on and set to either LOW or HIGH.
Broil: If you are a fan of the crispy skin that is perfectly brown, then, do this optional step. Brush olive oil on the skin, then, put the bird in the oven to broil for another 5 minutes. You can also broil the veggies, just add around 3 more minutes for them to roast well.
Carve: Allow the bird to rest for about 15 minutes, then, carve.
Make the gravy: Collect the drippings at the bottom of the pot and transfer them into a fat separator. In the pan, add butter and flour to make the roux. Do not forget to season to gravy with salt and pepper! Then, serve while still warm.
How long do you cook a whole chicken in the crockpot?
It depends on how you set the crockpot. But, typically, a LOW setting will last for about 6 to 8 hours. Otherwise, the HIGH setting will last for about 4 to 5 hours.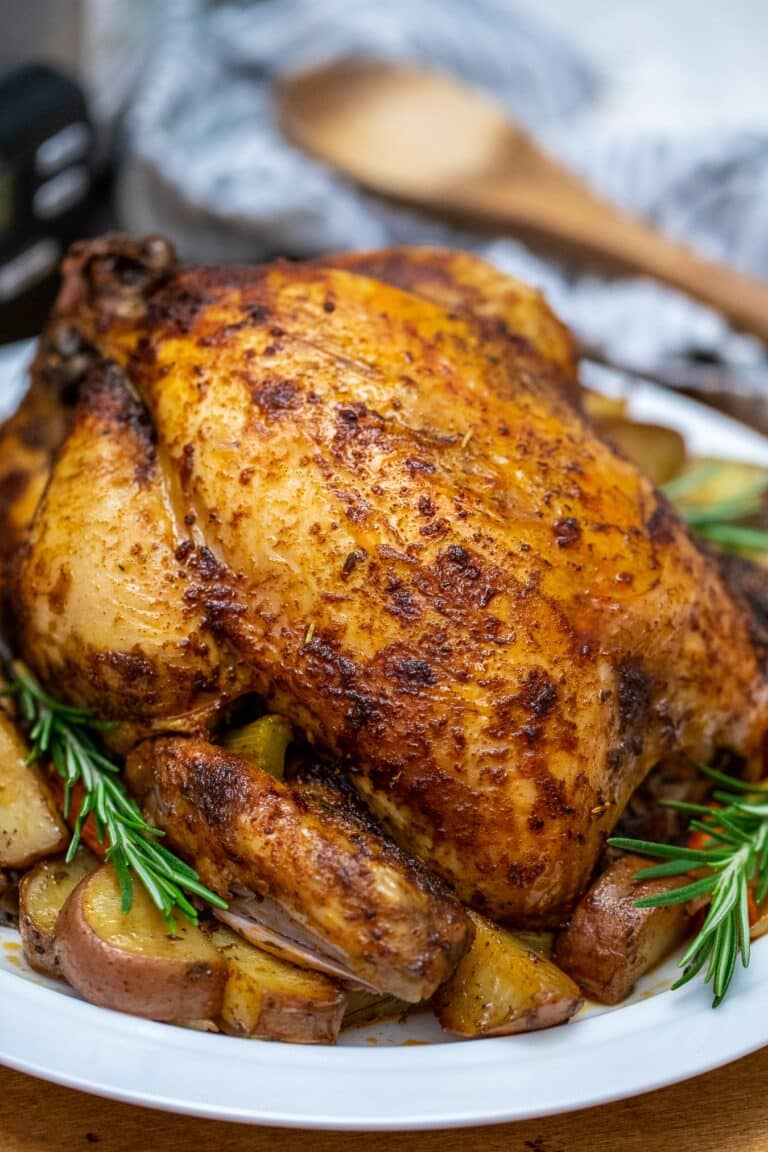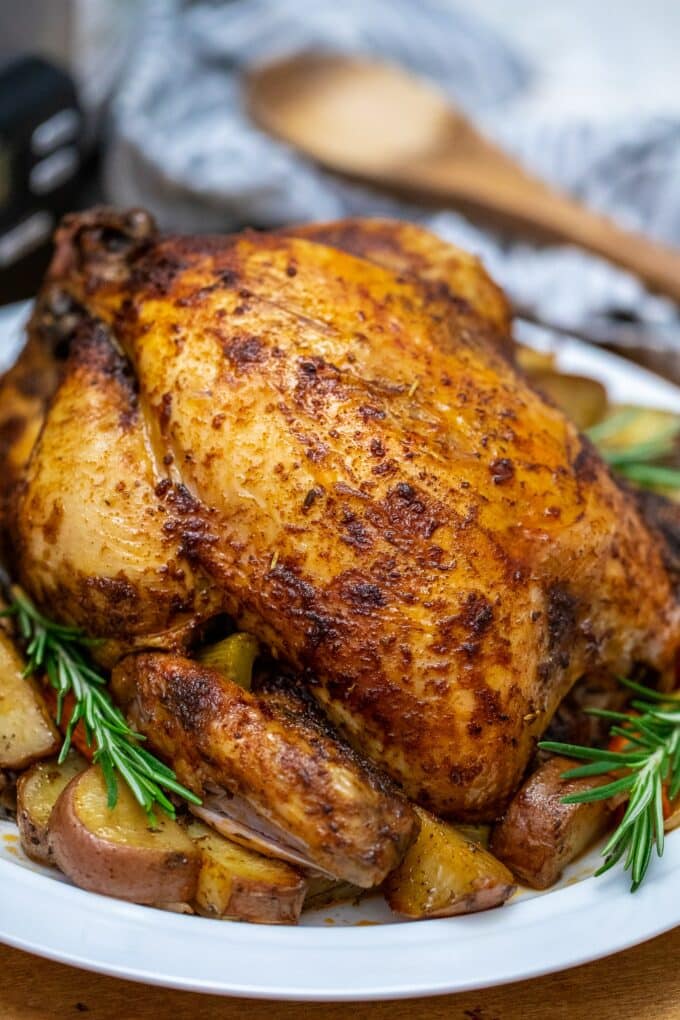 What to do with leftover chicken?
Use it in any of these equally amazing recipes:
How to Store:
Simply refrigerate it for about 3 days, covered in an airtight container.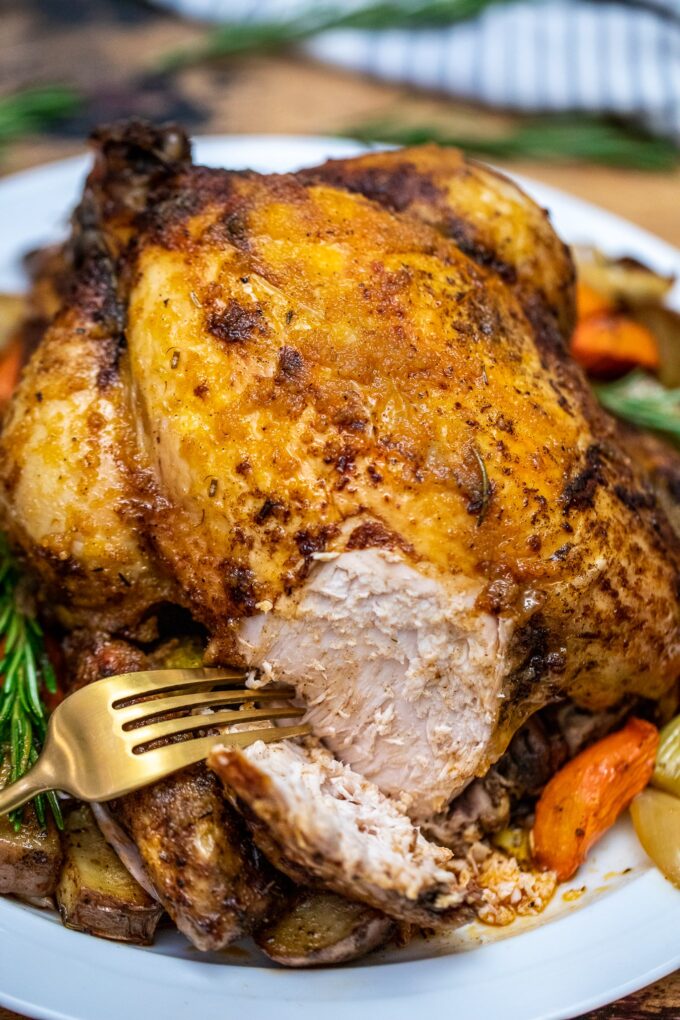 Recipe Tips:
You may use this recipe for a homemade Italian Seasoning.
If your crockpot is not available, you may want to use this Instant Pot recipe instead.
There is no need to add water and still be able to keep it juicy.
Save Recipe
Juicy Crockpot Whole Chicken
Author: Catalina Castravet
Serves: 6 servings
Prep time:

30

minutes
Cook time:

8

hours
Total time:

8

hrs

30

mins
Ingredients
Chicken:
4 to 5- pounds whole chicken
Vegetables:
3 celery ribs (cut into 2-inch pieces)
2 carrots (peeled and cut into 1-inch pieces)
1 onion (peeled and cut into wedges)
8 ounces red potatoes (cut into 1-inch pieces)
4 garlic cloves (peeled and smashed)
4 sprigs fresh rosemary
4 sprigs fresh thyme
Stuffing:
4 garlic cloves (peeled and smashed)
6 sprigs fresh rosemary
1 lemon (quartered)
Seasoning Paste:
2 teaspoons kosher salt (plus more)
1 ½ teaspoon smoked paprika
1 teaspoon Italian seasoning herbs
1/2 teaspoon black pepper (plus more)
1/2 teaspoon dried thyme (or 1 teaspoon chopped fresh)
4 teaspoons olive oil (plus more for brushing)
Gravy:
2 tablespoons unsalted butter
2 tablespoons all-purpose flour
Instructions
Chicken:
Arrange celery, carrots, onion, potatoes, 4 cloves garlic, 4 springs rosemary, and thyme sprigs into an 8-quart slow cooker bowl, creating a nest for the chicken with the vegetables.
Seasoning Paste:
In a small bowl combine salt, paprika, black pepper, dried thyme, Italian seasoning, and olive oil to make a paste.
Remove the giblets and neck from the chicken. Pat dry with paper towels the outside and inside of the chicken.
Spread the paste evenly over the chicken skin.
Stuffing the Chicken:
Stuff the chicken with the quartered lemon, 4 cloves garlic and the remaining 6 sprigs of rosemary.
Place the chicken breast side up on the vegetables.
Tie the chicken legs.
Cooking the Chicken:
Cover and cook on the "High" for 4 to 5 hours, or "Low" setting for 6 to 8 hours, or until the breasts reach an internal temperature of 160 to 165ºF, and thighs reach 170ºF.
For Crispy Skin and Vegetables:
Line a baking dish or tray with foil.
Brush the chicken with olive oil and broil 10-inches away from the top of the oven until the skin is browned and crispy, about 5 minutes.
To brown the vegetables, transfer them to a foil-lined baking dish and broil 10-inches away from the top of the oven for about 8 - 10 minutes.
Let the chicken rest for 15 minutes before carving.
Add vegetables to a platter and place carved chicken on top.
Gravy:
Transfer chicken drippings to a fat separator and set aside the dripping.
Melt 2 tablespoons of unsalted butter in a medium saucepan over medium heat and then whisk in 2 tablespoons flour. Once a pale roux is formed, gradually whisk in 1 cup of the chicken drippings, stirring continuously until thickened, about 2 minutes. Add more chicken drippings for a thinner sauce. Season with salt and pepper to taste.
Calories: 441 Carbohydrates: 17 Protein: 29 Fat: 29 Saturated Fat: 9 Cholesterol: 119 Sodium: 949 Potassium: 651 Fiber: 3 Sugar: 3 Vitamin A: 4084 Vitamin C: 21 Calcium: 58 Iron: 2
Save Recipe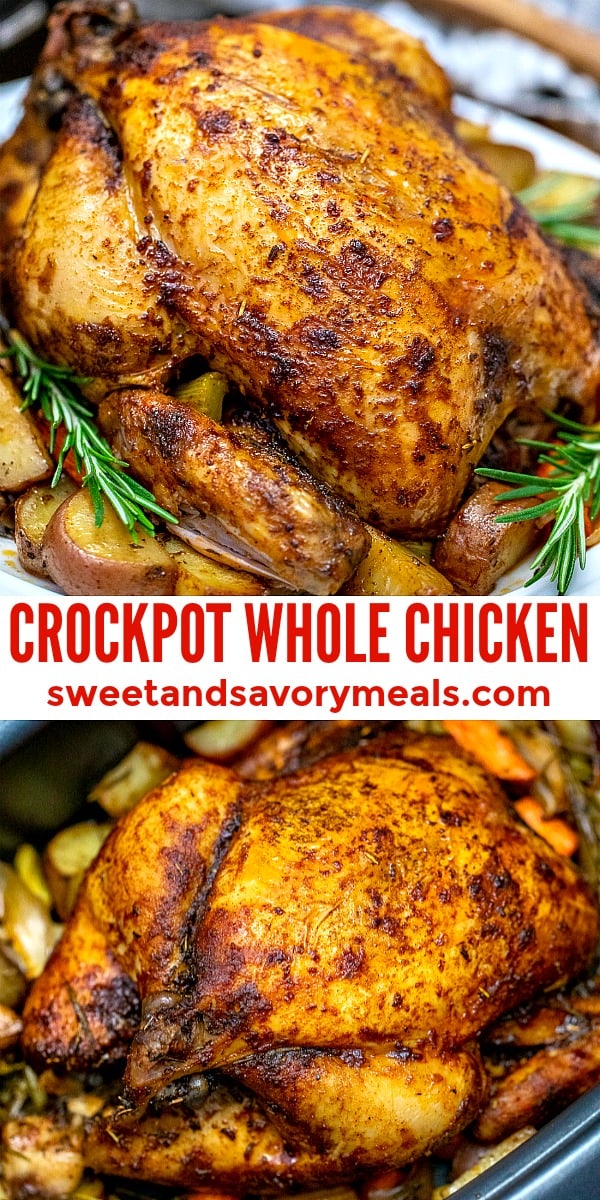 More recipes you might love