Classic Waldorf Chicken Salad [video]
Waldorf Chicken Salad is a hearty fruit and nut salad with chopped chicken in a delicious creamy dressing that will be a hit for potluck parties!
We enjoy healthy salads, especially during the summer season. They are usually easy-to-prepare and are quite delicious. For a complete meal, pair it with Keto Black Chicken, Oven Baked Tilapia, or Roasted Mahi Mahi.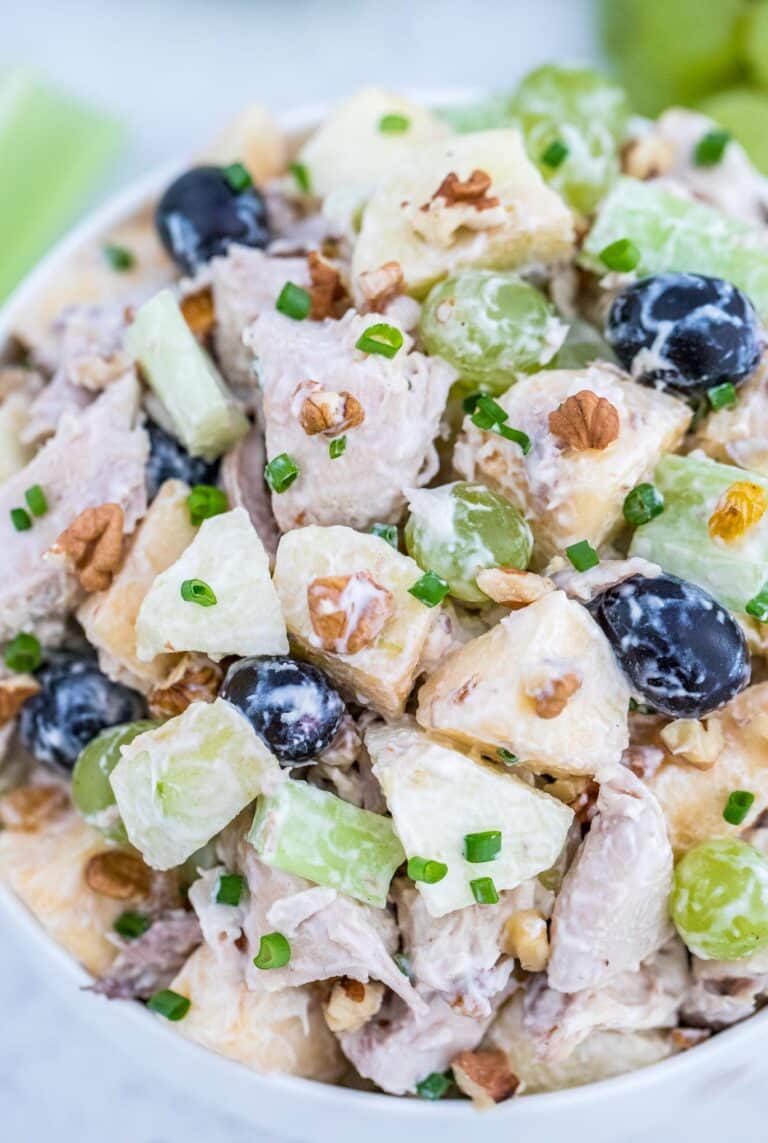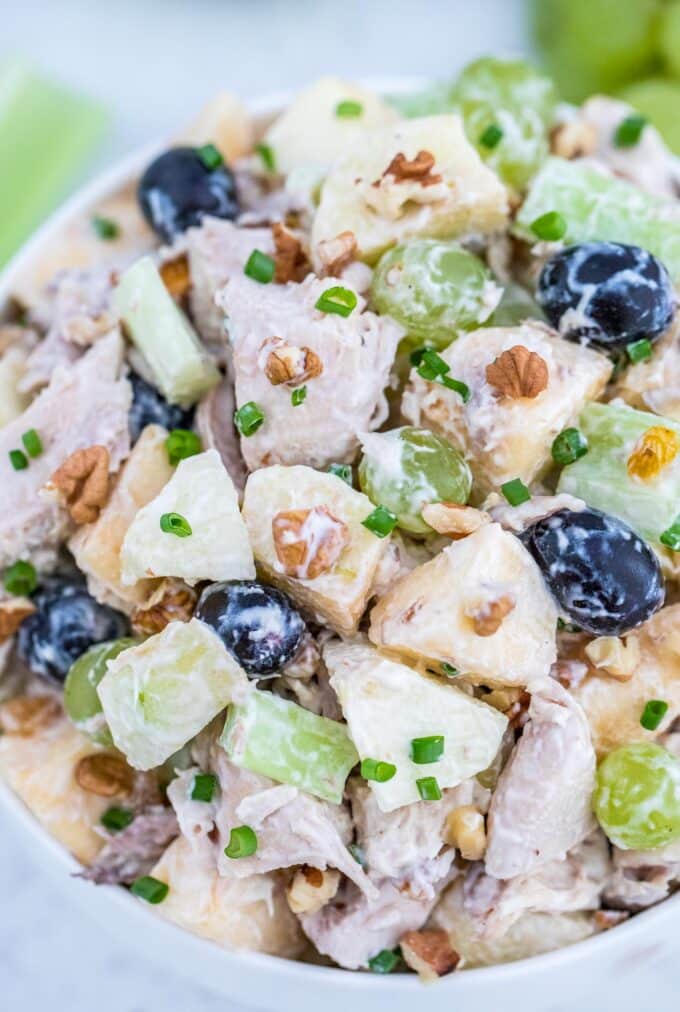 Easy Waldorf Chicken Salad
Waldorf Chicken Salad is a healthy appetizer that can easily stand as a light meal. Fresh grapes, apples, nuts, and celery make this dish very refreshing to eat especially during summer.
My friend served this as an appetizer at her party. I was going to get a second serving when I realized that the salad is completely gone in a matter of minutes. Apparently, the dish is so good that everyone in the room loved it.
Aside from being healthy, it is very simple and easy to make. For this version, we used chopped walnuts and pecans to achieve that extra crunch. Also, we used boiled chicken breasts, but you can definitely use grilled or roasted chicken if you prefer. Just remember to always pick fresh ingredients for best taste and results!
What is Waldorf Chicken Salad?
This dish has its roots from New York City. It is a classic salad mix of fresh fruits and celery. To complete it, chicken and nuts are coated with a creamy dressing made of mayonnaise.
Also, this is usually served with fresh, crispy lettuce. Many prefer to use green grapes and green apples to achieve an all-green presentation.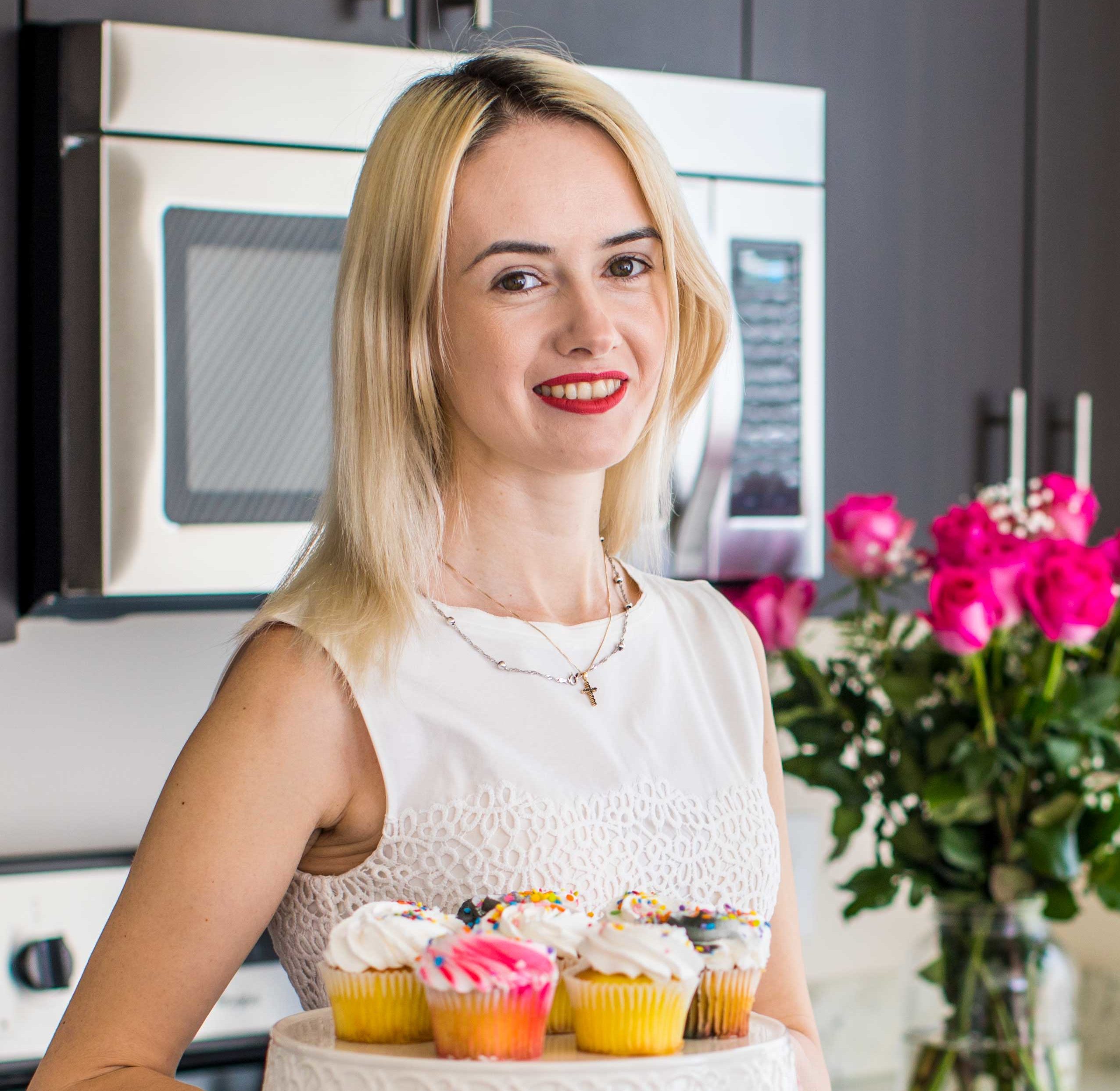 Follow us on Pinterest for more delicious recipes!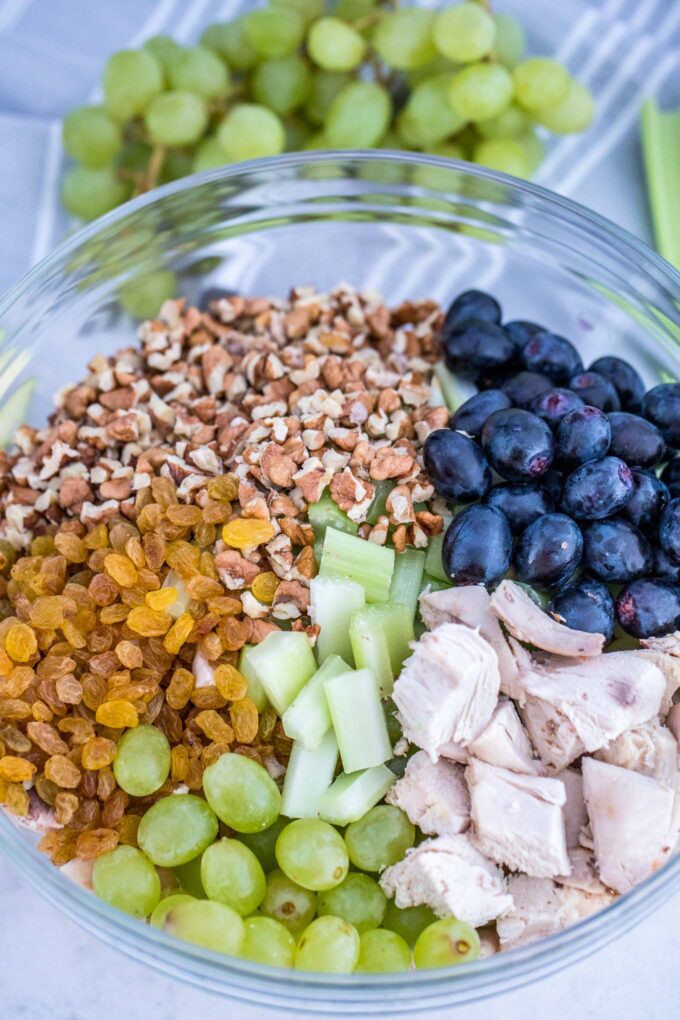 How do you make Waldorf Chicken Salad?
First, prepare the dressing. Simply whisk together mayonnaise, sugar, and lemon juice. Set aside.
Next, prepare the apples. To prevent them from turning brown, add diced apples immediately into a separate bowl and coat them with lemon juice.
Then, chop the cooked chicken, and combine all the ingredients in a large bowl. Add the dressing and mix well.
Put this in the fridge for 2 hours to chill.
Lastly, add walnuts and pecans for garnish. Serve with fresh lettuce.
Can you make it in advance?
Yes! We recommend preparing the grapes and apples one day ahead to let the flavor blend well. Coat them with mayonnaise mix and store in an air-tight container before putting in the fridge. Best to store it for up to 2 days.
What dressing do you use for Waldorf Chicken Salad?
This salad is served in a dressing made of mixed mayonnaise, sugar, and lemon juice. Others like to add a bit of salt and pepper into the mix. The amount of dressing should be enough to coat all the ingredients in the salad.
Dressing Variation:
Many are looking for a lighter dressing for health reasons. We recommend using yogurt and honey as alternatives to mayonnaise and sugar.
To prepare this dressing, combine yogurt with salt, pepper, and lemon juice. In addition, feel free to add a bit of honey to add some sweetness into the dressing. Mix well.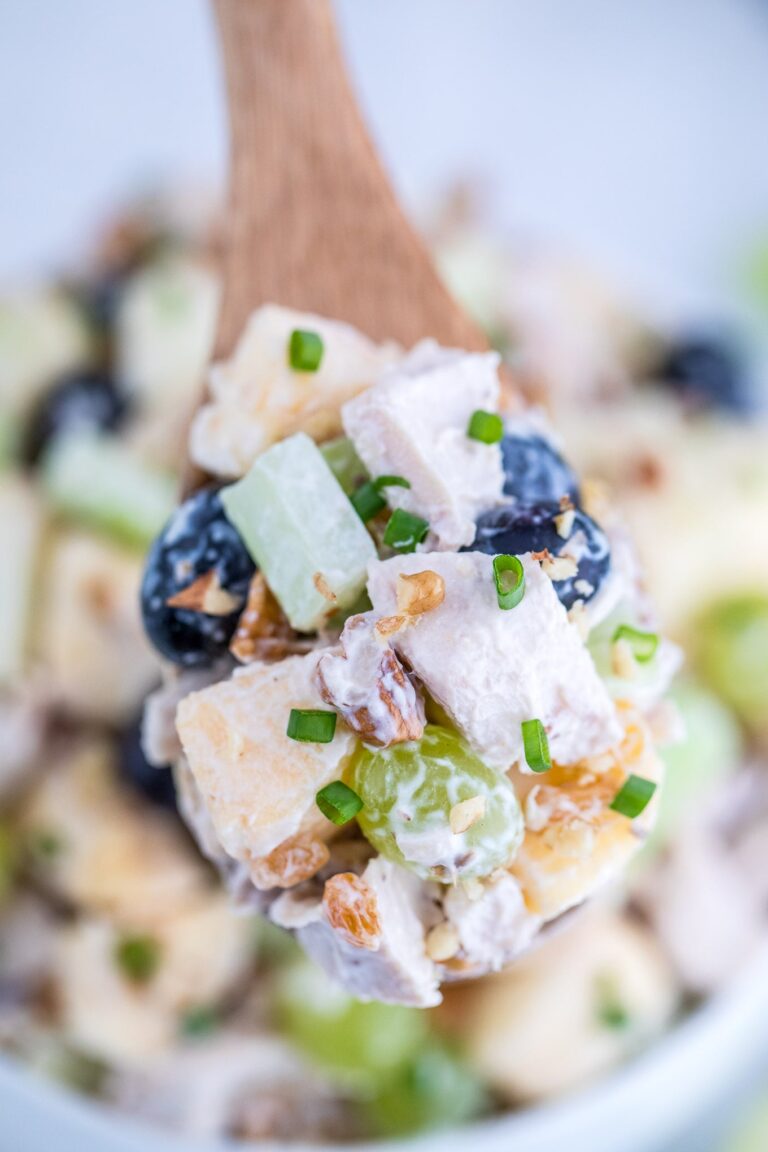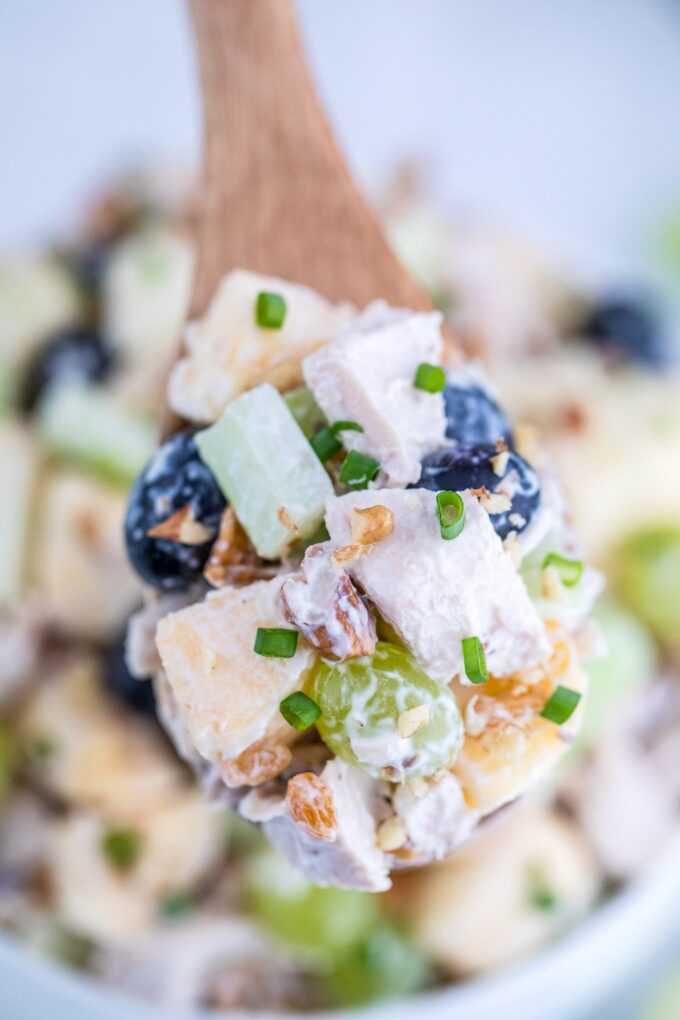 How do you serve Waldorf Chicken Salad?
This dish traditionally comes on a bed of fresh lettuce. It will also go well with your favorite greens like arugula or kale. Serve it chilled and do not forget to add more nuts as top garnish. Also, it goes well as a side dish. Some of our favorite ways to pair it is with Grilled Chicken, Salmon, and Grilled Pork Chops.
Can you make it with rotisserie chicken?
Absolutely! If you have leftover rotisserie chicken from previous night's dinner, go ahead and use this instead. Just lessen the amount of salt you put in the dressing mix to avoid making it too salty.
How do you store it?
Like most salads, it is recommended to keep it in an air-tight container in the fridge. You may store it for a maximum of 2-3 days.
How long can it sit out?
Ideally, it is best eaten chilled. However, it can sit out for up to 2 hours at room temperature. Do not eat it if you notice a foul odor coming from the salad.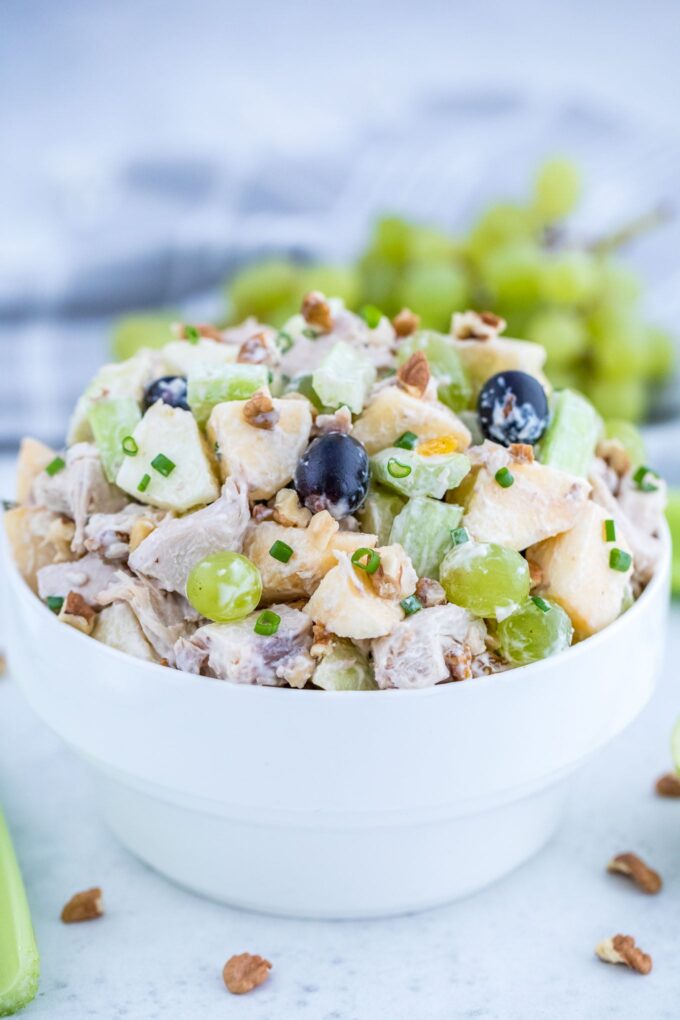 Recipe Tips
Consider adding dried fruits like raisins, cherries, and prunes for a more flavorful fruity salad.
Also, it is okay to replace chicken with turkey, or even ham. You may also add thinly sliced red onions into the mix.
Serve this as a sandwich using sliced baguettes. Remember to spread mayonnaise on the bread before filling it up with the salad mix.
In addition, we love eating this dish scooped between a healthy, whole grain bread.
For a spicier kick, add some sliced jalapeno to it.
Any types of nuts work well here, so feel free to add or swap your favorite types, such as almonds or pistachios.
Watch recipe video:
Save Recipe
Waldorf Chicken Salad Recipe
Author: Catalina Castravet
Serves: 4 servings
Prep time:

15

minutes
Total time:

15

mins
Ingredients
Dressing:
Garnish:
Nutrition information
Calories: 676 Carbohydrates: 52 Protein: 29 Fat: 40 Saturated Fat: 7 Cholesterol: 96 Sodium: 335 Potassium: 736 Fiber: 5 Sugar: 30 Vitamin A: 205 Vitamin C: 12.6 Calcium: 62 Iron: 2.5
Save Recipe
More recipes you might love