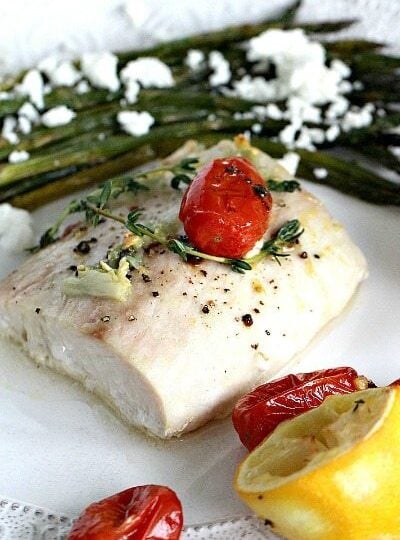 Oven Roasted Mahi Mahi – 30 Minutes
Oven Roasted Mahi-Mahi in olive oil and lemon juice is delicious, flavorful and ready in just 30 minutes.
We love making delicious and easy fish dishes, like our popular Mediterranean Salmon, Oven Roasted Spanish Mackerel and Oven Roasted Red Snapper.
Best Oven Roasted Mahi Mahi
Oven Roasted Mahi-Mahi with Roasted Grape Tomatoes and Roasted Asparagus is such an easy and healthy dinner that you can make in only 30 minutes. This meal is light, refreshing, and satisfying, while made in a very short time. I used frozen Mahi-Mahi filets, as they tend to be cheaper, but fresh fish would be even better. For frozen filets, make sure you let them thaw before cooking.
Rubbed with garlic and olive oil, the fillets are drizzled with lemon juice, sprinkled with sea salt and black pepper. I added some mini grape tomatoes to the pan, as it pairs very well with the fish. Oven Roasted Mahi-Mahi is tasty, healthy and full of flavor meal.
Why You'll Love This Oven Roasted Mahi Mahi Recipe:
Very easy to make, and perfect for quick and nutritious weeknight meals.
The meal is packed with lean protein and veggies.
The fish tastes fresh and delicious with minimum prep work involved.
Minimum dishes to clean, you just need two baking pans.
Oven Roasted Mahi Mahi Recipe Tips:
If you use frozen fish fillets, make sure you place them in the fridge way in advance so they can gradually thaw.
If using fresh fish fillets, I like to rinse them under cold water first and dry them with paper towels.
Don't skip the lemon zest, it adds an amazing flavor to the fish.
It's easiest to zest the lemons when they are whole, so first remove the zest from the lemon, before cutting it in half for juicing.
Adjust the garlic in this recipe to your own preference, if you like more add more.
If you would like to add a spicy kick to this recipe, sprinkle a little cayenne pepper over the fish fillets.
Don't overcook the fish, roast until the fish fillets are just opaque in the center, about 10 minutes.
How do you choose a good Mahi Mahi fillet:
When possible, choose wild-caught fish, as it tastes better and is healthier.
Make sure the Mahi Mahi has a nice, vibrant color, that it looks fresh and moist.
Smell the fish, and don't be fooled, as fish should NOT smell fishy. That is a red flag and a sign that it's not fresh. Make sure the Mahi Mahi does not smell somewhat sour or like ammonia, in that case, it has gone bad and you need to toss it.
Fresh Mahi Mahi has a mild aroma, and it should smell similar to the sea.
How long can you keep fresh Mahi Mahi in the fridge?
Mahi Mahi can be kept for 1 to 2 days in the refrigerator before cooking, that if you just bought very fresh Mahi Mahi or if you just defrosted in the fridge frozen Mahi Mahi.
If you thawed the Mahi Mahi in the microwave or in cold water, you should cook it immediately.
How to make lemon zest?
Follow the easy steps below:
First, rinse the lemon.
Then, set your tool over a cutting board. A microplane produces a very fine zest, perfect for baking and cooking. If you don't have a microplane, use the smallest holes on an ordinary grater.
Grate the yellow skin of the lemon only. Grate just enough to get through the yellow skin, this way you can avoid the bitter white pith underneath.
Lastly, rotate the lemon and repeat it. Once the white pith is exposed, rotate the lemon and zest the next strip of peel. Repeat until most of the peel is removed, or until you have enough zest for your recipe.
What wine pairs well with Mahi Mahi?
You could pick from Chardonnay or Pinot Noir as these wines have good acidity, which you definitely need to cut through the oiliness of the fish.
Oven Roasted Mahi Mahi
Ingredients
2

tablespoons

Olive oil for brushing and oiling the pan

2

lb

mahi mahi fillets

about 5 fillets 5-6 ounces each, fresh or thawed if frozen

2

lemons

2

tablespoons

grated lemon zest

8

garlic cloves

minced

salt and pepper

to taste

1

cup

grape tomatoes

2

lb

fresh thin asparagus

fresh thyme

crumbled feta

optional
Instructions
Preheat an oven to 400°F.

Lay the bottom of a baking sheet pan with parchment paper and brush with olive oil, then add the fish filets to the pan.

Brush the fish fillets all over with olive oil, rub in the lemon zest and garlic, then squeeze the juice from 1 lemon over the fish.

Season with sea salt and fresh ground pepper. Toss the grape tomatoes in 1 teaspoon of olive oil, a pinch of salt and pepper and add to the pan.

Top fish fillets with fresh thyme and roast until the fish fillets are just opaque in the center, about 10-15 minutes, depends how thick are the fillets.

Snap off the woody ends of the asparagus and discard.

In another baking sheet pan, add the asparagus, drizzle with olive oil, juice of half lemon, sea salt and pepper. Toss the asparagus to evenly coat with oil.

Roast on the top rack of the oven for just 10-15 minutes for a mildly cooked asparagus.

Remove fish from oven, discard the thyme sprigs and top with fresh thyme sprigs for serving and juice from the remaining half lemon.

Serve immediately with the roasted tomatoes and asparagus topped with feta crumbles.

Enjoy!