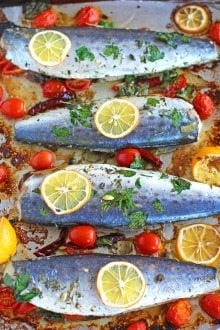 Oven Roasted Spanish Mackerel
Oven Roasted Spanish Mackerel marinated with grape tomatoes, capers, dried chili peppers, and lemon is healthy, and one very tasty and easy meal to make.
I love making delicious and easy fish dishes, like our popular Oven Roasted Mahi Mahi, Mediterranean Salmon, and Oven Roasted Red Snapper.
Oven Roasted Spanish Mackerel
Oven Roasted Spanish Mackerel is the tastiest of the Mackerel family. The Spanish Mackerel is a beautiful fish, with dark grey-blue skin and darker, very juicy meat. The fish also doesn't cost an arm and a leg, so it's very budget-friendly.
Very easy to cook, the Oven Roasted Spanish Mackerel can be made for a weeknight meal to get your Omega 3 or it can also be served for a special occasion, as the meal looks festive and nice.
Why You'll Love This Oven Roasted Spanish Mackerel:
This is such an easy and healthy dinner that can be marinated ahead of time and roasted 40 minutes before dinner.
Spanish Mackerel is not a very expensive fish, so it won't ruin your budget.
Bursting with flavor this dish can be served on a busy weeknight or special occasion dinner.
This fish is also one of the richest sources of Omega-3 fatty acids.
In addition, it is rich in protein, with a serving size of three ounces containing approximately 21 grams.
Mackerel is a good source of niacin, choline, folate, vitamin E, vitamin D, vitamin A, vitamin K, vitamin C, and vitamin B12.
Pin This Oven Roasted Spanish Mackerel Recipe to your Favorite Board
Tips and Tricks To Make The Perfect Oven Roasted Spanish Mackerel:
To make the cooking process even easier, ask for fish to be cleaned. Also, discard the head and tail when buying it.
When shopping for fresh mackerel make sure it does not have a strong odor. The eyes should be bright and clear, moist skin and shiny scales, to ensure you are getting the freshest fish.
The marinade in this recipe can be used either if you have a whole fish, fish filets or fish steaks.
Marinade the fish a few hours in advance, it will taste a hundred times better.
I prefer to use fresh fish over frozen. However, frozen fish that has been thawed will work as well in this recipe.
Using fresh produce is key, fresh lemon juice, grape tomatoes, etc, and don't skip the capers!
Do not discard the marinade, you want to use it for roasting the fish.
Make sure you don't over-bake the fish. You want it juicy not dry, once the meat is white and tender it is ready to serve.
Is it ok to eat the Mackerel's skin?
Yes, you can and actually, the Mackerel skin is full of healthy fats! I prefer to keep the skin on the Mackerel when I cook it, as it helps to keep the fish moist while cooking.
What wine pairs well with Mackerel?
You could pick from Pinot Grigio or Pinot Noir as these wines have good acidity, which you definitely need to cut through the oiliness of the fish.
Tools/Ingredients I Used To Make The Healthy Oven Roasted Spanish Mackerel: