Oven Roasted Spanish Mackerel
This post may contain affiliate links. Please read my disclosure policy.
Healthy Oven Roasted Spanish Mackerel marinated with grape tomatoes, capers, dried chili peppers and lemon is one very tasty and easy meal to make.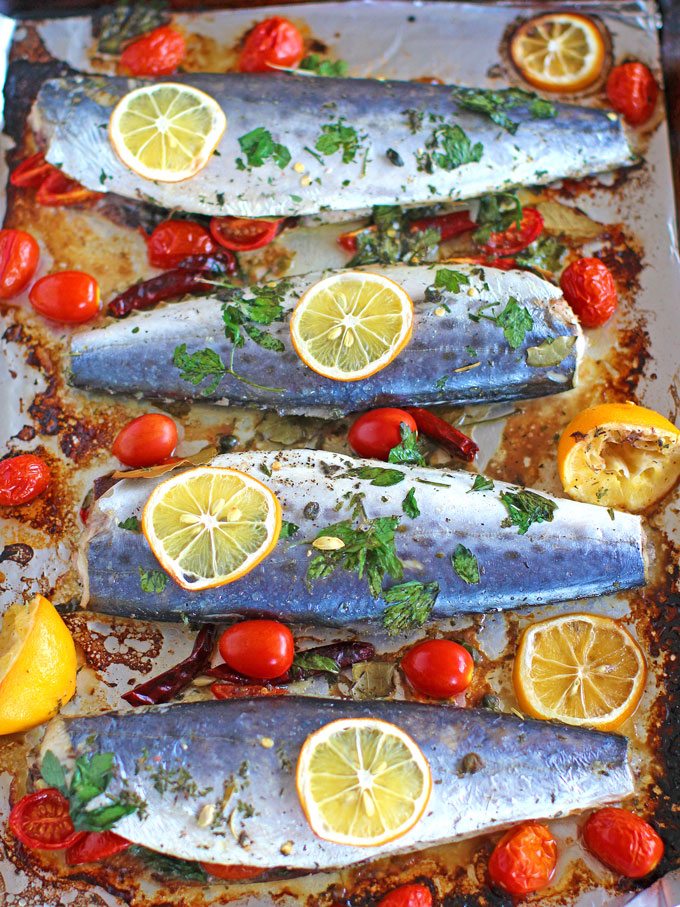 Oven Roasted Spanish Mackerel is the tastiest of the Mackerel family. The Spanish Mackerel is a beautiful fish, with dark grey-blue skin and darker, very juicy meat. The fish also doesn't cost an arm and a leg, so it's very budget friendly. Very easy to cook, the Oven Roasted Spanish Mackerel can be made for a weeknight meal to get your Omega 3 or it can also be served for a special occasion, as the meal looks festive and nice. If you like quick and easy fish dinners, check this Oven Roasted Mahi Mahi ready in just 30 minutes!
Tips and Tricks To Make The Perfect Oven Roasted Spanish Mackerel:
To make the cooking process even easier, ask the guy at the fish counter to clean the fish and discard the head and tail.
When shopping for fresh mackerel make sure is does not have a strong odor, the eyes should be bright and clear, moist skin and shiny scales, to ensure you are getting the freshest fish.
The marinade in this recipe can be used either if you have a whole fish, fish filets or fish steaks.
I swear by marinades, no matter how good a fish is the marinade will make it a hundred times better, I and hubby use a very simple marinade, yet it tastes so fresh and it has the right amount of spiciness.
I prefer to use fresh fish over frozen, but frozen fish that has been thawed will work as well in this recipe.
Using fresh produce is key, fresh lemon juice, grape tomatoes etc and don't skip the capers!
Do not discard the marinade, you want to use it for roasting the fish.
Make sure you don't over-bake the fish, you want it juicy not dry, once the meat is white and tender it is ready to serve.
Why You'll Love This Oven Roasted Spanish Mackerel:
This is such an easy and healthy dinner that can be marinated ahead of time and roasted 40 minutes before dinner.
Spanish Mackerel is not a very expensive fish, so it won't ruin your budget.
Bursting with flavor this dish can be served on a busy weeknight or special occasion dinner.
Spanish Mackerels are also one of the richest sources of Omega-3 fatty acids.
Spanish Mackerel is rich in protein, with a serving size of three ounces containing approximately 21 grams.
Mackerel is a good source of niacin, choline, folate, vitamin E, vitamin D, vitamin A, vitamin K, vitamin C and vitamin B12.
Tools/Ingredients I Used To Make The Healthy Oven Roasted Spanish Mackerel: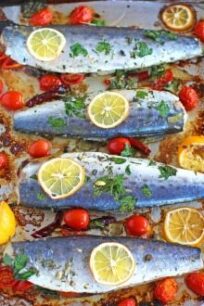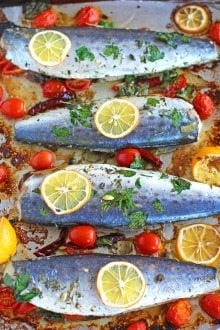 Healthy Oven Roasted Spanish Mackerel
Healthy Oven Roasted Spanish Mackerel marinated with grape tomatoes, capers, dried chili peppers and lemon is one very tasty and easy meal to make.
Ingredients
4

Wild-caught Spanish Mackerel fish

bone in, gutted, cleaned, head and tail discarded

4

tablespoons

olive oil + 2 more

4

tablespoons

minced garlic

4

teaspoons

capers

1½

cup

grape tomatoes

1½

teaspoons

dried oregano

1½

teaspoons

dried thyme

4

bay leaves

10

dried chili peppers

2

lemons

sliced in rings

½

cup

cilantro leaves

washed, dried and chopped

Salt & Pepper
Instructions
Marinade:
Using 4 tablespoons of olive oil, rub each fish with olive oil and set aside.

Slice ½ cup of grape tomatoes in half.

On the inside of each fish, spread evenly 1 tablespoon of minced garlic and sprinkle with salt, pepper a pinch of thyme and oregano.

Stuff each fish with a few sliced grape tomatoes, 1 dried chili pepper, 1 teaspoon capers, 2 slices of lemon and 1 bay leaf.

Place fish in a deep baking dish, so they sit tightly and close to each for the marinade to soak into them.

Cut one fresh lemon in half and squeeze it over the fish. Place the lemon halves into the dish between the fish. Top with fresh cilantro, cover with plastic wrap and refrigerate for 2-4 hours.
Bake:
Preheat oven to 350F and set the oven rack in the middle of the oven.

Cover a baking sheet pan with aluminum foil (or baking paper) and lightly grease it with 2 tablespoons of olive oil.

Transfer each fish to the prepared baking sheet pan, top with a slice of lemon, add the remaining one cup of grape tomatoes and the remaining 6 dried chili peppers to the pan. Divide evenly between the fish.

Drizzle with a little extra olive oil. Pour the marinade over the fish.

Place in the preheated oven for 35-40 minutes, or until fish is cooked through and the flesh is white.

Serve with rice or roasted veggies.

Enjoy!
Made this Recipe?
Show me what you made on Instagram and tag me at @sweetnsavorymeals or hashtag it #sweetandsavorymeals.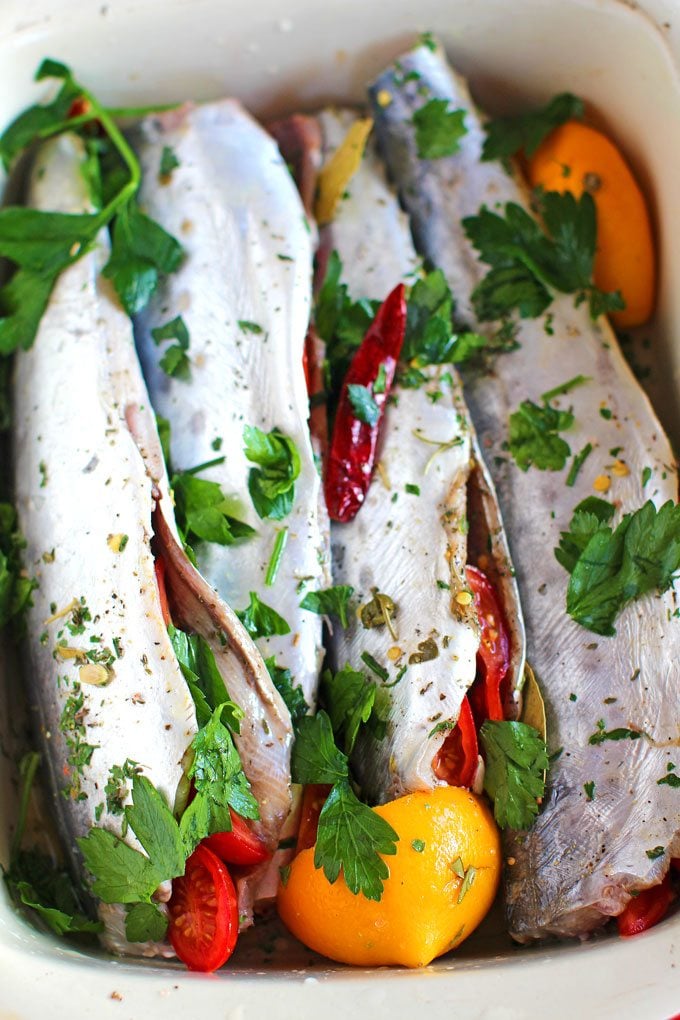 Peas and Peonies, LLC. owns the copyright on all images and text and does not allow for its original recipes and pictures to be reproduced anywhere other than at this site unless authorization is given. If you enjoyed the recipe and would like to publish it on your own site, please re-write it in your own words, and link back to my site and recipe page. Copying and/or pasting full recipes to social media or personal blogs is strictly prohibited. Sharing this recipe is very much appreciated and encouraged. Read my disclosure and privacy policy. This post may contain affiliate links.