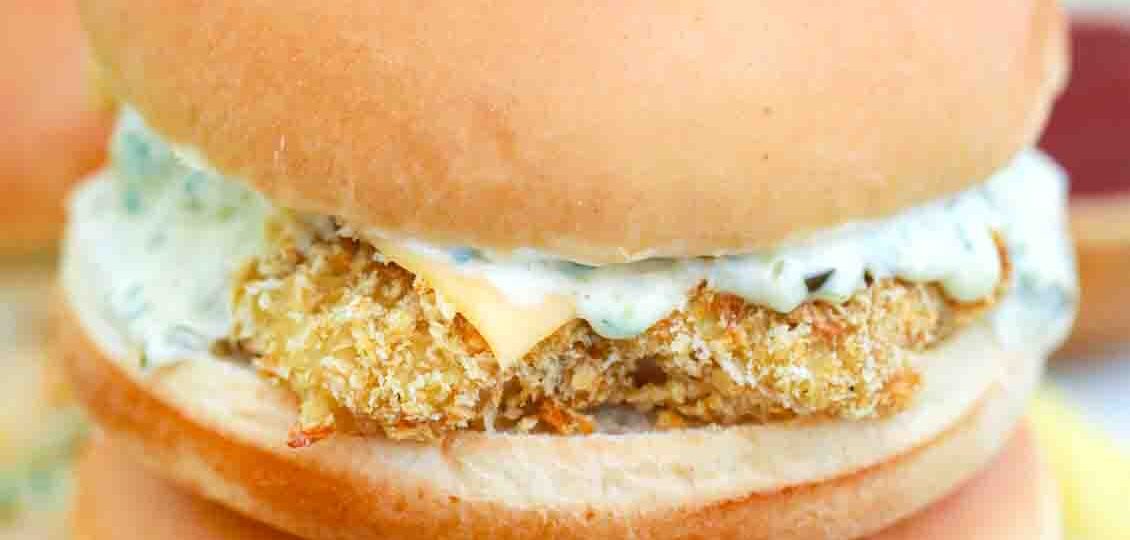 McDonald's Fish Sandwich Copycat [Video]
McDonald's Fish Sandwich copycat recipe is made with juicy and crispy fish fillets, homemade tartar sauce, cheese, and hamburger buns. This recipe for the delicious sandwich is easy to do and you can have it on the table ready to eat in minutes. All you need are a handful of ingredients and you can make the healthier and better homemade version!
In the mood for a more sophisticated seafood dish? Try our Instant Pot Lobster Tails seasoned with smoked paprika and ready in under 30 minutes. These Instant Pot French Dip Sandwiches are also delicious and made with beef chuck roast, swiss cheese, and french bread.
The filet-o-fish was the first new item added to McDonald's original menu and the first non-hamburger item on the menu. To get the sandwich on the menu, Paul Groen, who opened the first McDonald's in Cincinnati, accepted a bet with the founder of McDonald's, Ray Kroc.
On Good Friday in 1962, the fish sandwich was put up against the Hula Burger, a sandwich made of grilled pineapple and cheese. The filet-o-fish won by a landslide. The final score was Filet-o-Fish: 350 and Hula Burger: 6. In 1965, the fish sandwich was added to the menu all over the world.
McDonald's Fish Sandwich has been a popular item on the fast food restaurant menu for more than 50 years and this copycat recipe is even better! Now, you can make this easy recipe anytime you crave the sandwich.
This McDonald's filet-o-fish copycat fish is all homemade from the patty to the sauce. You will not find any obscure ingredients on the list like soy lecithin, citric acid, turmeric extract, or cheese cultures. Just plain old normal items you may already have in your kitchen. All-natural flavors make this the best fish sandwich you have ever had, hands down!
In addition, you can cook the crispy fish fillets in advance and have them on hand for quick and easy weeknight dinners. Making the copycat version at home will save you time and money, and also you will love it more than the original!
Looking for other delicious copycat recipes to try? Our Olive Garden chicken gnocchi soup would go great with this fish sandwich. All you need is chicken breasts, potato gnocchi, cream, spinach, and some spices. For dessert, try our Cheesecake Factory original cheesecake recipe with cream cheese, sour cream, and a homemade graham cracker crust.
Ingredients needed:
All you need for this McDonald's filet-o-fish sandwich recipe is the ingredients below. Please scroll down to our recipe card for complete instructions and exact measurements.
Fish filet patty ingredients:
Panko breadcrumbs
White fish fillets: Thin and flat.
Soft buns: We used brioche buns.
Cheddar cheese slices

Oil spray: We use olive oil.
Batter:
Egg: At room temperature.

Mayonnaise: Also at room temperature.
Dijon mustard
Pickle juice
Enriched flour: McDonald's uses yellow corn flour but you can use your favorite dredging flour like wheat flour.
Kosher salt
Black pepper
Creamy McDonald's tartar sauce:
Mayonnaise
Diced pickles: Very finely chopped.
Fresh parsley: Chopped.

Capers: Drained and finely chopped.
Fresh lemon juice
White sugar
Kosher salt
How to make McDonald's filet-o-fish copycat from scratch?
Tartar sauce ingredients:
Make the sauce: Before you begin, mix the tartar sauce ingredients in a small bowl, and set aside.
Toast breadcrumbs:
Preheat oven: First, preheat your oven to 350 degrees F.
Spread onto the cooking tray: In the meantime, spread the breadcrumbs on a cooking sheet.

Oil the crumbs: Then, spray breadcrumbs with oil straight down, not from the sides.

Bake: Lastly, bake for three to five minutes, until they are golden brown. Transfer to a bowl and spray the tray with oil for the filet-o-fish sandwiches.
Bake:
Prep the fish: To start, cut the fillets into squares just a little larger than the bun.

Mix the batter: Next, mix the batter ingredients in a large shallow bowl.

Batter the fillets: Then, gently dip the fish in the batter. Be careful because they are delicate.

Dip in breadcrumbs: After, set the battered fillet in the breadcrumbs and use your other hand to cover the top and sides. Press gently to get the crumbs to stick. Carefully move to the prepared tray and repeat with the remaining fillets.

Bake: Lastly, bake your fish fillets for about 12 to 15 minutes or until it is cooked through. Top with cheese immediately to help it melt.
Assemble:
Assemble sandwich: First, cut the buns in half and microwave them for 20 seconds.

Add fish: Place the cheese-covered fillet on the bun gently.

Serve: Finally, add a dollop of tartar sauce before serving.
Recipe variations:
Another oil: Other oils you can use for this include vegetable oil, corn oil, canola oil, or soybean oil.

Other mustard: Instead of dijon mustard, you could use regular yellow or spicy brown mustard.

No lemon juice: You can use apple cider vinegar or another distilled vinegar instead of fresh lemon juice if you like.

American cheese: Feel free to use your favorite cheese like mozzarella, swiss, or American cheese instead of cheddar. McDonald's actually uses American cheese.
Egg yolks: Add two egg yolks to the sauce for a richer flavor.
Different bread: For those who wish McDonald's used different bread, you can use your own favorite like rye or sourdough bread.

Add beer: Why not add your favorite beer to your sandwich batter for beer-battered fish?
How to serve:
Instead of going to the fast food joint in town, check your kitchen and see if you have the ingredients for this easy and delicious recipe. If not, you can easily substitute most items. Here are some suggestions to try or you can share some of your own ideas in the comments section at the bottom of the page.
If you are not a fan of tartar sauce, try using just regular mayonnaise or ranch dressing. Some people like their fish with lemon sauce or malt vinegar.

Another great sauce to use on fish is horseradish sauce. Try our homemade horseradish recipe.
In fact, you could also just use ketchup or mustard.

Fish and chips are a great combo! You can use your favorite french fries or you may like our oven-roasted sweet potato fries recipe.

Add some shredded lettuce and sliced tomatoes for a heartier sandwich.

Instead of store-bought, why not make your own homemade bread? This brioche bread recipe would be perfect.
Don't forget the sliced pickles and onions! McDonald's may not add them, but you sure can!
Do you know what goes great with a fish sandwich? A glass of ice-cold tea.
Be sure to set out small bowls of lemon wedges for your guests to squeeze on their sandwiches.
Frequently asked questions
What is hydrogenated soybean oil?
Hydrogenated Soybean Oil is soybean oil made from the soybean plant. It is widely used in processing packaged foods, fast food recipes, cosmetics, and even furniture protectants.
Regular soybean oil is commonly hydrogenated to make it more saturated and increase its stability. This kind of oil has trans fats in it that can raise your cholesterol levels and your risk of heart disease too.
Is wheat gluten bad for you?
Those who do not have celiac disease (gluten allergy) probably have not noticed how many different foods have gluten in them. But those who are allergic know exactly what to avoid.
Wheat gluten is a protein that is found in wheat as well as some other grains. You will see it in pizza, pasta, bread, and even beer. Gluten is not bad for you, per se, unless you are allergic. However, eating excessive foods with wheat gluten can cause weight gain.
What is modified food starch?
Modified food starch is a starch that is used in food for emulsifying, stabilizing, or thickening. Simple starch works great for this too, but most processed foods use the modified version because it is able to handle different temperatures from freezing and cooking. You will notice this ingredient in corn starch as well as other starches made commercially.
What are the nutrition facts in this recipe?
The nutrition facts vary depending on the type of bread, fish, and breading you choose. But the basic ingredients in our recipe have 540 calories, 50 grams of carbs, and 23 grams of fat with 8 grams of saturated fat, 5 grams of polyunsaturated fat, 6 grams of monounsaturated fat, and 1 gram of trans fat.
In addition, each serving contains 151 milligrams of cholesterol, 1,744 milligrams of sodium, and 6 grams of sugar. On the other hand, you also get 34 grams of protein, 487 milligrams of potassium, and 3 grams of fiber as well as 1,387 units of vitamin A, 2 milligrams of vitamin C, 358 milligrams of calcium, and 5 milligrams of iron.
How to store leftovers:
Store: You can keep your leftover fish sandwiches in an airtight container or wrapped in plastic and placed in a zipper baggie. Refrigerate for up to three days.
Freeze: It is also fine to freeze your McDonald's filet-o-fish copycat sandwiches for up to three months.
Thaw: Be sure to put your frozen fish in the fridge overnight for the best results.

Reheat: To reheat, put the sandwich in the microwave for 30 to 60 seconds.
More fish recipes to try:
Cooking tips:
Use a steamed bun to make this McDonald's filet-o-fish sandwich even better.

Some other flour you could use include potato flour, wheat flour, malted barley flour, bleached wheat flour, and yellow corn flour.

For the fish, you can use wild-caught Alaskan pollock, halibut, tilapia, catfish, or snapper.
Be sure to cut the fillets a little larger than the bun because they shrink when cooking.

Be gentle when coating the fish because some types are delicate and can fall apart easily.
Do not over melt your cheese or it will end up with a plastic-like film.
McDonald's Fish Sandwich Copycat Recipe
Ingredients
2

cups

panko breadcrumbs

1

lb

white fish fillets

flat

4

soft hamburger buns

or brioche buns

4

slices

cheddar cheese

Oil spray
Batter:
1

egg

2

tablespoons

mayonnaise

1

tablespoon

Dijon mustard

1

tablespoon

pickle juice

1

tablespoon

flour

1/2

teaspoon

salt

1/8

teaspoon

ground black pepper
Tartar sauce:
1

cup

mayonnaise

2

tablespoons

dill pickle

very finely chopped

1

teaspoon

fresh parsley

chopped

1

teaspoon

capers

drained and finely chopped

1

tablespoon

lemon juice

1

teaspoon

white sugar

1/4

teaspoon

salt

or to taste
Instructions
Tartar sauce:
Mix all the sauce ingredients in a bowl. Cover and set aside for 10 minutes in the fridge until ready to use.
Make the fish patties:
Spread breadcrumbs on a baking tray. Spray with oil and bake for 3 - 5 minutes or until golden. Immediately transfer to a bowl.

Clean the tray and spray it with oil.

Cut fish fillets into equal square shapes that are just slightly larger than the buns.

In a medium bowl stir together the Batter ingredients.

Gently dip and coat the fish squares in batter and after that place them in the breadcrumbs and use your hands to delicately press them so all the sides are well covered.

Transfer to the prepared tray and repeat with the remaining fish.

Bake the fillets for 12 - 15 minutes or until the fish is cooked through.

After removing from the oven, immediately top with cheese so residual heat will semi-melt it.
Assemble:
Cut buns in half, and microwave for 20 seconds to warm through.

Top with the fish and cheese, and a good dollop of tartare sauce. Serve.
Deliciousness to your inbox
Enjoy weekly hand picked recipes and recommendations