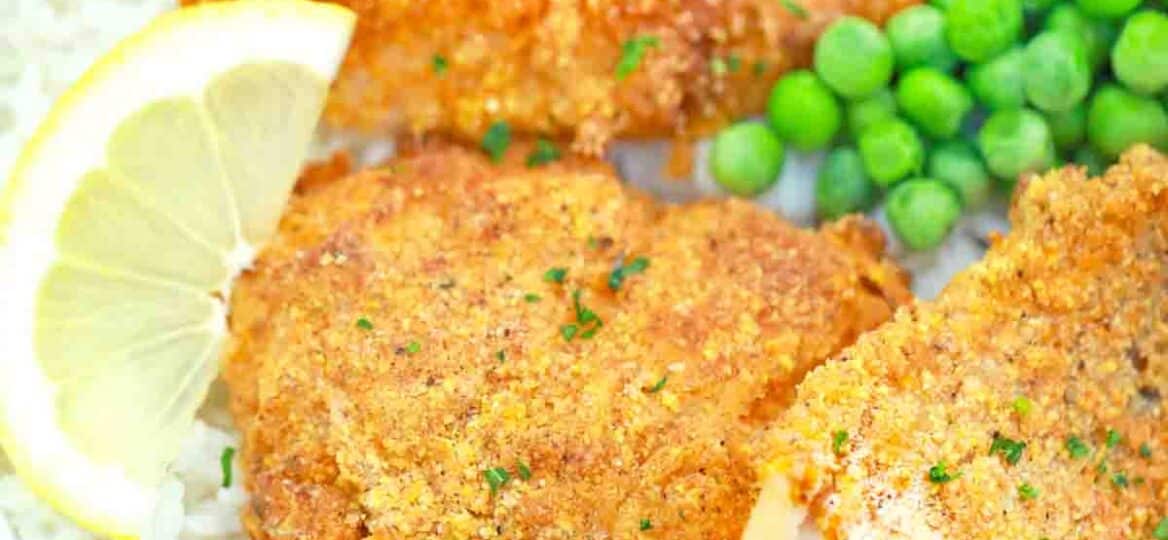 Air Fryer Crispy Fish Recipe [Video]
Air Fryer Crispy Fish is air-fried until it is crispy and crunchy on the outside with tender, flaky white fish on the inside. The mild fish goes great with the lightly seasoned breading so you can use it for all sorts of fish recipes from sandwiches to full plated meals.
Looking for more air fryer recipes? Try our Air Fryer Falafel recipe made with pita bread, hummus, and red pepper flakes, or this Air Fryer Shrimp Dinner with andouille sausage, jumbo shrimp, and red bell pepper. Crispy Orange Shrimp is another delicious seafood recipe flavored with orange juice and maple syrup.
Our easy air fryer fish recipe is fast and simple with results similar to deep-fried fish without all the extra grease and fat. You can add other flavors like onion powder, red pepper flakes, or even ranch salad dressing for a taste the whole family will love.
Why not make some side dishes and dessert in the air fryer too? You can air fry just about anything. Try this recipe for air fryer zucchini fritters with lemon zest and dill or these air fryer apple chips with brown sugar and cinnamon.
Ingredients needed:
The only ingredients you need for this crispy air fried fish can be found at any grocery store. In fact, you may already have them in your kitchen. For step-by-step instructions and measurements, scroll down to our printable recipe card.
Fresh fish fillets: It is best to use white, mild fish about a quarter to a half-inch thick.
Cornmeal: A medium grind is best for texture.
All-purpose flour: You can use gluten-free, whole wheat, almond flour, or whatever you like.

Cajun seasoning: We used Old Bay seasoning.
Paprika: Smoked paprika is what we use.
Garlic powder
Salt: To taste.
Black pepper: Freshly ground black pepper is best.
Mayonnaise: Or sour cream.
Lemon juice: Freshly squeezed for best results.
How to make air fryer fish recipe?
Preheat: First, preheat the air fryer to 400 degrees F.

Mix the dry ingredients: Meanwhile mix the seasonings, flour, and cornmeal in a medium-sized shallow bowl.
Mix the wet ingredients: After, whisk lemon juice and mayonnaise in a large bowl.
Dip the fish fillets: Immediately, dip fish fillets in the mayo mixture until completely covered.

Coat fish: Then, coat the fish fillets with the flour mixture, making sure to coat both sides well.
Cook fish: Next, place coated fish in the air fryer basket. Make sure they are in a single layer and cook for 8 to 10 minutes. Flip them over halfway through.

Serve air fryer fish: Finally, the fish is finished when it is golden brown and can be easily flaked with a fork. Serve with tartar sauce or your favorite dipping sauce.
How to make crispy air fryer fish in the oven:
Preheat: First, preheat the oven to 400 degrees F. Prepare a baking pan with cooking spray and parchment paper.
Combine the seasonings: While you wait, combine the garlic powder, flour, cornmeal, paprika, and Cajun seasoning in a medium-sized shallow bowl. Don't forget the salt and black pepper.

Mix the mayo and lemon juice: Then, whisk lemon juice and mayo in a large bowl.
Dip the fish fillets: Next, dip each fish fillet in the mayo mixture until completely covered.

Coat fish fillets: After, coat fish fillets with the cornmeal mix. Make sure you coat both sides well.
Bake fish: Then, put your coated fish fillets on the parchment-lined sheet tray and bake for 10 minutes on each side. It is best to use the middle baking rack.
Serve crunchy air fryer fish: When your fish is light brown and can flakes easily with a fork, it is done.

Serve: Last, serve hot air fryer fish with tartar sauce and fresh lemon wedges.
Recipe variations:
More spice: Use blackened seasoning or add red pepper flakes to give a spicy kick to your fish.
More flavor: Similarly, you can add other seasonings like onion powder, Italian seasoning, or chili powder depending on what your family likes best.

Bread crumbs: Feel free to use bread crumbs instead of a cornmeal mixture if you do not like cornmeal crust.

Cheesy fish: Add a few tablespoons of parmesan cheese to the breading for a cheesy flavor.
Other cheese: Or try using freshly grated cheddar cheese instead to make cheesy coated fish.

Beer battered fish: For beer-battered fish, replace the lemon juice with your favorite beer.
How to serve:
Serve air fryer fish with fresh lemon wedges and apple cider vinegar or tartar sauce for dipping. You can also try one of these great serving suggestions:
Serve fish with a side of hot sauce as well as tartar sauce and other dipping favorites like horseradish.

For a classic fish and chips dinner, serve alongside a pile of crunchy french fries. Try our recipe for crispy potato wedges.

Fried fish goes great with hush puppies, which you can also make in your air fryer.

Alternatively, serve these delicious buttery boiled potatoes as a side dish.
Cut the fillets into bite-sized pieces for kids or for easier dipping.

You can also dip your fish in tzatziki sauce or our delicious homemade yum yum sauce.
Frequently asked questions
What is the best fish for this air fried fish recipe?
Atlantic or Pacific cod fish are both great choices. Or you can use whiting fish or haddock. As long as it is a mild white fish, it will work well in this air fry fish recipe. Sole is another good choice with firmer flesh and a sweeter taste. Other choices include halibut, Mahi-Mahi, or catfish.
Should I put oil on my air fryer basket?
You need to check your air fryer manual for the answer to this question. Some types of air fryers encourage the use of nonstick aerosol spray while others call for a bit of olive oil spray. Still, others say not to use any oil at all.
Can I use frozen fish fillets for this recipe?
Using frozen fish fillets is fine as long as they are already breaded. Otherwise, you will have to wait for them to completely thawed before applying the breading. The thawed fish will allow the breading to stick better. You can also make this recipe without breading if you like.
Is this air fryer fish recipe healthy?
Depending on what kind of fish you use, the nutrients may vary. But with this recipe, you will get almost half of your daily recommended protein and about a quarter of your daily recommended potassium and vitamin A. You also get 2 grams of monounsaturated fat, which is the good kind, and no saturated fat.
What's more, you only get 250 calories, 9 grams of fat, and 19 grams of carbohydrates. Air frying fish is much healthier than deep-fried fish since it does not use all the grease that deep-fried fish has. Deep-fried foods use a lot of cooking oil, which can be bad for those with dietary restrictions.
How to store leftovers:
To Store: Keep crispy air fryer fish in the refrigerator for up to four days in an airtight container or wrapped in plastic wrap and aluminum foil in a zipper baggie.
Freeze: To freeze, arrange air fried fish in a single layer and freeze for several hours. Then you can transfer them to freezer bags for freezing for up to four months.

Thaw: For best results, let fish thaw overnight in the fridge.
Reheat: To reheat, place fish in the air fryer and air fry at 350 degrees F for three to five minutes, depending on how many you are cooking.
More air fryer recipes:
Cooking tips:
Make sure you pat fish dry with a paper towel before coating.
Fish fillets that are 1/4 inch thick will cook in eight minutes while thicker fish fillets may take up to 12.

Shake off excess flour mixture before placing fish in the air fryer basket.

Try to get fillets that are similar in thickness so it cooks evenly.

Also, do not overcrowd the fish or they will not cook properly.
Cut extra-long pieces of fish in half so they do not break when you handle them.
Air Fryer Crispy Fish
Ingredients
1 1/2

lbs.

white fish fillets

about 1/2-inch thick - I used cod

1/2

cup

cornmeal

1/2

cup

all-purpose flour

2 1/2

teaspoons

Cajun seasoning

1

teaspoon

smoked paprika

1

teaspoon

garlic powder

1

teaspoon

salt

or to taste

ground black pepper

to taste

1/3

cup

mayonnaise

1

tablespoon

fresh lemon juice
Instructions
In a medium shallow bowl whisk together the cornmeal, flour, Cajun seasoning, smoked paprika, garlic powder, salt, and pepper.

Add the mayonnaise and lemon juice to another bowl and whisk until combined.

Add the fish fillets to the mayo bowl and gently toss until completely covered.

After that, dip each filet into the flour mixture until all sides are covered

Next, arrange the fish filets into the Air Fryer basket in a single layer without touching each other, if needed cook in batches.

Air fry at 400 degrees F for 8-10 minutes, or until golden and crispy. Flip the filets after 5 minutes of cooking. Repeat with the remaining filets.

Serve with lemon and tartar sauce.
Deliciousness to your inbox
Enjoy weekly hand picked recipes and recommendations