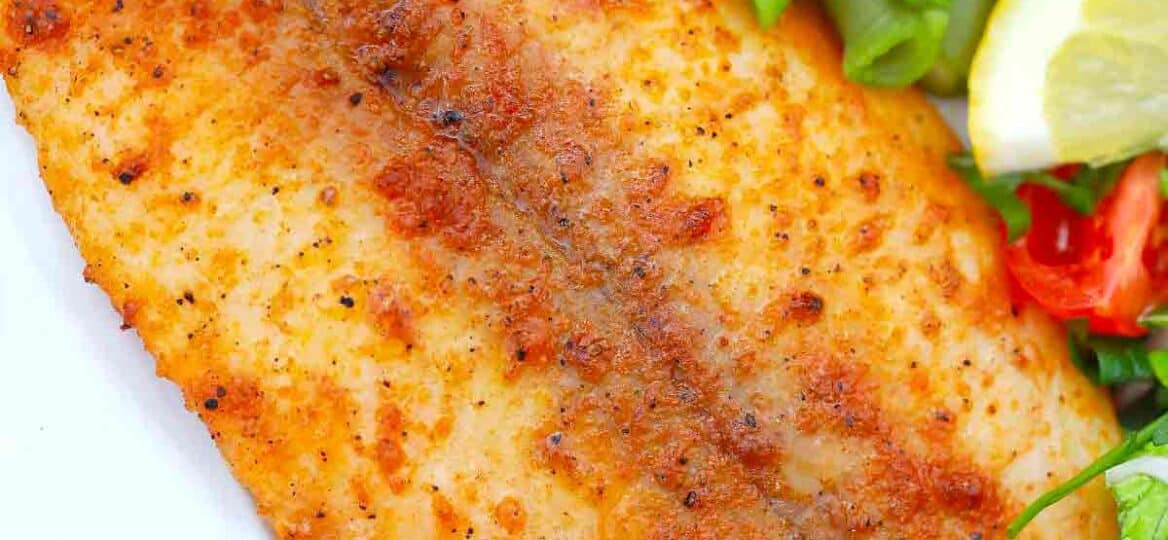 Air Fryer Tilapia is a healthy meal that tastes incredible with just a few ingredients ready in less than 30 minutes. All you need are tilapia filets, an air fryer, and a few seasonings. Add a bit of lemon juice or fresh lemon wedges for a nice tangy taste and you are ready to eat.
If you liked this air fryer recipe, you should try our Baked Lemon Garlic Tilapia Filets with lemon, red pepper flakes, and fresh garlic. Our easy Crispy Oven Baked Tilapia made with Greek yogurt, panko bread crumbs, and buttermilk is also a spectacular tilapia recipe.
For a different fish recipe, this Lemon Garlic Butter Swai is delicious with ginger root, capers, and lemon. Any of these recipes give you the perfect fish for salads, sandwiches, and fish tacos as well as the main entree. The cooking process is simple and with the mild flavor of this white fish, you can add it to just about any dish.
Cooking air fryer tilapia is easy and fast, ready in just six minutes. Air fryer tilapia is healthy fish fillets as well as delicious and can be seasoned any way you and your family like it. Add some potatoes and veggies and you will have a full meal in minutes.
For more air fryer recipes, our pineapple rings and apple chips are delicious appetizers or snacks. For a sweeter dessert, try our Nutella brownies or strawberry cookies. Really, you can make just about any dish in your air fryer that you can make in your oven so try making your own recipe.
This is an incredibly easy recipe, that is perfect for quick weeknight meals. If you are looking for an easy dinner, with minimum prep work and a short cooking time, this one is a winner.
In addition, this is a low-car meal, perfect for those on a keto, or low-carb regimen. Also, preparing it you don't have to turn on the oven and heat your house during hot summer days.
Follow us on Pinterest for more delicious recipes!
Ingredients needed:
These are the air fryer tilapia ingredients for this easy recipe. For exact measurements and instructions, scroll down to our recipe card.
Tilapia fillets: Fresh tilapia fillets work best.
Olive oil: Or olive oil spray.
Lemon juice: Fresh lemon juice is best.
Chili powder
Paprika: We used smoked paprika.
Garlic powder
Onion powder
Kosher salt: Any kind of salt will do.
Black pepper: Freshly ground black pepper is perfect for this dish.
How to make air fryer tilapia recipe?
Preheat air fryer: First, preheat your air fryer to 350 degrees F.
Clean the fish: Meanwhile, lightly rinse your tilapia fillets, and then pat each one dry with a paper towel and set aside.
Make seasoning mix: Next, mix the black pepper, salt, onion powder, garlic powder, paprika, and chili powder in a small bowl.
Season the tilapia: Then, brush olive oil and lemon juice on both sides of the fish before sprinkling them with the seasoning mixture. You can use non-stick cooking spray instead of olive oil.
Place in air fryer basket: Place tilapia in the air fryer basket in a single layer. Do not overlap.
Cook tilapia: Last, cook tilapia for 6-10 minutes or until it is golden brown.
Serve: Serve your air fryer tilapia immediately after checking the internal temperature. It should be 145 degrees F.
Cooking Tilapia Fillets in the Oven
Follow all the instructions for making the air fryer tilapia recipe and then bake them in the oven if your air fryer is on the fritz or busy cooking something else. This oven-baked tilapia recipe is a low-carb delicious dinner and easy to do with frozen or fresh tilapia.
Preheat: First, preheat your oven to 400 degrees F and drizzle a baking dish with olive oil.
Combine seasonings: Then combine lemon juice, garlic powder, onion powder, smoked paprika, chili powder, salt, and pepper in a small bowl.
Clean: After, clean your tilapia in cold water and lightly coat with olive oil spray before sprinkling on the seasoning.
Transfer: Last, put the fish in the prepared dish and bake for 10 to 12 minutes or until it is golden brown and flaky.
Serve: Finally, serve immediately with lemon wedges and parsley.
Recipe variations:
Another oil: Feel free to grapeseed or avocado oil instead of olive oil.
Melted butter: Alternatively, you can use melted butter instead of oil.
Cajun seasoning: Instead of chili powder, use cajun seasoning for a spicier dish.
Intense garlic: For a more intense garlic flavor, use minced garlic instead of powdered.
How to serve:
Cooking tilapia in the air fryer is easy and fast so you can have a delicious flaky fish the entire family will love in just a few minutes.
These tilapia filets can also be used to make these scrumptious Baja fish tacos.
Sprinkle a bit of parmesan cheese on top right before serving.
Another way to serve this fish is by chopping it up and adding it to your favorite salad like our tasty tuna pasta salad recipe.
Sprinkle a bit of hot sauce on your fish for a bit of spiciness.
Or try adding it to the tuna casserole recipe instead of the tuna.
These flaky fish filets also go great with a side dish like our buttery boiled potatoes or slow cooker creamed corn.
Frequently asked questions
At what temperature is tilapia done?
The FDA recommends that the internal temperature of your tilapia fillets is 145 degrees F. Make sure you check the thickest part of the meat.
If you don't have a thermometer, your fish should flake easily with a fork and it should be opaque.
Is tilapia healthy?
Yes, fish of all kinds are the healthiest source of protein as well as many other vitamins and minerals.
In fact, tilapia is a good source of your daily values of vitamin D, vitamin B12, vitamin C, niacin, selenium, and choline. It also provides omega-3 fatty acids and lowers triglycerides.
Can I air fry frozen fish?
Yes, you can cook frozen tilapia in the air fryer although it will take longer and you will have to set your air fryer to 400 degrees F. Also, it is almost impossible to get the seasoning mixture to stick to frozen tilapia.
Depending on the thickness and size of the fish, it should be cooked for 10 to 13 minutes at 400 degrees F.
If you want the seasonings to stick better, cook the tilapia in the air fryer basket for five minutes to thaw it out. Make sure you do not cover all the holes in the air fryer basket.
Why are my tilapia fillets red?
Some fish like tilapia and tuna is treated with carbon monoxide to increase their shelf life.
This process turns the bloodline down the middle of your tilapia red instead of the normal light pink color. This does not hurt anything and will not affect the taste.
Can I spray oil on my air fryer basket?
This depends on your particular air fryer. Some of them say you should not spray your air fryer basket with any kind of oil while others say it is okay as long as you use olive oil or some other oils with a high smoking point. It is best to check your air fryer manual.
How to store leftovers:
Store: You can store your leftover tilapia in an airtight container or gallon size zip baggie. Refrigerate for up to three days.
Freeze: It is also safe to freeze your leftover tilapia for up to three months.
Thaw: For best results, move thaw overnight in your fridge before serving.
Reheat: To reheat, put air fryer tilapia in the air fryer for one minute. You could also heat your air fryer tilapia in the microwave for about 45 seconds.
More air fryer recipes:
Air fried tilapia cooking tips:
If all you have is frozen tilapia, you can use that. However, it is best to thaw out the frozen fillets first since cooking frozen tilapia will affect the cooking time.
Some air fryers cook differently. In fact, your air fryer may have a different cooking temperature. Check your user's manual for instructions.
Make sure your fish is in a single layer at the bottom of your air fryer basket. For proper distribution of heat, the air must be able to circulate when cooking your tilapia in the air fryer.
When cooking fish in the air fryer, there are certain oils that work best. They have to have a high smoking point so they do not smoke too much. The best ones include olive oil, avocado oil, ghee, coconut oil, and grapeseed oil.
Make sure your fish is golden brown before removing them from the air fryer.
Another way to coat the fish is to put the seasoning mix into a plastic bag and put the fish inside, shaking gently until coated.
Easy Air Fryer Tilapia
Ingredients
2

tilapia filets

about 6 ounces each

2

tablespoons

olive oil

1

tablespoon

lemon juice
Seasonings:
1

teaspoon

chili powder

1/2

teaspoon

smoked paprika

1

teaspoon

garlic powder

1/2

teaspoon

onion powder

1/2

teaspoon

salt

1/4

teaspoon

black pepper
Instructions
Rinse the fish fillets under cold water, after that, pat them dry with paper towels.

In a small bowl, combine all the seasonings and stir well.

Brush each filet with lemon juice and olive oil on both sides, then sprinkle generously with the seasoning mixture. Use your fingers to coat the fish entirely in seasoning.

Arrange the fillets in a single layer, without overlapping, in the air fryer basket.

Air Fry at 350 degrees Fahrenheit, for 6-10 minutes, or until golden brown.